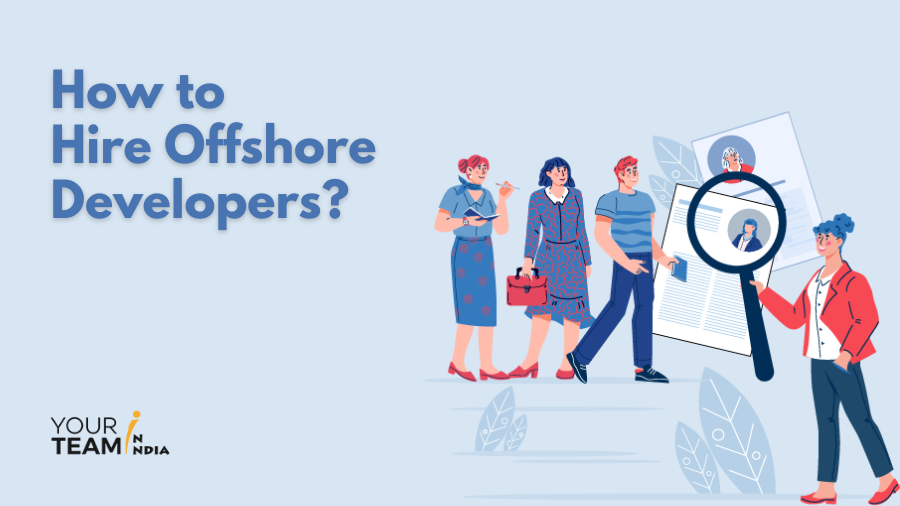 Quick Summary: In today's interconnected world, hiring offshore developers has become a popular strategy for businesses seeking skilled talent at competitive rates. This comprehensive guide provides a checklist to help you navigate the process and make informed decisions when you hire offshore developers for your projects.
It has always been hard for startups and enterprises to multitask. The load never gets lighter, from building a team of professional engineers to handling projects and ensuring their success.
But with the introduction of offshore development companies, things have changed drastically. The offshore outsourcing trend is booming worldwide. In fact, the demand to hire the best offshore developers is rising with each passing day.
The major reasons for its craze are cost-effective solutions, access to top developers, and zero headaches of managing in-house teams.
Nowadays, it's very hard for companies to sustain their value yearly. A research report of 2000 companies by Brain & Co. found that just one out of nine companies sustains profitable growth after a decade.
To deal with such scenarios, startups, and even known brands hire offshore developers. This article will discuss in detail what offshore development is, why and when you need it, and the five steps you must follow to hire offshore software developers.
Also, discover the top ten offshore development companies that can help you skyrocket your business growth.

What is Offshore Development?
Offshore development is an efficient business approach where an IT company hires another IT company (in a foreign country) to perform specific tasks. These tasks may include website, software, mobile app, or product development.
Along with the best cost-cutting measures, outsourcing has many more benefits.
Pro Tip:
India is one of the favorite outsourcing destinations for companies in the USA, Europe, Australia, and New Zealand. So, if you are residing in any of these countries, look out for offshore development services in India.
Where can you Hire Offshore Developers?
Get recommendations from your contacts.

Search terms like 'Hire Developers' or 'hire a developer' on the search engines.

Search for offshore development teams on LinkedIn,

Good Firms

, Appfutura,

Clutch

,

The Manifest

, and other similar platforms.

Networking via conferences, seminars, hackathons, and meetups.
Why Should You Hire Offshore Developers?

1. Inexpensive Approach
Quartz reports state that 46% of start-ups fail as they run out of money in their starting phase. If you are a tech startup and searching for offshore software developers for hire, you won't have to face such a situation.
Hiring a team of offshore developers means you won't have to spend your capital on overhead costs like office rent, salaries, insurance benefits, recruitment fees, etc.
Instead, you will be spending your funds on your business growth.
2. Improved Productivity and Quality
Offshore developers not only reduce the cost but also improves the software development process, thereby saving time. It means that when you go for agile development with a team of remote developers on your side, there is no need to spend extra time training new employees.
Why? Well, the offshore developers you will hire will be experts in their field. So, by saving time & money on your team training, you can focus on your core business objectives.
3. Flexibility
Changing the technology stack becomes a challenge with an in-house team. However, when you are associated with a reliable offshore software development company, you can easily switch between the different software development teams (from iPhone app developers to React Native developers).
In fact, you will get the freedom to add or remove a developer to your offshore team. You just have to inform your partnered offshore development center prior to making any changes.
4. Accessibility to More Talent
Offshore outsourcing team offers many benefits, such as access to a large talent pool of professional developers. Both mobile app and web development have numerous technology stacks, so, it's impossible to get the developers for all technologies under one roof.
And offshore outsourcing solves this problem by allowing you to hire offshore developers and app developers.
5. Seize New Market Opportunities
As new technologies are emerging, companies look for ways to establish their presence before their competitors. AstraZeneca – Research-Based BioPharmaceutical Company tapped into the booming Chinese pharmaceutical market by investing in agile development with an offshore software developers team.
In terms of software and mobile app development; AI and Blockchain are two emerging technologies. And if you don't have an in-house development team of AI developers or Blockchain developers, it is a good idea to build one in an offshore location and get an edge over your competitors.
6. It's your Team
When you hire a dedicated development team in India, you can guide your team according to your expectations and requirements. It means you are free to tell them your particular way of doing things. All in all, you can easily establish this from the outset.
Apart from established teams, there are a lot of freelancing platforms available online that give you access to offshore developers for hire.
7. Tax Savings
When you hire offshore app developers in countries like India, Ukraine, etc. you can take advantage of the tax incentives offered by them.

Related Blog: Why Outsourcing in India is the Best Decision?
And, When Should You Hire Offshore Developers?
1. Business Scaling
Growth is a very crucial element of expansion. If your business is unable to incorporate various growth strategies like cost reduction or technology needed to improve performance, you might be hindering the ability to thrive in the marketplace.
Setting up an offshore development center offers operational flexibility and gives a competitive edge by helping in streamlining your business process, maintain consistency across various geographies, enter into the international markets, or scale up/down efficiently.
2. Restricted Budget
Startups usually have a restricted budget. And, it becomes very difficult for them to hire experienced professionals. Plus, providing systems, setting up infrastructure, and arranging other resources adds up to the cost.
If your business is facing this situation, it's time to think out of the box, leading you to hire developers from an offshore location. By hiring offshore software developers, you can have a team of experts and that too while saving up to 60% in comparison to working with an in-house team.
3. Core Skill Set is Required
When all the business functions are housed together, everything becomes complicated. Software development requires a good amount of time as well as attention.
Suppose that you operate a finance business and want to build a Flutter mobile app to digitize your business. The requirement is just to build a mobile app, and hiring a developer locally on a permanent basis would be costly. So, what's the option?
Just share your requirements with an offshore software development company & hire Flutter app developers to fulfill your requirements.
4. Challenging to Meet Customer Expectations
Is your company struggling to invest and keep itself updated with the latest innovative technology? Do you have software that requires 24*7 developments or updates?
Hiring developers from an offshore location in collaboration with your existing local team can help you fulfill your requirements without increasing the operational costs.
5. Team Productivity is Dropping
Outsourcing is not about handing over the projects or tasks that your in-house team is not efficient, but it is advisable sometimes to outsource your core competencies as well.
The simple solution would be to build your product engineering team in a foreign country like India to streamline the software development process or aid your team to complete a time-consuming task while not abandoning your daily tasks.
6. Experiencing Seasonal Spikes
Outsourcing companies specialize in anticipating and planning for peak call volumes, and they have the training abilities to ramp quickly when required. Supplementing staff when the customer base is growing allows your business to grow while staying focused on important tasks.
7. Team Abilities Become Doubtful
While talking about the IT industry specifically, most businesses don't specialize in different types of technologies. To establish and manage the project, outsourcing to a technology partner that has a good understanding will help the business thrive.
No matter what type of business it is, building it up via strategic outsourcing helps a lot.
Offshore Developer Rates
One of the many reasons why many business owners prefer outsourcing is offshore developer rates. Due to the high cost of living in major cities such as London, Sydney, New York, Los Angeles, etc., business owners find it expensive to build an in-house team.
However, hire offshore software developers to reduce costs isn't a decision to be taken lightly. Here are a few things that you should consider:
1. Choose Wisely: Choosing and spending wisely will save you from dealing with problems at a later date. First of all, ask yourself how many offshore developers should I hire.
Moreover, it is beneficial to know your options while hiring offshore software developers and you should always hire based on the most relevant criteria to you and your business.
In other words, don't be hesitant to pay for proven quality. If you are up for it, then you will find top offshore developers for hire easily, via the help of the best software companies across the globe.
2. Analyze and Choose the Best: It is essential to ask the following questions before hiring an offshore development team:
A definite picture of the overall structure of the organization and key individuals.

Examples of their previous work related to your project.

A consistent approach to error and security reporting.

Previous client reviews and testimonials.

A verifiable ability to scale and overcome hurdles in the project.
You can check our outsourcing ROI calculator to compare the in-source vs offshore outsourcing costs quickly.
Offshore Development Team Structure
It is vital to understand the team structure before hiring offshore developers. Here are some of the fundamental roles within an offshore team:
1. Project Manager
He/she is the channel for you to reach the rest of the team. Make sure you are well coordinated with them, and you both stay on the same target and within the specified timeframe. The PM works with your allotted offshore development team to allocate the required resources, set targets, and processes, and provide you the timely feedback.
2. Frontend and Backend Developers
The frontend team is responsible for managing the implementation as well as the visual aspects of your project. Supported by the back-end developers, the front-end team brings your project to life. You need to make sure both of them are on the same page while implementing your requirements.
3. Quality Assurance (QA)
A quality assurance team will determine and supervise the in-house quality standards, evaluating your requirements and thus making sure that these continue in the same manner throughout the project.
This is just a general structure, you can modify it according to your requirements and budget.
5 Steps To Hire Offshore Developers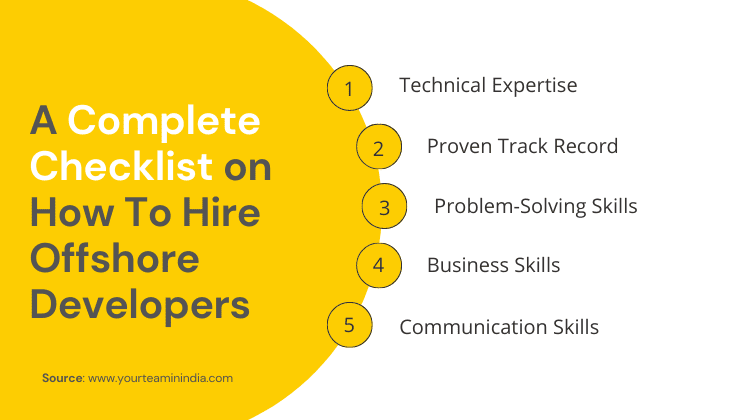 Whether you are a startup that is still building a team or an established brand, there will always be a need for offshore developers. With a bulk of projects every day, handling them all can get hectic unless you outsource them. But "How do you hire offshore software development companies?"
Below are the five steps that can be taken when hiring offshore developers.
1. Identify the business requirements
The first step is always to discover your business needs. It should include the development needs, how you visualize the product, the type of team you require, etc.
For example, as a startup, you might need projects that require work from scratch, but as an established business, there must be some projects that only need modifications from professional developers. Hence, clearly identify the needs to ensure that there is no miscommunication.
2. Know the tech needed for the project
When hiring offshore engineers, you would, of course, need to be clear about the technology part of the project. There is no need to go in-depth about it, but as a business looking to outsource the work, you must know the tools needed. As several technologies are used, know what will work best for your project. It will help you be more concise about the project's needs and highlight the requirements for its success.
3. Research and shortlist
Now that you have noted the requirements and goals, it is time to find developers that match your skills. One of the best ways is to ask for recommendations from your friends and business partners. Another way is to find it through search engines. Check their reviews, past projects, and experience to shortlist the best options that you believe can help your startup or your enterprise grow.
4. Conduct the interview
The last step includes interviewing the best options that are listed. You can do that via video call or visit them for face-to-face conversations. Depending upon the project level, the members of your company should ask relevant questions to ensure that you pick the right team. Do not forget to evaluate the soft skills of team members, as that will play a crucial role in coordinating.
5. Finalize and sign the contract
Even if the developers are tech geeks, your project can fail if they do not align with your business requirements. Be sure that they fully recognize your project needs, and if needed, you may conduct another round of interviews. Once you are satisfied, sign the contract and get the project started.
Pro Tip: India is one of the favorite outsourcing destinations for companies in the USA, Europe, Australia, and New Zealand. So, if you are residing in any of these countries, look out for offshore development services in India.
Related Read: Checklist To Hire Offshore Development Team
How to Effectively Manage Your Offshore Team?
So by now, you must be clear on how to hire offshore, but what about its management? If you do not implement clear and compelling communication lines, you might regret your decision. Check out these quick tips to help you in managing your affordable offshore software development team:
1. Avoid Lengthy Emails
Instead of using emails as a mode of communication frequently, you can opt for dedicated project management software such as Slack and Asana.
2. Set Clear and Accessible Goals
Indefinite goals and obscure deadlines would neither help you nor your remote development team, so it's a good idea to set clear and measurable goals from the outset. This way, you can track the progress and can avoid the risk involved in unclear objectives.
3. Stay One Step Ahead
To lead an affordable offshore development team effectively, you need to be proactive, especially if you are indifferent to timeframes. Moreover, you can plan the weekly as well as monthly tasks and deadlines prior to your team. This way, you will feel more confident while hiring offshore developers.
Recommended Read: Understanding the Cultural Diversity of Your Offshore Team
What Are the Most Popular Projects and Services to Outsource in 2023 [and Beyond]?
Here is the list of services that are most frequently outsourced all over the world:
Website Design and Development

Website Maintenance

Software Development

Mobile App Development

Product Engineering Team

Training and Consulting

Offshore Development Center
Based on our extensive experience in these domains, we offer the technology stack that is best suited for your sector. With us, you can hire top offshore developers in India according to your requirements.
Top 10 Offshore Development Companies
1. Your Team in India
We're your offshore development partner. Work with our offshore development team and lower cost of software development by up to 60% with our dedicated offshore developers in India. With a vision to deliver quality work at commendable cost, we enable our clients to hire offshore quickly (a team of Indian developers) at cost-effective prices with zero setup investment.
2. Signity Solutions
Different projects require different skill sets and abilities, and Signity Solutions has the best and most talented developers who can bring out-of-the-box results. On collaborating with Signity Solutions, you will have a multidisciplinary team, state-of-the-art infrastructure, and an ethical approach to reach the goals.
3. Fraction Tech
Fraction Tech is an offshore IT solution provider firm providing the best business solutions around the world. They primarily focus on providing outsourced IT services to clients according to their requirements.
4. Full Stack Development Company
They provide skilled offshore developers for full-stack development services, including PHP to MEAN Stack, Node.js, Angular.JS, Ruby on Rails, ReactJS, Laravel, Vue.js, jQuery, and others.
5. Thirst Technolabs
Thirst Technolabs provides various IT services, including software development, mobile development services, and application maintenance for efficient information management for enterprises of all levels.
6. Angular Development Company
If you need intuitive applications and dynamic websites with top-of-the-line technologies, they can assist you with the best. They have In-house, Front-End Experts, Business Analysts, Angular Specialists & Designers.
7. Rexav LLP – Offshore Development Center
Rexav LLP is an outsourcing agency offering to design websites, web applications, and mobile applications for various offshore clients. They are known for their efficient offshore services, from cost-effective strategies to accurate results.
8. HourlyDeveloper.io
With their innovative business solutions, they have gained the spot as one of the best IT companies in India. You can hire dedicated developers to bring digital transformation to your business.
9. DataEximIT
Leverage their vast experience to create innovative and customized iOS and Android apps for your business. They offer complete IT outsourcing services to cater to your business needs.
10. DataItSolutions
With a goal to provide highly customized solutions to global IT decision-makers & professionals, Data IT Solutions is one of the best companies providing IT services to help you achieve your business goals.
Recommended Read: Top 15 Offshore Software Development Companies
How Can Your Team in India Help You to Hire Offshore Developers?
Based in India, the USA, New Zealand, and the Netherlands, Your Team in India will help you with whatever it takes to give your business an extra edge in the competition. Hiring an offshore development team from YTII will save both your cost and time.
From Java, Python to NodeJs, and Flutter app development, our offshore developers in India have immense and specific expertise to complete your project successfully.
If you are looking for a free consultation on your product development, share your requirements, or contact us at
info@yourteaminindia
.com, and our team will get in touch with you shortly.

Conclusion
In a nutshell, it has now become more important than ever to leapfrog the competition. So, a lot of companies are choosing the road to offshore outsourcing their development requirements.
However, before you shake hands with an offshore development center, clearly define your needs and required skill set and plan the budget accordingly. Additionally, you should consider agile development with an offshore software developers team that has:
Proven track record

Access to the latest code

Experienced professionals

Different Price models

Quality standards

Frequent deployment

Proactivity
Frequently Asked Questions (FAQs)
How do I manage offshore developers?
Managing offshore developers requires effective communication, regular progress updates, and the use of collaboration and project management tools. It is also important to establish clear expectations and guidelines for the project.
What are the risks of hiring offshore developers?
The risks of hiring offshore developers include language and cultural barriers, time zone differences, and the potential for miscommunication. It is important to choose a reputable outsourcing company or platform and conduct thorough background checks on individual candidates.
How can I find offshore developers?
There are several ways to find offshore developers, including online job boards, freelancing platforms, and outsourcing companies that specialize in offshore development.