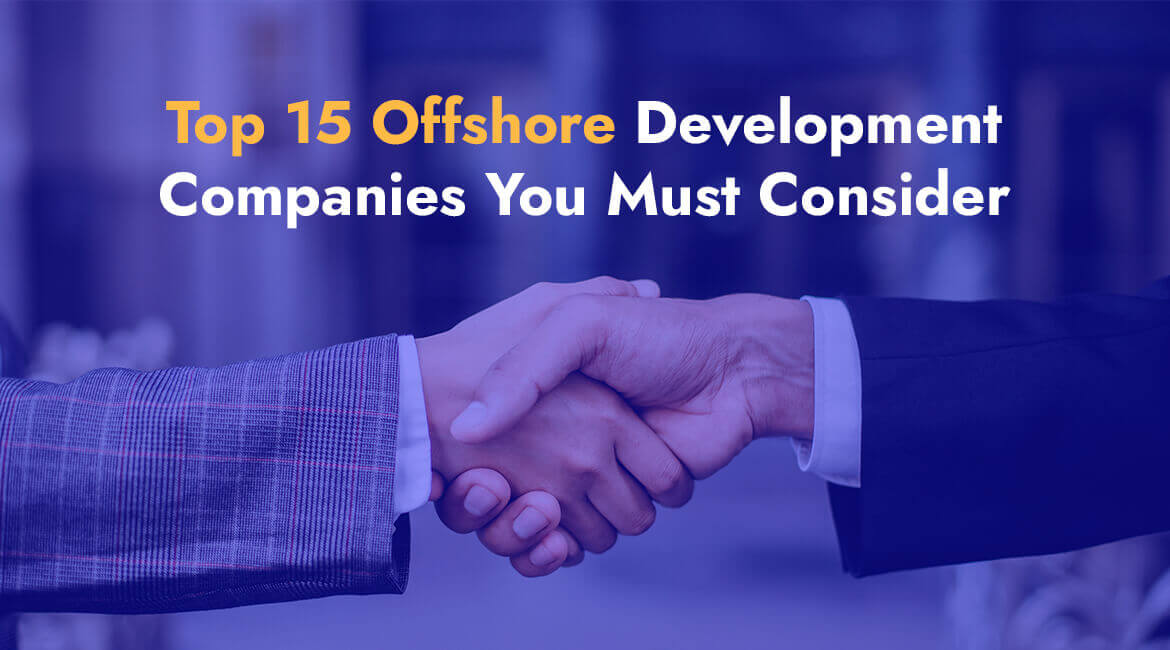 Quick Summary:


Offshore software development has become increasingly popular for businesses looking to cut costs and access a wider pool of talent. In this article, we present a list of 15 top offshore software development companies that offer comprehensive services and have a proven track record of delivering high-quality products. From start-ups to established enterprises, these companies have the expertise and experience to help businesses of all sizes achieve their goals. Whether you need custom software development, mobile app development, web development, or any other IT services, these companies have the tools and skills to get the job done.
With the rapid evolution in technology, businesses are almost suffering to keep up with the constant advances. While being agile and leveraging these advances can scale up your business and increase profits, staying on top of the ever-expanding market can be quite a task.
So, what must an organization do that's already sunk in its day-to-day operations? We have curated a list of the best offshore software development companies for you.
For businesses that are willing to climb the ladder of success, hiring an offshore software development team from top companies can be a complete game-changer for them.
What is an offshore development team you may ask? It essentially involves a course of action made by a business to enlist the help of third-party organizations or contractors to do the product-related work that could have been done in-house.

The Growing Trend of Offshore Software Development Companies
"The global IT outsourcing services market size was valued at USD 520.74

billion in 2019 and the compound annual growth rate is projected to grow by 7.7% from 2020 to 2027".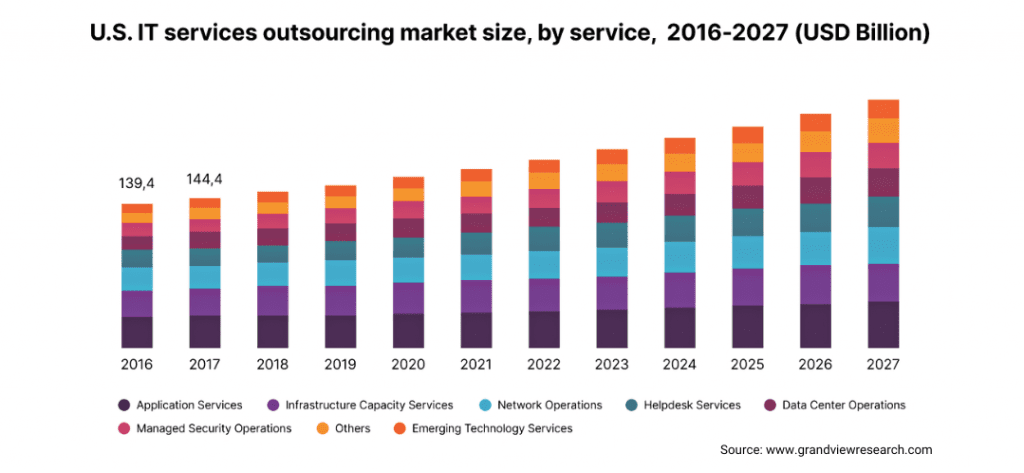 Now that you know what an offshore software development team is, you may be wondering why to work with an offshore team anyway? The big idea has to do with lower costs and reduced risks. Any development firm is likely to offer a few different offshore development services and models to help product owners when it comes to arranging long-term work with a dedicated development team. When the two parties can align expectations and the proper talent, harmony happens. In fact, with the ongoing trend and excellence provided by the companies, setting up an offshore development center seems like a viable solution.
In the past few years, India has evolved into the epitome of software outsourcing hubs in the world. Simply because of its hugely talented and specialized labor pool, price-quality ratio, and strong corporate standards.
Keep reading to learn more about the top offshore software development companies that are dominating the market and will continue to do so beyond 2022!
Recommended Read: In-House vs Outsourcing: Pros, Cons and Use Cases
Top 15 Offshore Software Development Companies
Your Team In India
Simform
BairesDev
ValueLab
Confianz
ValueCoders
Keyideas Infotech
Trigent
Net Gains
Saigon Technology
Clavax
Cyber Infrastructure Ltd
iTexico
GirnarSoft
1Agile Engine
1. Your Team In India
Your Team In India (YTII) is one of the leading offshore software development companies established 13 years ago with a vision to be a quality one-stop software development company. Globally known for its top-notch software solution, YTII outshines in helping businesses of all sizes to hire developers, across a wide range of technologies.
The company embraces a well-established set of cultural and professional values in cooperation with its development center in India. It is one of the best Indian outsourcing firms and has a proven record of success by delivering 1000+ projects. YTII adheres to high standards of security through NDA. Being the top outsourcing firm, the company offers highly experienced software developers along with multiple pricing options carrying out quality with cost.
2. Simform
Simform is among the best offshore software development companies that offer digital product engineering and IT talent solutions, aiming to resolve intricate software engineering issues. Over the years, our team of more than 1000 professionals has provided development services that have enabled businesses to increase their worth. Our company was established in 2010.
3. BairesDev
They take pride in hiring the best specialists in America. BairesDev now houses about 1,300 tech specialists forming an excellent offshore development team in 11 offices. In recent years, the offshore software company has been actively expanding its geography with its headquarters in San Francisco, US.
4. ValueLabs
ValueLabs is a technology company focused on data technology, product development, and related digital services. This other Indian outsourcing firm was traditionally founded in 1997 and has multiple offices across the globe with 4000+ employees fulfilling its laudable offshore software solutions.
5. Confianz
Confianz is noted for delivering fully integrated offshore software services to meet the needs of individual start-ups, small, and medium-sized businesses. This best outsourcing company has worked towards building end-to-end integrated solutions to promote business growth.
Recommended Read: How Offshore Software Development Benefits Startups
6. ValueCoders
Founded in 2004, ValueCoders has been delivering offshore development processes worldwide. This top Indian outsourcing firm has a combination of business domain knowledge, proven methodologies, and technological expertise they work to yield high-quality solutions.

7. Keyideas Infotech
Keyideas is an IT consulting company providing design and development solutions to clients all across the globe — USA, UK, and Australia. Above all, this Indian outsourcing company specializes in web and mobile app development across different domains, helping businesses leave a mark in the industry.
8. Trigent
With an extensive experience of over 22 years and a track record of carrying out 300 successful projects, Trigent makes it in the top 10 IT offshore software development companies in India list curated by Clutch. Over the years, this best outsourcing company has catered to several small, medium, and large companies for their design, development, testing, and launch as well.
9. Net Gains
Founded in 2004, Netgains - an established Indian outsourcing firm has been assisting organizations globally with its team of highly skilled software engineers, web application developers, UX/UI designers, 3D experts, CMS, Marketing Analysts, and support.
10. Saigon Technology
Saigon, one of the top agile offshore software development companies in Vietnam with mature processes and proven track records of repeated customers all over the world, the company provides quality and professional application development, web development, mobile application development, and offshore software outsourcing services. Being the best outsourcing company, they are service providers to highly renowned members of several industries. Such as DMI Inc., Standard Chartered Bank, RSM Singapore, Stone Forest, Payroll Serve, Abbott, and Kaercher to name a few.
11. Clavax
Clavax is a leading offshore software development company, that builds strategies for application development, creating solutions to software development and the toughest technology problems through mobility, big data analytics, and the web. It empowers clients' business by the efficiency of a team with different imaginations, knowledge, and experience in the industry.
12. Cyber Infrastructure Ltd
One of the leading custom offshore software development companies in Central India, the USA, and the UK. In its 14 years of business, the Indian outsourcing firm has delivered comprehensive and up-to-date IT offshore software solutions and services to over 100 worldwide clients in various fields. This top outsourcing firm combines over 1000 expert teams shaped by their professional web experience, mobile experience, and marketing experience.

13. iTexico
iTexico accomplishes the mission of innovating startup, growth, mid-market, and enterprise companies with solutions for mobile web, cloud, and AI by providing end-to-end offshore software development services in the nearshore market. You can trust the company's software development team with nearly 200 experts. They'll help you build great offshore software teams most collaboratively.
14. GirnarSoft
Founded in 2007, it is an ISO 9001-certified Indian outsourcing company, with a focus on creating business value for its clients via innovations and speedy implementations. They have teams of highly trained professionals who understand and deliver as per your requirements. It is also possible to hire dedicated offshore developers from this IT outsourcing partner in India.
15. Agile Engine
It is one of the best offshore software development companies in the USA, Argentina, and Ukraine, with a dedicated and excellent team of over 300 designers and developers. This top outsourcing firm commits to turning your ideas into custom-built software by clean code, a product-first mindset, and excellent communication skills. With nearly ten years of service, the company has built a network with 71 loyal customers and launched 39 applications.
Conclusion
Offshore development centers bring software development and agile methodology in combination to get highly customized solutions. But choosing an effective and efficient Indian outsourcing firm working thousands of miles away from your office is a difficult task. There can be multitudinous pitfalls that can be avoided by choosing the right team. Moving to a dedicated software development team model puts the product owner's energy in the right direction - towards their rate of progress as they work through a feature backlog.
"Freeing up resources to focus on core business is the most widely cited reason for outsourcing IT functions, at

49%.

Saving money is secondary, but still a top priority. About 45% of companies outsourcing IT functions say that their information technology outsources projects are meant to save money. About 46% say outsourcing lets them access skillsets that aren't available in-house."
Since the value of a dedicated offshore software development team can get more difficult to measure, the real question is how to manage an offshore development team? Product owners must carefully take extra steps to communicate progress and value provided to those from the business funding the project. Also, teams must build on standard guidelines to create their own best practices. Building a sophisticated process for the work environment will minimize the friction in sustaining a long-term partnership and scaling your business.
Offshore Development Team In India?
Moving your software development offshore will always be a tremendous business judgment – and that means the benefits must be vital and stable. With a billion-person population and millions of IT professionals, India continues to rise in this competitive market. India offers remarkably talented professionals at a much lower cost. But, why lower if they are so talented? The cost of living is significantly lower than in the UK or the US. It is the reason why the average developer's hourly wage in India even in tech-focused marketplaces like Chandigarh is notably lower. Building your own offshore development team isn't as menacing as it might appear. Prominently, you will have opportunities to approach higher innovative technologies and talent in the field.