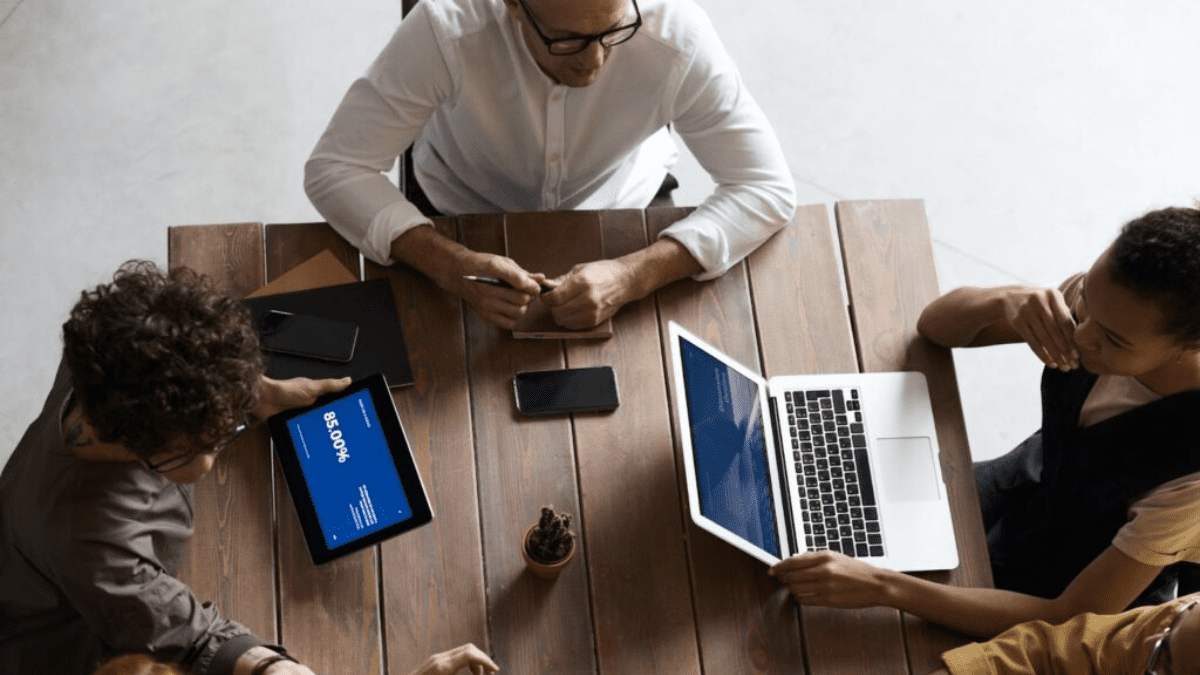 Quick Summary:
When it comes to outsourcing software development, a dedicated development team costs less than in-house and is a more reliable option than freelancers. But is this an economical and viable option? Or should you plan to hire an in-house team or project-based outsourcing? Read to find the answers, pros and cons, and cost comparison of each model.
Are you an entrepreneur, a technology forerunner, or a growing startup founder that wants to develop a product? Or are you a part of an established organization where you hire a dedicated development team?
If your answer is yes to any of these questions, read this blog.
Here, you'll learn about the following:
What is a dedicated development team?

What is the typical model for a dedicated development team?

What are the key advantages and disadvantages of hiring a dedicated development team?

How does dedicated software development teamwork?

What are real-world examples of where it fits and where it fails?

And many more.
Without any ado, let's swoop into the crux of this article.
What is a Dedicated Development Team?
A dedicated development team is a business model in software development that presents the long-term collaboration between a client and a service provider (dedicated development team).
In simple terms, a dedicated development team is an outsourcing concept where developers collaborate with startups to accomplish agreed deliverables. Hiring a dedicated software development team is an ideal choice for established companies as well as growing startups.
"The term "Dedicated" refers to the essence of this model - members of the dedicated team models are handpicked to meet your project's unique requirements."
YTII - is the epitome of hiring a dedicated development team. We have been assisting startups and established organizations in creating products that write an undefeatable success story. We've developed apps for social media giants like German Media and Finding You. We have been working with clients from the Fintech industry, like Gettrex and Dorey Financial, for years, and we consider their products as our own. This is what we define as dedication.
This staff outsourcing model is a popular yet ideal choice for growing startups and established companies. According to Outsource Accelerator, IT services take a growing piece of the $95 billion outsourcing and offshore market.
At times, when you hire dedicated teams, you get professionals selected specifically for your business goals. This business model resonates with the in-house team, who are your employees.
However, unlike with in-house employees, in a dedicated team, you don't carry the onus of administrative, HR, taxation, and social benefits concerns. In contrast, you can focus on more important concerns while your partner development company will take care of the rest.
Handholding the apt knowledge about the development team, let's shed light on the suited structure.
Transform your software development ideas into reality with our expert remote developers. Elevate your business with tailored solutions.
What is a Dedicated Development Team Structure?
A Dedicated Development Structure (DDT) is a team structure in which project requirements are outsourced to remote developers.
Undoubtedly, your technical requirements determine the composition of your dedicated development team. Typically, an ideal team for a development project will consist of the following professionals:
Product Manager

Project manager

Business analyst

UI/UX designer

Technical lead

Backend and frontend developer

Quality analyst

Mobile Developer
If you are setting out in the technical business, the probability is high that you are not aware of the job roles discussed. Let us have a quick rundown of what each means.
Job Roles
Responsibilities
Product Manager
The product manager outlines the needs of the targeted audience with the company's business objective that the product will address.
Besides, they manage the integration and launch of features.
Project Manager
The project manager's responsibility is to ensure team members are on the same page of project development, from time, budget and delivery plan.
Plus, they are responsible for meeting client expectations following agile management practices.
Business analyst
The responsibility of a business analyst in a dedicated team is to create requirements for a future solution.
UI/UX designer
The primary role of a UX/UI designer encompasses collecting, researching, and evaluating technical requirements.
Technical Lead
A tech lead's responsibility is to lead the backend, frontend, and mobile development teams.
Backend and Frontend Developer
The backend developers develop and maintain the technology necessary for the user-facing applications to exist on the server-side interactions. The front-end developers integrate the design of the UX/UI designers.
Quality Analyst
The QA checks the performance of the app as needed and suggests workflow improvements on the code, logic, and UI design.
Mobile Developer
Mobile developers share the same responsibility as front-end developers but for mobile applications.
Now, you have an in-depth understanding of the team members you need to onboard for your startup. Let's uncover the advantages of this business model.
Recommended Read: How to hire developers for startups
Advantages of Hiring a Dedicated Development Team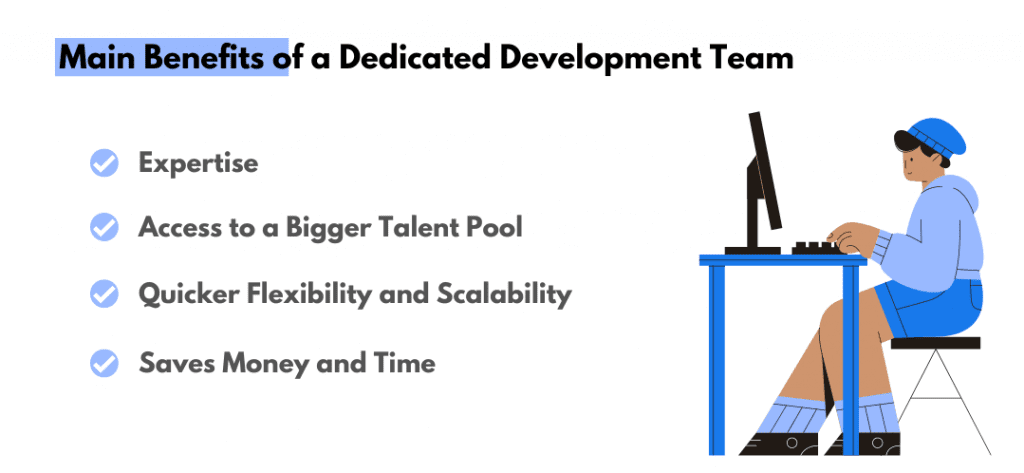 According to a report, the worldwide demand for development outsourcing is predicted to scale at a CAGR of 7.7%from 2020 to 2027. And if this is soon going to be a reality, the segment's revenue will be worth $937 billion in the next six years.
Simply put, this surge is fueled by the untold advantage of hiring a dedicated development team for your project. And the benefits of hiring a dedicated software development team start here.
1. Expertise
Outsourcing the technical requirements of your business operations allow your startup to collaborate with professionals with the requisite proficiency and experience to build your product for optimal satisfaction.
Mostly, these experts dwell on the exclusive experience of working on similar projects, so they can better help you leverage the benefits of minor details.
Besides, through years of teamwork, the dedicated team already has a proven workflow and is comfortable with task delegation. The best part is you don't have to do all this from scratch and deal with challenges that may arise.
2. Access to a Bigger Talent Pool
If there's a paucity of talent pool in your in-house team, then a dedicated development team is unquestionably the way to step ahead.
Hiring a dedicated team opens your startup to a pool of professionals worldwide, allowing you to pick the best hands at a cost-effective price. For example, industry giants in the tech-savvy world like Google, IBM, Skype, and many more have ridden the bandwagon and cherished the benefits.
3. Quicker Flexibility and Scalability
"Outsourcing is synonymous with unparalleled flexibility and scalability."
Undoubtedly outsourcing is an ideal choice to address your top-notch flexibility in defining your project scope. Also, it eases the process of minimizing or maximizing your team size without breaching any employment laws.
In simple terms, this flexibility feature is intrinsic to catering to ever-evolving business requirements.
Though on the contrary, growing your in-house team seems arduous, expensive, and time-consuming. Scaling down your in-house team without a staff-dignifying reason may have an impact on your employee's morale and significantly impact their productivity.
Besides, it can allay your company's reputation as an employer.
4. Saves Money and Time
The secret is out!
A remote dedicated team is a key ingredient for numerous US-based startups' success.
Hiring a dedicated software development team for startups and established organizations is a win-win situation. Primarily this is because the cost of hiring developers varies from region to region.
As this blog sheds light on software development costs, US-based startups are likely to spend $99-$120/hour on a local software developer. At the same time, outsourcing to a dedicated and experienced team in India is costly, around $25-$49/hr.
This substantial difference helps you save $100 an hour.
Also, if you hire a dedicated development team, the complete scope of work is clearly defined, leaving no chance of budget overrun.
However, with advantages, this business model also has its demerits. Here are some disadvantages of remote outsourcing.

Disadvantages of Hiring a Dedicated Development Team
With myriad benefits, outsourcing to a software development company has its disadvantages. A handful of them includes poor communication, cultural differences, time-zone gaps, etc. Let's discuss them.
Outsourcing to software service providers has its drawbacks. Some of these include poor communication, time-zone differences, cultural differences, and so on. Let's elaborate further.
1. Numerous Service Providers to Choose From
Planning to hire a DDT (Dedicated Development Team) comes with another set of demurs.
You have to handpick a development team that aligns with your company's objective, but it might seem tricky in itself. So, it's advisable for startups to choose from a local team or outsource to an agency entirely domiciled in that specific region.
Besides this, there are challenges in choosing a dedicated team with an appropriate skill set that can ensure your expected deliverable. So, to help streamline the remote hiring process, it's recommended to read this article for a clearer vision and better understanding.
2. Time Zone Gaps
The biggest drawback to outsourcing is time zone gaps. This can be negligible if your remote team is in the same country as yours or with slight time zone differences. But, with a huge time gap, it's a significant concern.
For instance, between the UK and India, there is a time zone difference of 4 hours and 30 minutes. Considering this time gap, a technical glitch noticed by a UK-based startup can't be communicated with an India-based outsourcing company at 5'o clock (UK time). This will be around 9:30 pm in India. Therefore, a crucial update may not get the priority attention it deserves. Besides, there will be differences in public holidays.
3. Cultural Differences
There's no denying outsourcing opens your business to the best talent across the globe, but the only challenge faced is the difference in culture.
After all, culture significantly impacts product development through decision-making, reporting, and what it defines as a completed task. In addition, inherited cultural differences often result in different thoughts about the target audience or project's visual elements.
Therefore, it's important you hire an offshore developer or choose an offshore development company with a dedicated development team that fits culturally with your corporate culture and your target markets' culture.
4. A Void of In-Person Communication
A remote team eliminates all the chances of having in-person communication. Therefore, in turn, welcomes a myriad of other challenges.
After all, a team that depends primarily on chats and emails is liable to miscommunication. So, to address the root cause, communicate effectively through different non-verbal cues.
Different Outsourcing Models with Dedicated Development Team
Let's dive deeper into different outsourcing models of understanding with a dedicated development team.
Model 1: Hire Dedicated Development Team
A dedicated development team is a group of remote experts that help in assisting and developing products that cater to your business-specific goals. A potential tech provider brings this team to work exclusively for your project.
This outsourcing model is an ideal choice for:
Long-term committed project

No time to create an in-house development team

A deficit in technology expertise among the in-house developers
If your business aligns with any of the above criteria, undoubtedly go for this business model.
Model 2: Hiring Resources to Grow Your Team
This business model primarily eclipses adding a deficit skill set in your in-house team from your tech partner. Plus, this approach ensures strategic competencies stay in your office space.
This outsourcing model entails time and material contracts.
To understand better, let's take an example!
Your startup needs one front-end developer with expertise in a specific technology and framework that is missing from your in-house team. Here, it's advisable to think of an out staff.
By choosing this model, you can save exponentially on payroll, intake, and project management expenses. Besides, it offers you complete access to the team's productivity and deliverables. In addition, the delegated responsibility reduces employment formalities giving you time to focus on the core development process.
If this scenario is relatable to you, then this is the ideal choice for your startup.
Model 3: Hiring a Dedicated Team on a Project Basis
It might sound the same as hiring a dedicated team. But, the subtle difference here is that you hire a dedicated development team on a project basis for developing a specific piece of product.
For example, your in-house team is all occupied with numerous ongoing products. And, then onboarding another project comes as a big challenge. Here, you can hire a dedicated software team to work on your specific project for a defined time.
This type of outsourcing includes explaining the entire project requirements to an analyst of a tech provider. These analysts give suitable expertise for the project and keep track of the project.
"Hiring a development team on a project basis meets client's needs and collaborates teams to cater to the development process."
This business model is an ideal choice for startups looking for:
Cost-effective approach

Time-saving solution

One project that needs expertise, skills, and resources
Now you have an in-depth understanding of different outsourcing models, let's dig deeper and understand what distinguishes them from other models.
Difference Between Dedicated Development Team and Other Models
Considering the outsourcing model, you have options of choosing between a dedicated team, a fixed price model and a time and material outsourcing model.
So, let's see what exactly distinguishes them.
Dedicated Development Team vs Fixed Price Model
A fixed price model ensures a fixed project budget, despite the committed expenses and time. The biggest advantage of this model for startups is that they can plan their expenditure wisely. Though, any changes will need added estimation and a new contract.
Therefore, the primary requirement is to define the project scope and requirements.
Simply put, if you are working on a short-term project, then fixed-price models make a good choice. But, if your project is highly sophisticated and liable to changing requirements, it's recommended to hire a dedicated development team.
Dedicated Development Team vs Time & Material Model
As the name suggests, this time and material model entails paying for the efforts and time invested in development.
As it's related to web and mobile app development, it includes paying the outsourcing development company on an hourly basis. This is a common outsourcing methodology, as it's deemed convenient, flexible and adaptable.
Here, time and material models come to your rescue if all you want is not to burn your pocket. Also, stepping on a long-time project should choose a dedicated team structure. After all, long-time projects have an evolving scope and scale-up potential.
Now, it's time to understand why we advise dedicated development teams.
3 Reasons Why You Should Hire a Dedicated Development Team
A dedicated team model is ideal for complex and long-term projects that can expand in the future. This option is also the best when you lack clarity on your product and need a discovery stage.
Let's dive into more details of why you need this team model.
Reason 1: Fixed Development Budget
As a startup, the biggest challenge is a limited development budget. Thus, it's best to go for a dedicated team that is friendly to your budget bracket. Often, you don't require software developers under your arm's stretch.
Must be thinking, why? Simple, it's a cost-effective approach.
Hiring a developer in the UK costs around $100-$120 on an hourly basis. While in India, it will cost around $25-$49/hr. Therefore, outsourcing seems a budget-friendly approach if you are outsourcing with the right tech partner.

Reason 2: The Expertise Lacking
Imagine you are developing a project that needs skills or some expertise knowledge for a platform that your in-house team lacks. Here, you can quickly build an experienced team, save costs, and create your product faster with a dedicated team.
Reason 3: The Lack of Resources
You have enough development budget, and your project shows excellent customer attraction and retention rates but still lacks the available developers to orchestrate development and growth.
Another reason you should think about hiring a dedicated team is the lack of resources in the in-house team to meet the business development roadmap.
The ONLY reason Why NOT to Hire a Dedicated Team Model
#Only Reason: "You Have No Marketing Budget"
According to Forbes, 10% of startups that write their own success story don't ignore anything.
And one important element that several founders skip is the "Budget for Marketing". Imagine building a product that no one knows about. Seems like a nightmare, right? That's the potential repercussion of not having a marketing budget.
When you don't market your product, the communication bridge between your target audience and startups ceases. This eventually leaves your customers in the middle of nowhere, pressing them to abandon your brand.
Probably, now you have an understanding of why a dedicated software development team is important.
How Much Does It Cost to Hire a Dedicated Development Team?
Let's define how much hiring a dedicated development team costs.
An average hourly price for an experienced developer in the US encircles around $53/hour. In Eastern Europe and India, it varies around $25-$49/hr.
Still, if you are looking to optimize more without compromising the lines of code, here's some happy news for you.
YTII Outsourcing Calculator
This calculator will help you determine if the cost savings and increased efficiency are worth the investment. See if you are getting the best value for your money.
Check YTII Outsourcing Calculator.

In countries like India, developers' prices vary from $18 - $39/hour. This is a rough estimation. Furthermore, when hiring a remote development team, there's no need to invest in aspects like office space and upskilling.
In a nutshell, this is a huge saving on time as well as money.
Why YTII Is A Good Choice While Hiring a Dedicated Development Team?
Here are the reasons!
YTII (Your Team In India) has extensive experience in collaborating with global clients within a dedicated development team contract. About 30% of our projects are based on a dedicated development model.
Furthermore, 25% of projects initiated on the other business models eventually switched to a dedicated team.
YTII Process - Dedicated Development Cooperation
Here's the insight into what happens when clients hire us as their trusted, dedicated development team:
#Step 1: Scope Estimation:
In this phase, we evaluate how much work needs to be done and how many resources need to be involved.
To do so, usually, a business analyst communicates with the client to identify the requirements and wants. Then, based on the information provided, business analysts outline the project's requirements and determine the project's scope.
Here, two scenarios can arise:
The client has a predefined scope - In this, we discuss the budget with the client regarding their priorities and the estimated timeline.
The client has no idea about the scope - Here, we process a discovery stage where we make hypotheses and validate them with a prototype.
#Step 2: Team Selection
Here, we put together a team of skilled, experienced, and motivated experts to work exclusively on your project. Here are the criteria we carry for the selection process:
Quality and service

Skills and expertise

Profitability

Experience

Morale and motivation of resources
#Step 3: Scope Call
This call discusses the purpose, milestones, and priorities for the client's initial sprint.
#Step 4: Proposition Call
We suggest a solution, expected team composition, timelines, and budget at this stage.
#Step 5: Kick-Off Call
Finally, this is the point where the team gets a kick-off, and the collaboration starts. The call aims to introduce the team, discuss job responsibilities, and assign project and business priorities.
Finally, getting the right expertise to create a unique product is essential. And to achieve this, startups like you are usually torn between hiring a full-time in-house team or hiring a remote dedicated development model.
Don't worry! We'll help you turn your project into a success story.

Frequently Asked Questions (FAQs)
How does a dedicated development team differ from outsourcing?
While outsourcing involves delegating a project or tasks to an external company or team, a dedicated development team is a more integrated and long-term approach. The dedicated team becomes an extension of the client's in-house team, working exclusively on their projects, and often follows their processes and methodologies.
What are the benefits of working with a dedicated development team?
Some key benefits of working with a dedicated development team are increased productivity, improved collaboration, cost-effectiveness, and access to a diverse skill set and expertise.
Can a dedicated development team work remotely?
Dedicated development teams can work remotely, especially in today's digital age. Remote work is becoming increasingly common and offers various benefits, such as access to a global talent pool, cost savings, and flexibility. However, effective communication and collaboration tools are essential to ensure smooth coordination among team members.