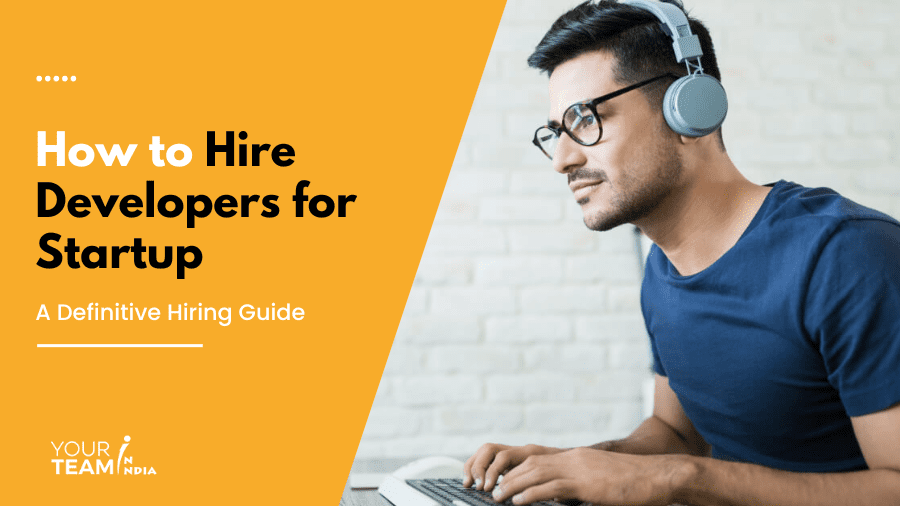 Quick Summary: "This blog is a comprehensive guide for startups looking to hire offshore developers for their software development projects. The blog covers the different challenges, benefits, and steps to hire developers for startup. It explains what should a hiring plan for a startup should curtail, what mistakes to avoid, and how a reliable offshore development company can help navigate the challenges of hiring developers and fast-forward your project development."
As a startup owner, when you have to look after several tasks like formulating vision, finance, and assessing risk and opportunities, hiring talented developers comes as a challenge.
Especially when your business is in a non-tech industry and is an early-stage startup, it isn't easy to scan the entire team of tech talent. Did you know that almost 9 in 10 HR professionals find it challenging to hire developers?
But not to worry, you can find developers and make the hiring process easy with the proper steps and ensure that you have the right developers in your in-house team. This article will help you understand the following:
Why should you hire developers for startup?

What are the advantages of hiring developers for startups?

How to hire developers for startups and build a dedicated team?

Why choose India to hire developers for startup?
So, without further delay, let us discover the challenges startups face while hiring in-house developers.

What are the Top Challenges to Hire Developers for a Startup?
Being at a nascent stage of business, startups face challenges like limited capital, time constrain, lack of hiring experts, longer hiring cycles, and little brand presence to attract the right talent to join their in-house team.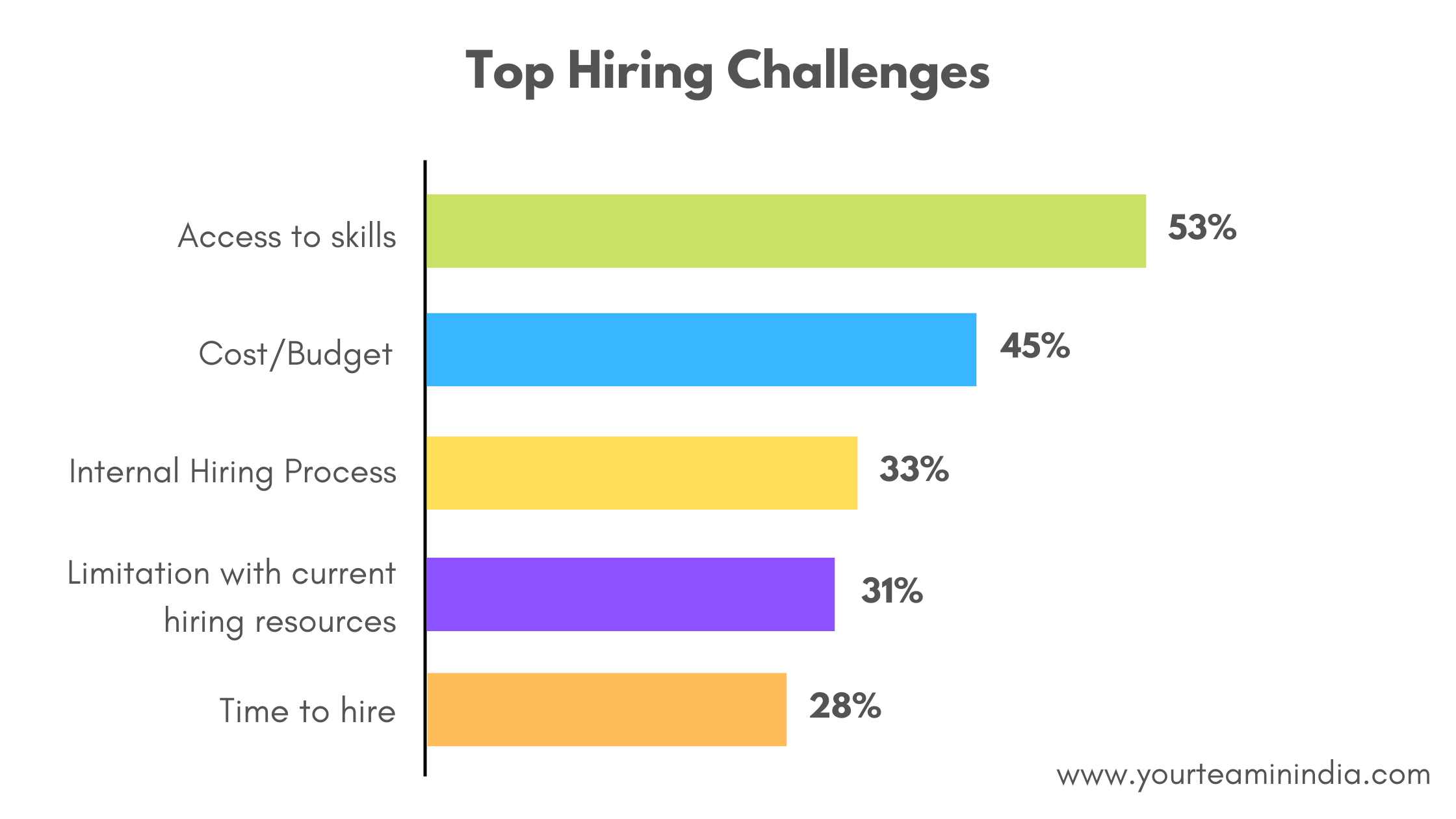 1. Budget Constraints
Being at the starting phase of their business journey, most startups carry out their operations on a limited budget. Besides salaries, onboarding technology experts as full-time employees would require Infrastructure, work systems, employee benefits, and hiring partner costs
Thus, hiring programmers to join the in-house team becomes an expensive affair, which the startups can't afford.
2. Lack of Hiring the Expertise
Startups rarely have a full-fledged HR department in place. They operate with a small HR team and lack the proper tools and expertise to find the right developers to join their team to scale the business.
3. No Brand Recognition and Affinity
Since these budding businesses lack brand recognition and awareness, hiring programmers for startups is tough. As resources usually opt to work with known brands, attracting and retaining the right talent for the business becomes a challenge for new businesses.
4. Long Hiring Cycle
The average cycle to hire developers for startups in western countries ranges between 45-90 days. The long hiring cycles delay the overall project development, causing increased time-to-market.
Due to these challenges, hiring offshore software developers for startups has become a more practical solution in today's dynamic market.
Besides, hiring offshore developers for startups has more advantages than hiring an in-house development team.
Benefits Of Hiring Developers For Startup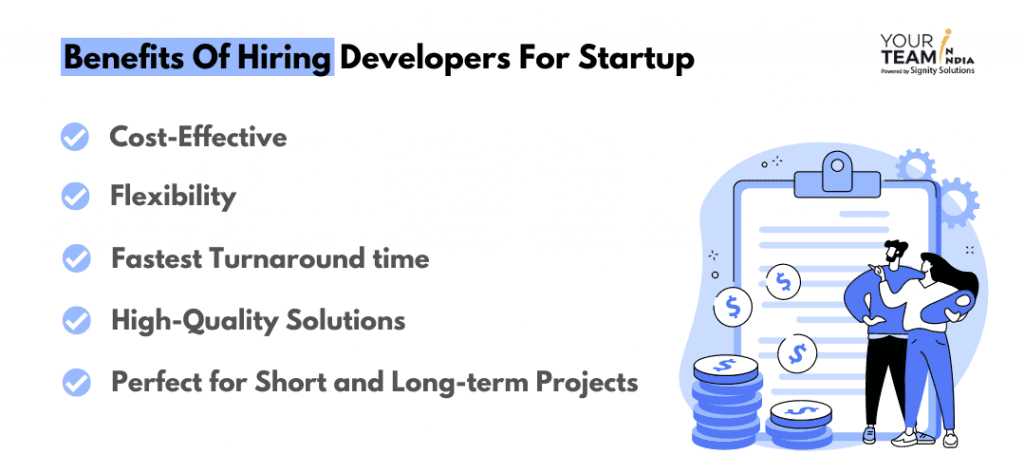 1. Cost-Effective
The first and most prominent benefit of hiring offshore developers is the saving of as much as 60% in your overall development costs. By hiring offshore developers, you save on
Hiring costs

Infrastructure and workstation setup

Employee benefits

2. Fastest Turnaround time
Hiring tech talent for a startup in an offshore destination ensures a quick turnaround of your project as a team of dedicated experts work on software development.
3. Perfect for Short and Long-term Projects
Hiring offshore developers come with zero commitment. Depending on your project requirement, you can hire them for weeks, months, and even years.
4. Flexibility
When hiring programmers for startups in an offshore development setup, you enjoy the flexibility of hiring in a fixed, monthly, and hourly engagement model to meet your development. You can also create a hybrid engagement combining any two or all three models.
5. High-Quality Solutions
With a team of highly skilled programmers working dedicatedly on your project, you get high-quality development with uncompromising code quality.
The aforementioned factors clearly depict that hiring offshore developers is the right way for startups to accelerate their software development.
Recommended Read: Benefits of Indian ODCs to Startups & SMEs
The Right Approach to Hire Developers for Startup
Hiring software developers for startups can become tedious if you have not done your homework. Before you even think of onboarding a resource, you must carry out some groundwork to ensure you find the right fit for your business. How many developers do you need? Do you need full-time developers or on an hourly based? What technical skills do you specifically require, are some questions that you should be clear about.
Why do developers want to work with startups?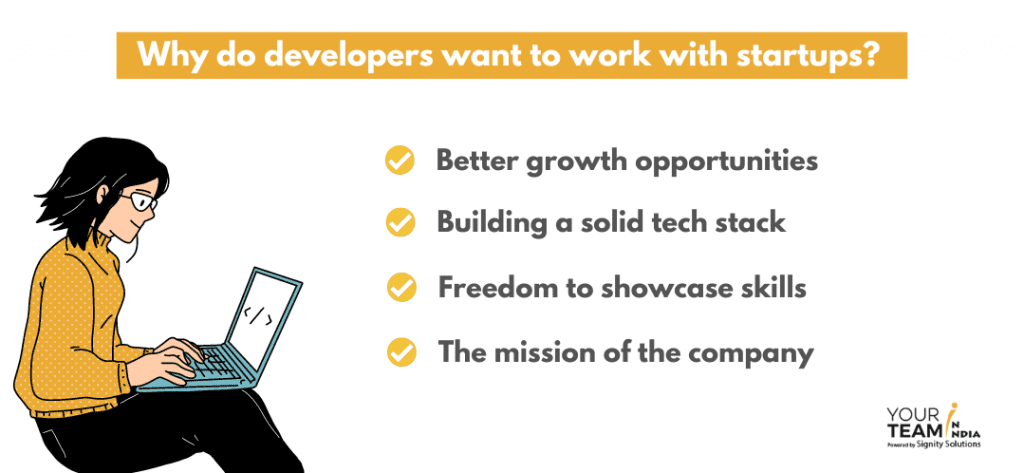 Why do skilled developers want to work with early-stage startups when they could get a higher-paid job at a well-established company? 60% of employees are happy working at a startup. The top four reasons are:
1. Better growth opportunities
The first reason developers like to work with startups is that they have better growth opportunities. As startups evolve quickly, the job descriptions will also change fast, giving programmers a chance to work and grow their skills in different areas.
2. Building a solid tech stack
Startup founders need a robust tech stack for building the company. It is an excellent chance for the developers as they solve big problems and choose the technology stack from day one.
3. Freedom to showcase skills
Another reason that attracts software developers to startups is the autonomy they would not get from big brands. As the company is small and has fewer people on the team, it provides open doors to people for self-leadership and to take the front foot.
4. The mission of the company
As per Glassdoor, 79% of job seekers consider the company's mission and purpose before applying. Startups have a solid mission to solve big problems, and it attracts developers as they work with great minds.
Now let's take a look at the quick checklist to enhance the hiring experience:
Recommended Read: Tips for Start-ups to Beat Big Companies
Here is a Checklist to Enhance your Hiring Experience:
1. Define the purpose of your project and the deliverables of the developer. Creating a detailed document on the purpose and functionality would help you outline the exact requirement of your project and the expectation from the hired programmers in terms of experience, outcome, and timelines.
2. Create the project's Scope of Work- Once you have defined the purpose, the next step is to create the scope of work for your project that startup developers will be assigned. The following steps can help you create a detailed scope of work:
Examine what you are building, who you are building it for, and what real-life problems does your solution solve?
Decide which platform your solution will be operating on. Linux, Ios, windows, android, etc.
Find out which tech stack developers you need to build this solution.
Establish a budget for the project based on the time and effort of resources, future expansion, technology upgrades, and feature updates.
3. Find the source for hiring software developers- One of the most critical aspects of hiring offshore developers for startups is deciding the resource hiring source. Though there may be multiple source options available, the two that stand out the most ate Freelancer portals and Offshore Development Companies or ODCs.

Freelancer Portals Vs. Offshore Development Company - Hiring Model
Freelancer Portals

Offshore Development Company

Resources

You need to hire individual resources for the project and make them function together.

Multiple touchpoints to get work done.

You get a pre-built team of dedicated developers for your project along with a project manager.

Single point of contact for project updates

Engagement

Usually short-term engagement

Can hire the team for both short-term as well as long-term engagement

Risk

High-risk

Low-risk

Management

Tough

Easy

Team Scaling

Time-consuming

Quick

Resource Quality

Need to be assessed

Pre-vetted and certified resources
Being new in the market, it's advisable to opt for reliable offshore development companies such as Your Team in India to hire freelance developers for your startup.

How to Attract and Hire Developers for Startup?
While hiring programmers for startups, companies need to keep in mind that the resources you seek are evaluating you against your competitors. And you need to ensure that your brand stands out.
LinkedIn research shows that company culture is one of the main aspects that people consider before joining an organization.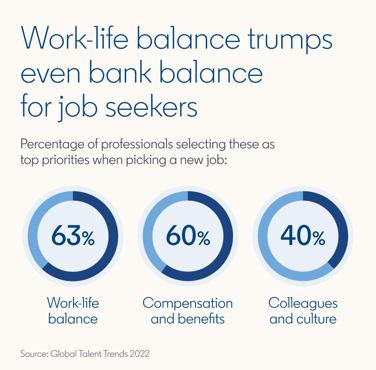 As a startup, you have the liberty to build a more open and human-centric work environment. But building a great culture is of no use if you are not communicating it to the world.
Here is how you can communicate
Use social media to your advantage. Build a strong presence on professional networks like LinkedIn, Google my business, and Twitter by regularly sharing co-curricular activities and testimonies

Host webinars and video conferences

Build a strong college reach-out plan to a build brand presence
Now that we have established how you can build a favorable brand presence let us discuss the steps to hire programmers for startups.
Extend your remote development team
Stop searching and start scaling. Extend your offshore tech team with world-class developers in India.
8 Effective Steps to Hire Developers for Startup
Below are the 8 simple steps for the hiring process of developers for a startup to build your offshore development team.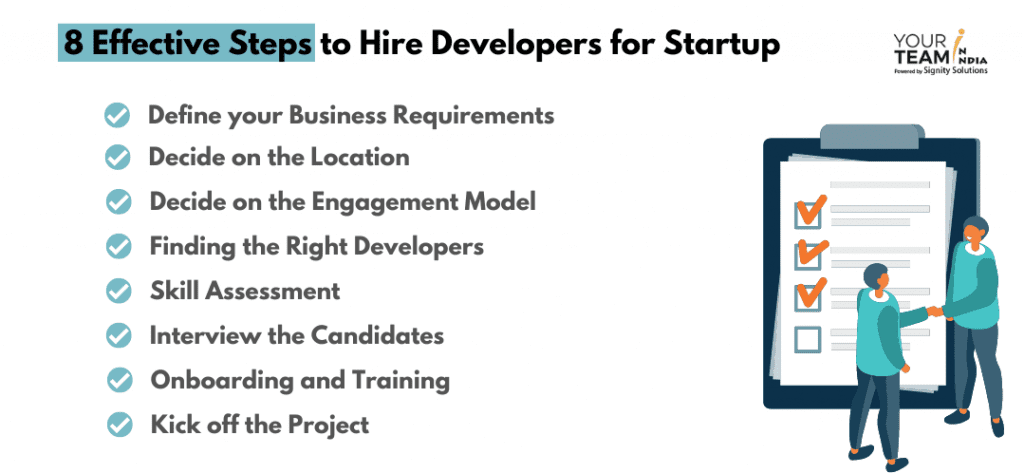 1. Define your Business Requirements
The first and foremost step is to specify your project requirement in terms of
Product delivery- whether you wish to build MVP or full-fledged products.

Operating system- iOS, Android, Linux, etc.
2. Decide on the Location
The second step in hiring offshore developers is deciding the country and city where you wish to hire the resources for your project. Though the cost is an important factor, it should not be the only thing to consider when choosing the location. Factors such as:
Developer Population

Availability of resources in emerging technologies

Technologies that are available in the market

Government stability and foreign policies

Geopolitical landscape

Employment landscape
3. Decide on the Engagement Model
Once you have shortlisted the location, decide which employment model of hiring an offshore team you would want to implement. Fixed cost, monthly rates, or hourly rates.
Suppose your project has a straightforward requirement with little to no scope for deviation. In that case, the fixed cost may be the right choice, but if the development requires constant updates and changes, opt for a more flexible setup like monthly or hourly engagement.
You also enjoy the flexibility of hiring resources part-time when you hire offshore developers.
4. Finding the Right Developers
When hiring an offshore team of developers for your budding business, you will come across various options like job portals, freelancer platforms, professional networks, and offshore development companies. Unless you have the required expertise in technologies and market knowledge, it is preferred that you opt to work with trusted offshore partners to build a successful and scalable team for your development project.
With a pre-vetted large talent pool, offshore software development companies can provide you with extensive options of resources to choose from for your project.
5. Skill Assessment
Once you have shortlisted the candidates, carry out extensive background checks and skill assessment tests of the candidates.
Evaluate their experience based on the number of years in the industry and industry served, number of successful projects delivered, and learning graph or how often and how well they have made an effort to stay up to date on the new and emerging technologies.
This process will help you weed out the candidates that don't match your business needs, leaving you with a more refined group of individuals to choose from.
6. Interview the Candidates
Interviews carried out in person or over video calls are a great way to assess their technical, team, managerial, and soft skills, providing you with a holistic view of the developers. Through interviews, you can assess the personality of the remote developer and gauge if they are the right fit for your company as per the job description.
7. Onboarding and Training
When hiring offshore developers, company induction and training are very critical as the team would be operating remotely. You must plan detailed sessions where the hired developers are trained on the project, work process, hierarchy, workflows, and frameworks.
8. Kick off the Project
Once you have selected and trained your dream team of developers for a startup project, it's time to start your project development. Build well-defined delivery timelines and feedback mechanisms to ensure seamless communication between in-house and offshore teams.
Checklist of Skills to Look for while Hiring a Startup Developer:
1. Check for the development experience of the hired software developers.
How many projects have they worked on?
Which industries have they served
The complexity of the projects that they have delivered successfully
2. Examine if they have knowledge and expertise in working on startups or similar projects.
3. Evaluate their knowledge of various coding languages and knowledge learning curve.
4. Ask for samples of work delivered previously. Check if they followed international coding standards while working on the projects.
5. Find out which development methodology they follow and have worked on in their previous projects.
6. Assess their communication skills and attitude towards work. Can they handle negative feedback, and are they open to new ideas?
Mistakes to Avoid when Hiring Developers for a Startup
Focusing entirely on cost- Though cost saving is one of the most evident advantages of hiring offshore developers for your startup's in-house team when shortlisting a candidate, it should not be the only criteria in your mind. Irrespective of which market you hire the resources from, a quality programmer can never be cheap.

Giving more weightage to a degree over experience- Hiring a certified programmer should be a prerequisite for any business, but it should not be the only factor in consideration. One should pay close attention to the experience of the developer in terms of the complexity of projects, industries they have worked with, and most importantly, their learning curve.

Ignoring soft skills- Ignoring soft skills like communication, team player, managerial skills, and empathy is one of the fatal mistakes that cost the company in the long run. These play an important role when interacting with a remote team. A lack of these skills can lead to mismanagement and cause friction among the team members.

Ignoring cultural fitness – When working with remote developers, it is important to assess if they fit well in your company culture, as at the end of the day, they need to work with your in-house teams and follow your company policies to deliver the output.
Reasons Startups Hire Software Developers in India
India is ranked amongst the top destinations for hiring offshore programmers for startups and enterprises. With 12% of the world's software developers and an English-based education curriculum, India has the 2nd largest IT population with impeccable communication skills.
Here are some of the top reasons to choose India as your offshore destination to find developers and hire them for your project.
India is home to many emerging technologies like VR, AI IoT, Robotics, Automation, etc.

Hiring in India is cost-effective. Hiring programmers in the biggest IT hub city, Bangalore, is 140% more economical than in California.

Indian developers are empaths and don't mind going the extra mile to meet timelines

Being exposed to international working standards, Indian developers easily adapt to new working styles.
Also Read: 11 Reasons To Hire Software Developers From India
How Does YTII Help Startups With Their Software Development Needs?
Your Team in India is a pioneer offshore software development company with 12+ years of experience. In the last decade, we have assisted brands across the globe in successfully augmenting their development teams and scaling their operations with potential developers.
Partnering with YTII gets you
A truly dedicated team for your project where we align the developers directly under your supervision

100% real-time visibility of your ongoing work on the project

Full IP protection and data security with our extensive NDAs and enterprise-grade security across systems

7-day risk–free trial with the hired developer for your startup before you kickstart your project

Senior tech lead and project manager who will help you navigate through bottlenecks and challenges

Easy scaling of a remote team and quick resource replacement
With such benefits by your side, many startup businesses like Plena Data, Finding You, and GoHire have successfully launched their product.
Now that you know everything there is to know about hiring developers for your startup, get your offshore development journey started with remote programmers.

Frequently Asked Questions (FAQs)
How to Build a Hiring Plan for a Startup?
Your Startup Recruiting Plan Should Have Four Basic Parts:

1. Clearly Defined Roadmap: Why, when, where to hire a developer, and how to move ahead with recruitment.

2. The Mission Statement for Every Role: Attract candidates that are aligned with the business vision.

3. Detailed Job Description: It should include KPI and a good understanding of what is required of the role and how it will contribute to the business.

4. Clear Interview Process: The candidate should know what is to be expected of the entire experience.
What Should be the Ideal Team Size of Your Startup?
As a startup, you might be tempted to expand your team and scale your operation, but it's always advisable to start small and then build on that team. An ideal offshore team of 4-5 developers for your startup is ideal to begin your operations.
When, Where, and How can SaaS Startups Hire Offshore Developers?
Whether you are building a new product or upgrading an existing solution, hiring an offshore developer is one of the most viable options to get high-quality output at economical pricing.

When looking for remote programmers, startups can hire developers from:

1. Offshore Development Companies
2. Job Portals
3. Social Networking Sites
4. Freelancer Listing Platforms
What qualifications should I look for in a developer for a startup?
The specific qualifications will depend on the requirements of your startup. However, some key qualifications to look for include experience with relevant programming languages and technologies, problem-solving skills, creativity, and the ability to work collaboratively with others.
How can I find the right candidates for my startup?
To find the best candidates for your startup, you should use a variety of recruitment channels, such as job boards, social media, and personal referrals. It's also important to create a clear job description and evaluate candidates thoroughly, including testing their skills with coding challenges or technical assessments.
Additional Resources