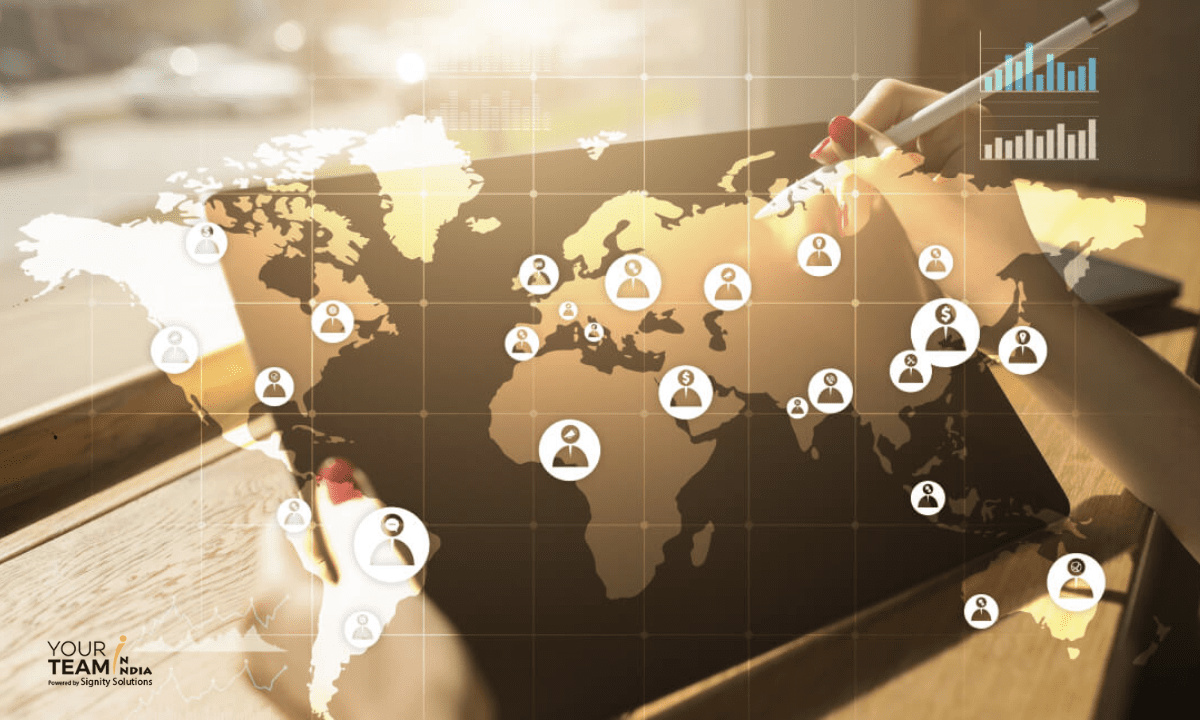 Quick Summary:
Amid the economic downturn, companies are considering IT outsourcing in India for its tech expertise. India's strong foothold in emerging technologies, immense talent pool, state-of-the-art infrastructure, and excellent government policies make it the best decision for IT outsourcing. Explore the 11 reasons why outsourcing in India is for you.

Many companies are reassessing their business strategies in light of the global economic downturn and challenges experienced by leading economies.
Enterprises are encountering a decline in sales within their North American and Europe-UK markets. Major tech players like Google, Microsoft, Meta, Amazon, and Salesforce have announced layoffs in their technology services divisions.
Amidst all this, outsourcing in India has emerged as the most viable choice. Today, businesses are shifting their attention to enhancing their operations in centers located in India to increase profitability.
Experts say that 30-40% of technology jobs lost globally may be outsourced to India.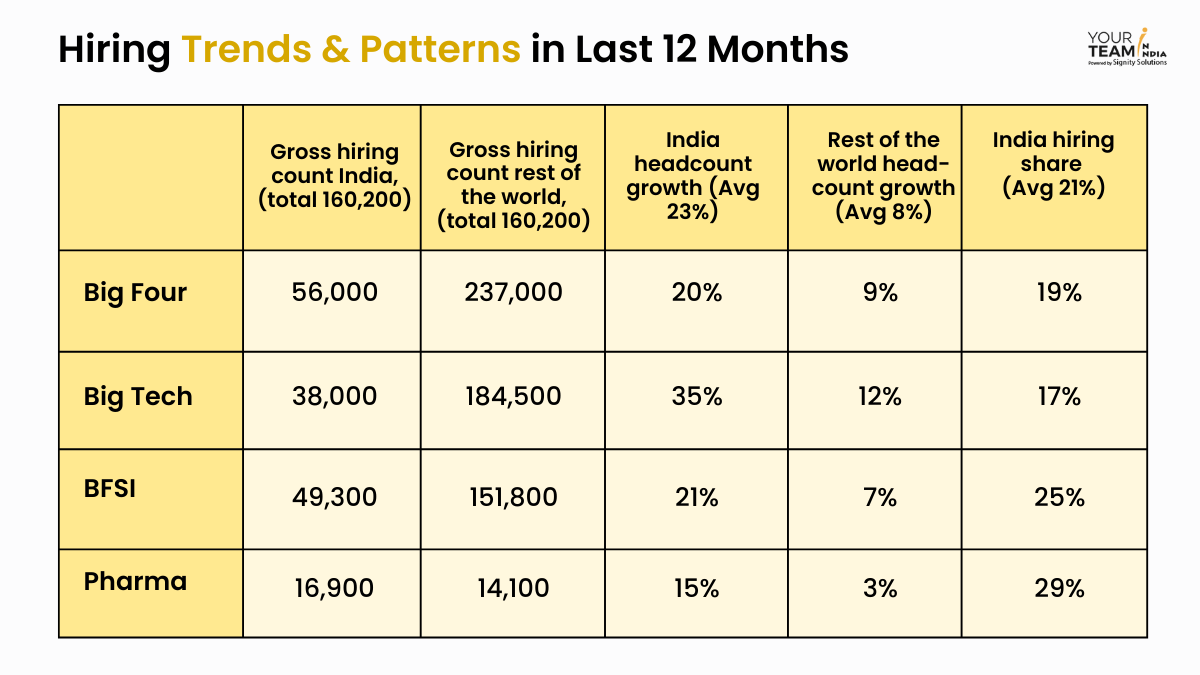 Big tech companies in India have increased their workforce by 35% in the past year, compared to a global increase of only 12%. India now accounts for 17% of their staff.
But it is not just IT outsourcing that India has proved its metal in. Tech companies like Apple, The Hub Engineering, Samsung, Kia, Boeing, Siemens, and Toshiba are moving their manufacturing lines to the country; India is also on its way to becoming an outsourcing hub for tech manufacturing.
"India looks like a bright spot in particular because you're seeing tech companies starting to move forward in terms of manufacturing in India,"
CEO and Founder of Destination Wealth Management and Chairman of DWM's Portfolio Strategy Committee.
Today the world no longer looks at India as just a cheap alternative to hiring skilled resources but as a hub for expanding its footprint in emerging technologies like AI, ML, Blockchain, cloud computing, etc.,
The recent Indo-US collaboration fosters tech sharing, co-development, co-production, and adapting regulation among industry, government, and academic institutions.
The focus industries for collaboration are defense, clean energy, telecommunications, emerging technologies like AI, quantum technologies, cybersecurity, sustainability, biotechnology, space technologies, and semiconductors, proving India's stronghold in tech space.
Key Takeaways
India is not just a hub for IT outsourcing but also emerging as a destination for tech manufacturing.
Outsourcing to India is a cost-effective solution for businesses facing economic challenges. The country has a growing tech workforce and a favorable business environment.
Companies can identify the appropriate outsourcing firm in India by performing thorough research and analysis.
If you are still in two minds about why 'outsourcing to India' is for you?
Keep reading.
11 Reasons why IT outsourcing in India is the best decision
Today, India has become the outsourcing hub for businesses worldwide, from IT to tech manufacturing.
Here are the top 11 reasons 'Why is India well suited for outsourcing?' & 'What makes it the top destination among its peers?'
1. The largest talent pool of professionals
Access to a large talent pool across technology is one of the top reasons to outsource IT services in India. According to the latest data by Statista, there are 27.7 million developers worldwide, 5.4 million are Indian. Today India has the largest population (19%) of software engineers globally and has surpassed the USA, which has 4.4 million software developers.
India annually adds an average of 1.5 million software developers to its population. With 2500 engineering colleges, 1400 polytechnics, and 200 schools of planning and architecture, India has strategically invested in growing its tech talent to become the world's outsourcing hub.
According to the study by Korn Ferry on Global Talent Crunch, India would be the only nation with zero talent deficit in technology, media, and telecommunications.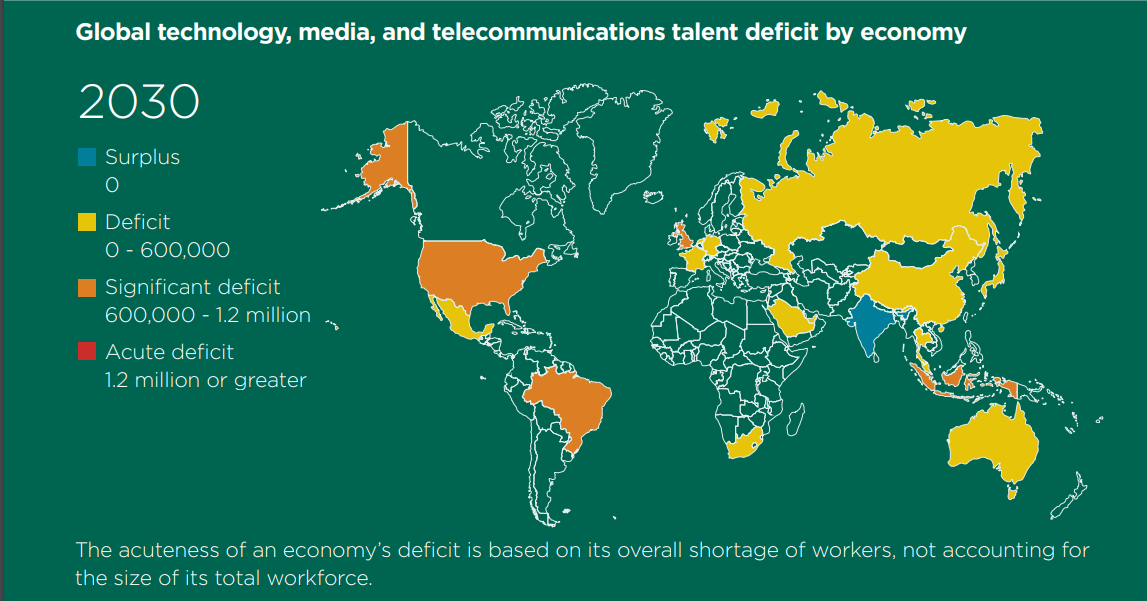 2. Cost-effective resources available at flexible pricing models
Even after three decades, cost-effectiveness is one of the biggest advantages of outsourcing to India. The latest Glassdoor data on software engineers' per-hour salaries shows that hiring a full-time programmer in the USA would cost a company $91,156/ annum. It is ten times more than hiring a full-time developer in India at $ 9751/annum.
Being a developing nation, the cost of living in India is much lower than in the USA and other developed countries.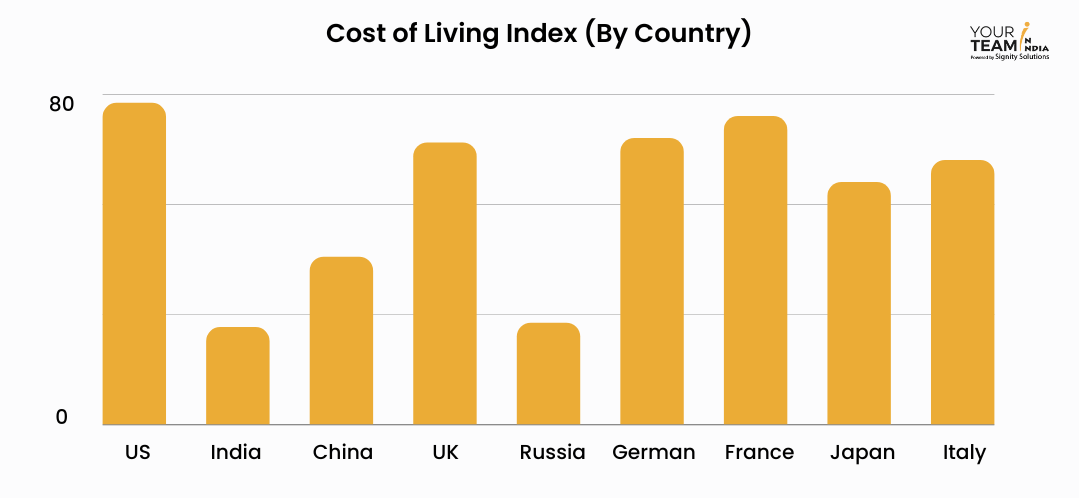 According to the Numbeo database, Consumer Prices (Including Rent) in India are 317.1% lower than in the USA.
So, whether you wish to hire developers or create a full-fledged office infrastructure, outsourcing in India can save you up to 3x of the cost you would spend in the US.
Besides, you get multiple engagement models to choose from while outsourcing work to India. You can select an outsourcing partner, hire offshore developers, hire freelancers, or build your in-house remote teams.
You also get the flexibility to decide whether you wish to hire them on a fixed cost, monthly retainers, or hourly rate, depending on the requirement of your project.
Learn about the various models of hiring remote developers and how to choose the right one.
3. Consistent, high-quality services
India's skilled workforce is complemented by exceptional service delivery. Its software developers leverage cutting-edge technology, software, and infrastructure to gain a competitive advantage.
Indian outsourcing companies adhere to the highest international standard practices, which include:
The Capability Maturing Model (CMM) evaluates an organization's ability to carry out a project by measuring the maturity of its processes.

The International Organization for Standardization (ISO) implements Total Quality Management (TQM) to ensure high-quality design, development, production, and installation.

Six Sigma Quality certification

Customer Operations Performance Center (COPC) ensures the timely delivery of high-quality software.
India has the most CMM Level 5 certified software outsourcing companies globally, with over 75%.
Besides, India's IT industry is a leader in AI skills, with the second-largest pool of AI/ML BDA talent worldwide and the third-highest number of Cloud professionals.
India's software companies are highly skilled in advanced technologies and provide precise and top-quality services, making outsourcing to India a smart choice.
Quickly determine your outsourcing ROI with our cost calculator and its impact on your overall budget.

Your Team In India
4. Time-zone advantage
If you are a USA-based company seeking 24/7 monitoring of your IT operations, outsource to India.
The time difference between India and New York, USA, is around 9 hours30 minutes. So when it is time for your in-house team to clock out, your Indian team clocks in and takes over the project.
This ensures that you have 24/7 support on your ongoing operation, empowering you to maximize accomplishments in a normal work day which would not have been possible if the work were done locally.
5. Cultural compatibility
Since the early '90s, India has been considered an outsourcing destination for back-office operations.
India's outsourcing industry began with outsourcing back office work by global airlines, which IT companies then followed. Texas Instruments, American Express, Swissair, British Airways, and GE were among the first companies to enter the Indian outsourcing market.
Being an IT outsourcing destination for over three decades has made India adaptable to international work culture. Thus cultural compatibility is one of the biggest benefits of outsourcing to India.
Indian tech companies have successfully adopted a Western business model and culture. They understand the work environment and train their teams, making them more adjustable to Western culture.
In addition, Indian programmers possess empathetic qualities and strong interpersonal skills. Unlike their Western counterparts, they are willing to assist beyond their regular working hours for the projects they are involved in.
Learn what makes Indian programmers an excellent fit for your project
A Nasscom study shows that 50% of Fortune 500 companies choose Indian outsourcing service providers. 80% of US and European companies prefer outsourcing services to India and rank it as their top choice for its ability to provide highly skilled professionals with great work ethics.
6. Transparent communication
When you outsource to India, you get end-to-end transparency in outsourced operations. Your IT outsourcing in India starts with an SLA (Service Level Agreement) that establishes communication protocols, response times, and performance expectations to ensure accountability.
Indian outsourcing companies prioritize Agile and Six Sigma methodologies for transparent communication and stakeholder involvement in project development.
They use advanced reporting systems to monitor project progress and share reports with clients to ensure transparency and open communication about any challenges or delays.
By using appropriate communication channels and project management tools, Indian companies ensure streamlined collaboration and documentation.
7. Favorable government policies towards IT industry
The Indian government has taken various steps to promote the growth of the country's Information Technology and Information Technology Enabled Services (IT/ ITeS) sector. The following are some of the measures that have been put in place:
In the Union Budget 2023-24, the IT and telecom sector allocation stood at Rs. 97,579.05 crore (US$ 11.77 billion).

The government introduced the STP Scheme, which is a 100% export-oriented scheme for the development and export of computer software, including the export of professional services.

In August 2022, the Indian Computer Emergency Response Team (CERT-In), in collaboration with the Cyber Security Agency of Singapore (CSA), teamed up for a successful cyber security exercise called "Synergy" in August 2022. It focused on increasing network resilience against ransomware attacks and involved 13 countries.

India Government has also approved 22 new STPI centers across the country.

GoI approved the National Policy on Software Products-2019 to establish India as a global hub for software products through innovation, sustainable intellectual property, improved commercialization, and promotion of technology startups.

GoI has approved Next Generation Incubation Scheme (NGIS). It aims to create a dynamic software product ecosystem to support the IT industry, drive growth, create jobs, and increase competitiveness.
The Indian Government has launched several initiatives to make India's IT sector a leader in technological advancement.
8. Great infrastructure
India's economy is growing rapidly, and its advanced infrastructure incorporates cutting-edge technology in all sectors. India's GDP is now the fifth-largest in the world, surpassing the UK, France, Canada, Russia, and Australia, with a value of $3.7 trillion.
The Indian government has strategically invested in growing IT outsourcing to India. Today India is home to 63 STPI (Software Technology Parks of India) and 1500 GCCs (Global Capability Centres). Many of its cities have access to the latest equipment, software, and 5G high-speed internet, which enables uninterrupted client support and communication.
Owing to favorable FDI and Import & Export policies, India is ranked 10th for ease of business in the latest survey from Economist Intelligence Unit Business Environment Rankings (EIU BERs).
9. The quickest time-to-market
IT outsourcing in India empowers you to reduce a product's time-to-market substantially. India's time zone significantly overlaps with North America and Europe. It enables round-the-clock development and reduces project completion time manifold.
Also, the availability of a large talent pool across technologies at cost-effective prices provides you the flexibility to scale operations for faster development cycles.
Being a global tech hub with an advanced IT sector and startup ecosystem, outsourcing to India offers access to cutting-edge tools and practices, leading to faster development and time-to-market.
10. Proficiency in english
Communication is the core of successful project outsourcing, and sharing a common language is the key to seamless communication.
So, If you are wondering 'Why do companies outsource to India?' No language barrier is one of the reasons.
India has the second-largest English-speaking population in the world. The Indian education system teaches English as a primary language. The education in higher studies, especially in STEM fields, is in English. Thus, Indian developers have higher language proficiency than their Chinese or Filipino counterparts.
Besides, India prides itself on its state-of-the-art IT infrastructure and 5G band connectivity, making IT outsourcing in India a seamless experience for companies across the globe.
11. Focus on the core business competencies
Business growth demands continuous focus on increasing the customer base or researching and testing new products while maintaining the current growth rate. Entirely depending on in-house may take your focus away from core business activities.
Outsourcing to India lets you delegate noncore activities while continuously managing the business functions that make you thrive in the competitive ecosystem. India is a wider outsourcing location where you can effortlessly find a service provider for any business activity you would prefer to outsource.
Also, read In-House vs. Outsourcing – Everything You Need to Know.
How to find a good outsourcing company in India?
To find a good IT outsourcing company in India, you must conduct thorough research in the market.
Here is how to find the right company for outsourcing IT services in India.
Define Your Project Requirements:
The first step to finding the ideal outsourcing services in India is to define the scope of your project. Before you start looking for a company, you must have clarity on your project requirements in terms of technologies, team size, developer's expertise, product features, timelines for delivery, and budget. Should you have clarity on whether you seek short-term or long-term engagement?
Having a clear vision will empower you to find the right outsourcing partner.
Search for companies that meet your project requirements when planning to outsource in India. Look for firms with impressive track records, positive reviews, and a varied portfolio of successful projects. Additionally, seek recommendations from colleagues, business networks, or industry forums to gain valuable insights and referrals.
This exercise will help you find and shortlist the right companies for outsourcing your IT project.
Evaluate Experience and Expertise:
In this step, you are required to evaluate the expertise and specialization of the shortlisted companies. Take into account their experience in your industry or a specific domain. It is advisable to select companies with a successful track record of delivering projects similar to yours, as this indicates they will better understand your requirements and challenges.
Quality and Certifications:
Verify the quality standards and certifications of the companies to see if they follow best coding practices. Look for certifications such as ISO, CMMI, or industry-specific accreditations that show their dedication to quality and adherence to global standards.
Clear communication is crucial when working with an outsourcing partner. Look for a company with good English language skills, dedicated project managers, and transparent reporting channels for effective collaboration.
Infrastructure and Technological Capabilities:
Evaluating the infrastructure and technological capabilities of the companies you are considering before outsourcing your project is essential. Ensure they have the hardware, software, and security measures to handle your project requirements. Check what project management tools and communication setups they use to ensure a seamless exchange of information. Inquire about their ability to adopt emerging technologies and tools relevant to your project.
Request client references and project case studies when choosing outsourcing companies. Connect with their past clients and inquire about their experience to ensure the reliability and punctuality of a company. Additionally, reviewing the company's case studies or success stories can provide insight into their problem-solving and project management abilities.
Evaluate Security Measures:
Data security and IP protection become major worries for companies outsourcing IT services. Ensure the outsourcing company follows legal and regulatory requirements to avoid data infringement.
Review their data protection policies regarding intellectual properties (IPs). Evaluate the security setup and information safety measures deployed by the company. Assess their contracts, service-level agreements, and NDAs (Non-disclosure Agreements).
You can evaluate the company's stability based on its financial reports and years of experience operating in the market. These two factors will give you a clear picture of the company has grown since its inception.
The steady upward growth indicates that the company is fairly stable and can power your project development.
Site Visits and In-person Meetings:
Plan on-site visits and meet them in person to better understand the outsourcing companies. This way, you can comprehensively understand their work environment, team interactions, and working methodology, allowing you to see if they fit your organization's work culture.
Contract and Ongoing Support:
Once you've selected an outsourcing company, draft a comprehensive contract covering all aspects of your project, such as expectations, timelines, payment terms, and dispute resolution methods. Including support and maintenance services in the contract is critical to address any potential issues after the project is delivered.
Despite listing the best practices, the vast Indian outsourcing landscape can still leave a startup or a newcomer clueless about outsourcing to India.
So, here is a list of the Top 10 IT Outsourcing Companies In India in 2023 to ensure you get a seamless experience when outsourcing in India.
Why Your Team in India is your trusted IT outsourcing partner?
Ranked among India's best IT outsourcing companies, YTII helps businesses such as yours augment their tech teams with highly skilled and experienced professionals.
When you choose YTII as your outsourcing partner, you get
13+ years of industry experience

A pool of 200+ pre-vetted Indian programmers across technologies and domain expertise

IT infrastructure with enterprise-grade security in place

Extensive SLAs and NDAs to ensure data and IP protection

English proficiency and transparent communication

Quick resource replacement

Continuous resource mentoring by tech experts
IT outsourcing no longer remains daunting if you have a trusted partner like (YTII). YTII helps you mitigate the challenges of working in an offshore environment, navigating you to success.

Frequently Asked Questions
What are the main reasons for outsourcing IT services to India?
India is a sought-after location for IT outsourcing, thanks to its abundant pool of skilled professionals, cost-effective resources, top-notch services, favorable policies, robust infrastructure, and expertise in the English language. Outsourcing enables companies to concentrate on their core competencies.
Which IT service is most outsourced in India?
Software development and maintenance services are the most commonly outsourced IT services in India due to the country's large pool of skilled software engineers and cost-effectiveness.
Why is so much IT outsourced to India?
Access to a large talent pool of skilled software engineers across technologies at cost-effective rates makes outsourcing to India the most preferred choice among businesses.
Is outsourcing to India worth IT?
Yes. Outsourcing to India not only gives you access to highly skilled software developers. India also has great infrastructure, favourable government policies, cost-effective resource pricing, and a global work culture, making it an ideal IT outsourcing hub.
What is the size of the IT outsourcing industry in India?
A recent report by DBS Group has revealed that India's software exports have reached an all-time high of US$ 320 billion in FY23. This has increased India's share of global computer services exports by approximately 11%.
How does outsourcing IT services to India lead to cost savings?
Outsourcing to India offers significant savings compared to the USA and other developed countries. Hiring a full-time programmer in the US costs around $91,156 annually; in India, it's only $9,751 annually. The lower cost of living in India makes setting up offices and offshore centers an attractive option. Outsourcing in India provides various engagement models and flexible hiring options, reducing the financial burden of hiring full-time resources.
How can companies mitigate risks associated with outsourcing IT services to India?
Companies can mitigate risks associated with outsourcing IT services to India by choosing the right outsourcing partner, conducting thorough due diligence, establishing clear communication channels, defining project requirements, setting realistic expectations, monitoring progress, maintaining transparency, and having contingency plans. By following these steps, companies can mitigate potential risks associated with outsourcing.