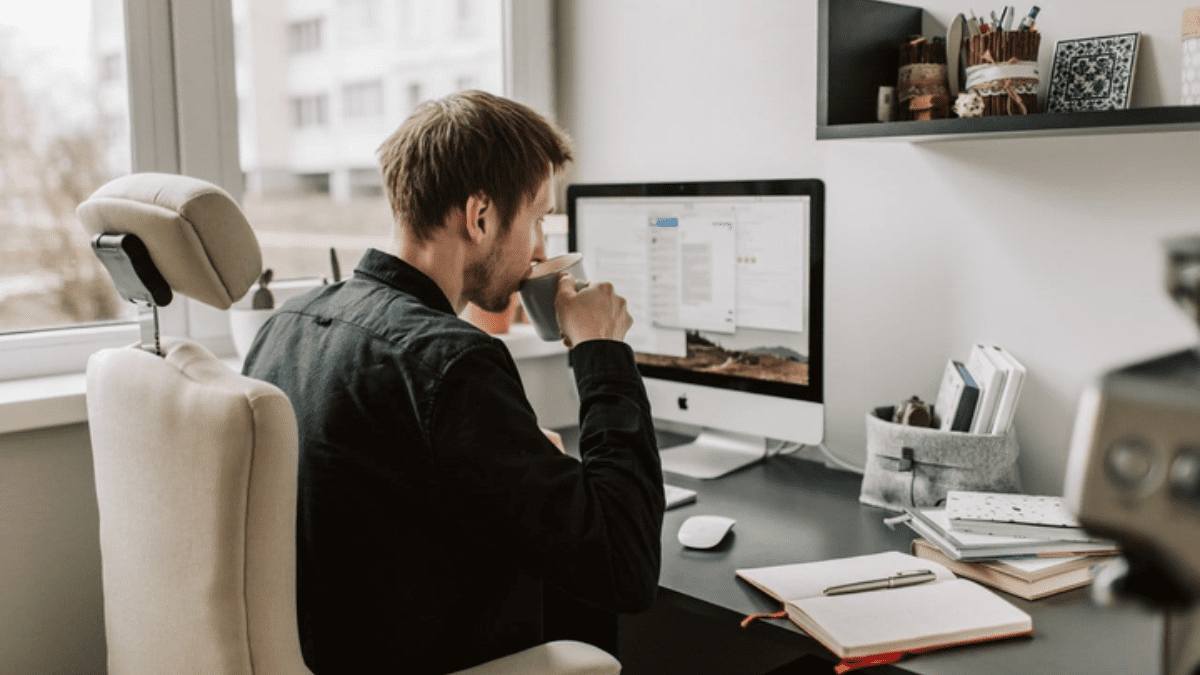 Quick Summary:
This guide provides information on the best models to hire remote developers. It covers various options that employers can consider and offers a comprehensive overview of each model, helping them make informed decisions.
An increasing number of enterprises and start-ups consider India a primary destination for software offshoring. The core reasons for hiring offshore developers from India are driven by a strong economic value proposition, like:
Unparalleled Quality
Exceptional Cost Saving
A quick approach to the market
Access to the bigger talent pool
The above points make India a favorable destination to offshore your IT project. And, if you are looking for reliable offshore developers to cater to your business's emerging needs but need clarification about which hiring model suits best for you, here's the answer!
Choose The Right Hiring Model That Addresses Your Need
Key Takeaways
Outsourcing is cost-effective, but finding the right talent and managing the project can be challenging.
Offshoring provides access to skilled developers but requires more communication and management efforts.
Remote staffing offers flexibility but requires a significant investment in recruiting and onboarding.
Communication, collaboration, and cultural fit are essential when working with remote developers.
While hiring developers, there are multiple developer hiring models available in the market to choose from. But if one looks closely, the models are primarily divided into two categories.
Developer's Hiring Model -Based on Pricing
Developer's Hiring Model Based On Methodologies
Undoubtedly, the different developer hiring models offer utter convenience with numerous benefits, streamlining, and fast-tracking of work.
But how to choose the right fit for your business?
So, let's look at the different engagement models and evaluate all the pros and cons.
Transform your ideas into reality with ourexpert remote developers. Elevate your business with tailored solutions.
Remote Developers Hiring Model -Based on Pricing
Your Team In India offers different business models for exclusive services across distinctive business verticals irrespective of business nature and size.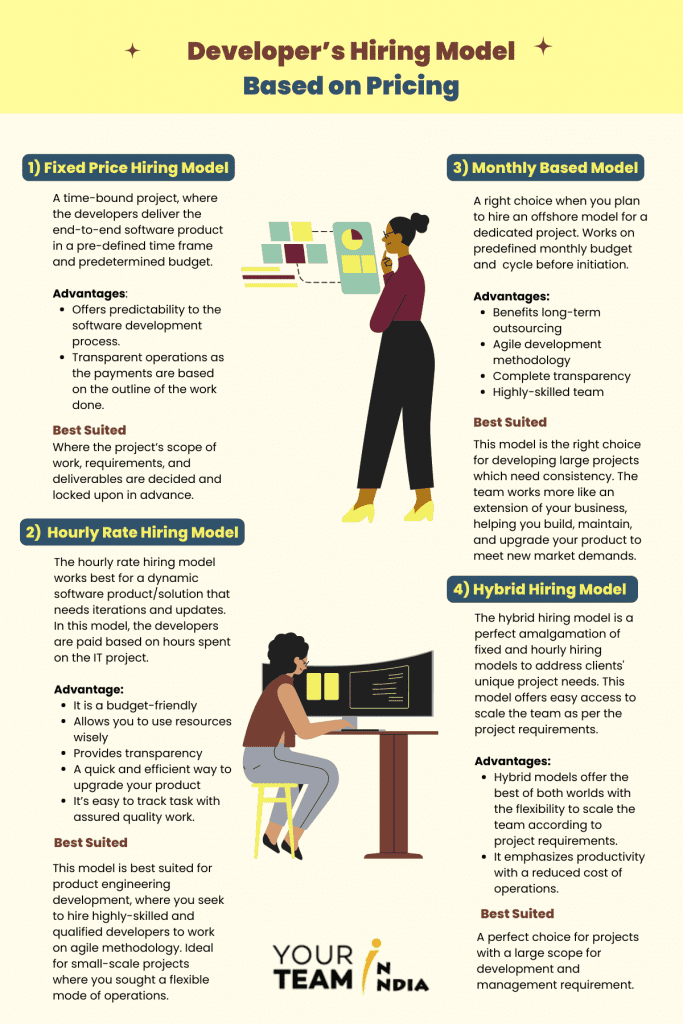 Learn more about our Developer Hiring Models here.
The Fixed Price Hiring Model
The fixed-price hiring model is an engagement where the total development cost is pre-decided before the project initiation. The client provides a comprehensive project specification outlining the scope, requirements, and deliverables. Once accepted, the vendor gives a quote based on your specifications and completes the project according to the timeline and specs. Changes are unlikely or have less than a 5% chance of deviation from the original brief. This approach ensures satisfaction for both parties involved.
Best Suited For
The fixed price model is perfect when you have a clear idea of your development needs that will stay the same at the development stage. This model is ideal for those who want to complete their project within budget and on time. Defining the project's total cost in advance helps you plan your budget better, ensuring there are no surprises like hidden costs.
Advantages:
It offers predictability to the software development process as requirements are outlined initially.
The requirements are transparent, as the payments are based on the outline of the percentage of the work done.
Disadvantages:
No scope of product enhancement at the development stage could result in the development of an outdated product by the time the project is completed.
Just because you saved at development does not necessitate that the same applies at the maintenance time. You may have to invest heavily in upgrading the software later.
When to Choose Fixed Price Developer Hiring Model?
This model works best for small-scale projects from 1-3 months to be built on waterfall methodology.
Example
This model is usually practiced when a company wishes to build a website for their business. Since the scope of the website can be outlined, and the requirements and features can be decided in advance, a fixed-price model works best.
Website development It is generally a time-bound project, where the developers are to deliver the end-to-end software product in a predefined time frame and predetermined budget. The client is not liable to pay for delays in project delivery by developers.
Recommended Read: Step-by-step Guide to Hire Remote Developers
The Hourly Rate Hiring Model For Remote Developers
The hourly rate remote developer hiring model is an arrangement where a business hires and pays the software engineers working on the project based on the hours they spend developing it. The hourly rate hiring model works best for a dynamic software product/solution that needs iterations and updates.

Best Suited for:
This model is best suited for product engineering or new product development, where you seek to hire highly-skilled and qualified developers to work on agile methodology. The developers are aligned directly with you, and you get full visibility on ongoing projects. You get access to tools that track the work done by developers and the number of hours spent on the project. This helps bring transparency to billing and payments.
Advantages:
Provides transparency in the quality and quantity of work delivered
Allows you to use resources wisely
A quick and efficient way to upgrade your product
Tracking and gauging the completed task with assured quality work is easy.
Disadvantage:
The remote developers' hourly rates vary based on location, technology expertise, and industry experience, so your development cost can fluctuate massively.
Since the scope of the project keeps changing, it can create delays in the delivery timeline.
If not planned well, your project can exceed the budget limit.
When to choose Hourly Rate Model to hire developers?
Ideal for small to mid-size software development projects where you sought a flexible mode of operations. Your priority is to build a superior product with unique features and the latest technology.
Example
This model is chosen when a business wishes to build an MVP for a software solution. MVP is a way to test the waters of a business/solution concept. Hourly rate engagement allows you to optimize your budget by hiring different skilled resources at different stages of development and using their expertise at the right time to ensure maximum benefits.
Recommended Read: Advantages of hiring remote developers
The Monthly Rate/ Retainer Model for Hiring Developers
The monthly rate model for hiring a remote developer is an arrangement where the monthly remuneration of programmers is fixed in advance. The developers work like your remote employees and dedicate all their working hours to your project.
This model predefined the budget and monthly cycle before the project's initiation. The client pays the amount agreed in the contract, irrespective of the time developers worked in a month.
Best Suited For:
This model is the right choice for developing large projects which need consistency. Here you onboard a team of high-qualified developers to work directly under your supervision, providing you complete visibility of the ongoing project.
It is a long-term engagement where the team follows the agile development methodology. The team works more like an extension of your business, helping you build, maintain, and upgrade your product to meet new market demands.
Advantages:
The monthly hiring model benefits long-term outsourcing with an efficient and established team working to extend your business.
Since the resources are dedicated to working on your project, any glitch or bug detected in the solution is resolved quickly.
There is more scope for negotiation when you hire software engineers on a retainer model vs. hourly rates.
Since the team is aligned with you, you can train the resources to operate as per your business requirements.
Disadvantages
It's an expensive engagement model, as you pay the resources even if they do not have major work on all days of the month.
It may not allow flexibility in changing project requirements or timelines.
Since the developer is paid regardless of the quality of work, there may be less incentive for them to produce high-quality work.
When to choose the monthly rate model for hiring developers?
The monthly rate model of hiring remote developers becomes feasible when you have a complex project that requires highly skilled developers on standby at all times to manage, maintain and upgrade it regularly.
Example
Offshore development centers are a great example of the monthly rate model, where a company acquires an entire team of developers at a remote offshore location to expand its IT operations.
Hybrid Model
As the name suggests, the hybrid model of hiring developers is an engagement where you combine the above-mentioned hiring models. It could be a combination f fixed and hourly, fixed and monthly, hourly and monthly, or all three.
This model offers easy access to calibrate the team as per the project requirements for a defined time interval instead of hiring for the complete project at any point in time.
Best Suited For:
The hybrid model is best suited for scenarios where you must work around a limited budget to develop a product. It allows you to hire resources in different models basis their requirements in the product life cycle, enabling you to allocate your resources better.
Advantages:
Hybrid models offer the best of both worlds with the flexibility to increase or decrease the team according to project requirements.
It emphasizes productivity with a reduced cost of operations.
Disadvantages
The hybrid model can increase the complexity of project management. Since different members work on different hiring models, their work priorities may vary, creating friction between developers.
When to choose a hybrid model to hire developers?
The hybrid hiring model is a perfect choice for projects with a large scope for development and management requiring resources based on milestones. The core developers are hired on a fixed-price basis, while ad-hoc resources are on hourly rates.
Example
The hybrid model works best for long-term engagement when the project has moved from development to maintenance. The team managing the product can be hired on a retainer, while the specialist required to upgrade it can be hybrid on a project requirement basis.
Remote Developer's Hiring Model Based On Methodologies
Let's explore the various sources you could explore to build your team of remote developers.
Freelancers
Freelancers or freelance developers are self-employed software engineers who operate as individual units on your project. They are not associated with any company and work on a project basis. Freelance developers are typically responsible for managing their own time and resources and may work with multiple clients simultaneously.
Best Suited For:
Freelance developers make a great alternative if you wish to hire something other than a full-time dedicated developer or a team. Besides, the Freelancer doesn't need to be provided with equipment as they will use their own.
Advantages:
You will save money.
There is no need to hire a full-time developer.
Disadvantages:
It takes more work to find candidates that meet your specific guidelines.
They work on a project basis, so once the project is completed, they may not be available to assist you in support or maintenance.
They may have other ongoing projects affecting the delivery time of your project.
They work on their personal infrastructure setup, which lacks proper security measures. This can compromise your data safety.
A complex project would require different freelancers for varied technical requirements, increasing the project's cost.
When to Freelancer for project development?
Hiring freelancers becomes viable when you need support in developing a specific project element. The duration of the engagement is between 1-3 months, and execution is simple.
Example
You can hire a freelancer to add a new feature or upgrade an existing feature of your product/solution, where the Freelancer is involved in a time-bound specific task. Tech giant Microsoft uses freelancers to find experts across emerging technologies.
Outsourcing Company
Know How Much You Can Save By Outsourcing to Your Team in India - Outsourcing Calculator
Outsourcing is hiring a third-party vendor/software development company to develop or upgrade your projects. In outsourcing, you collaborate with a third party on a contractual basis to build your solution. The accountability of the project is transferred to the vendor, and they have full authority to choose the development team to ensure on-time delivery of the product.
Best Suited For:
Outsourcing is a viable option when you need highly skilled resources to work on the project but don't possess the knowledge to hire the right in-house resources for the project or know that the project requires short-term engagement and hiring permanent resources would increase costs long run.
Advantage
Outsourcing is economical as there are no overhead costs like employee benefits and infrastructure costs.
It frees up your internal resources to focus on core business operations.
One can quickly ramp up or down the team to match the changing requirement of the project.
Disadvantage
There is no visibility or control over the ongoing project's progress.
You are completely dependent on the knowledge and expertise of your outsourcing partner.
The team deployed on your project may be working on multiple assignments simultaneously, leading to delays or quality issues in work delivery.
When to outsource your project
Outsourcing is a great option when you need a team for short to mid-term projects where you need to expand operations quickly but not permanently. Projects that require experts in emerging technologies to improve efficiencies and productivity.
Example
Ford, the motor giant, outsourced its software development, engineering, and IT in 2013 to India for its ability to provide reliable services at a low cost.
Third-party Hiring Platforms
Third-party hiring platforms are portals where freelance developers enlist themselves to find projects. These platform work like agents helping you find and build a team of software engineers. While searching for a developer through these freelance marketplaces, you can easily see numerous developers ready to take on your project.
Best Suited For
Managing a remote team of freelancers can be highly effective if you have the time, expertise, and knowledge. Consider using platforms to find skilled developers for your ongoing project. You can collaborate with developers to create an exceptional solution with the right approach.
Advantages:
Access to a larger talent pool
You can hire freelancers for short-term projects with specific deliverables.
Disadvantages:
Freelancing Wild West. The recruitment process involves much trial and error because the platform needs a vetting system.
Enormous fees for freelancers. Some third-party platforms charge a 20- 30% revenue fee for freelancers.
Communication difficulties are quietly encountered regarding the project delivery.
Beneficial features are locked behind a paywall.
When to choose third-party hiring platforms?
Third-party platforms are beneficial to extend your operations as they offer a large pool of vetted freelancers. One can find resources in emerging technologies with ease and at economical prices.
Example
In 2012, Airbnb turned to a leading third-party platform to extend its operation by creating a mobile app that caters to users' demand globally. Since they already had an internal team to lead the operation, they needed resources to ramp up their development.
Hiring Offshore Developers
Hiring remote offshore developers refers to hiring software developers for a third-party vendor located in an offshore country or region than the company. Offshore development combines the benefits of in-house resources with outsourcing. You get the benefits of working with a dedicated team with the cost benefits of outsourcing.
Best Suited For
Hiring from an offshore development company is best suited for software development projects needing multiple tech-stack expertise. With a large talent pool of highly skilled developers, offshore development companies like Your Team in India can offer long-term support on IT projects. In simple words, it's your own offshore dedicated development team.
Advantages:
Access to a large talent pool with expertise across technologies
Well-defined SOPS, management hierarchy, and escalation matrix
Support on ad-hoc requirements with no extra charge
Experience across industries like Fintech, Education, IT, Ecommerce, etc.
Enables on-demand up-scaling and down-scaling of team
Management with seniority and highly experienced resources.
Offers multiple hiring models to suit your needs
Actively invests in emerging technologies to build innovative solutions.
No hidden charges
Full technical support at an affordable rate.
Disadvantage
Though economical, the pricing of resources could be higher than other options available in the market.
When to Choose Offshore Developers?
Whether you are a start-up wanting to create a scalable solution quickly, an SME wanting to scale your IT operations, or an enterprise seeking to expand your business to new geographies, hiring an offshore team is your safest bet. Offshore development gives you access to pre-vetted and experienced programmers to speed up the hiring process and ease the selection.
Example
Google, the largest search engine company, relies heavily on offshore development services to build agile, diverse, and resilient teams across the globe.
The Benefits YTII Hiring Models Offers are as follows:
While it may sound simple, hiring the right resources with the appropriate hiring model can be overwhelming on different levels. So, by understanding these challenges, YTII helps business owners and entrepreneurs across the globe get a better grip on how to proceed seamlessly. Talk to our experts to explore the potential of hiring a dedicated developer for your software development project.
Frequently Asked Questions (FAQs)
What are some tips for managing remote developers effectively?
Tip 1: Improve Communication.
Tip 2: Utilize Remote Communication and Project Management Tools.
Tip 3: Focus on Long-term Goals.
Tip 4: Take Advantage of Different time Zones.
Tip 5: Reward Your Developers.
Tip 6: Schedule is Everything.
What are the best practices for onboarding remote developers?
Remote onboarding tips
-Check in immediately.
-Suggest helpful hints.
-Remind them to introduce themselves.
-Encourage them to socialize with other new hires.
-Introduce them to any tools for connecting with colleagues.
-Ask where they need help and connect them with the experts.
-Keep checking in regularly.
What are the legal considerations when hiring remote developers?
-The Specific Programming Skills You Need.
-Remote Work Experience or Experience Using Remote Project Management Tools.
-Stellar Communication Skills.
-Work Habits and Schedule.
-Interpersonal Skills that Fit With Your Team.