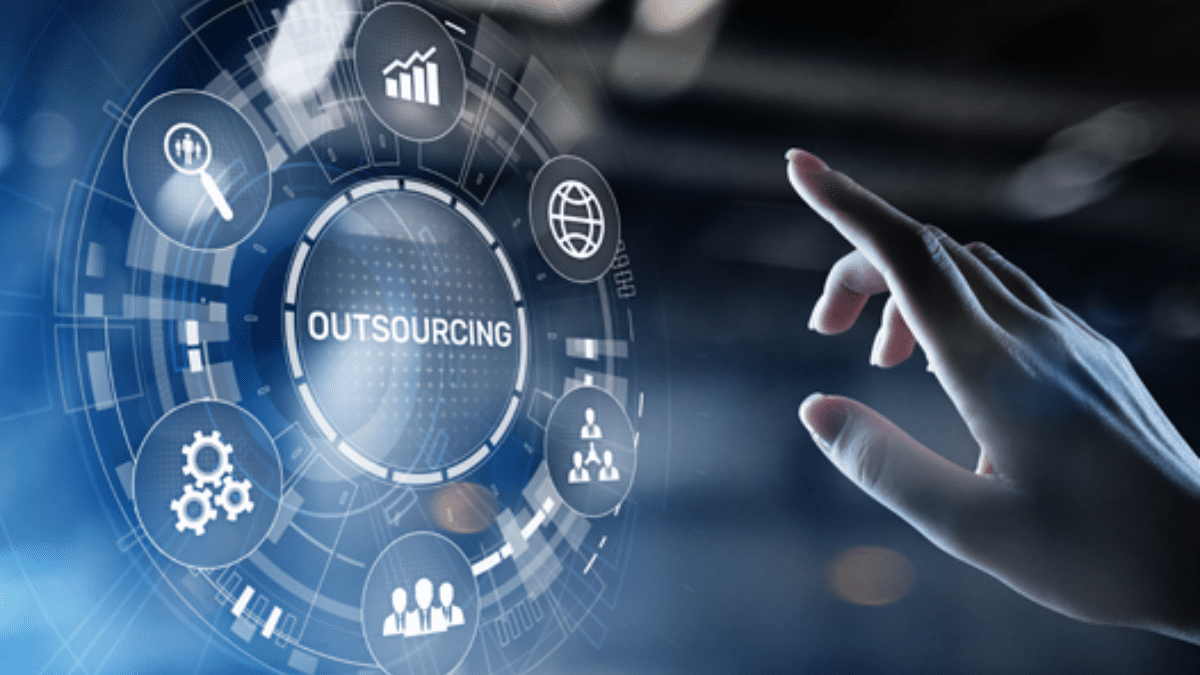 Quick Summary:
IT outsourcing is a popular way for businesses to reduce costs and access specialized expertise. However, choosing the right outsourcing model can be challenging. This article will explore various IT outsourcing models and provide insights on how to pick the best one for your organization.
Like it or loathe it, outsourcing is the new constant in business life.
There are untold success stories - where businesses have opted for outsourcing to achieve exceptional savings, shed the onus of expensive assets, or build the capacity to expand in a way that would have been unthinkable with in-house resources.
Now you have decided to become one of these success stories and escape the trouble, cost, and frustration of any slip-ups, you need to understand the nitty-gritty of IT outsourcing models to choose the one that fits your needs.
While there is no magic formula, combining a structured approach and learning from others' experiences will go a long way.
Before we start, here are some basic questions you might have when outsourcing:
What is outsourcing?

When should you outsource your project?

What are the different types of IT outsourcing models?

Which outsourcing model will be ideal for your business?
Let's start with the basics.
What is outsourcing?
Outsourcing involves contracting out a business function to an external vendor and transferring people, processes, and assets. This practice can be undertaken at either an onshore or offshore location and to one (single-source) or multi-sourced outsourcing teams.
Simply, it's delegating your work to an entity outside your organization. For example, in IT outsourcing, you engage external teams to work on digital solutions for your business.
Recommended Read:Reasons Why IT Outsourcing in India is the Best Decision
When Should You Choose to Outsource Your Project?
When should you outsource?
You should choose to outsource when you don't have in-house expertise or are running low on financial resources.
After all, your project needs the resources for one-time use, and it would be wasteful to put together a complete team and prepare them for a single project requirement that will not likely happen again.
What to do now? Simple, outsource!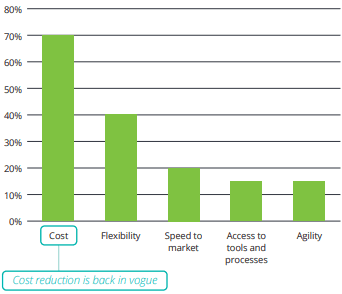 According to a Deloitte report, 70% of businesses opt for outsourcing because of its cost-effectiveness, followed by flexibility with 40% as the key reasons.
It's a proven approach to getting high-quality services from a global talent pool. And it's cost-efficient too.
What are the Different Types of IT Outsourcing Models?
IT Outsourcing models are widely divided into two categories:
Location-based outsourcing models

Relationship-based outsourcing models
The terms in itself are self-explanatory. Still, let's delve deeper and analyze both these models in detail.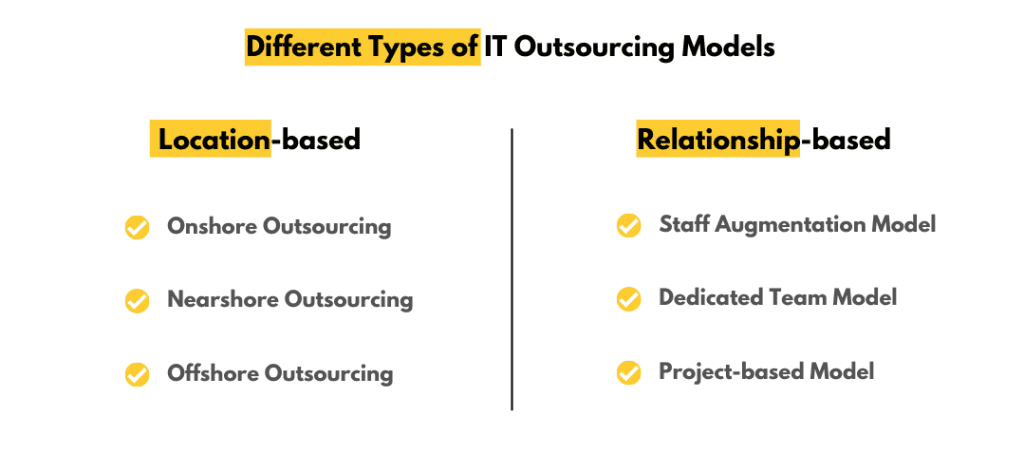 1. Location-based Outsourcing Models
As the name suggests, the main decisive factor in a location-based outsourcing model is the distance between you and your outsourcing team. Considering the distance, it's further divided into three categories:
Onshore outsourcing, or domestic outsourcing, is hiring services outside the organization but within the same country.
"When your outsourcing team is in the same country as yours, it's termed onshore outsourcing."
Your coders may reside in different regions of the country, but there would not be a noticeable difference in the time zone. You can easily communicate with an onshore team as you share the same experience, and there won't be any language barrier or cultural differences.
When you hire a nearshore outsourcing team, it means you are outsourcing your project requirements to countries that are in your geographical proximity.
"Nearshore outsourcing is a model in which an organization hires employees from a neighboring country for project completion."
In this type, the time zone won't differ by much. Moreover, the nearshore outsourcing model may be more cost-effective and culturally aligned compared to onshore outsourcing. However, there is the probability of language differences in communication, depending on your region.
When you outsource your project requirements to an entity that lives in a different country that is not your immediate neighbor, it is termed offshore outsourcing.
"Offshore outsourcing is when an organization hire a third party vendor to perform operations from an outside country."
Offshore outsourcing is an affordable choice depending on the selected low-cost regions globally. Plus, if you get handholds on a good project manager, you can rest assured of smooth communication between your in-house and your extended offshore team.
Are you confused between offshoring and offshore outsourcing?
Don't worry! We've got you covered.
Offshore outsourcing means delegating your work to another service provider in another country, whereas offshoring means having an extended remote team in another country.
To understand it better, you can consider reading: Outsourcing Vs. Offshoring
Relationship-based Outsourcing Models
Staff augmentation is a dynamic model that organizations choose to leverage increased agility and response time to evolving needs of the enterprise.
For example, you need an expert to work and enhance your product's complex features. This is a one-time requirement, and it doesn't sound viable to go through an exhaustive recruitment process and set up the complete team, right?
"Staff augmentation is a cooperation model"
Here, staff augmentation comes to your rescue. You can simply connect with a trusted outsourcing company to assign you an expert professional for the needed time. The professional will work as a part of your extended remote team.
The dedicated team model refers to an agreement between the service provider and client, where clients hire development professionals on a long-term basis. Besides, you hire a complete team of experts from an outsourcing company to work on tasks you don't want to assign to your in-house team.
"Dedicated team model is for long-term basis."
The only difference is that your outsourced team will be working on independent projects and would not be needed to collaborate with your in-house team. Instead, they will stay connected through the project manager or someone with similar responsibilities.
If you put your finger on a project-based model, you don't need to be involved in the project development process except during the handover and delivery times.
Generally, it's the top pick of the relationship-based outsourcing model and has been proven effective for projects with minimal stakeholder involvement. The biggest advantage of this model is that you won't have liberty on the project's development.
Besides, to ensure smooth communication, ensure you set the tone and frequency of interactions with the project manager assigned to you.
Recommended Read: In-House vs Outsourcing: Pros, Cons and Use Cases
How to Pick the Right IT Outsourcing Model
There is no cut-and-dried answer to this question. However, we can guide you to the right answer.
Right Outsourcing Model = Competitive Advantage
Consider the following factors, and soon you'll reach the right outsourcing model that will be ideal for your business.
Define work scope clearly

Keep expertise and experience important criteria

Consider market reputation

Be clear about the budget

Safeguard your data and intellectual property

Select a flexible partner
Also, answer the questions that will help you navigate the suitable outsourcing model.
1. What are your project requirements?
Before you inch ahead with outsourcing, understanding your project requirements like the back of your hand will help you skip the slip-ups. Here are some questions that need to be answered:
What is your project scope?

What are the core functionalities you want in your final product?

Have you defined your project milestones?

What are the decided timelines?
2. What type of relationship do you want with your outsourcing partner?
Do you want to assign your project and wait for its completion before initiating communication? Or do you want to be a part of the development lifecycle?
The type of relationship you choose to maintain with your IT outsourcing partner will help you decide on the type of outsourcing model for your successful project management.
3. What type of pricing model do you want to adopt?
Defining a fixed budget and considering different pricing models that would be ideal for your project's outsourcing services is essential.
Depending on the services and experience of resources, you can go for a fixed price, value-based, or competitive pricing model. Then, once your budget is fixed, you can funnel your search to a professional and reliable outsourcing company that caters to your project's unique requirements within your budget.
In a Nutshell..
And once you have a clear picture of your project requisite, pricing models, and scope of work, you can better analyze what IT outsourcing model will work best for you. It's easy to find a reliable IT outsourcing team like Your Team In India that believes in your project and guides you from start to finish.
Remember that outsourcing with the right team saves you from costly mistakes.
Ready to yield the best dividends for your business? Let's talk!

Frequently asked questions (FAQs) on IT Outsourcing Models:
What is the best outsourcing model?
Project-Based. Also known as full-process outsourcing, this model is the most popular in IT outsourcing. The IT vendor is granted complete control and responsibility for the project, including all process stages, team management, results, deliverables and risks.
What are the 4 outsourcing models?
These four models are categorized as onshore insourcing, onshore outsourcing, offshore insourcing, and offshore outsourcing.
What is the difference between offshoring and outsourcing?
Offshoring and outsourcing are often confused. Outsourcing simply means delegating business processes to another company or independent contractors. Meanwhile, offshoring involves running a portion of business operations in another country.
What are the benefits of outsourcing IT services?
IT outsourcing is a business strategy that involves hiring an external person or company to outsource certain tasks. The main benefit of this solution, which makes this service much more cost-effective than creating an in-house IT department from scratch, is of course saving money.