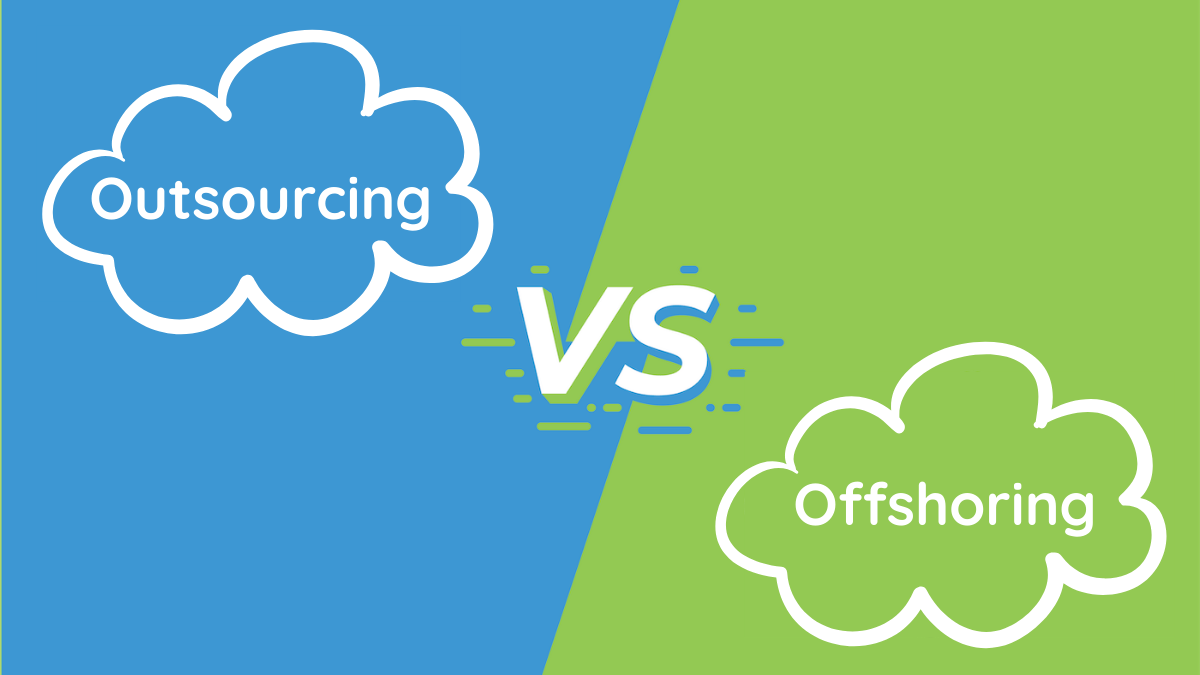 They say- to put your hands on long-term success, the organization should avail the best benefits of software development. The most efficient way to make the most is by utilizing external expertise and gaining extra skills in your software development operations. The basic approach to enhance your team's performance is by going for Outsourcing vs Offshoring. However, to implement the same, you first need to understand the difference between the two unique concepts.
Well, yes... this means that you must know- What is Outsourcing vs Offshoring? It will help you to make a well-informed decision.
Main difference between Outsourcing VS Offshoring is that Outsourcing occurs when a company contracts a specific process out to a third party, finding someone who specializes in whatever needs to be done. Offshoring happens when businesses send in-house jobs overseas. Both may save a company money, but only offshoring specifically means sending jobs out of the country.
Offshoring, as well as outsourcing, are the two terms that people generally use conversely. But, they actually have two quite distinct processes.
After having a thorough discussion with our experts from Your Team in India, we decided to compare outsourcing vs. offshoring to provide you with every answer you are looking for.
Continue reading to get more insights on the subject and find out what's best for your company!
How the Terms Came Into Existence?

Let's look back into history to understand these two concepts in a better way and how it changed the pictures of businesses and digitalization.
What is Outsourcing?
Outsourcing is the business practice of hiring a third-party outside organization to perform services and create goods that traditionally were performed in-house by the company's own in-house team.
Back then, the Industrial Revolution entirely changed the outlook of businesses and their operations. Highly productive machinery and high-end technologies meant that organizations could grow at unparalleled prices.
In the middle of 1900, many entrepreneurs were thinking out of the box to boost their profits. The technology was powerful than ever before.
This somehow resulted in companies working hard to scale-up their operations to leverage high revenues while standing ahead of their competitors. Sadly, it further led to a bloated yet complicated management structure lacking in flexibility.
To overcome this, companies started to outsource their projects to third-party experts on a contractual basis to create a well-managed baseline of operations.
With this the OUTSOURCING came into existence!!
Defining Outsourcing
Outsourcing is all about moving your internal operations to a third-party vendor for completion. The general philosophy is to move all the business-related activities to the experts outside your organization.
You can also hire dedicated remote developer or experts having the capacity to focus on their expertise.
Recommended Read: Why IT Outsourcing in India is the Best Decision
What is Offshoring?
Offshoring is the process of relocating the business operations unit to a different country where cheap or affordable labour & resources are available.
The outsourcing model worked really well, and many businesses were quite satisfied with the outcomes. With the profits, their expectations were high, leading them to make the most of their projects.
Now, the only thing that outsourcing was not able to offer was a sense of possession. Businesses want to take ownership of their projects and business-related processes.
Thus, many business owners began to search for a business model that was affordable and scalable. As they wanted complete ownership and control over their projects- offshoring came into play.
So, the companies started to hire offshore developers and other experts to track their progress and get the work done with authority.
Defining Offshoring
Offshoring refers to the contract by a business to carry out software development services in some other country.
Outsourcing Vs Offshoring : The Difference

Outsourcing and Offshoring are a little similar if we talk about their advantages. They both help reduce the expenses of your business.
Also, both outsourcing and offshoring involve leveraging and cooperating with a team of developers working in sync with you from some other geographical location.
You can either hire developers to work from the office or home, depending upon your project requirements.
Whether it is a long-term solution or vice-a-versa, outsourcing and offshoring help various businesses to stay ahead of others in this rapidly changing digital environment.
However, let us take a look at the meaning of both strategies. Outsourcing is also said to be the practice of reducing costs and enhancing productivity.
It is based on using a shifting process with an external contracted party. Then it becomes the responsibility of your outsourcing partner to finish the project onsite or offsite.
The point here is that the service providers must handle and manage the operations and the workflow on the basis of agreement.
Also, if the services do not meet the expectation, there is room for improvisation or termination as decided. Meanwhile, offshoring includes the relocation of entire functions to some other country.
This empowers businesses to manage all the functions/operations directly. The owners then directly manage, handle, and select the team members for the projects.
Offshoring is basically having an extended team in some other country that works in sync with you. The remote employees will be a part of your team and work in full support with the in-house professionals.
Now, the outsource or offshore operations for software development projects - the statement means two different things.
Some organizations lose sight through the same, making it even more important to get yourself acquainted with the unique benefits these models have to offer.
Benefits to Understand Outsourcing vs Offshoring

The key benefits of outsourcing and Offshoring is as follows. Let's start with discussing them!
Outsourcing Benefits or Outsourcing Cons
Affordability: Outsourcing is based on a model that generally provides cost-effective solutions to your business. Therefore, you save a lot- You can always count on its affordability.

Adaptability: It is one of the outstanding benefits of outsourcing. This is one of the most crucial aspects for companies that have sporadic working style.

Resourceful: With outsourcing, your business can utilize several resources and can focus entirely on the core competencies.
Offshoring Benefits or Offshoring Cons
Control: In this model, the company has complete control over the core business and related operations. Here, it is the business owners or project managers responsible for streamlining the projects and track the progress of the same.

Pool Of Talent: One of the main advantages of establishing an offshore development center is that you have a massive pool of talent. Also, there is huge pressure in the developed countries to discover and recruit candidates having the right expertise, especially in software development.

Scalable: Offshoring and scalability are the two sides of the coin. To strongly build offshore teams, you need to establish a remote offshore development center in various parts of the world. This tends to provide your business with many opportunities to scale business.
Outsourcing Vs Offshoring
Examples of Outsourcing
Apple is the most successful brand present in the tech-based industry. Do you know they barely manufacture any product of their own? Well, yes, they do outsource! Also, when talking about the profits, their revenues are persistently skyrocketing.
Skype is another company that you all must be familiar with and use quite often. This company served as the first platform to provide easy communication solutions via chat, video, and calls- regardless of the location.
The rarely known fact about Skype is that it outsourced the back-end development to Estonian developers. Following the footsteps, WhatsApp also did the same and outsourced its development.
Due to the demand and likeness among the users, Skype was purchased by Microsoft for $8.5 billion. To date, it is counted as the best and most important business communication tool and serves better quality solutions.
Examples of Offshoring:
Microsoft is a company which is known for making high profits by conducting operations overseas. However, despite the tax-related liabilities, the company continues to grow its revenue at an impressive rate.

Full-scale is operated by an offshore software development team based in the Philippines. The organizations have impressively expanded since it hired professionals from abroad and has even extended the services in collaborations with organizations like Stackify and GigaBook.
Offshoring Vs Outsourcing - Which works the Best on Ground?
Lastly, it is all about finding the right balance between crucial and non-crucial aspects of your software development processes. Offshoring is the most ideal alternative if you want to boost your operations while retaining complete control of the process.
Even though it has its own challenges, it is safer than giving over valuable information about your company and consigning the services to outsiders.
Additionally, by cooperating with your software team overseas, you can add more efficient workflow without worrying about the outcomes and quality.
If done incorrectly, software offshoring provides you with an inexpensive way to assemble a strong yet highly-skilled team. It can help you to improve and expand your business and related services.
So, before you start with offshoring, it is crucial for you to completely understand and implement the best possible ways of combining the method with your business. It is best to get guidance and support from experts with first-hand experience in offshore team and talents.
Need help setting up a dedicated team of developers in India? Connect with us our business head now and get a free consultation.