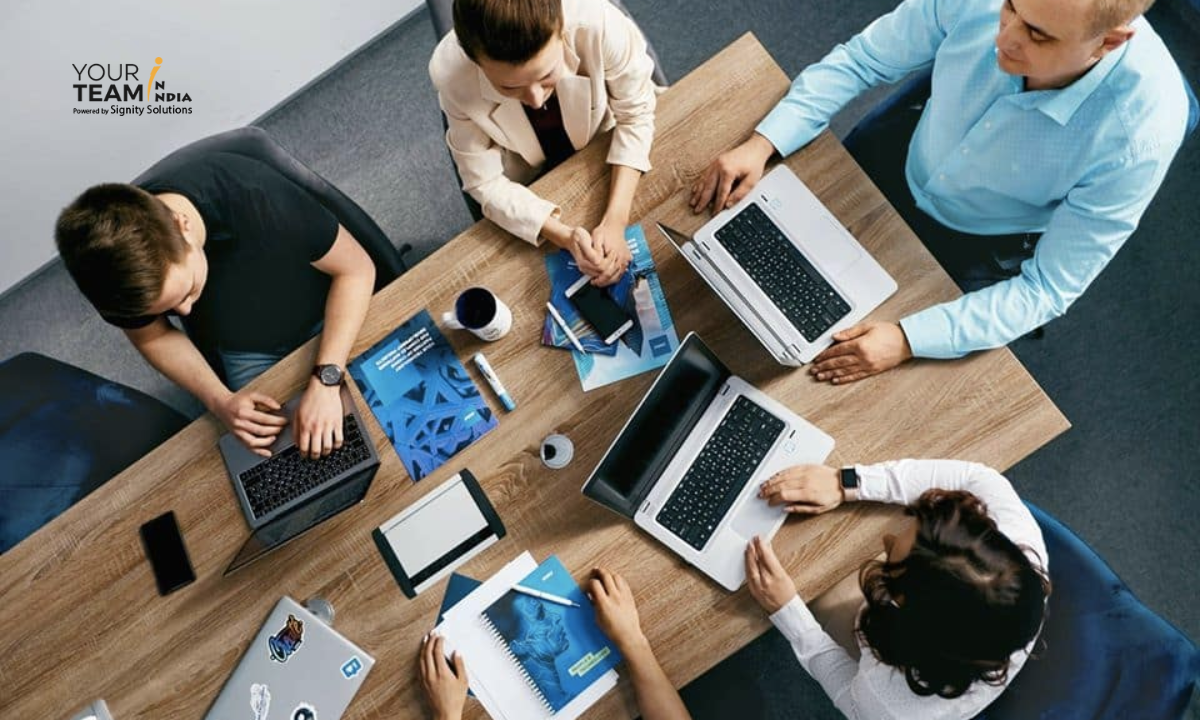 Quick Summary: Offshore teams offer cost savings and global talent. Follow a structured process to maximize their benefits. This blog will guide you in establishing a comprehensive system for your offshore development team.
Introduction
Are you establishing a tech startup? Selecting a proficient development team is crucial. But how to find one? How to acquire a reliable team that can take your business to the next level?
Well, before getting started, Did you know?
Nearly 94% of IT companies outsource parts of their business. Surprisingly, 59% do it to reduce costs while boosting efficiency and project delivery.
Yet, a fully offshore software development setup is gaining traction, transforming from just being a trend to a necessity. It not only offers a wide range of benefits but also instills confidence in the startup owners that a dedicated overseas team is working to deliver quality work.
Key Takeaways
Finding top talent for rapid innovation at an optimal cost is increasingly challenging and requires strategic planning.
Global hiring can be complex and time-intensive. Partnering with an offshore development team streamlines the process, providing you with a dedicated team of professionals.
Are you searching for your key to success?
Look no further than finding trustworthy professionals who consistently deliver excellence. This is where a reliable offshore development services partner comes in. They handle the intricate processes, providing pre-vetted experts who offer cost-effective solutions.
While an offshoring partner streamlines the process, there's more involved in achieving success. To ensure you're equipped with the knowledge necessary for success, this blog covers everything from ideation to creation. Dive in to learn the full scoop!
How Offshoring is beneficial for businesses?
Setting up an offshore software development team brings ample benefits for businesses. A few of them include:
"Shortage of skills is one of the top challenges faced by businesses."
Hiring an offshore team provides companies with access to a diversified pool of highly skilled and experienced professionals from around the world. This allows them to tap into the knowledge and experience of international workers to develop exceptional products and services.
Offshore teams are available 24/7 and can assist companies in ensuring the timely and accurate delivery of their offerings. Additionally, offshore teams offer cost savings and flexibility, making them a valuable asset for businesses looking to scale and expand their operations.
Building teams in emerging tech hubs like India is much cheaper than in major cities like Paris or London—lower costs for office space, equipment, administration, and human resources. Generally, the lower cost of living makes it more budget-friendly.
With the cost of living in India 72% lower than in the US, forming an offshore development team is a practical choice. Get started now!
Offshore teams provide enhanced flexibility and scalability, enabling companies to expand their operations without substantial investments in extra infrastructure or assets.
When starting a business, it's essential to consider the cost of resources. When building a team, finding the right balance between talent and cost-effectiveness is crucial for any emerging business. This is where offshoring can be very helpful.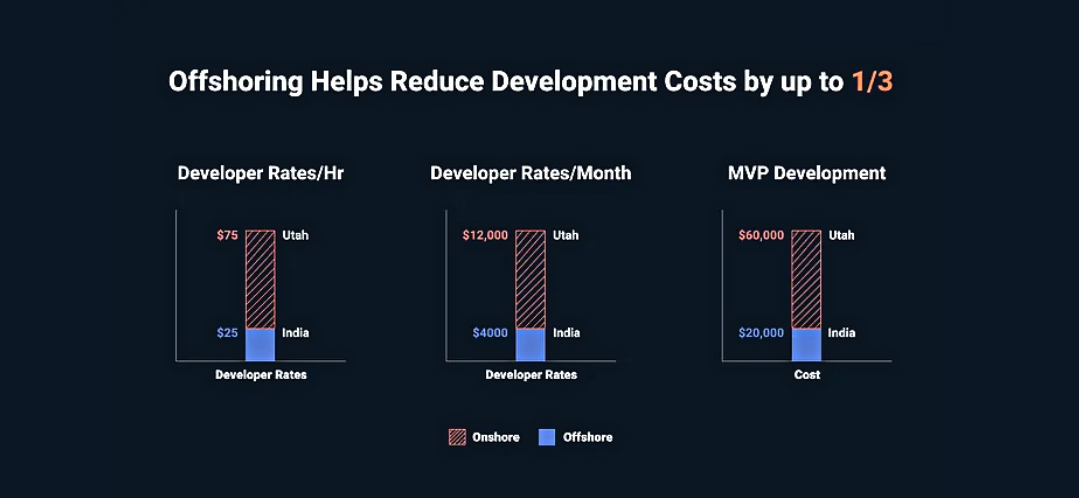 It provides access to top-notch industry skills at almost half the cost. By choosing offshoring, you can save not only on salaries but also on benefits and perks for your development team.
Scaling your operations with the help of a reliable offshoring partner is a risk-free and straightforward process. You can hire for any role without the usual financial and operational upheavals.
Creating an offshore development team allows access to scarce skills and saves costs.
Offshore teams offer control over developer selection, project focus, and scheduling. They provide access to top-notch engineers at a cost-effective rate, ensuring tailored solutions for your business needs. With a professional offshore team, you get expertise, efficiency, and cost optimization without the usual complexities.
Imagine a situation where your business is doing well, and you are getting more inquiries than you can manage. Although this is a positive situation, it can also be frustrating when you want to expand and need new developers for scaling up. Adding new developers to your offshore team is a faster and simpler process than doing it locally.
To summarize, the table presented below lists the benefits of hiring an offshore developer.
| | |
| --- | --- |
| Parameters | Offshore Developers |
| Quality Engineers | ✓ |
| Abides with company culture | ✓ |
| Scalable | ✓ |
| Value adding mindset | ✓ |
| Quick to hire | ✓ |
| Long term solution | ✓ |
| Cost Optimal | ✓ |


Hire Offshore developers today to acquire all the aforementioned benefits!
Key Stages of Building an Offshore Development Team
Are you planning to build an offshore development team for your business? Ensure to take note of the following key stages of building an offshore development team:
Select the Suitable Offshore Partner
Check a company's case studies to learn about their clients and outcomes. Talk to them to understand their values and approach.
Your offshore partner will listen carefully to your needs, understand your methodology, and provide valuable insights throughout the process.
You will receive a personalized proposal with all the financial details for creating a tailored global team for your business.
Start building Team Formation.
Your partner manages job postings to initial technical interviews. You can quickly conduct final interviews and select the top candidates.
Establishing Office and Equipment
Leveraging local contacts and expertise, your partner secures a suitable office space, top-notch equipment, and administrative personnel and readies the team for launch.
Introducing New Engineers
Introducing new team members to their roles and aligning them with company culture.
Now that all the preparations are done, it's time to bring your new team to the office to start working on the tasks at hand. You can expect weekly progress reports from your offshore partner, which will detail your team's progress. Additionally, they will be readily available for calls and queries throughout the week.
Everyday Assistance and Team Interaction
Your offshore partner plays a crucial role in the team's day-to-day operations, providing immediate support, organizing team-building activities to maintain employee engagement, and facilitating capacity expansion as needed.
How to build an offshore team for your startup?
Bringing an offshore team into your startup requires more than just a casual approach. It demands thorough comprehension, meticulous planning, and strategic thinking.
Are you in the process of planning to establish an offshore development team or seeking expert guidance? Familiarizing yourself with the step-by-step process outlined below will lead you to select highly efficient candidates for your startup.
1. Define your goals and expectations clearly
"Be clear about what you expect from the offshore team"
It is crucial to set clear objectives and expectations before starting your search for offshore employees. Spend time thinking about the tasks you want to delegate to the offshore team, the outcomes you expect, and the communication channels you'll use. By defining these goals and expectations precisely, you can find the right candidates and ensure everyone involved understands and agrees on them. This can help promote alignment and prevent misunderstandings down the line.
2. Conduct a Pre-screeing Evaluation
Conducting a pre-screening process is crucial in making an informed hiring decision. This involves evaluating candidates based on the qualities and skills that match the company's requirements. It includes reviewing relevant job experiences, knowledge of programming languages or software applications, and any achievements or accolades.
3. Interview the right candidates
Conduct Interviews with Skillful Candidates. Interviews allow you to assess if a candidate possesses the necessary skills and qualities that align with your business objectives. Establish a benchmark to discern which applicants meet your predefined standards.
4. Start with the small projects.
It's wise to start with a small offshore project, enabling developers to get acquainted with your company while allowing you to evaluate their skills and work ethics.
5. Establish clear communication
Effective communication is key for offshore teams. Use clear communication channels like email, chat, or video conferencing. Check-ins and feedback sessions maintain alignment and address potential issues.
6. Use appropriate tools and documentation.
Using appropriate project management tools and equipment is vital for monitoring offshore team projects, managing workloads, and scheduling tasks efficiently. Project documentation also facilitates data analytics, creating knowledge bases, and referencing future projects.
7. Provide proper training and support.
Train your offshore team comprehensively and provide ongoing support. Ensure they understand your business processes, software, and tools. Assign a dedicated point of contact for prompt issue resolution.
8. Foster a culture of teamwork and collaboration
Encourage your remote offshore team to participate in team meetings and company events to foster a culture of collaboration. Celebrate their achievements regularly to maintain their motivation and engagement.
For more information on hiring an offshore development team, check out this comprehensive guide on "Hire Offshore Developers."
How is Offshoring a feasible solution for your business?
Fully dedicated employees
You will have dedicated employees who are deeply invested in your products and services, thinking with a long-term perspective, and actively contributing valuable ideas to enhance your business.
A fiscally attractive solution
This is an appealing solution that offers access to the specific talent you need for rapid scaling, even when such talent is scarce in your current location.
Are you all set to find a reliable offshore development partner for your startup? Don't forget to have a look at this checklist to hire an offshore development team.
How to find an offshore team for your startup?
It's time to hire development teams for your startup. Here are some ways to find a dedicated team:
Recommendations or referrals from your network
Networking at conferences, hackathons, and meetups
Exploring tech talent marketplaces
Looking for offshore developers or teams by browsing through social media or LinkedIn.
Engaging the services of offshore software development agencies.
How to Choose the Best Offshoring Company?
Offshoring companies work differently, and they take advantage of varied technologies. Consider the following before hiring them:
Pay Attention To Their Work Process
When looking for an offshore development company, it's important to find one that not only writes quality code but also understands your business requirements. They should have a unique approach to developing a product or service that will generate profit. Ask them for a well-designed plan outlining the project development phases and execution.
The best approach is the lean approach, where startups focus on improving their value proposition rather than the way the final product is built. This means creating a minimum viable product (MVP) that meets the recommended requirements instead of investing time, money, and effort into developing a complete product.
If the offshore company understands this approach, it can help you create an effective MVP while shortening the time-to-market. Allow the company to showcase its approach and evaluate if this is the right fit for your business needs.
How Your Startup Will Work With Them?
When you have decided to work with a company, it is crucial to check its framework. There are two terms you should remember: Agile and Scrum. The work methodology of the company should combine IT outsourcing and project flexibility while adhering to the best practices. You must ask them how soon you can expect progress.
If the company works in shifts, expect the new working version of the product and the implemented changes. Make sure everything is functional, clear, and visible.
When considering the product or service you will be getting, keep in mind that the quality of the product is a key aspect that differentiates a good outsourcing agency from a bad one.
The team achieves quality through the complete development process while selecting the right tools, using continuous integration and deployment, and maintaining code quality.
Calculate The Final Cost
When choosing an outsourcing company, it's important to consider more than just the cost. While company 'A' may charge $30 per hour and company 'B' may charge $80, many other factors affect pricing, such as location, experience, methodology, technology stack, and more. It's important to evaluate the services offered by each company and not just their cost.
One country that is known for providing affordable and high-quality dedicated developers is India. Their per-hour cost is typically lower than other countries, making it a popular choice for outsourcing.
Save Big on Dev Talent!
Before you go, take a moment to find out how much you can save by choosing our expert developers.
How to Hire a Reliable Offshore Team with YTII?
Forming an offshore team can be a challenging process that demands patience. However, selecting individuals who share your work ethic can help reduce potential future issues.
YTII is dedicated to being your reliable partner for offshore solutions, offering exceptional support to your company. With our extensive years of experience and a well-qualified global network of talented professionals, we stand ready to efficiently assist in establishing your own team in India, making the process seamless and hassle-free.