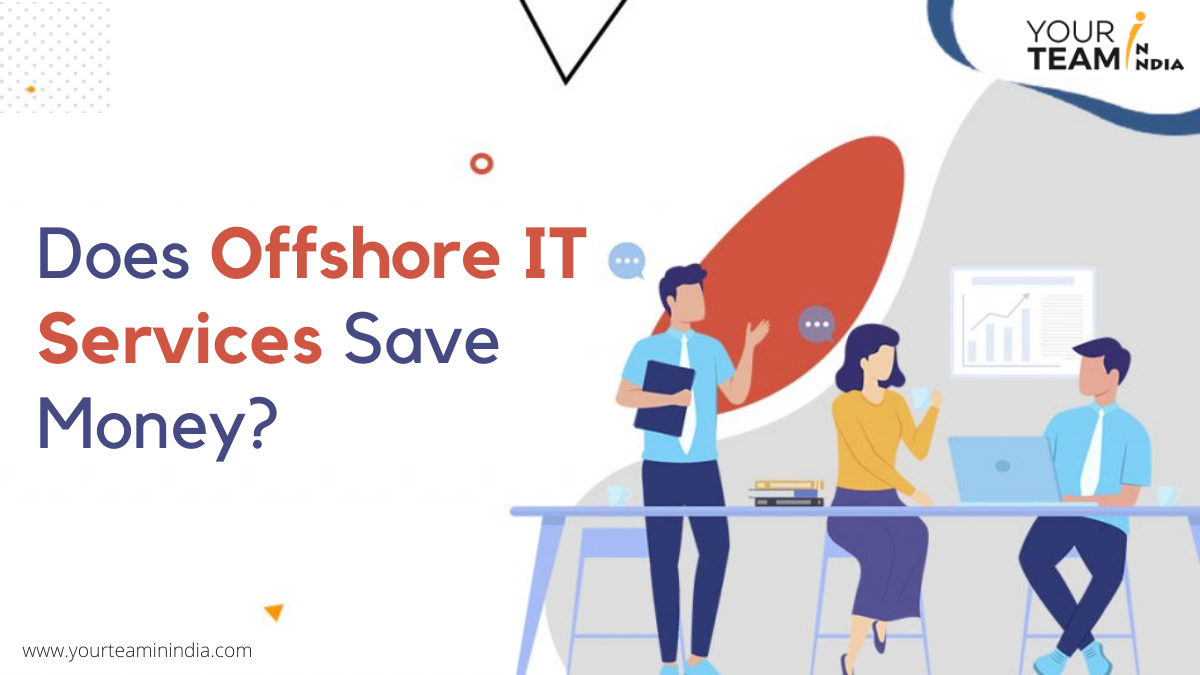 Hey Entrepreneurs! This is What You Need to Read If You Thought 'Outsourcing IT is an Expensive Deal'
When thinking of outsourcing IT operations, every entrepreneur is like, "Hey, is it even a wise decision to invest in a team I don't even know about?"
Well, it indeed is!
Outsourcing your IT operations - wholly or partially - is a sign that you are managing your business well. You are just being a smart entrepreneur there, not depending entirely on your in-house team for everything.
Also, you understand that business and employees can both be unpredictable at times.
Hence, outsourcing work is anyway critical for any business.
Outsourcing IT operations helps your business in multiple ways:
Save a lot of time and money to invest in business operations

Expand your business like never before

Work with highly skilled professionals

Unburdens your in-house IT team
(And, that's just a bit of how advantageous outsourcing can be for your business).
Let's delve deeper into this learning session so that we understand all of it thoroughly.
What is IT Outsourcing? A practice where entrepreneurs like you hire a third party to outsource all or some part of your business tasks. You can call these experts by any name, mostly as IT consultants or service providers.
The Two Types of IT Outsourcing are as follows:

Fully Outsourced IT, where you work with no on-site IT employees; instead, the outsourced partner manages all the IT processes. It even includes backups, updates, troubleshooting, security monitoring, and a lot more.
Even all the servers are stored and managed by the service provider at their center. Simply put, this partner will handle all IT operations for you.
Co-Managed IT is the process where you have your own existing IT team working for you, but all you want is extra help that can help manage all IT tasks easily.
This includes tasks such as backups, updates, security monitoring, and other help to unburden the internal team from the tasks somewhat, allowing them to focus more on the core IT operations.
It could even be the opposite too, where you keep your internal IT team for general tasks and look for specialized professionals outside.
Hence, you can choose one based on what your business demands after a thorough analysis.
Now, let's figure out 'the benefits of outsourcing IT, which is the main reason you are here.
Upsides of Outsourcing IT

There are quite a few! And, here are a few of the most prominent ones:
Hiring, Onboarding, and Training Costs Becomes Nill
Employees are not always affordable - it takes a lot (in terms of money) to hire, keep and sustain them for a long time. So once you outsource your IT operations, it will be fewer costs that you will have to pay for hiring, training, or onboarding the employees.
Also, the HR costs and bonuses are avoided in this case. You simply have to worry about your business operations, and that's all.
Recommended Read: Why IT Outsourcing in India is the Best Decision
Streamline The Processes
If you have a hard time managing the business processes, outsourcing is a perfect option for you. Also, if you don't understand which advanced tools and technologies are prevailing in the market, it is better to leave it to the experts, your outsourcing partners.
Hence, it is vital to choose the right partner who has knowledge of all existing tools and technologies to enhance your tasks and all operations.
Getting your business processes into the wrong hands can actually ruin the processes, leading to low productivity and accelerated costs.
Since outsourcing specialists know how to manage IT operations well, without increasing the cost and while maintaining the quality, it is recommended to every entrepreneur to hire one.
Availability of Remote Support
Since the pandemic has changed the way businesses used to operate, you can easily get remote support as well.
The best for your business would be to hire remote IT support. You will get 24x7 IT support at a much affordable rate comparatively. In fact, they are always on-call for any sort of concern that arises. Hence, a good move for your business.
Better still, combine the onsite technical support with remote support for taking care of all your day-to-day chores while allowing other teams to focus on other critical business tasks.
Remote IT support is a highly affordable yet effective option to place your bets on. Overall, your organization will perform way more smoothly than it already is.
Capacity to Scale Up Your Business
So when a specialized team of IT experts is constantly taking care of your business operations, it is easier to focus on core business operations. Moreover, with outsourcing, you can always do that without breaking the bank.
Also, you don't need to engage in watching their activities constantly. They are specialized experts, responsible and reliable, who know how to do their job. All you need to focus on is hiring the right one to avoid any loss to the work or time.
Hence, if you have any intention to scale up your business, it is highly recommended to offshore outsource IT operations, which are pretty time-consuming otherwise.
Is Offshore Outsourcing For You?

It definitely is! Which business would not like to cut the cost down to save more for the core business operations, which lets it excel or scale up in the future?
You can always start by asking yourself a question, which is:
Is your business budget too tight?

Is cutting cost one of the significant factors for your business at this point?

Is the existing team unable to handle too many tasks?

Are your training costs exceeding your budget? Z

Are you losing business because the existing team is unable to handle everything?
If the answer to all these questions is a yes, you must definitely go for outsourcing.
Now, why specifically IT operations? Because it consumes a lot of time, effort, and money, the team needs to be up 24x7 to fix the issue, which may arise almost any time of the day.
Want a reliable IT partner for your firm?

We, at YTII, have been supporting businesses like yours for a while now. You can entirely rely on us for outsourcing IT operations since we have the specialists to do it for you.
And, when we are busy doing that, you can peacefully manage all your business operations hassle-free.
If you are up for scaling up your business, availing new business opportunities, or just cutting down the cost (while increasing efficiency), we suggest you outsource IT operations now. Contact us to discuss your requirements.