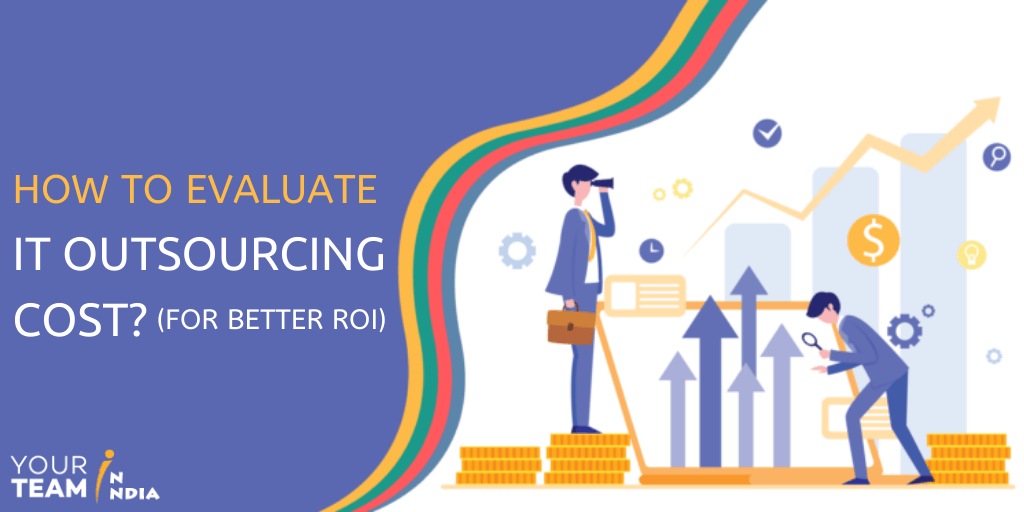 Outsourcing ROI Calculator - Determining the right cost of software development Determining the cost is the first thing that an organization considers while outsourcing their software development. But before calculating the cost of outsourcing there are various factors to evaluate. Every client has different requirements, therefore, the cost for IT outsourcing services will variate. This is why there are different engagement models for calculating software development costs. On the other hand, in-house fulfillment costs can confuse an organization while determining what is better for their business. To clear the air, below we are going to discuss the various factors, benefits, and even analysis of in-house vs outsourcing cost calculation for a better outlook towards both the service models.
Factors that affect the IT Outsourcing Cost
1. Geography
Geography can be a big factor that affects the cost of outsourcing. The more developed an economy is, the more is the cost of software development. Along with these two, some more factors are - skills in the newest technology and experience in the field. Here are some rates in IT outsourcing, according to the Accelerance report in 2018.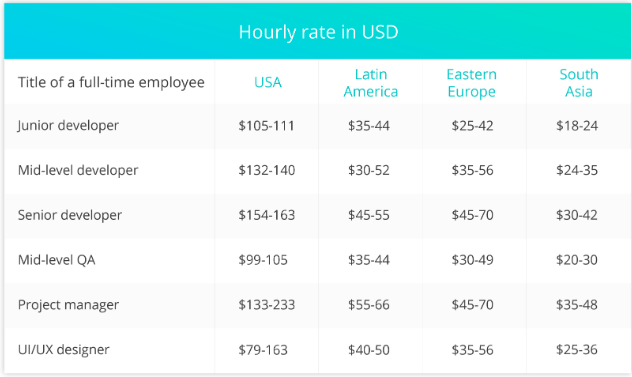 Indian Developers
iOS app development cost: $18-$40 per hour

Android app development cost: $20-$35 an hour
US Developers
iOS app development cost: $100-$150 per hour

Android app development cost: $120-$170 an hour
Ukraine Developers
Android developer: $60 per hour

iOS developer: $30 per hour
Australian Developers
Android developer: $200 per hour

iOS developer: $150 per hour
Russian Developers:
Android developer: $60 per hour

iOS developer: $50 per hour
As you can see, the USA has the most expensive developers. Whereas, Latin America and Europe's developers charge from $35 to $25, while in South Asia, especially India, developers charge the lowest rates without compromising with the quality. It's quite self-evident that the talent pool of qualified IT specialists in your city is way smaller than the talent pool of top outsourcing destinations like India. Therefore, you might find yourself stuck in search of the right specialists, especially those with adequate salary requirements.
Recommended Read: Software Developers Hourly Rate
2. Managed IT services
In outsourced managed IT services, your offshore development team will take care of the services on a daily basis. In addition, your outsourcing partner will basically deal with monitoring and maintaining the client's IT environment services, including;
Evaluation of the network organization and processes

Handling support issues

Development of proactive strategies

Upgrades or adjustments

System troubleshooting, software, routers, and domain names
The cost estimation of the outsourced managed IT services depends on the quantity and the quality of the service. The client pays all the fixed prices on a monthly basis that have been decided prior to becoming the partner. 3. Pricing and Corporation Strategize

The pricing models and cooperation strategize utilized by offshore development companies also determine the real cost of outsourcing. In short, the choice of a model mainly comes down to the client's business objectives. The project specification is another aspect that determines the outsourcing cost. As it includes A to Z development of the software from UI/UX design, project management, development, quality assurance, etc. Whether you have a short-term or long-term project, you can easily estimate the software development cost.
Note: The outsourcing cost calculator also additionally covers 20 to 30% of the risk management cost. The added benefit of outsourcing is that you are only expected to pay for the leveraged services. Moreover, you can easily modify the project requirements, shift goals, or even pause the development at any time.
In-house vs Outsourcing Fulfillment Cost Analysis: Evaluating the estimation of the software development cost
Inhouse Fulfillment Cost Analysis: Factors that will affect the overall cost When you are handling your own fulfillment in house, you have to pay overhead costs. Furthermore, you have to pay for their training, other employee benefits as well as hardware & software requirements Here are the main categories
Insurance

Per Head

Rent

Software

Supplies

Utilities
Outsourcing Fulfillment Cost Analysis: Factors that will affect the overall cost If you are outsourcing your IT development, you directly won't have to pay the overhead costs, which is a big factor in cost determination. Instead, you will pay a fixed fee to your IT outsourcing partner which will be determined by the Outsourcing cost calculator. Factors that will be included
Call Support

Customer Service

Cartons

Order Fulfillment Fees Per Order

Order Fulfillment Fees Per Item

Receiving Fees

Returns Fees

Storage Fees

Set Up Fee – One Time
Outsourcing is a tough decision to make. But knowing how much software development would actually cost can drastically change your perspective, weighing the other factors impacting your decision. In case, you are planning to set up an offshore development center, it's best to first evaluate the cost to do so.
Inhouse Fulfillment Cost Analysis: The major Risks factors
1. High costs
The cost of hiring full-time employees is a lot higher than outsourcing employees because of overhead charges and high local salaries. In fact, the costs of hiring a qualified local development team can be so high that for some companies it can take way too long to get a positive ROI on their IT projects.
2. Workload
One of the main concerns of a small or a mid-size company is whether they will be able to keep the in-house team allocated all time. Regardless of the work, they will have to keep paying the overhead expenses and salaries making it a big money crunch for the organization.
3. Innovation
In-house teams are often living in their own world, not having exposure to the new trend in the technology world. Additionally, the workability on the same projects for the same company cannot be compared to the scale and variety of projects that an outsourcing company handles.
Related read:- RPA Metrics: A Guide to Measure ROI of Your Process Automation
When is the Right Time to Outsource?
Having complete control over your business products can be comforting but can also limit exposure. That is why outsourcing fulfillment can greatly benefit an organization in terms of cost and quality.
1. Flexible cost
As outsourcing can be upscaled or downscaled it gives us an option to pay variable costing. For example, you hired a team of developers to develop your mobile application. Initially, it required 20 developers and you had to pay $2456, but as the development phase crossed and you now you need only 8 developers. Furthermore, you can quickly downscale and not pay for 12 developers that are not required now. This way you can save a lot of money. In terms of inhouse developers, you will have to pay a fixed monthly salary to every developer, even if they are not working on the project anymore.
Result - A lot of cash flow, leading to wastage of money and resources. Moreover, you can calculate the cost of software development and save with our In House Versus Outsourced Fulfillment Price Calculator.
2. Focusing on Core Business
With outsourcing the key management and the staff can easily focus on the core business rather than getting into something that is not their forte. In fact, outsourcing software development to an expert organization gives time to the senior executive to focus more on the business and generate ROI.
3. If Business is Experiencing Growth and has Difficulty Scaling
If your business cannot incorporate growth strategies like cost reduction, then it is the right choice to hire offshore developers. Outsourcing companies work as collaborative partners that provide operational flexibility and the average cost of IT outsourcing services is much lower than inhouse processes. Also, this enables businesses to remain flexible and sacrifice less on the costing of software development.
Some of the Commonly Outsourced IT Services

Here are some of the most commonly outsourced IT services by many organizations all over the world.
Web development and designing

Web hosting

Website and mobile application development

Helpdesk or technical support

Management or application support

Infrastructure

Telecommunications

Database management
"With Information technology outsourcing contributing to almost half to the market growth, it is expected that the industry will reach around $1.1 trillion by the end of this year."
Things to Keep in Mind while Determining Cost on Outsourcing Cost Calculator
Determine The Cost To Outsource Your Mainframe

Number of Resources required

Calculate outsourcing saving

Other vendors outsourcing cost

How can outsourcing determine my financial status
Calculating the Cost of Outsourcing Services There are some aspects because of which you can not calculate the cost of outsourcing IT services accurately. Therefore, this is a list of aspects that can change the cost of outsourcing.
Expenditure done on repairing or replacing broken PCs.

Short maintenance projects

Projects that do not produce cost savings or revenue.

Regulatory and compliance reasons.

Projects that only have intangible benefits

For projects that fall outside of these limitations,
Outsourcing cost can be calculated with this formula: ROI % = (Return – Investment Cost)/Investment Cost x 100 Your Team in India has developed an outsourcing cost calculator that compares the average cost of the in-house and outsourcing fulfillment services. Lastly, the outsourcing cost calculator evaluates the total annual cost of software development, helping in making a well-informed decision that suits your pocket. Also, the outsourcing ROI calculator will give you an estimation of your website development or mobile app development within seconds. Contact Us to know more and discuss your project.