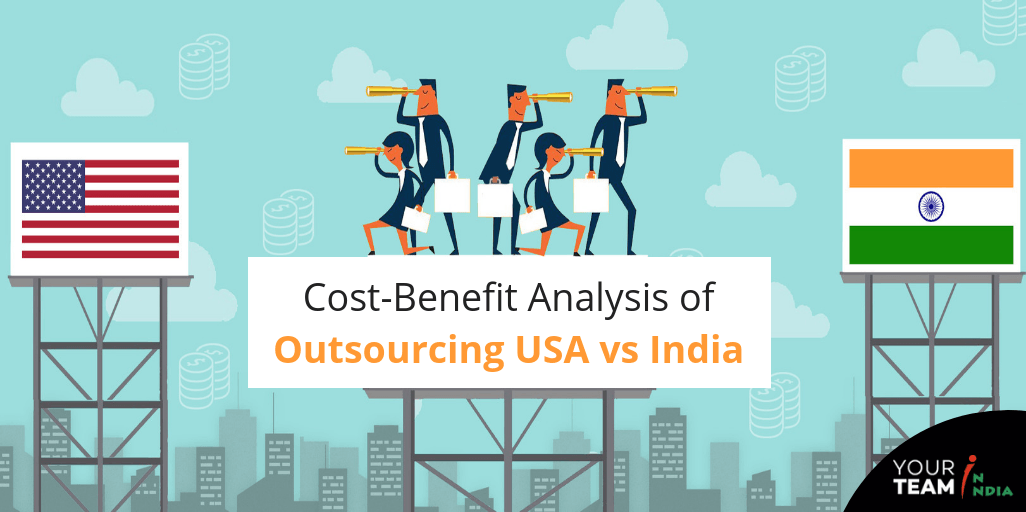 Quick Summary: The article analyzes the pros and cons of outsourcing to India versus the USA through a cost-benefit analysis of outsourcing. While outsourcing to India can provide significant cost savings and access to a skilled workforce, outsourcing to the USA may offer proximity and legal protections.
Introduction
The new normal has brought a paradigm shift in how we perceive offices and work. 53% of employees prioritize their health and well-being overwork and seek better work-life balance. Remote and hybrid teams are a common sighting, and demand for IT outsourcing partners is at an all-time high. But the million-dollar question remains, India vs. USA, where should you outsource your IT projects?
Cost-benefit analysis of outsourcing between India vs USA - The short answer is India. Though the USA is considered the IT hub of the world, India today is giving it tough competition. India offers a large and growing population of IT professionals. Besides the large talent pool, India offers experienced professionals & IT infrastructure at a much lower cost due to the lower cost of living. Outsourcing to India can save you up to 60% of overall development costs.
To answer your question, we have created this elaborate blog on the cost-benefit analysis of IT outsourcing in the USA Vs. India. In this blog, you will get an insight on
Parameter of cost-benefit analysis

Why India supersedes the USA in IT outsourcing.
So without any delay, let us begin
Recommended Read: The All-In-One Guide to Software Development Outsourcing
The Scope of Cost-Benefit Analysis of Outsourcing
Defining the scope of cost-benefit analysis is the first step, where we will list various factors for comparison. Our purpose here is to give you an accurate cost-benefit analysis of outsourcing to both destinations so that you can make an informed decision.
Cost & Benefit elements for comparison
Wages

Resource Availability

Hiring Cost

Government Policies

Emerging Technologies

Time-Zone Difference

Ease of Communication

Post Development Support

Infrastructure Development
Outsourcing IT in India vs USA
Below is a comprehensive comparison of the cost-benefit analysis of outsourcing between the two countries. By creating an accurate cost analysis, we wish to better understand IT outsourcing and why India is a promising alternative to the USA.
1. Wages
Hiring premium resources at lower wages is one of the biggest potential benefits of outsourcing. Resource remuneration is the first and most important comparison element in outsourcing in India or the USA to reduce costs. When compared with in-house costs of hiring resources, outsourcing is more economical as you not only save on wages but also don't have to incur the cost of employee benefits, CPF contribution, medical insurance, training, etc.
When one makes a salary comparison in India Vs. the USA, India emerges as more viable. Hiring a junior developer from an outsourcing partner costs you $55-$80 in the USA, whereas the same resource in India can be hired for $20-$25. So, outsourcing to India can save you up to 70% in development costs.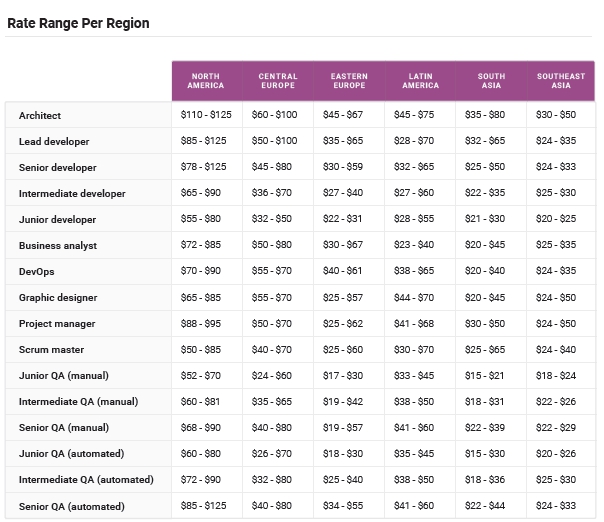 2. Resource Availability
As per the 20th edition of the State of the Developer Nation report, there were 24.3 million active software developers worldwide in 2021. The USA alone contributes to 16% of the total population, approximately 4.3 million IT professionals.
Like many western countries, the USA is facing a tech resource crunch today. It outsources approximately 300,000 jobs annually. 60% of these are IT and digital marketing jobs. The high demand for tech resources vs. low supply makes outsourcing in the US for a long-term commitment to projects a challenge. Due to a lack of availability, the hiring cycles have become as long as 60-90 days in the USA.
India, on the other hand, provides a large pool of talent across technology stacks. According to the report by IBEF, the IT industry added 4.45 lakh new employees in FY22, bringing the total employment in the sector to 50 lakh (5 million) employees.
At the rate at which the Indian IT population is growing, it is expected to surpass the USA by the year 2024. India offers a large, inexpensive, and readily available talent pool of developers and programmers, which reduces the hiring turnaround time to as low as 15-30 days for outsourcing your project.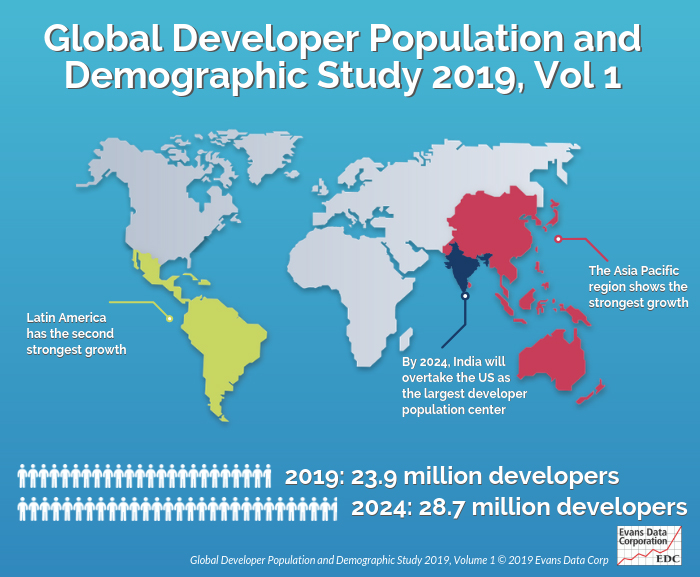 4. Hiring Cost
When one considers the cost of hiring, two aspects need to be considered.
Direct Costs
The actual outsourcing costs of finding the right resources, which include HR consultancies or search platform fees
Indirect Costs
The cost incurred while scaling business operations with outsourcing partners like team expansion, project ramp-up, etc.
As a business owner, you must take into consideration the avoidable future costs that you may have to incur in the form of bad quality work, delays affecting efficiency, and creating unnecessary expenses.
Owing to the increasing talent gap in the USA, the cost of finding the right outsourcing partner is high as resources are scarce and demand is high. This also reduces resource stability, as they are always in the outlook for finding better-paying opportunities. The cost of resource retention and replacement increases manifold.
Whereas in India, the cost of outsourcing is much lower due to abundantly available resources across technologies. The resource attrition rate is low, and replacement is quick and hassle-free even in case of attrition.
5. Government Policies
The Indian government has actively invested in creating a beneficial and favorable business environment for companies leveraging IT outsourcing services in India.
Some Indian Government Policies
In April 2022, the Indian Computer Emergency Response Team (CERT-In) issued directions to strengthen cybersecurity in the country.

In the Union Budget 2022-23, the allocation for IT and telecom sector stood at Rs. 88,567.57 crores (US$ 11.58 billion).

The government introduced the STP Scheme, a 100% export-oriented scheme for developing and exporting computer software, including exporting professional services using communication links or physical media.

In September 2021, the Indian government announced a plan to build a cyber-lab for the 'Online Capacity Building Program on Crime Investigation, Cyber Law and Digital Forensics' to strengthen cybersecurity capabilities.
The US government focuses on reducing IT project outsourcing to other countries, but no initiatives are taken toward inviting outsourcing projects from other countries.
6. Emerging Technology
Silicon Valley is the hub of IT innovation, and the US has always been at the forefront of the IT revolution. Being a mature IT market, the USA offers talented and experienced resources in all emerging technologies.
Though India offers a large talent pool, it may need help to offer experiences in newer technologies, making the US a more viable choice in this aspect.
7. Ease of Communication
Whether you outsource to US or India, you will be working with teams that are not located in-house. So seamless communication becomes critical to ensure smooth operation and on-time delivery of work.
Regarding spoken communication, both US & India offer ease of communication. In fact, India has the second-largest English-speaking population, as it is taught as a primary language in the Indian education system.
Besides language, India's STEM-based education system makes Indian developers good at analytical skills. So comprehending complex briefs, breaking them down into actionable steps and creating a high-performing product is not a challenge when you work with an Indian outsourcing partner.
Related read:- You Must Know These 7 Qualities of High-Performing Teams
8. Time-Zone Difference
Time zone differences can be taken as both advantages and disadvantages while outsourcing. Outsourcing to the US means your remote team will be working in the same time zone as you, which translates easier to collaboration and coordination.
Outsourcing to India would mean the team is working in different time zones, creating coordination challenges if the work is planned poorly. Still, it can also give you the advantage of work being carried out 24/7.
When your Indian team has logged out for the day, your in-house team can review the work and share feedback, so when the Indian team is back, they already have work aligned with feedback on the ongoing project. This ensures zero delays in ongoing work. Coordination challenges can be avoided by creating regular scrums and meetings.
9. Post-Development Support
Unlike their western counterparts, Indian developers are known to be empathetic and considerate towards their clients. You will never find an Indian outsourcing partner shying away from providing extended support and extra hours on the project. Even when the contract is over, you can always contact your Indian outsourcing partner to help resolve issues and bugs.
10. Infrastructure Development
USA is a developed nation and offers great infrastructure and facilities which makes outsourcing
Though India is a developing Economy, when you compare the facilities in terms of connectivity, communication, and infrastructure, all major cities are at power with their western counterparts.
India is a fast-growing economy with digital fast-growing and deep internet penetration. A report estimates that India will reach 900 million internet users by the year 2025. Being a country with a young population, adopting new technologies is easy and quick.
Facts About the Benefits of Outsourcing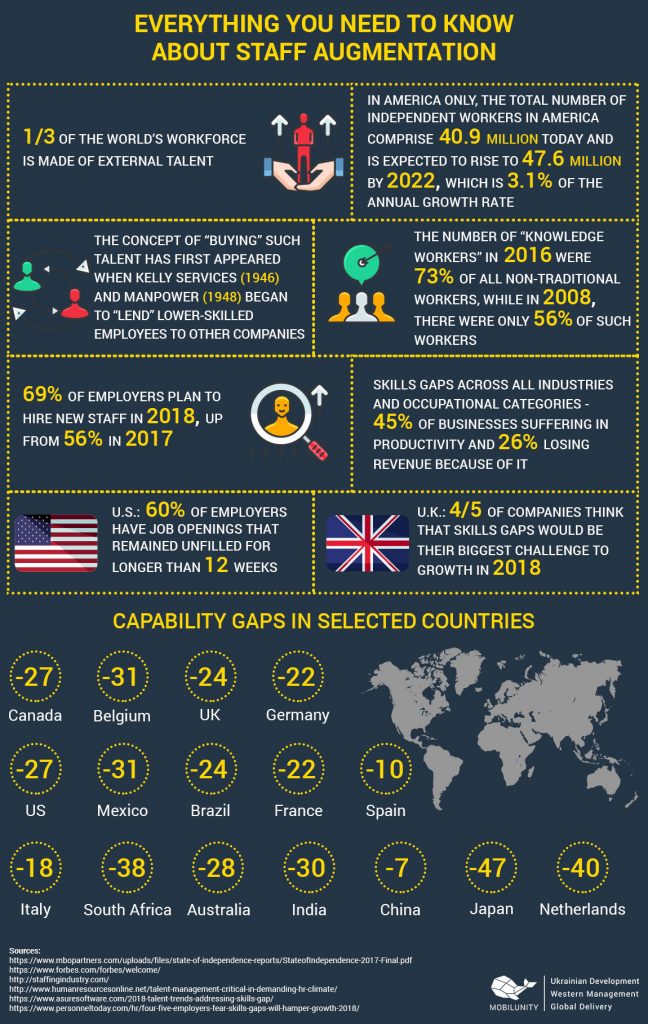 Outsourcing Examples of Major Companies
Several major companies prefer to set up a dedicated offshore development centers. This allows them to enhance their productivity and workforce. Check out these examples where companies got success with offshore teams:
Slack:
In 2013, Slack hired a design team to make changes to its logo, applications, and websites. Now, the company has more than one million users, and its net worth is around U.S. $3 billion.
Alibaba:
The company Alibaba, which is just like other shopping websites hired a dedicated offshore team to work on its technical aspects. Due to the same, the company now has become globally famous and is growing at an amazing rate.
Microsoft:
The famed company, Microsoft has a team of developers for operational processes that work in the company. Outside faculties occupy more than a hundred positions in the company. Hence, it is one of the largest companies that make extensive use of external resources.
Skype:
The initial design of Skype was done by a team of Estonian developers. Now, it has been sold to Microsoft for $8.5 billion. Now, the team working on Skype is all faculty of Microsoft.
Recommended Read: 5 Successful Stories of Outsourcing
India- A Clear Leader in IT Outsourcing.
It is clear that when you calculate the in-house costs of hiring resources with IT outsourcing, outsourcing is a clear winner. And outsourcing in India supersedes the USA as India provides a larger resource pool at a much lower cost.
Besides the overall cost saving, outsourcing in India helps you create high-value products and services that generate better revenue opportunities for the business. But to leverage the true benefits of outsourcing in India, one must find an experienced and trusted outsourcing service provider like Your Team in India to hire quality software developers.

Frequently Asked Questions (FAQs)
What is the cost-benefit of outsourcing?
The cost-benefit of outsourcing refers to the analysis of the advantages and disadvantages of hiring external companies or individuals to perform specific tasks or services, with the aim of determining whether outsourcing is financially beneficial for a company.
What are three important costs of outsourcing?
Three important costs of outsourcing are labor costs, overhead costs, and infrastructure costs. These costs can vary depending on the country of outsourcing, and can significantly impact the financial benefits of outsourcing.
What are the advantages and disadvantages of outsourcing to India versus outsourcing to other countries?
Advantages of outsourcing to India include access to a large, skilled workforce and cost savings, while disadvantages may include cultural and language barriers. Advantages of outsourcing to other countries may include proximity and legal protections, but may also have higher labor and overhead costs.