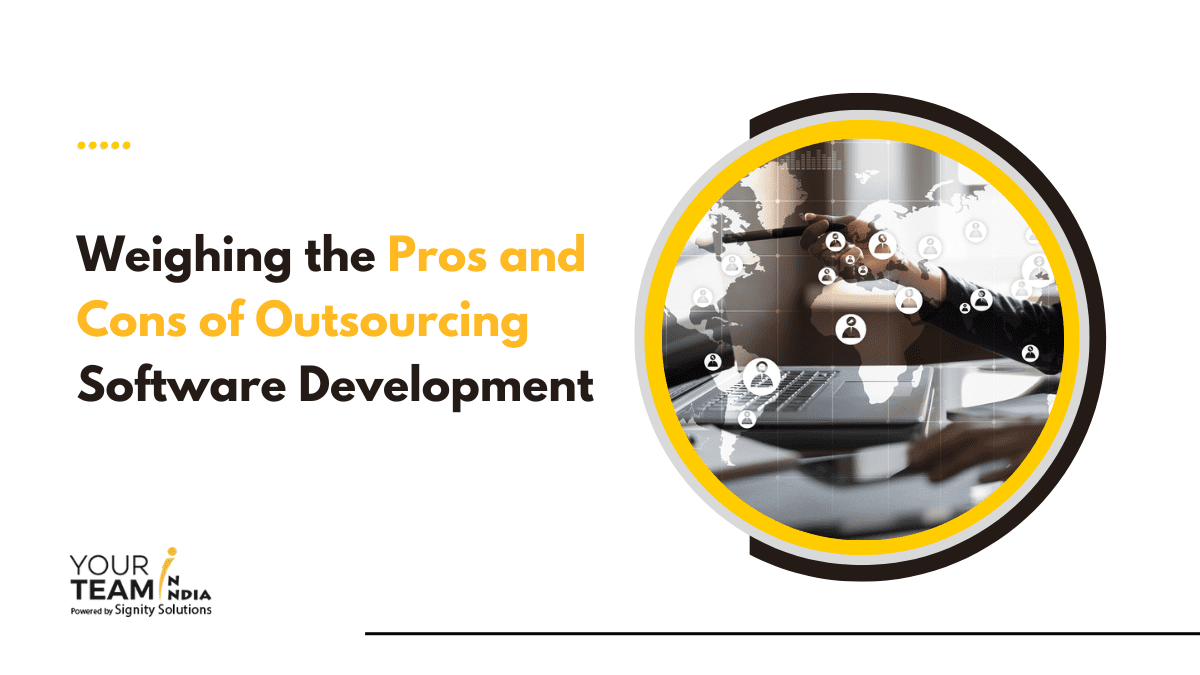 Quick Summary:
As a business owner, one often needs clarification about the viability of software development outsourcing. In this blog, we will elaborate on the Pros & Cons of software development outsourcing, who should outsource software development, and how offshoring could be your answer to mitigate the risks of outsourcing IT projects.
Introduction
As the business world is reverting to its pre-pandemic modus operandi, companies across industries have started operating from offices. This has compelled businesses to revisit software development outsourcing strategies for digital transformation.
But even as the industries move back to in-house operations, when one compares the pros and cons of software development outsourcing, the pros outweigh the cons any day.
Remember, many companies were already outsourcing software development even before the pandemic. In fact, 99% of fortune 500 companies use outsourcing companies to avail a wider talent pool at a cost-effective price.
Outsourcing IT projects enables companies to work with highly skilled software developers at economical pricing, empowering reduced time to market and gaining first movers' advantage.
In this blog, we will talk about the pros and cons of outsourcing software development.
Let us begin.
Recommended Read:
The All-In-One Guide to Software Development Outsourcing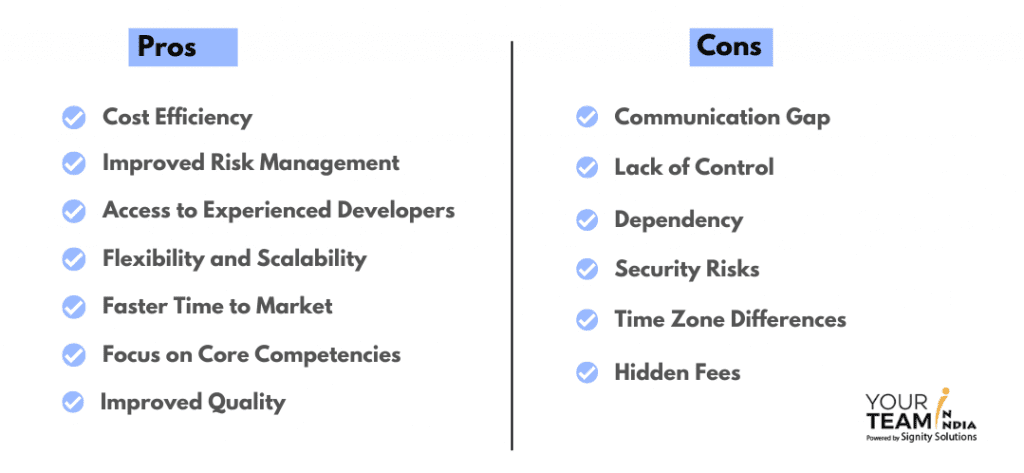 Why outsource? Pros of Outsourcing Software Development
Though the pandemic pushed the demand for software outsourcing firms, the IT outsourcing industry has existed for over two decades. The IT outsourcing revenue is expected to show an annual growth rate (CAGR 2023-2027) of 12.42%, resulting in a market volume of US$12.47bn by 2027.
This proves that today, many business owners are choosing a remote team from an outsourcing company over hiring in-house resources. And here is why?
1. Cost Efficiency
One of the biggest advantages of outsourcing services is cost-effectiveness. Besides empowering you to be software experts at a much nominal price from countries with lower labor costs, outsourcing software development also saves on resource hiring, training, and infrastructure cost. Resulting in reducing the overall cost of the project significantly.
2. Improved Risk Management
Outsourcing helps mitigate the risks associated with product development as the responsibility of successful product development, and on-time delivery of the project has been transferred to the third-party vendor. Companies can avoid risks and costs associated with in-house team hiring, resource loss, or delivery delays using third-party vendor development services.
3. Access to Experienced Developers worldwide
Besides cost savings, having access to talented software developers is one of the significant outsourcing software development pros. It opens new avenues for businesses to scale their teams with skilled software engineers quickly to ensure project development at a rapid pace. This can be particularly beneficial for a core business without an in-house IT team and require specialized expertise to handle complex software development process.
Recommended Read: Why IT Outsourcing in India is the Best Decision
4. Flexibility and Scalability
It is difficult to assess the exact resource requirement of a project from the very beginning. You may need a larger team to manage the project as the operations grow. Hiring in-house developers requires a long recruitment process.
In such a scenario, outsourcing becomes a practical option as it offers you the flexibility to scale the team on demand, making business more agile and resilient. Businesses can adapt to changes in project requirements or market conditions quickly and easily.
5. Faster Time to Market
When you outsource your software development project, you get a team of experts working dedicatedly to develop your project. Unlike an in-house team, which may be deployed on multiple tasks, where the team is focused on delivering one project, speeding up the development process and hence reducing time to market
6. Focus on Core Competencies
A non-tech company with outsourced software development is far more likely to excel than a company with no knowledge of technologies hiring an in-house tech team.
By delegating software development to an outsourcing service provider, you can focus on building your core competencies and growing your business.
7. Improved Quality
You get tech experts working on your project when working with outsourced teams. With their years of experience working on complex tasks, these experts improve product quality while ensuring the on-time delivery of your project.
Even though software development outsourcing offers your business many benefits, it has limitations.
Read on to find out what they are.
Cons of Outsource Software Development
While an outsourced development team has benefits, software development outsourcing is not without its limitations. The biggest is the communication gap that one may face when working with a team working from a remote location.
Below are the challenges in software development outsourcing that a project manager may face while working with a partner company.
1. Communication Gap
The first and most common concern in software development outsourcing is the communication gap created due to cultural or language differences between the in-house and outsourcing teams.
This especially becomes evident if you outsource your project to a country where English is not a primary language.
The communication gap can create misunderstanding in project briefs leading to unnecessary repetition, delays in project delivery, and an increase in cost, beating the entire purpose for which you outsourced software development. i.e., quick project delivery at an economical cost.
2. Lack of Control
When you outsource your software development, you basically hand over your project to an outsourcing partner who then chooses and deploys their internal resources to work on the project.
You get little to no access to the ongoing development by this external team and must rely entirely on this third-party vendor for your app development. Ensuring the project is being developed to your specifications may become difficult.
4. Dependency
When you outsource the development of mobile apps or any software solutions to an external team, your entire company depends on this third party to build and deliver a superior product.
Failure in product delivery to your specification would lead to delays and business loss. Besides, transitioning the project to a new vendor can become challenging.
5. Security Risks
Cyber thefts are one of the biggest concerns for businesses across industries. The average data breach cost is around 3.86 million U.S. dollars, but real repercussions can go far beyond. The loss of customer trust is the highest price.
When you outsource the software development project, you may have to provide system and server access to your vendor, which can create security risks like data theft, malware, and phishing.
This can make your business vulnerable to data breaches, lack of performing security protocols, and cyber-attacks.
6. Time Zone Differences
When you outsource the project to a vendor in a different continent, you could face a significant time zone difference in the working hours. This can hold up important discussions and decision-making, affecting development continuously and pushing the deadlines further.
7. Hidden Fees
The software development process in outsourcing may appear cost-effective initially, but there may be hidden costs that you did not consider. For instance, the cost of communication, project management, and quality assurance may add up quickly.
8. Quality Issues
As per the "Barometer of Global Outsourcing," 20% to 25% of outsourcing relationships don't last longer than 2 years, and 50% no longer than 5 years. Insufficient expertise among outsourcing partners is one of the primary reasons for its failure.
If your external team doesn't use innovative technologies and updated frameworks, the end product quality can suffer in flexibility, scalability, and ability to meet future requirements.
Tips to mitigate the challenges of software development outsourcing
Choose a destination where English is taught as a first language
Provide proper downloads and training to in-house and external teams to navigate cultural nuances.
Define communication methods and define its channel
Creating regular scrums
Create a work hierarchy and reporting matrix to ensure continuous communication
Set clear expectations regarding work quality
Set security protocols to ensure data security
How can offshore teams become your answer to challenges faced while software development outsourcing?
In offshore development, the team deployed on the projects works directly under your supervision, giving you better visibility and control of the ongoing operation. Since the team operates as a subsidiary of your business, it is better aligned with your business objectives and delivers the results on time.
Learn more about Offshore Development Center and how it is a better choice
Is Software Development Outsourcing worth the risk?
There is no doubt that software development outsourcing is a variable choice to counter the effect of the dynamically changing world of IT. It allows you to adapt and upgrade your products to new technologies quickly.
By deploying technology experts of outsourcing partners, you are able to efficiency and effectiveness of your operation at economical costs, leading to huge benefits for your business.
While outsourcing is a great strategy, its challenges must not be underestimated at any point. By taking corrective measures to manage its challenges better, outsourcing can surely yield the right returns for your organization.