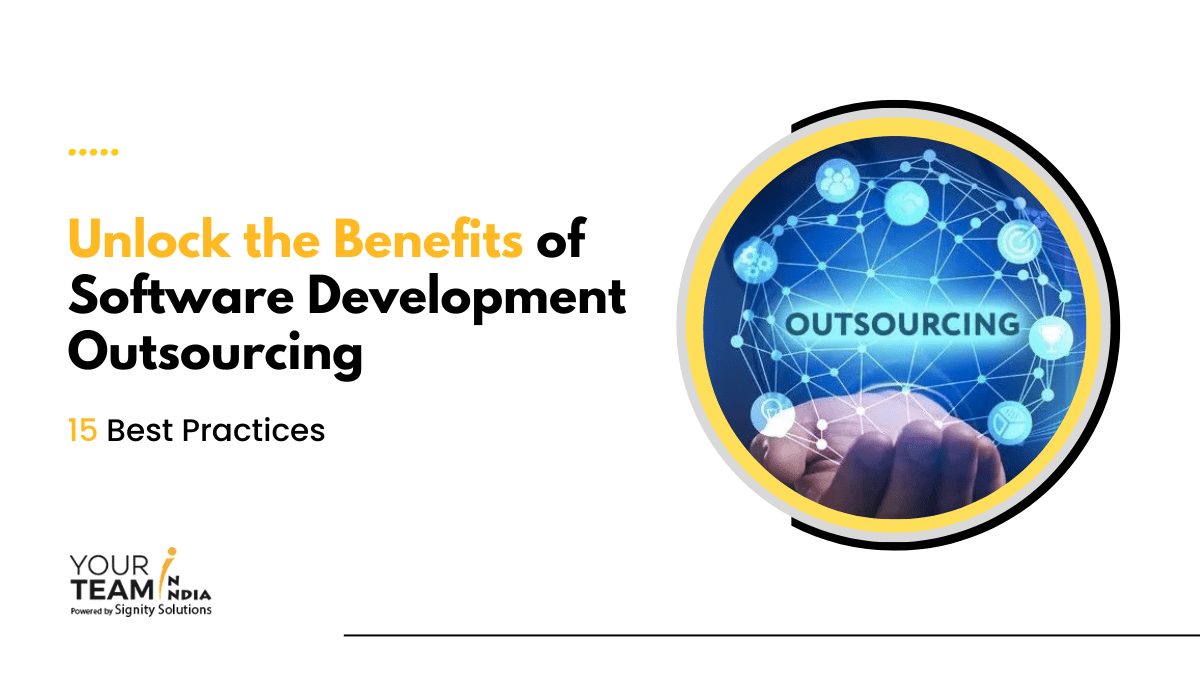 Quick Summary:
Though outsourcing is a great strategy to build superior products while saving on time and costs, it sure requires some groundwork to be successful. In this blog, we will cover the best practices in 2023 that can ensure the success of your software development outsourcing.
Introduction to Best Practices for Software Development Outsourcing
In 1989, Eastman Kodak outsourced its data center's design, development, and management to IBM. It was amongst the first major IT outsourcing project that changed the course of the future for Software development outsourcing worldwide.
Today 92% of G2000 companies rely on IT outsourcing to scale their operations. IT service outsourcing contributes to 72% of the global outsourcing industry.
According to Statista, the global revenue of IT outsourcing is expected to reach $587.30 billion USD by 2027.
Over the years, businesses have created Best Practices for Software Development Outsourcing, creating SOPs, cultural training, and downloads, and defining communication channels to ensure success.
In this blog, we will discuss 15 such practices that can ensure the success of your outsourced project.
But first, let us discuss why outsourcing has become a popular choice amongst businesses for software development.
Why outsourcing software development is a popular practice?
Over the past 3 decades, IT outsourcing has grown substantially. From software development and product upgradation to augmenting entire IT departments, businesses today rely on outsourcing to grow their operations.
And why not? Outsourcing your IT project means
Quality resources at cost-effective prices

Access to global talent

On-demand scaling of the team

Quick turnaround of the project

No infrastructure cost for the team
Read our blog Pros and Cons of Outsourcing Software Development to learn more.
There is no doubt that IT outsourcing as an industry will grow tremendously in the coming years. So here are software development outsourcing best practices for successful outsourcing.
15 Best Practices for Outsourcing Software Development
1. Define project requirements clearly
This goes without saying that before you start a project, you must define its scope of work and resource requirements.
Your project scope must clearly define
Number of resources required and their industry experience

Technology Stacks

Development Methodology

Product purpose, features, and attributes

Budget, pricing structure, and payment terms

Timeline of project delivery
Determining these aspects of the project helped create clarity from day one, ensuring a quality product with on-time delivery.
2. Establish communication channels
Communication is the key to successful software development outsourcing. Hence it is critical to establish channels and tools of communication to be used by in-house and external teams.
Defining communication channels can help you avoid miscommunications, delays in briefs, and feedback, which can result in affecting product quality and deliveries.
3. Set clear goals and expectations
Defining clear goals and realistic expectations for project delivery is a must while working with an IT outsourcing partner to ensure your software development meets all requirements.
A smart approach to ensure quality is splitting the project into smaller milestones & mini-goals and delivery timelines. This way, you can ensure the on-time development of your project.
4. Choose the right outsourcing partner
A must-practice for software development outsourcing is finding the right outsourcing partner that meets your business requirements.
Consider the following factors before choosing an outsourcing partner
How long have they been in business

Technologies they have expertise in

Work experience in your industry

Experience in delivering complex projects

Social proofs and industry accreditation
Assessing these factors will help you find the right outsourcing company for your software development project.
5. Choose the right engagement model
There are three engagement models available to businesses while outsourcing their projects. Bas
Fixed pricing: Here, the project cost and scope are pre-defined and have less than a 5% chance of deviation.

Hourly Cost: Here, the outsourcing team is paid based on hours deployed on developing the project. The development is highly dynamic, and the scope of work may change.

Retainer pricing: Also known as a dedicated team model, here you deploy developers on a project on a retainer basis. Best suited for projects that have gone into maintenance.
Based on your project needs, you must decide which outsourcing model would help you achieve your business objectives.
Related Read: 'Hourly Rate Vs Fixed Cost' – Which One is Better For Your Business?
6. Use project management tools and methodologies
Unlike your in-house team, where you can supervise and monitor the work through in-person coordination, outsourcing requires project management tools to ensure hassle-free coordination.
Project management tools help teams better plan and manage ongoing development. These tools aid in seamless collaboration, tracking changes, progress, and team achievements.
7. Conduct regular progress reviews
When working with a remote outsourcing partner, it is important to have a hands-on approach. Divide the project into milestones with timelines for the team to achieve.
Create regular scrum meetings and discussions to track the progress of the development. Taking regular updates, sharing feedback, and taking inputs from teams is the way to stay on top of the ongoing work at all times.
Related Read: Why IT Outsourcing in India is the Best Decision
8. Consider cultural and language differences
It is critical to acknowledge and respect the cultural difference of your outsourcing team. Understanding the nuances of their culture can go a long way in creating seamless communication and operations, whereas ignoring them can create unnecessary friction and communication gaps.
9. Ensure data security and intellectual property protection
According to Statista, approximately 15 million data records were exposed worldwide through data breaches in the third quarter of 2022. A 37 % increase compared to the previous quarter.
Data Security is a major concern for businesses across the globe. This concern increases when you have to work with an outsourcing partner. It requires you to share access to your servers and systems, making them more vulnerable to cyber-attacks.
So it is critical to set up enterprise-grade security systems and creates security measures and protocols to be followed by the team at all times.
One must also create extensive NDAs to be signed between both parties to avoid any IP theft.
10. Define roles and responsibilities
Creating operational hierarchy, escalation matrices, and standard operating processes (SPOs) is important when working with a third-party vendor.
Define work responsibility and information access for every team member in the outsourcing team. Create extensive workflows for the team to ensure a seamless flow of information.
At no point should your outsourcing team should have confusion on work expectations, timeline, and reporting authority.
11. Documentation in the key
When working with a third-party vendor, it is important that you document everything. From defining the scope of work to day-to-day operations, feedback, and changes, all should be documented to avoid miscommunication. If you rely solely on verbal communication, many details can fall through the cracks, resulting in a low-quality product.
12. Price shouldn't be the only factor
Yes, you heard that right. We understand that you are outsourcing to save on development costs. But the price cannot be the only factor to be considered. The lowest price may also result in the lowest quality of development.
Instead, look for outsourcing partners with industry experience, credibility, and talented resources.
Related Read: Software Developer Hourly Rate Comparison Across the Globe
13. Establish a change management plan and KT process
This may sound ironic as all the above points focus on building a successful and long-term engagement with an outsourcing partner. But to be a realist, it is always better to have a backup plan to have a smooth exit in case the outsourcing partnership is not working out for you or your contract is ending.
A well-planned knowledge transfer and change management plan can help in a smooth transition with no data loss. You can pre-decide and create an in-house team to take over the project to ensure no delays and gaps in services.
14. Fostering a culture of appreciation
By practicing an open dialogue culture, knowledge sharing, and sharing of expertise from your end, with the outsourcing company - you will create a culture of collaboration. With time, appreciate the efforts of the developers.
This will help you develop a good culture among members and will portray your interest to work with them in the future as well.
15. Optimization on-the-go
After the project is finished, you must evaluate the outsourcing team's progress and optimize on the go by providing quick feedback, in order to close the loops and proceed to the final handover.
This process includes analyzing project performance, measuring return on investment, and finding out ways to optimize opportunities for future changes when your company decides to launch new features.
Conclusion
There is no doubt that outsourcing software development is a great way to stay flexible and agile in this continuously changing world. Not only does it help you scale operations with ease, but it also helps in creating a global presence.
But creating a viable outsourcing work model can be a daunting task. Following the above 15 best practices for Software Development Outsourcing can help you build successful and long-term outsourcing partnerships worldwide.