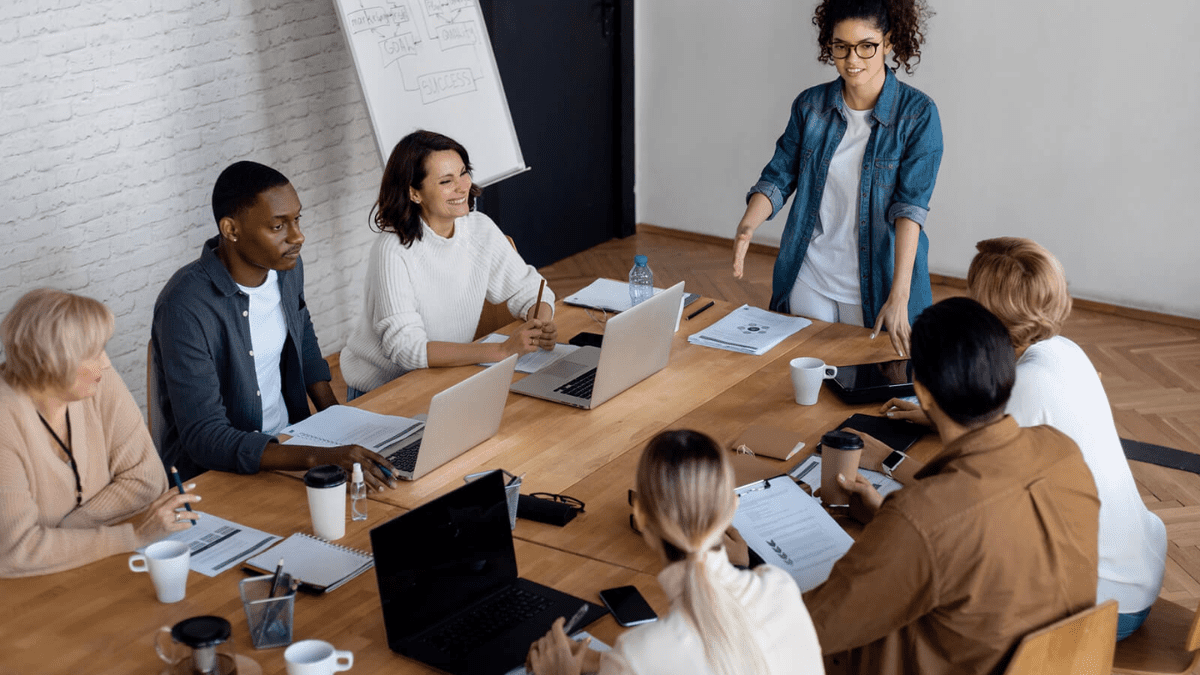 Quick Summary:
This blog sheds light on offshore software development benefits focusing on how it has emerged as a cost-effective solution for startups facing limited budgets, stiff competition, and quick scaling. We will also share real-life examples of startups that have benefited from offshore software development.
Introduction
There is a significant demand for IT and Software roles in developed economies. However, due to talent scarcity, businesses are expanding their search beyond geographical boundaries to find skilled technical professionals. The cost of hiring local talent has become expensive, leading more businesses to explore the option of outsourcing.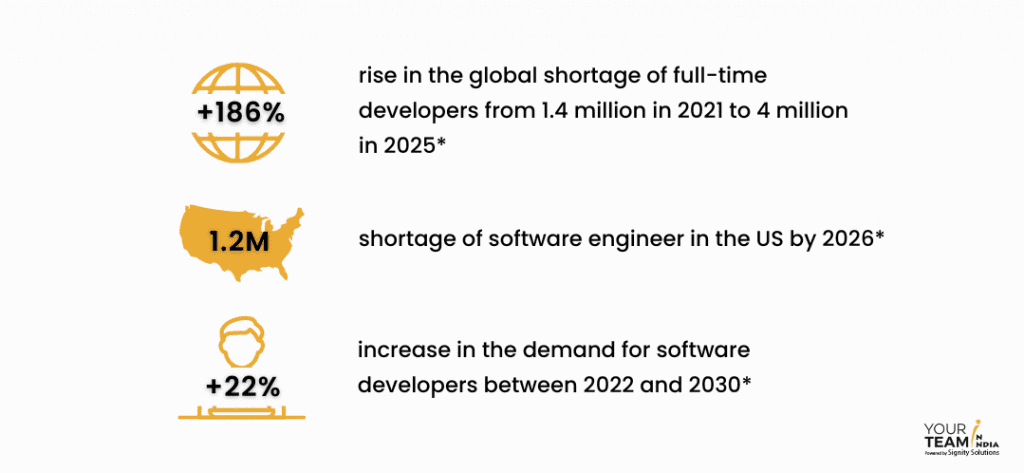 According to a recent report from Manpower, 1 in 5 organizations globally are having trouble finding skilled tech talent. Are you among the businesses experiencing these challenges? You have come to the right place.
As a startup owner in 2023, hiring an offshore software development team is one of the most practical solutions. Hence, it becomes imperative for you to understand the offshore software development benefits.
In this blog, we aim to shed light on the challenges faced by startups and how offshore software development help mitigate them.
Key Takeaways
Learn how offshore software development benefits startups in countering the top challenges of budget constraints, resource acquisition, IP protection, product quality, and quick team scaling.
Finding the right offshore development partner is crucial to the success of your startup.
How Your Team in India can help startups establish successful and scalable offshore development centers in India.
Before starting, let's look at the startup industry's global landscape to understand it better.
"The global IT outsourcing market is expected to reach USD 425.19 billion by 2026"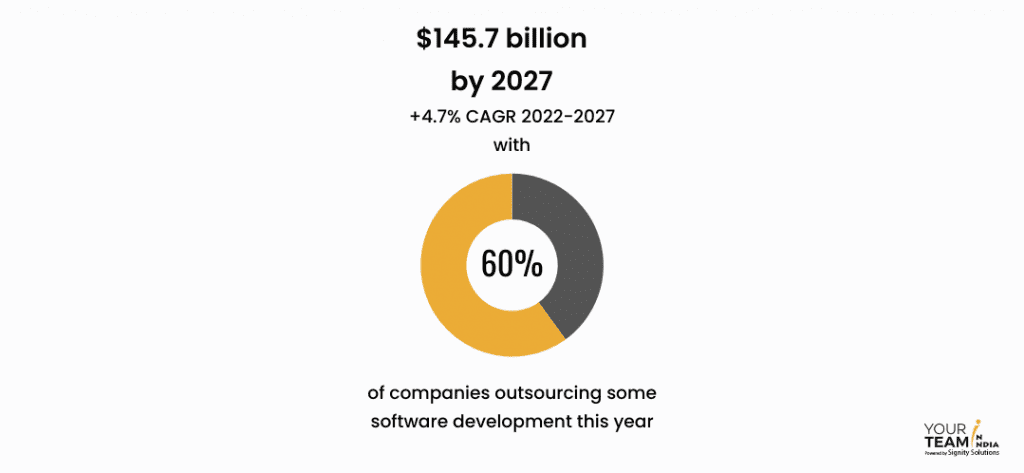 Official statistics indicate that offshore software development holds the largest share of the global IT outsourcing market and is projected to continue growing steadily in the coming years.
This increasing demand for offshore software development services can be attributed to two significant factors: the growing preference for remote work and the global talent shortage many economies face.
Here's the list of countries with the most robust hiring prospects for Q3.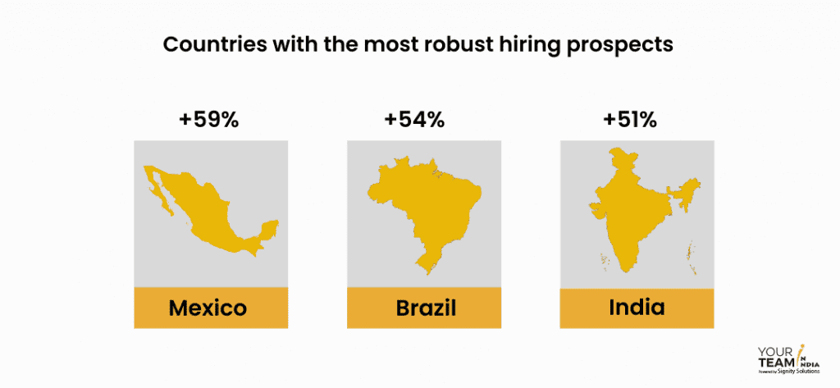 And the strongest year-over-year improvements are reported in India (+46%)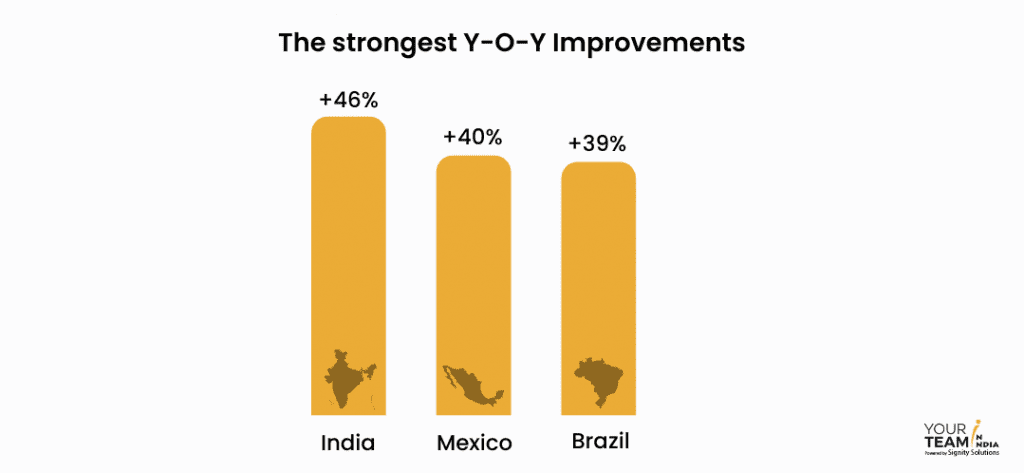 So, what factors contribute to the popularity of Asian countries like India for offshore software development? And what makes the offshore outsourcing approach a successful choice? Let's find out!
Offshore software development benefits for startups in 2023 and beyond
Irrespective of the industry, startups face many challenges while building their software development team. And getting some proactive perspective helps as you look ahead. So, let's see how outsourcing software development can benefit your startup.
1. Low budget
One typical challenge startups face is obtaining sufficient funding to launch their projects. Investors are unwilling to finance untested and inexperienced ventures. So, startups often have to initiate operations with a budget as low as $10,000.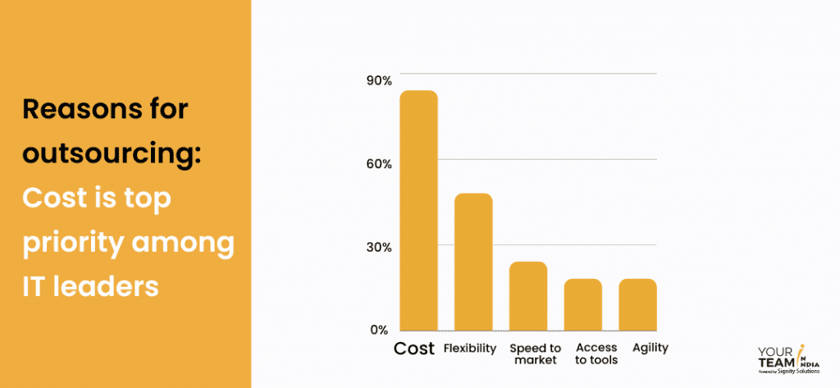 Though the budget may be limited, the cost of running a business is still high. Salaries - the most significant cost contributors, can exceed 50% of your overall cost. But humans are indispensable as you can only build a solution with the knowledge and expertise of specialists.
So how does one address this challenge? With the help of an offshore development team.
How offshore software development helps startups with budget constraints?
Hiring an offshore software development team can go a long way in countering budget constraints. It can reduce your budget by up to 60% since hiring an offshore developer costs between $20-$30, which is half the cost in developed countries.
An offshore development team is usually hired from a talent-rich nation with a low cost of living. It allows hiring highly-skilled offshore developers at lower rates. Also, hiring an offshore development team saves additional employee benefits expenses like insurance, DA, taxation, etc.
Besides this, when startups outsource their software development, the offshore development company provides the infrastructure to build the product, saving from investing in expensive IT infrastructure and architecture.
All in all, offshoring software development helps startups in:
Achieving a significant reduction of 40% to 70% in development costs. Hence, helping businesses effectively manage their expenses and allocate budgets more efficiently.
Discovering affordable tech talent to drive ongoing digital transformation initiatives.
Managing with agility through economic cycles, corporate uncertainty and budget cutbacks.
Gaining the professional skills required for technology projects and adaptability to adjust headcount through staff augmentation quickly and managed project outsourcing.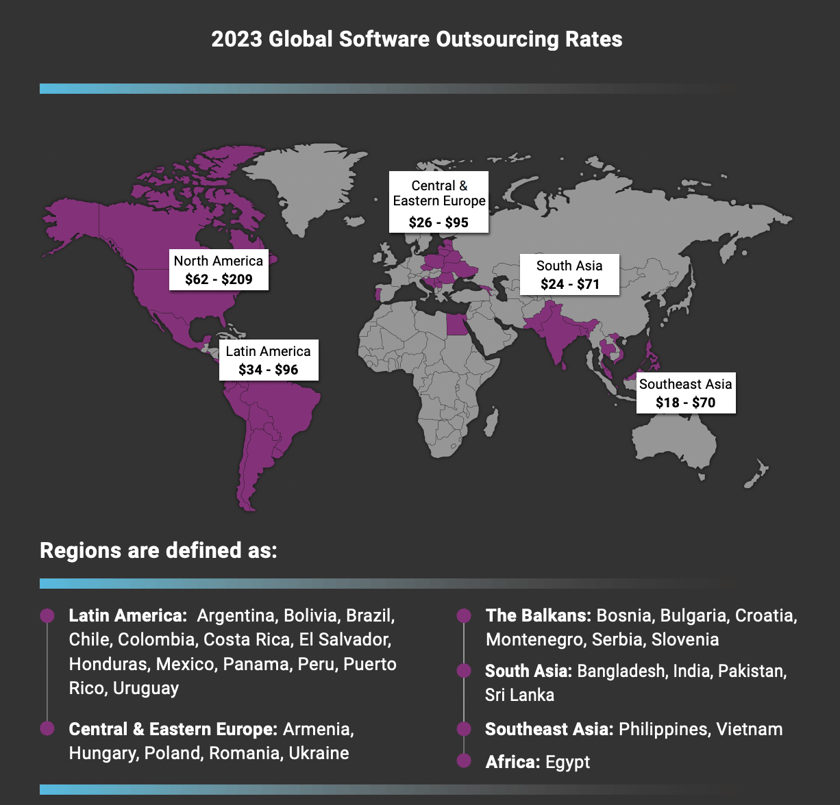 Get deep insights on offshore development rates by country to understand how much it can benefit you in managing your budget.
2. Resources acquisition
Humans are the greatest assets of any organization. The right team can make your company, whereas the wrong one can become its doom. So attracting and retaining the right talent is a challenge most startups face.
Moreover, many tech-led companies are still racing to find qualified software developers to build applications, undertake migrations and implement new technologies.
As a startup, this challenge multiplies as you need more resources to compete with larger, established companies offering more attractive compensation packages and benefits.
If you hire in-house talent, you may end up with a sub-standard, inexperienced workforce adding to the fixed cost of your company. And remember to account for the high costs and long hiring cycle creating deficits in your limited budget.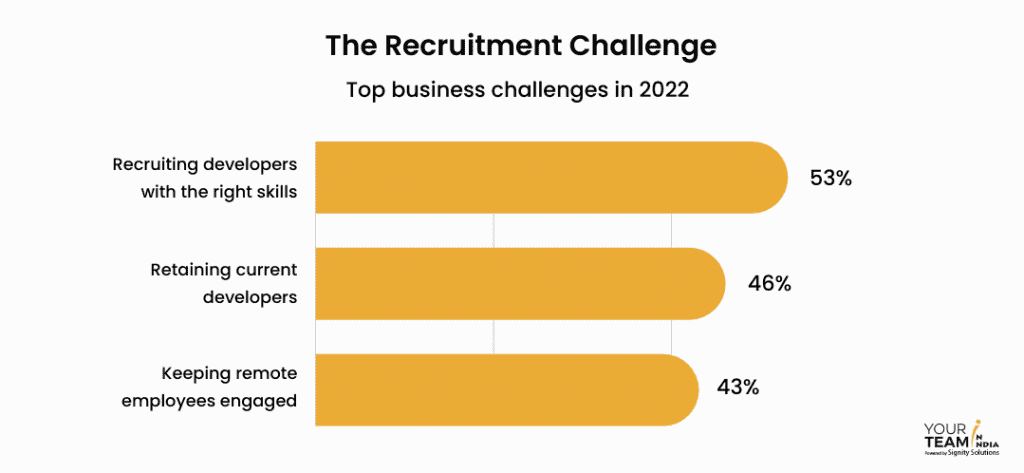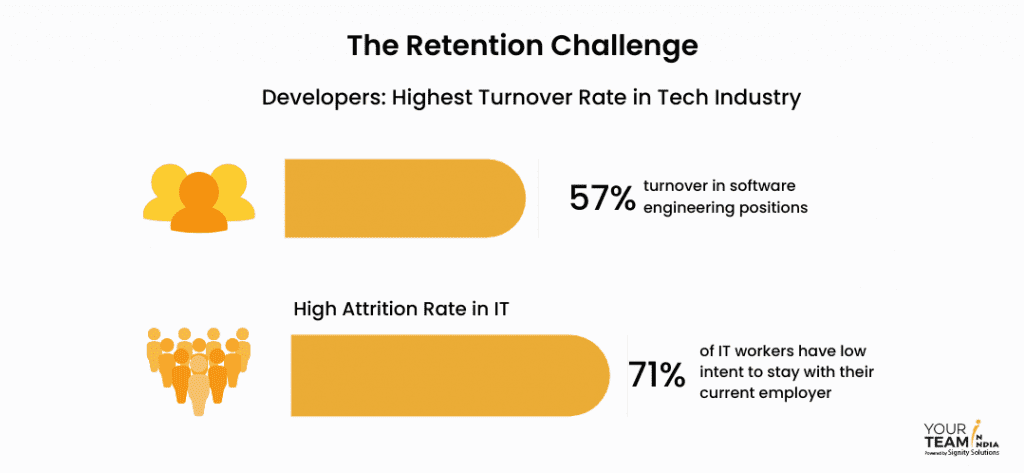 Advantages of offshore software development in talent acquisition:
An offshore development company has a talent pool of pre-vetted software engineers with different experiences across various technologies. So, when you decide to offshore software development, you can access this large pool to hire talented resources, build and manage your offshore team.
Offshore development companies assist you in the complete hiring and offer transparency in the entire process. It helps you save time, effort, and money and empowers you to jump-start your project with a proficient team of offshore developers.
Software development outsourcing can address the following issues easily, thus helping you build your own offshore team:
Breaking the declining recruitment and retention cycle by hiring highly skilled offshore developers in regions with less severe labour shortages.
Mitigating the turnover of developers becomes more manageable as your software outsourcing partner takes responsibility for swiftly replacing team members without any additional cost to you. This relieves you from the burden of dedicating time to recruitment or incurring expenses related to IT recruiters.
Accessing the specific technical skills you require enabling you to kick-start your projects more quickly.
All in all, outsourcing has emerged as a well-established solution to address talent shortages. It empowers you to urgently harness the required skills, offering flexibility while enjoying the cost advantages associated with collaborating with partners in the world's best outsourcing hubs.
Understand the difference between onshore and offshore software development to realize what benefits your startup more.
3. IP protection & resolving cybersecurity sourcing
For startups, safeguarding their intellectual property (IP) is their bread and butter. It is the uniqueness of your product that makes it stand out from the competitors. So, protecting your patents from competitors' infringement is a must.
But the increasing cyber threats, data breaches, and malware have made data and IP protection a significant challenge for startups across industries.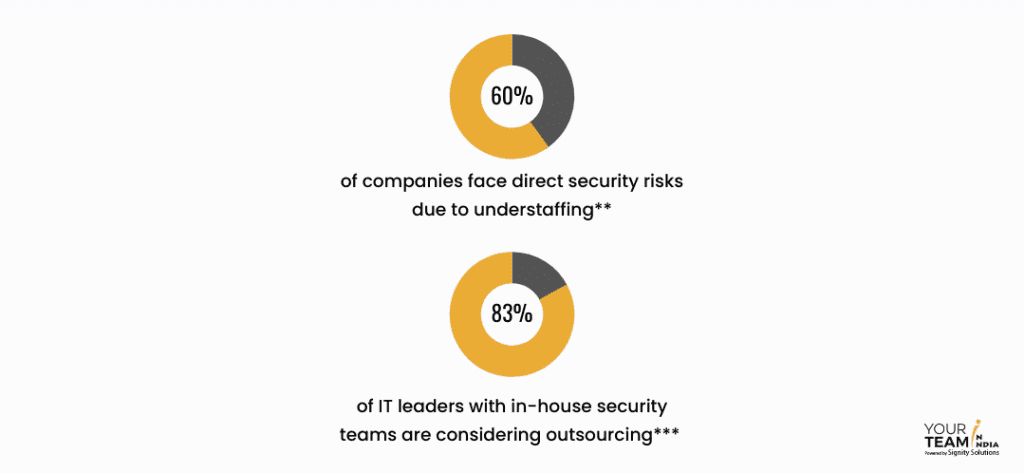 With internal resources taxed and limited funds, many startups are challenged to build and scale security teams that fully protect their critical assets. This leaves startups vulnerable to an avalanche of ransomware, phishing, cloud attacks, and IoT breaches – among many other threats.
Role of offshore software development in IP protection:
When you hire offshore software developers from a trusted partner, you also get a highly secure environment under which your product is being developed. An offshore development company has a secure IT infrastructure with enterprise-grade security, end-to-end encryption, and well-defined safety protocols to protect your data.
An increasing number of IT leaders are turning to outsourced teams to strengthen their defence strategies in the following ways:
Filling skills gaps in cyber-defence staffing flexibly.
Add a dedicated security specialist whenever needed, around the clock.
Secure experienced and certified resources at affordable rates.
Stay updated with the latest market-leading security practices as technologies and systems unwind.
Ensure compliance with the latest security standards and controls.
An experienced offshore software development company can make all the difference in building a lock-tight security capability.
Besides, before initiating the project, startups sign comprehensive NDAs with their offshore partner and the team to safeguard their patents and IPs from infringement.
Do check out these Data Security Best Practices in Offshore Development Center. These will help you understand how an ODC can help in protecting your company's sensitive information.
4. Product quality
A survey shows that:
34% of startups fail for their inability to gauge market demand for their products,
8% fall due to their failure to deliver quality that matches customer expectations.
A startup must be able to recognize market demands and generate products that satisfy those demands to succeed in the market.
It's crucial to assemble a team of experts in cutting-edge technologies which can assist with outlining the roadmap and feasibility of your startup concept while remaining at the forefront of technology to drive innovation.
Offshore software development benefits in enhancing product quality:
An offshore development company expands its expertise beyond the execution of your product idea. They join hands with you as consultants, assisting you in scoping out the complete product development cycle, from checking the viability of your ideas to creating detailed roadmaps to the final development and launch. All in all, it helps you with software quality assurance.
The ODC team also helps in product enhancement. Since the team is constantly following the emerging trends in the market, they ensure that your product is continuously upgraded to meet the changing demands of your customers.
Learn how to structure your business with an offshore product engineering team effectively.
5. On-demand quick scaling
An ideal growth rate for a startup can vary between 60%-120% in the first year itself. Growth of this rate requires quick and efficient scaling of operations to keep the business running.
Apart from finding the right resources for your business, you must continuously update your IT tech stack to stay ahead of the competition. For a new business with financial limitations, evolving at such speed is next to impossible.
Advantages of offshore software development in quick scaling:
One of the most prominent advantages offshore teams bring is their ability to scale on demand while ensuring complete flexibility in the engagement model. By offering a large and talented pool of software developers, offshore development companies allow you to scale your teams and ramp up operations quickly.
Simply put, an offshore development company enables you to scale up or down vertically, horizontally, and across technologies with speed and accuracy. It allows you to build more agile, flexible, and resilient future-ready business models.
The demand for software developers and specific technical expertise will vary considerably as business circumstances evolve in the coming year. As the IT industry projects to expand or contract, outsourcing can assist in effectively managing fluctuating demand and providing timely adaptability and resilience.
Hiring offshore software development teams help mitigate economic and market volatility and an uncertain regulatory environment. It brings diversity to your work environment, empowering you to build successful products for the global market.
Real-life examples of how offshore software development has benefitted startups
Nothing speaks louder than the testimonials of startup owners who successfully scaled their businesses using offshore development services.
1. Chris Smith
Founder - GoHire, A UK-based Applicant Tracking System (ATS) Startup.
"Your Team in India is genuinely a partner you can count on. With over 1.5 years of experience working with them, I have witnessed their unwavering commitment to understanding their clients' passions and delivering exceptional results. I highly recommend them as a reliable and dedicated outsourcing partner."
2. Roberto Sato
President & CIO - GETTRX, A USA-based Payment Gateway Startup.
"YTII's pool of talent is incredibly efficient. They gave us unabridged access to the best full-stack developers, enabling us to build an amazing product that's best to our capabilities."
3. Jason Stevens
Chief Operating Officer - The Fire Brick Group
"Using offshore development services from YTII, we hired highly skilled developers who helped us build a robust & scalable candidate automation solution. Their hands-on project management & seamless communication never made us realize we were working with an offshore partner."
Business success involves more than just teaming up with an offshore development partner. You need to collaborate with the right offshore development company.

How to find the right partner for offshore software development?
Before you hire remote software developers from an offshore development company, it is essential to understand their calibre and whether they fit your startup.
Here are the steps to find the right offshore development partner.
Take note of its team size and recruitment capabilities. Larger companies have more internal resources than smaller ones, thus helping you scale quickly.
Select an offshore partner with a strong employer brand and offers opportunities for professional growth to its employees. As good resources actively wish to associate with such a company, finding highly-skilled experts would be much easier.
Search for a company with extensive experience building a dedicated team that aligns with your project requirements, specifically within your industry.
Evaluate their communication skills and level of enthusiasm.
Explore the Checklist To Hire Offshore Software Development Team in 2023.
Though hiring an offshore team is excellent in countering the business challenges faced by a startup, setting up an offshore development center is not without its roadblocks.
Setting up an offshore development center can be complex and daunting, especially for startups new to the offshoring market.
Fortunately, you have companies like Your Team in India (YTII) to help you navigate the nuances of the offshore market and streamline establishing an offshore development center in India.
Why is YTII the partner you seek to set up your Offshore Development Center?
YTII is a trusted offshore development company based in India with 13+ years of experience delivering high-quality offshore development services. Startups from the USA, UK, Europe, Japan, Canada, and Australia rely on YTII for offshore custom software development.
And here is why:
1. Large Talent Pool: It offers a large and pre-vetted talent pool of 200+ software engineers across technologies.
2. Extensive experience: YTII has delivered over 1000 successful projects across industries like Fintech, E-commerce, RPA, Gaming, and many other sectors helping startups build solutions like enterprise software, Web and Mobile App, PWAs, etc.
3. Flexible Hiring: YTII offers multiple models, like fixed, monthly, and hourly rates for hiring developers. It also offers three models of offshore development centers -product engineering, build-to-scale, and build-operate-transfer (BOT). We empower you to start your offshore center with a small two-member team and scale as you grow.
4. Complete data security: We provide your offshore team with a highly secure IT infrastructure. Besides this, we also practice strict security protocols to protect your data against infringement.
5. Well-defined SOPs: The well-defined processes, workflow hierarchy, and escalation matrix in YTII help you avoid bottlenecks in your project development.
6. Extensive Support: At YTII, we believe in building relationships. We endeavor to make your project a success, and we are always available to assist you with all your future requirements on the project. Our partnership with you continues even after the project ends.
YTII helps you navigate the legal and logistical challenges of setting up an offshore development center and enjoy the benefits of expanded talent pools and cost savings.
Wish to learn more about how YTII can help your project? Talk to our experts today.

Frequently Asked Questions (FAQs)
What is offshore software development, and how does it differ from other software development approaches?
Offshore software development is a process of IT outsourcing where a company hires a team of remote developers from an offshore country to outsource its development projects. It hires developers from a trusted offshore service provider to scale its operations.
It differs from outsourcing as in outsourcing, one delegates the project development to a third-party vendor, who decides which team would work on the project.
It also differs from freelance development as the developers are from a reputed offshore development company and not freelancing portals. The resources are pre-vetted and hold extensive experience in their respective fields, thus increasing the success rate of your project manifold.
Why do startups consider offshore software development as a viable option?
Startups choose offshore development for benefits like cost-effectiveness, flexibility to scale operations on demand, infrastructure support, quick hiring, and reduced time-to-market. From working on specific tasks to building complex solutions, offshore development enables startups to fast forward their project development without burning a hole in their pocket.
How can offshore software development help startups save costs?
Offshoring software development empowers startups to create offshore development centers in overseas countries like India, Argentina, and Mexico, allowing them to hire skilled experts at economical rates. It provides infrastructure support to offshore teams, enabling them to save as much as 60% on their development costs.
How does offshore software development contribute to the scalability of startups?
One of the most significant benefits of partnering with offshore development companies is the availability of a vast pool of skilled software engineers with expertise across various technologies. It means startups can easily and quickly hire resources to scale their teams up or down across different tech stacks to suit their needs, helping them grow and succeed at their own pace.
What are the potential challenges or risks associated with offshore software development for startups?
When working with an offshore team, a startup can face communication barriers, cultural differences, and time-zone differences. But through proper planning, startups can easily overcome these challenges. Read our blog on offshore development best practices to learn how to navigate the challenges of working with an offshore team.
What are the offshore software development benefits for startups?
Offshore software development benefits startups in cost savings, access to a larger talent pool, faster time-to-market, on-demand scaling, and IP Protection.
How does offshore custom software development work?
Offshore custom software development is the process of hiring software developers from an offshore company to outsource certain tasks or entire software development to the hired resources. Companies usually choose established and reputed offshore partners to navigate the challenges of working in an offshore environment.