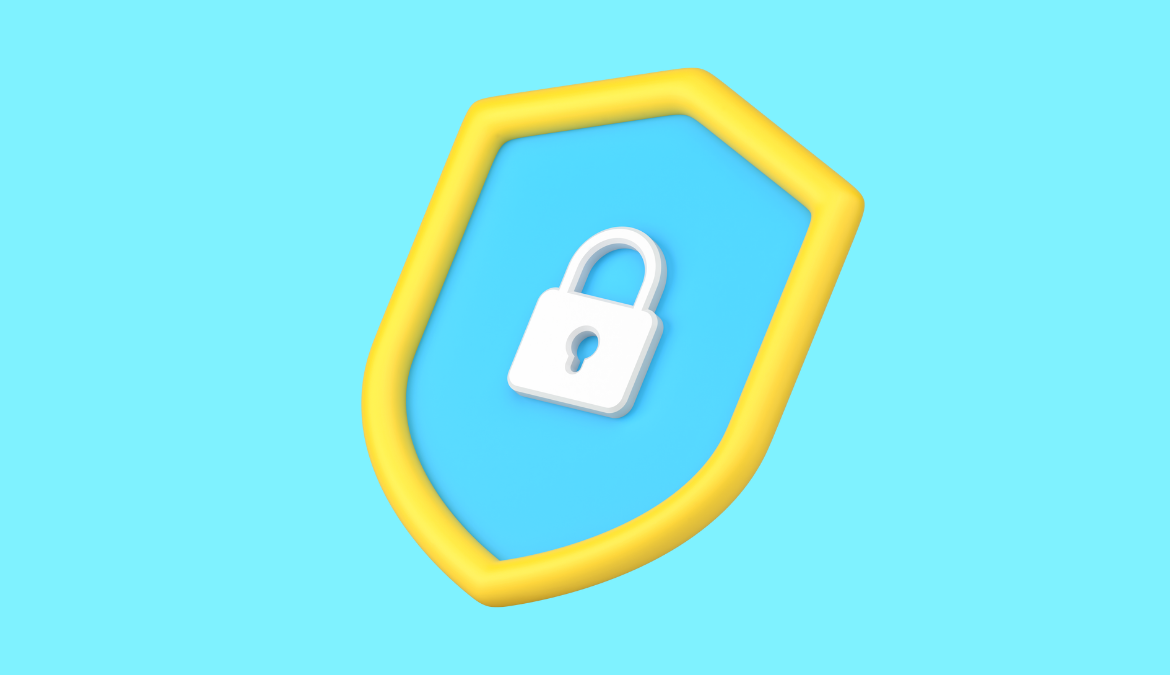 Quick Summary: Offshore Development Centers (ODCs) are increasingly popular for their cost-effectiveness, but they come with security risks. These 5 data security best practices will help protect your company's sensitive information when working with an ODC
The change in business model in the new normal has brought in a new evolution in the business world. Offices are no longer a place, but space and geography are no longer limiting factors. Businesses seek agile and flexible operations, and offshore development service have emerged as the most viable solutions for companies to build a competitive edge.
As more and more enterprises are opting for offshore software development teams, there is an increased concern about data security and IP protection that arises from
Varying security compliance and legal frameworks across geographies
Increasing attrition rate and constant churn of the offshore service provider staff
Both offshore companies and clients have realized the security issues while functioning in an offshore setup. Through this blog, we wish to shed some light on the security challenges and how one can reduce security risks through systematic security frameworks.
Let us understand the security concerns while working with an offshore development center.
Related Read: What is an Offshore Development Center (ODC)?
Key Listing
Implement strong access control measures, such as two-factor authentication and role-based access, to ensure that only authorized individuals can access sensitive data.
Regularly update and patch software and systems to mitigate vulnerabilities and prevent cyber attacks.
Establish clear data protection policies and train employees on data security best practices to foster a culture of security awareness.
4 main security failure reasons in an offshore development center​
1. People
The people or the hired offshore development team can become the first point of security failure due to the following:
Lack of background checks while hiring the resources
Lack of orientation training regarding security mechanisms
Working on multiple projects together
Lack of security compliance to ensure all employees follow security protocols
2. Processes
Processes can create security threats in an ODC
Lack of process framework and hierarchy
No data and role classification
Undefined security standards
No periodic audits
Lack of compliance team
3. Policies
Policies of both ODC and the client are critical to ensure data security and IP protection. Lack of the same can result in
Unethical practices and low standards of operation
Inaction toward security breaches and non-compliance
Unmonitored data exchange
Untrained teams
4. Infrastructure
Infrastructure plays a critical role in data security in an offshore development center. Since teams operate in distributed networks across geographies lack of enterprise-grade security can lead to the:
Compromised physical security and access
Outdated network security, firewalls, and perimeter defenses
Unauthorized access to client's IPs, codes, and database
The security of your offshore development center is as strong as your weakest link. Thus you must do an in-depth assessment of the security protocol followed by your offshore development partner.
Here is a list of the Data Security Best Practices and IP protection practices against which you can create an assessment chart for your offshore partners.
Data Security Best Practices and IP Protection
1. The enterprise IT architecture
Enterprise IT architecture defines the hierarchy of information in a company. It defines how sensitive data is handled and what initiatives have the offshore partner taken to secure the data and the systems. It requires
Classification of data according to its criticality and sensitivity.
Critical — possesses significant business/competitive advantage
Manageable — possess some business/competitive advantage
Commodity — possesses little or no business/competitive advantage
Classification of data in these three categories ensures your ODC partners are placing successful controls on only the important data. All critical data is masked before its shared.
Role classification: Defining the roles against data classification. This ensures role-based data access so only authorized persons can view critical data.
Enterprise security standards should include best practices and policies for network, system, and server standards that mitigate the risk of breaches and provide audit trails for future analysis.
2. A detailed pre-assessment of the offshore software development company's site
Before partnering with an offshore team, you must complete a pre-assessment that includes these steps:
Review the security policies deployed at the offshore development company for corporate information, physical, and facility security to cover all key risks.
Ensure that network security controls exist
The delivery site is certified as per internationally recognized security compliance standards.
Check that a third-party audit which includes type I and II assessment is done for the delivery location.
Carry out an in-depth risk assessment and onsite audit of the ODC location
3. Evaluate the audit and assessment program
Understand how often the offshore company carries out location audits and does these audits include:
A review and audit of the remote service provider's security policies- must be carried out annually.
An on-site review of the site used to conduct client business. To be conducted half-yearly or as per project requirements and risks
4. Security obligations in the offshoring agreement
Assess the openness of your potential partner in including security-related controls in the contract. It should include
Non-disclosure agreements (NDA)
Personal background checks of the deployed team
Transparent hiring
Providing dedicated offshore teams
Security assessments
Defining security breaches and penalties for the same. Provision for legal action and contract termination in case of a breach.
5. Offshore company's security culture
An organization's security culture refers to the principles and ethos on which the people operate to ensure data sanctity at all times. It is reflected in:
Continuous education and strengthening of the in-house security team
A regular and formal assessment of the security measures deployed at the service location
Adoption of enterprise-grade security to ensure data safety at systems, servers, edge, networks, and cloud.
Regular training and mentoring of staff to ensure policy compliance across the organization.
Evaluating your offshore development partner on the above-mentioned practices will help you choose the right one. But doing an in-depth evaluation of every prospective partner may take days or even weeks, delaying the overall project development timeline.
So, to fast-track the process, here is a quick checklist to get you started.
Offshore Development Center security checklist - Infographic
This checklist will help you analyze your offshore development partner and make an informed decision.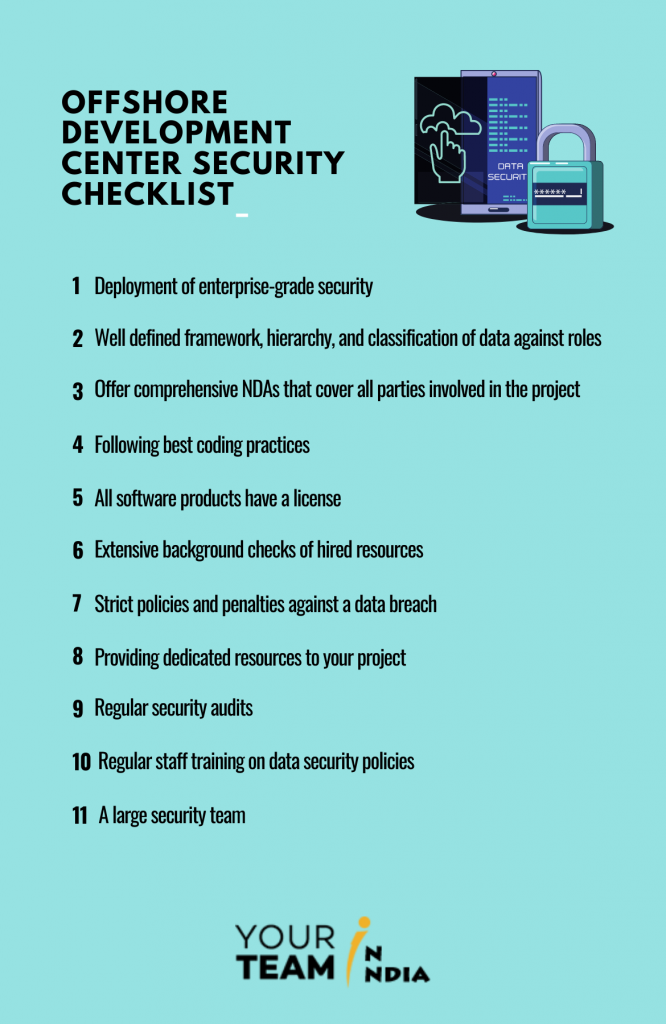 When offshoring your project, opting to work with an experienced and reliable offshore development company such as Your Team in India is always a good idea. At Your Team in India (YTII), we take Data Security Best Practices and IP protection seriously and ensure the best industry practices in coding, security policies, process, and frameworks.
Want to know more about the advantages of hiring an offshore developer team from YTII? Talk to our experts today.
Related read:- How to Structure Your Offshore Development Center to Achieve Maximum Benefits?
Frequently Asked Questions (FAQs)
What are the risks of outsourcing software development to an ODC?
Outsourcing software development to an ODC can pose several risks to an organization's data security, such as unauthorized access to sensitive data, data breaches, and intellectual property theft.
What are the best practices for data security in an ODC?
The best practices for data security in an ODC include implementing strong access control measures, regularly updating and patching software and systems, establishing clear data protection policies, and training employees on data security best practices.
How can an organization ensure that an ODC is compliant with data security regulations?
An organization can ensure that an ODC is compliant with data security regulations by conducting regular audits, establishing clear contractual obligations for data security, and monitoring the ODC's compliance with data security standards.
What are some common data security threats in an ODC environment?
Common data security threats in an ODC environment include unauthorized access to sensitive data, data breaches, intellectual property theft, cyber-attacks, and human error.