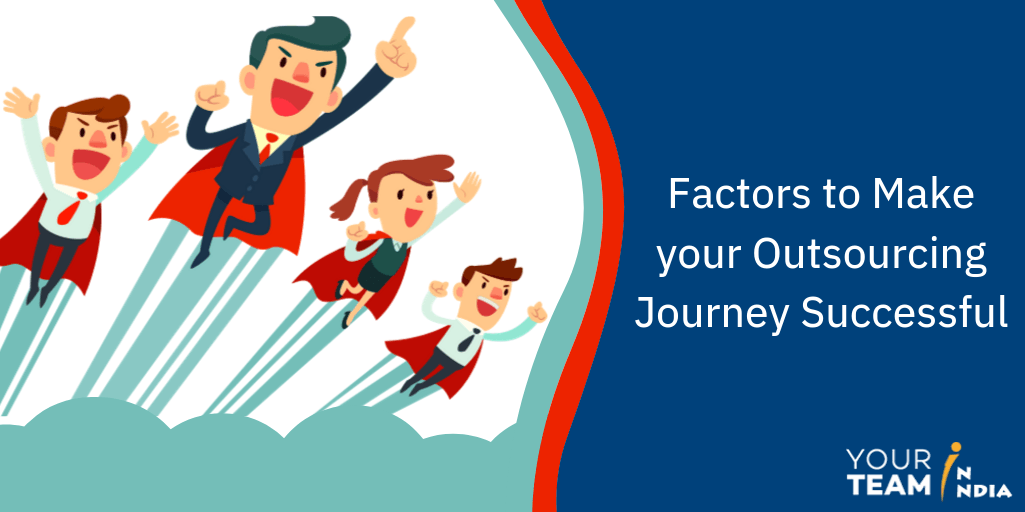 In recent years, the outsourcing industry has seen remarkable growth. From cost reductions, improved efficiency in expanding the horizons of service delivery, working with an offshore team is significantly helping companies to accelerate their business growth.
Let's List Down Some Facts Related to Why Companies Outsource:
59% of companies prefer outsourcing for cost reduction
57% do it to focus on business objectives
47% to solve capacity issues
31% to improve service quality
28% to take help from talented professionals
Source - Outsourcing Facts & Statistics You Need To Know!
It is quite evident from the above statistics that outsourcing is definitely a game-changer. However, in order to leverage the benefits of working with a team of top offshore developers in India, there are certain outsourcing success factors you should follow!
Outsourcing Success Factors:
1. Be Precise and Clear about your Outsourcing Needs
Every company's goals, vision, and objectives are different. Hence, you should be very clear about the processes you need to outsource. Ask yourself the following questions:
What kind of collaboration do you want? Full time or based on requirements?
Do you wish to work with freelancers or offshore development company?
What kind of skillset is required for your project?
How much are you willing to spend? Do you have a flexible time schedule or want quick delivery?
This type of questions will help you outline understand your outsourcing requirements precisely. Also, incorporating well-defined and objective key performance indicators (KPIs) can help keep you a track of the work progress. It may in terms of customer satisfaction, costs incurred & time invested, thereby accelerating your productivity and efficiency to an altogether new level.
2. Select a Competent Outsourcing Service Provider
Selecting an outsourcing provider that best suits your requirement is an imperative outsourcing success factor. Hence, in order to leverage the maximum benefit, you must have clarity on the capabilities of the resources that will work on your project.
Outsourcing should not be taken as a one-off transaction. In fact, you should consider it as a long term collaboration and pay attention to factors like transition, selection, engagement, and management. Here are a few factors that will help you recruit software developers:
Market Reputation
Experience and Portfolio
Cultural Compatibility & Communication
State of the Art Infrastructure (Hardware and Software)
Post Development Support and Services
3. Create a Detailed Outsourcing Contract
Indeed, a detailed and thorough contract is a significant outsourcing success factor that can facilitate your collaboration to a great level. It doesn't only lower the risk factors but, also gives you an assurance of the quality work.
A contract is a legal agreement that requires two or more parties and includes offer, acceptance and mutual consent. Here are some tips to consider while creating a detailed contract:
Pen down Everything
Keep it Simple
List Down your Requirements Precisely (Features or Functionalities, Milestones and Project Charter)
Apart than specifications, don't forget to include the following clauses:
Payment Clause
Exit Clause
Time Clause
Performance Clause
Policies, Restrictive clauses, and Rights (Confidentiality, and Intellectual Property)
4. Updated Technological Infrastructure
Access to high-end technology is a vital outsourcing success factor. Since outsourcing is all about working with remote employees, the availability of seamless communication channels like emails, chats, robust internet, Wi-Fi, video calls, etc, is important for flawless management of work.
Hence, both parties should keep their infrastructure up to date with the latest technologies.
5. Be in Sync and Promote Coordination
Sometimes, there comes a scenario, where a company is working with freelancers and agencies at the same time. Not to mention, there's a possibility that all of them are working in different time zones. Therefore, it's necessary to coordinate with all your remote teams in a well-defined manner.
To avoid any conflicts, make sure that your in-house and hire offshore development team are documenting everything. Furthermore, to ensure a smooth transition, do the following:
Create a plan of action.
Specify your meeting times with all your remote staff.
Keep one channel for all your communications.
Monitor or track the progress of your staff as well as projects.
Following these measures will ensure that every team member is in sync and working in coordination with your defined process.
If you don't know much about Offshore Delivery Centre and ODC, read about what is ODC - Offshore Development Center?
6. Embrace and Execute the Transition Seamlessly
A company witnesses a lot of transition while outsourcing. In short, developing a plan beforehand by analyzing your requirements and creating, testing and deploying each stage of the plan will help you embrace any such transition.
7. Build a Sustainable Relationship with your Outsourcing Company
IT staff augmentation leads to changes in the internal management of your company. Therefore, it becomes imperative to involve your in-house resources in your decision-making process. Furthermore, it will promote teamwork, encouraging anyone to make a collaborative effort towards achieving a goal. It wouldn't only make your outsourcing process smooth but also help to build a long-term, trustworthy and sustainable relationship with your service provider.
Wrapping Up!
Leveraging the above outsourcing success factors can help you survive in the long run of intense competitive business while generating ample return on investments.
Recommended Read: Hybrid Approach - IT Staff Augmentation & Outsourcing
Want to create your own outsourcing success story? Your Team in India can be your one-stop destination. Whether you want to choose in house vs outsourcing, project outsourcing or hybrid approach model, we are here to help.
Drop your line of requirements at info@yourteaminindia.com and our team will get back to you instantly!