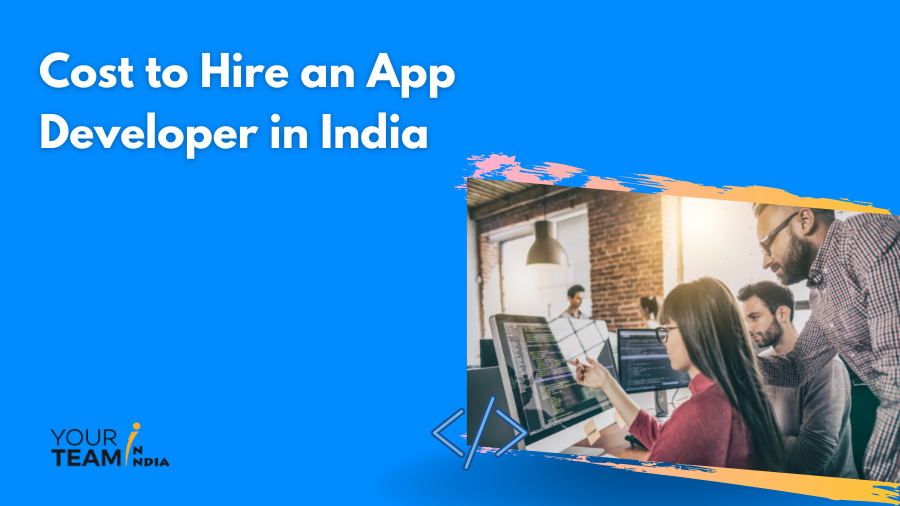 Quick Summary: Hiring an app developer in India can be a cost-effective solution for businesses and individuals looking to develop a mobile application. The cost to hire an app developer in India varies greatly based on several factors such as the type of app, the complexity of the project, the experience and expertise of the developer, and the platform on which the app will be built. Read through this article to discover how much it will cost to turn your idea into a real app.
If you're reading this blog, it probably means you're researching the cost to hire an app developer in India. But after reading some of the misconceptions on the web, confusion has begun to build up.
And all this confusion may have led you to wonder, is it the right decision to hire Indian app developers for my project?
The answer to this question depends on hiring options, competence level, and skillset.
In this blog, you will learn factors like the average cost to hire an app developer from India, where to find them, the hiring process, and some important considerations before hiring them.
Cost to Hire an App Developer in India
The hourly rate for mobile app development varies according to the different geographic locations of the world.
As of 31st December 2022, The cost to hire app developers in India ranges from 8 to 40 USD/hour (The average rate is 19 USD/hour).
On the other hand, hiring an app developer in countries like North America, Europe, and Australia is expensive. That's why most businesses consider India to set up offshore development centers & increase their global reach.
Key Listing
Hiring an app developer in India can be a cost-effective solution for app development projects.
The cost to hire an app developer in India varies based on several factors such as the type of app, complexity of the project, developer experience and expertise, and platform.
India has a thriving app development industry, offering a wide range of services at competitive prices.
Working with a developer based in India offers access to a large pool of talented and experienced professionals.
Recommended Read: How to Find App Developers - A Comprehensive Guide
Developers Rate Comparision [Indian vs Global Market Leaders]
What could be the average hourly cost to hire an app developer across different geographical locations? Here's an insight.
| App Type | Indian Developers | US Developers | Ukrainian Developers | Australian Developers | Russian Developers |
| --- | --- | --- | --- | --- | --- |
| iOs | $18-$40 | $100-$150 | $60 | $200 | $60 |
| Android | $20-$35 | $120-$170 | $30 | $150 | $50 |
Now, after going through the average developer cost per hour in different countries. You must be wondering about the app developer cost calculation.

How is the App Developer Price Calculated?
It is critical to have a deep knowledge of the process of calculating the cost of hiring an app developer. Any software development cost calculation comprises two vital components:
App developer's hourly rate * total development time consumed = application cost
The second variable has a great impact on the price structure. Because a developer who initially charges a higher amount may take less time developing an application, his cost will ultimately be cheaper, not to mention the quality of the code.
Let's take an example:
30 ($ per hour) * 180 (hours) = $5400
55 ($ per hour) * 140 (hours) = $7700
Estimated Pricing Details of Some Basic Apps [with Our Pricing Model]
Details
Type of Application
Hours (iOS)
Hours (Android)
Hourly Rates Avg.
Your Team In India: Hourly Rates
Basic App
Templates, dropdown menu list, device storage.
80-160
80-180
$50-$100
$15-$18
Data Based App
Backend, server
storage, integrated.
150-200
170-220
$50-$100
$15-$18
Chat/Message App
Various data formats, chats and calls, cloud
storage.
600+
700+
$70-$120
$18-$20
E-commercel Enterprise App
Features based on | business, device and server storage.
250+
300+
$100+$150
$30-$35
Social Networking App
Themes, photo editing, backend, server shortage.
300+
350+
$80-$110
$25-$30
Game App
Single-player/ Multiplayer, Unity
3D, rendering, server storage.
450+
550+
$80-$120
$30-$35

Considering that you have selected India to hire remote app developers for your business, the next step is the process of hiring a mobile app developer.
Where to Find the Best App Developers in India?
Every entrepreneur faces a challenge while hiring app developers. Well, not just app developers but the best-in-class professionals that can help you achieve your business objectives.
Here are a few companies that can help you overcome this challenge:
Your Team In India

Toptal

Fiverr

Upwork

Indeed

Get Apps Done

They Make Apps
The top mobile app development companies estimate the coder's rate per their experience and skills. This depicts that hiring Android app developers is costly compared to iOS developers. The complete development process and testing take a great deal of time. So, choose wisely.
Steps to Follow while Hiring Indian App Developers
While accessing the portfolio and resume of the remote developer, you should also study the creativity they imbibe within themselves. Luckily there is no shortage of remote app developers across the globe.
You will get the required skill set and experience as per your company's requirements. So before you begin, take care of the essential principles you should stick to: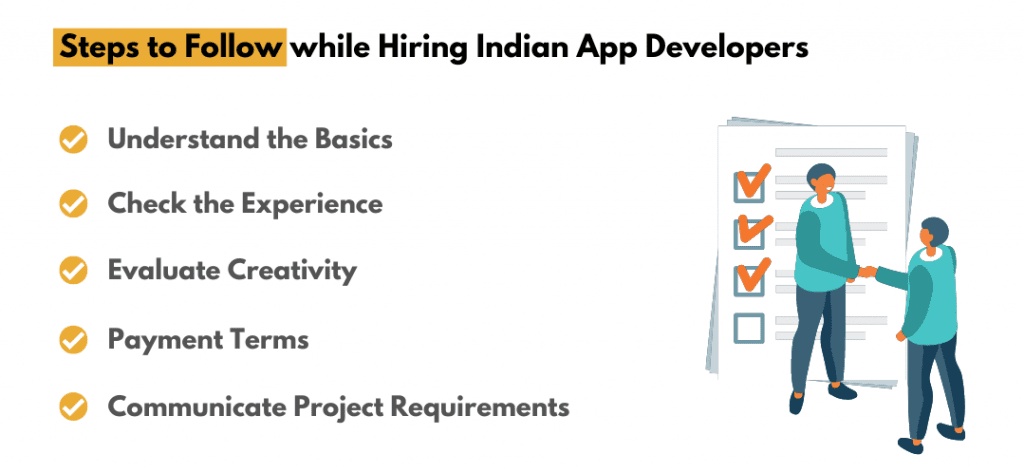 1. Understand the Basics
Know what programming languages are used to develop mobile apps. Don't dive deep but have a basic idea about the platform. At the same time, be aware of your target audience. The app's complexity determines the language of the code used.
A good offshore partner will discuss your app development project needs and tell you which platform and style would work for you.
2. Check the Experience
No one wants to hire a developer who is a fresher who just passed out of the university with no experience. It is natural for you to look for an experienced offshore mobile app developer or company.
You are also free to ask for a portfolio, samples of the code, and the details of their work in this field.
3. Evaluate Creativity
As a business owner, you will like your app to stand out from others. Therefore, innovation plays a major part in choosing the app developer. Your interpersonal and communication skills come to the forefront here.
Look for a developer or company ready to walk the extra mile with you. This certainly helps in building up a tremendous rapport.
4. Payment Terms
Before creating the mobile app, you would have your budget in mind. After reading the complete article, you must know the estimated amount the developer or the development service company would charge.
Does it synchronize with your budget? It is always better to clarify things beforehand.
Ensure the company doesn't have hidden costs or other issues like an additional cost for developing the security system. Remember the cheapest option is not the best. Quality always comes with some cost, so never compromise on quality standards.
To avoid conflicts later, sign a temporary contract and NDA with your team of offshore app developers.
5. Communicate Project Requirements
If the app developers perform well during the interview, don't forget to guide them to your business needs. A dedicated mobile app development team or company knows exactly how to design and develop apps, but they have no idea about your business and customers.
Therefore, it is important to communicate regarding business and also your competitors. If you feel there a few applications you look up to, let them know.
Note: It is essential to know that a well-rounded mobile app developer should know front-end and back-end design and development.
Whether to hire freelancers or set up an offshore development centre? This decision makes a huge difference in understanding the cost of hiring an app expert vs achieving a good ROI.

Freelancers or Offshore Mobile App Development Company: Which is Better?
When you are looking to hire an iPhone or Android app developer, it is better to take help from a dedicated team of offshore developers. Hiring an offshore mobile app development company is more reliable as they have better resources, skills, and expertise.
1. The One-Stop Destination for Comprehensive Solution
Whether you are a start-up, mid-sized, or an already established brand, offshore mobile app development companies offer you benefits no one can.
You get everything you can expect from the top-notch offshore app development company with a skill set spanning various technologies and industry-tested business acumen.
The best part is the complete package is wrapped professionally.
Plus, whether you want to hire iOS app developers, Android developers, Kotlin developers, Flutter developers, or web developers, getting all the technical expertise in one place is easy.
2. Top-Notch Quality
With freelance mobile app developers, you are unsure of the quality standards. But that is not the case with an offshore mobile developer from a reputable company.
Most companies maintain a standard of services that requires them to keep the latest tools, licenses, certificates, and software.
3. Round the Clock Team Availability
Hiring an app developer from a random freelance portal can be risky. There may be times when they don't have the availability of time due to health or personal issues.
On the contrary, an offshore mobile app development company will ensure that a dedicated team of developers is working on your project. And someone is always available to attend to you whenever you need assistance or support.
In case an offshore mobile developer becomes unavailable, they can use another developer as a replacement from their large talent pool.
Recommended Read: How Much Does it Cost to Create an App Like TikTok?
4. Security and Reliability
There may be a case when freelancers are not using the up-to-date systems installed with firewall protection. Moreover, their systems may be susceptible to online hacks. This is a huge loss as they have confidential information about your company.
On the other hand, offshore mobile app development companies are serious about their security standards, so they ensure that the client data and application is highly protected.
Considerations Before You Hire Remote App Developers from India
Suppose you have decided to hire an app developer from India and want to set up an offshore development center. What do you think is going to be your next move?
Let's get started.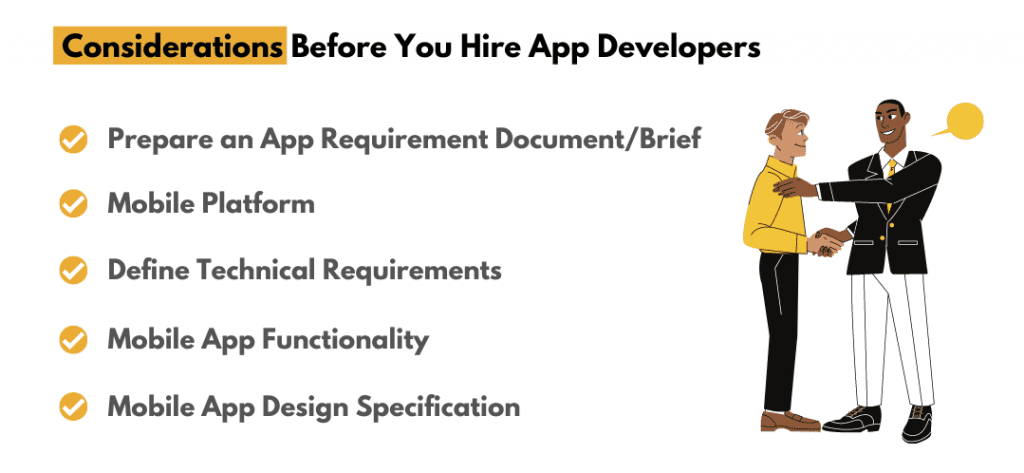 1. Prepare an App Requirement Document/Brief
First, you need to define your requirements. Do you only want your offshore app developers to implement the functionality, or want to get them started from scratch?
Explain your project requirement to Indian developers and get an accurate price and time estimate.
Benefits of Clearly Defining the Requirements
Clear goals and objectives

Better understanding

To have a better estimate of time, cost, and resources

To ensure the quality end-result
The project specification document will ensure that your offshore team is on the right track. While preparing this document, consider to use;
Clear, simple, and concise language

Easily understandable terminology

Explicitly state the need

Have an interpretation

Use active statements

Express one idea per statement
Make sure to Include these Details in the Requirement definition:
Your Company's Information:

Provide background information and a brief history of your company to let your offshore app developers better understand your business. Tell them about your products. Include the links to your website, references, and any other material that might be useful. Give your company's email address, phone number, and whatever you feel is required.

Project Scope:

What the project is all about? How it will help the customers. Do you need a corporate identity kit? Describe the development and design work to be done.
2. Mobile Platform
Characterize what type of app you need: iOS, Android, both, or cross-platform. Your choice is critical because every platform entails a different development approach and tech stack.
3. Define Technical Requirements
Selecting the right mobile app platform is just the beginning. Consider all the system needs of your app and mention the same in the document. All the technical requirements are directly related to your features and target audience.
4. Mobile App Functionality
Analyze all the required features like push notifications, geolocation acceptance, payment gateway integration, and social media platforms. Also, using some of the latest and trending features is highly recommended.
You may also have plans to monetize your app. As per your monetization strategy, developers will add the features. You may add advertising support, registration and authorization, and access to in-app purchases or additional premium subscriptions.
Also, specify what type of content you prefer for the future: video, animation, RSS. It is always good to briefly describe all the features you want to get embedded in the app so the developer can understand what you expect from him.
5. Mobile App Design Specification
You can add information that is crucial for the user interface. If you have the flowchart, provide it to your offshore app developer in the PSD file. If you are clueless regarding the design, discuss it with your mobile app developers.
In addition to all these, mention the below-mentioned points as well in brief:
Your Target Audience
Deadlines and Milestones
List of Stakeholders
The app requirement document will act as a roadmap for the development team. It displays the work direction and specific goals you want to achieve. As you have laid out project specifications, here are the additional factors that can affect the cost.

Skills to Access While Hiring iOS App Developers
The main requirement of an iOS developer is a knowledge of programming languages like Object C and Swift and have to be proficiency in the following:
XCode

Cocoa & Cocoa Touch

Apple UIKit Framework

Appcelerator Titanium

Table View

Key-Value Coding

Auto Layout Element

View Controllers

Storyboard
Skills to Access While Hiring Android App Developers
The main requirement for an Android developer is knowledge of Java, Scala, and Kotlin. Other requirements include:
XML

Android Studio

Android SDK

API

SQL

Material Design

Native Script

Flutter

Litho
Parting Thoughts
A mobile app is a standard component of your business today and tomorrow. So, hiring mobile app developers from an offshore location is an excellent idea as it will help you transform digitally without spending too much.
Before diving headlong into mobile app development, consider all the aforementioned factors and then make the final move. Associating with an experienced and leading mobile app development company can be very helpful as it will provide you with comprehensive and detailed blueprints of the entire project.
We hope the article has given you an idea of how much will it cost to hire a mobile app developer. Want to get a quote for your specific app requirements? Share your requirements with us & our team will get in touch with you shortly.
Editor's Note: This blog entry was originally published on September 9, 2019, and is updated on February 10, 2023.
Frequently Asked Questions (FAQs)
How much does it cost to hire an app developer in India?
As of 31st December 2022, The cost to hire app developers in India ranges from 8 to 40 USD/hour (The average rate is 19 USD/hour). The cost of hiring an app developer in India varies greatly based on several factors such as the type of app, the complexity of the project, the experience and expertise of the developer, and the platform on which the app will be built.
What factors affect the cost of hiring an app developer in India?
The cost of hiring an app developer in India is influenced by several factors such as the type of app, the complexity of the project, the experience and expertise of the developer, and the platform on which the app will be built. Other factors include the scope of the project, the timeline, and the budget.
Can I get an estimate for my app development project?
Yes, you can get an estimate for your app development project by providing details about your project requirements to Your Team In India. Based on the information provided, we can give you an estimate of the time and cost involved in completing the project.
How long does it take to develop an app in India?
The timeline for developing an app in India depends on several factors such as the type of app, the complexity of the project, the availability of resources, and the development process used. On average, a basic app development project can take anywhere from 4 to 6 months, while more complex projects can take up to a year or more.
How do I choose the right app developer in India for my project?
When choosing an app developer in India, it's important to consider their experience and expertise, portfolio, reviews and testimonials from previous clients, and communication skills. You should also consider factors such as the developer's availability, project management approach, and overall project delivery timeline.