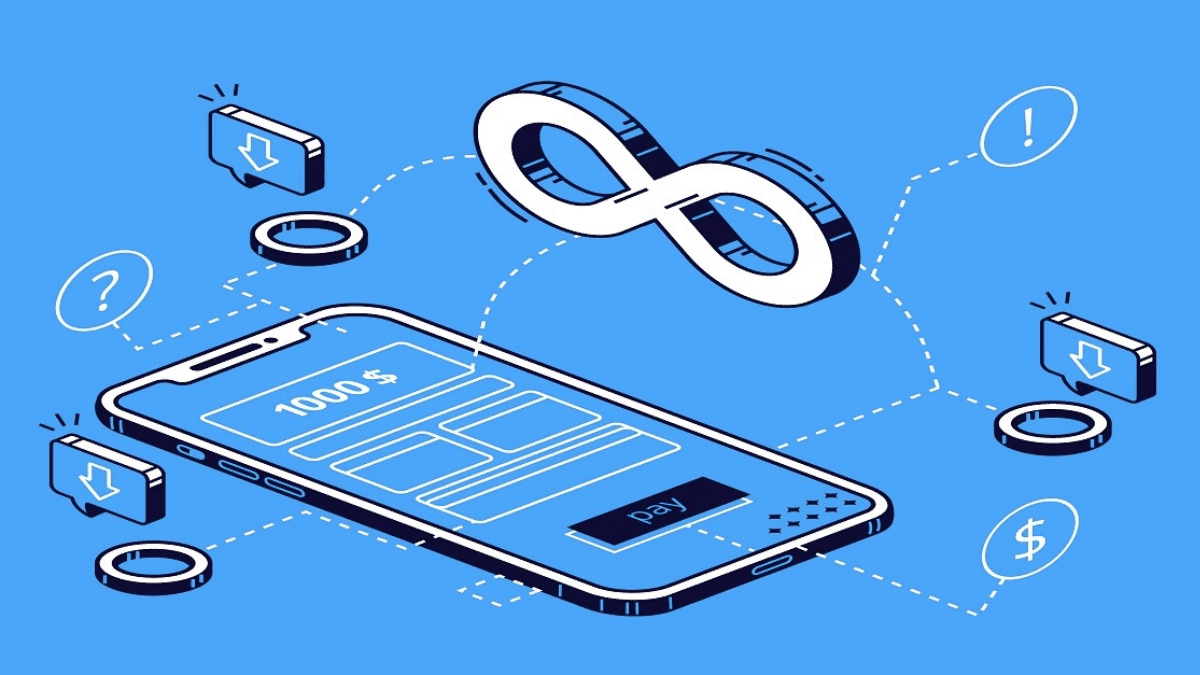 Quick Summary:
The important factors affecting mobile app development cost are a mix of app technical requirements, the expectations of your target audience, the type of your app, and much more. We've explained it as easily as possible with insights to help you make an informed decision.
Today, mobile phones are the new constant, as everyone uses their devices for at least half of their whole day. And to thrive in this digitally-dominated landscape, mobile apps continue to be a key focus and development objective for growing and aspiring businesses.
Though mobile app development is emerging across all domains of the economy, it's appallingly obvious that cost and quality are at odds between different app development companies.
Often, creating a successful and effective mobile application, developers or tech consulting companies complete many tasks and go through multiple development phases. Whereas some believe that the cost of developing a mobile app is directly proportional to the developer's hours dedicated to coding. But this is one side of the coin. A lot depends on the cost factor.
Here, we will help you find all of the key aspects of determining mobile app development costs.
Transform Your Ideas into Reality - Hire the Best Mobile App Developer Now!
So go ahead and read it.
"In Q3 of 2022, the users downloaded 27.1 billion apps from Google Play, whereas the Apple App Store brought 21.2 billion revenue in in-app sales in Q3 of 2022. Simply put, mobile apps are expected to bring revenue exceeding $935 billion globally."
These findings show that customers rely substantially on mobile apps for shopping, trip bookings, and ordering meals, among other things.
Understanding the primary concerns surrounding mobile app development prices can assist you in making the most cost-effective options possible. It also provides you with the finest return on your investment in development. Finally, it will also assist you in sticking to your budget.
This blog consists of a list of factors influencing the cost of developing a mobile app.
Key Takeaways
The first and most important aspect that will influence app development cost is to clearly define app requirements and expected outcomes.
When evaluating candidates, pay attention to the relationship between the background of the team, hourly rates, and, finally, your app idea.
Avoid unexpected costs and delays by launching and testing new versions faster.
Factors That Affect the Cost of Mobile App Development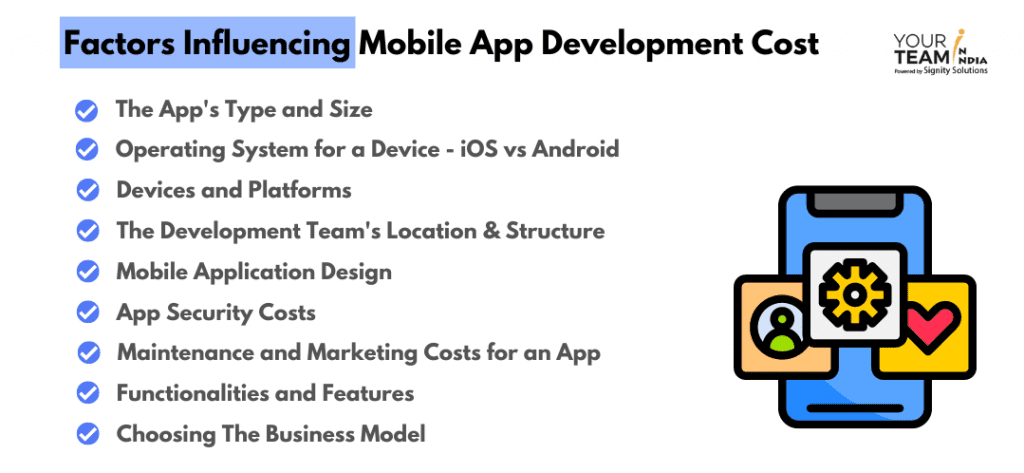 According to a recent International Data Corporation (IDC), report, 90% of developers and 87% of IT decision-makers believe that integrating mobile apps into enterprise data sources will become the norm in the near future.
Although, according to the same report, businesses continue to encounter significant problems regarding the cost of mobile app development. Adding handoff capabilities to a project can take a long time and cost a lot of money.
Mobile apps are effective traffic generators, enhancing advertising, sales, and overall growth. However, app development is not cheap, so some businesses are hesitant to enter the mobile app industry.
Here are some elements that can influence the cost of developing a mobile app
1. The App's Type and Size

The price of developing Mobile apps is split into three categories based on their size and complexity: small, medium, and large.
Small apps are designed for a single platform and have minimal functionality and typical user interface components. These apps don't require backend development or API integration. Consider a weather app that comes pre-installed on the majority of devices.
Medium apps are built for a single platform but offer customized user interfaces and payment options. This category also includes apps that are created for more than one platform but are less complicated. The Sotheby's Apple TV app is an excellent example of a medium-sized mobile app.
Large or complicated apps have far more functionality than the other two (third-party integrations, multilingual support, custom animations, professional design, and so on).
In order to store and maintain extensive databases, these apps also necessitate significant backend programming. Uber and Postmates, and Uber mobile applications are examples of huge apps.
2. Operating System for a Device - iOS vs Android
There's no doubt that mobile app development costs vary depending on the platform for which you want to create an app - Android and iOS.
The subtle difference in development costs for Android and iOS can be traced back to the programming languages deployed in their development.
For example, in Android app development, you hire Java or Kotlin-experienced developers. While in iOS app development, you need a professional well-versed in Swift or Objective C.
Now, if we funnel down to the cost, Swift and Objective C developers and coders charge approximately 15% more compared to Java programmers and Kotlin coders.
Next, Android apps have much more capability for device fragmentation than iOS apps.
Moreover, Android is compatible with numerous mobile devices, which have different screen sizes. Whereas on the contrary, iOS supports a maximum of 20 different device types and operating system versions.
In a nutshell, the cost of developing an Android app will be on the expensive side if you look for comprehensive compatibility across several devices.
But, if you consider making changes in your Android app for a handful of popular devices, you can save exceptionally on development costs. Besides, confining your Android app compatibility would make sure that the cost of Android or iOS would come in the same cost bracket.
And, if all you want is not to have a burning hole in your pocket, adhere to the following tip -
"Creating an app for Android as well as for iOS can be as simple as using a cross-platform framework like Flutter."
Surprisingly, choosing Flutter will help you save 40% on app development costs, plus your app will be available on Android and iOS devices.
3. Devices and Platforms
The cost of an app is directly influenced by the platform and device on which it is built. Designing an app for a single platform, for example, will be less expensive than developing one for numerous platforms.
The development of companion apps for linked TV and wearables, on the other hand, will enhance the total cost of mobile app development.
The cost of developing a mobile app for Android, iOS, or any other platform varies. Device generation is another crucial thing to consider in this category. Apps that support older devices take more effort and time to design, which drives up the cost of mobile app development.
4. The Development Team's Location and Structure

When working with a prominent mobile app development company, a specialized app development firm, or an independent developer, the cost of mobile app development may vary.
This is because each task involved in the development process is handled by a separate department in a large organization, resulting in significant expenditures.
On the other hand, a startup or an independent developer providing mobile app development services may have only one team performing all tasks, resulting in lower prices.
Aside from that, the location of the company or team working on your project impacts the development costs. For example, a project manager, programmer, QA engineer, and UI/UX designer make up a basic development team.
In contrast, an extended team consists of 2-4 app developers, one project manager, one backend developer, one system administrator, 1-2 UI/UX designers, and 1 QA engineer. So, if the project is large or the mobile app is complicated, a large workforce may be required, raising the total development cost.
5. Mobile Application Design
A mobile app's design is the first thing your potential consumers see. Therefore it should be pleasant and enticing. Icons, Logos, user interfaces, wireframes, and various other elements must all be put correctly in a mobile app. The experience of the designer, the designer's location, the design's complexity, and the platform for which the design is to be developed are all factors that influence the cost of designing.
Recommended Read: Cost to hire an app developer in india
6. App Security Costs
Security is among the unskippable when creating a mCommerce or enterprise app. Thus, when you consider the cost of developing a mobile app, it's important to include the security aspect too.
Since your app will store crucial information, like employee credentials, customer details, transaction records, and other payment details, it's important to ensure top security.
And you can ensure that your app is secure to safeguard the collected data from users by simply assigning a cost to such an approach.
If you are still sitting on the fence about how to define the right security method, talk with experienced mobile app developers. They will help you in deciding the most effective security methods depending on your app size, intended audience reach, and how much interaction it needs from users.
Ideally, you would be looking to use multifactor authentication to protect user data. In some scenarios, a strong cryptographic technique is implemented to keep credentials secure. Here, the cost would include data sanity checks and building threat models.
7. Maintenance and Marketing Costs for an App

These two are included as part of the app's additional pricing. Maintaining an app entails issuing new updates to improve the program's functionality and features and correcting issues. Apart from maintenance, your app will require promotion to reach your target audience and stand out in a crowded market.
8. Functionalities and Features
Developing an app for internal users is less expensive than doing so in a bring-your-own-device (BYOD) or the external environment because you control which devices and platforms will be supported.
The cost structure of your app will ultimately be determined by the features and functionality you choose to include. The cost will rise as the number of features and functionalities increases.
As a result, you must distinguish between your application's primary and secondary functions. An editing app, for example, does not require a geolocation service. However, you can't have a meal-ordering app without using location services. Thus, you should carefully consider the features to include in your app.
9. Choosing The Business Model
Globally, consumers spent nearly around $22.6 billion on mobile apps. Plus, it's estimated that the number of mobile apps downloaded globally will be 299 billion in 2023.
Interesting, right?
These statistics clearly outline the whooping spending on assorted elements involved in business app development services.
In layman's terms, fundamental factors like business type, target users, and services help to frame the app budget. While keeping in mind as time gets elongated, the app development cost also surges high. After all, time and app costs are directly proportional.
The time taken to develop a mobile app like Uber is different from social media apps like Instagram and Facebook, as they both need different features and functionalities.
Therefore, it's right to say if you want to build an app that is solely dedicated to internal operation, it will require lesser functionalities and user experience elements compared to an E-commerce app.
The Price of Developing a Mobile App
If you already know what you want in a mobile app, the price ranges from $15000 to $20000 for a simple app, $25000 to $30000 for a medium app, and $50000 to $70000 for a sophisticated app. This cost, however, may fluctuate depending on your specific app requirements and the reasons listed above. So then, to begin your app development adventure, contact a reputable mobile app development business or hire dedicated developers.
Conclusion
Understanding the costs involved in designing and developing a mobile app will help you make a better business case for it. These are merely cost estimates; come up with your exact requirements so your developer can give you an exact estimate in hours and money.
We are the fastest-growing mobile app development company in the world. Our clients include small and medium-sized businesses, as well as startups. Our customers take maximum advantage of our low prices for high-quality services.
We collaborate closely with clients to fully comprehend business needs and recommend cost-effective, scalable, and reliable mobile solutions. So get in touch with us immediately with all of the details about your Mobile project for your mobile app development.

Frequently Asked Questions (FAQs)
How does the complexity of an app affect its development cost?
App complexity is directly proportional to app development cost. Complex apps need more time, effort, and resources, leading to higher expenses. Whereas simple apps are faster and easier to build, resulting in lower costs. The more complex the app, the higher the cost.
What are the key considerations for estimating app development costs?
Key considerations for estimating app development costs are as follows: App complexity, Desired features, Platform (iOS, Android, etc.), Team's expertise and experience, Third-party integrations, Support and maintenance, and updates.
How do you determine the cost of developing an app?
Several factors like complexity, features, platform, design, development time, team size, location, and additional services evaluate the app development cost. A detailed analysis of these factors, accompanied by market research and project scope, will provide an estimation of the complete cost involved in app development.