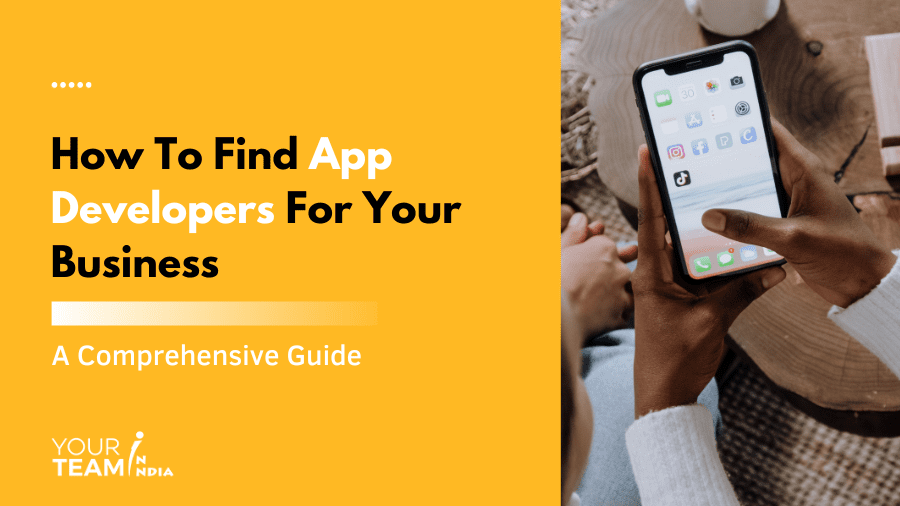 Quick Summary:
Are you looking for the best app developers? If yes, then look no further. Get to know the perfect guide on "How to find app developers" for your project. From skills to costing, hiring to collaboration and development to support services, we'll help you with the best ways to hire app developers who can turn your idea into reality!

Introduction
How to find app developers? This is one of your first questions after deciding to build an app. Technology will continue to advance since we live in a digital age.
Mobile apps are expected to generate over $935 billion in revenue in 2023. There are 2.87 million apps available for download on the Google Play Store, and 21% of Millennials open an app 50+ times per day. These mobile apps play a significant role in helping your business grow.
You must find an app developer who can work with you in achieving your business objectives, regardless of whether you are starting a new company or would like to digitize your existing one.
In this blog, you will learn how to hire app developers and the best models suitable for you according to your project's requirements.
Key Takeaways
Look for developers who specialize in your desired platform and are a perfect match of problem solvers, team players and good communicators.
Don't rush the hiring process. Take the time to carefully evaluate each potential candidate, and consider asking them to complete a test project or provide samples of their work.
Be clear about your budget and timeline. Ensure you're both on the same page regarding what you can afford and when you need the project completed.
How to Find App Developers: 7 Essential Steps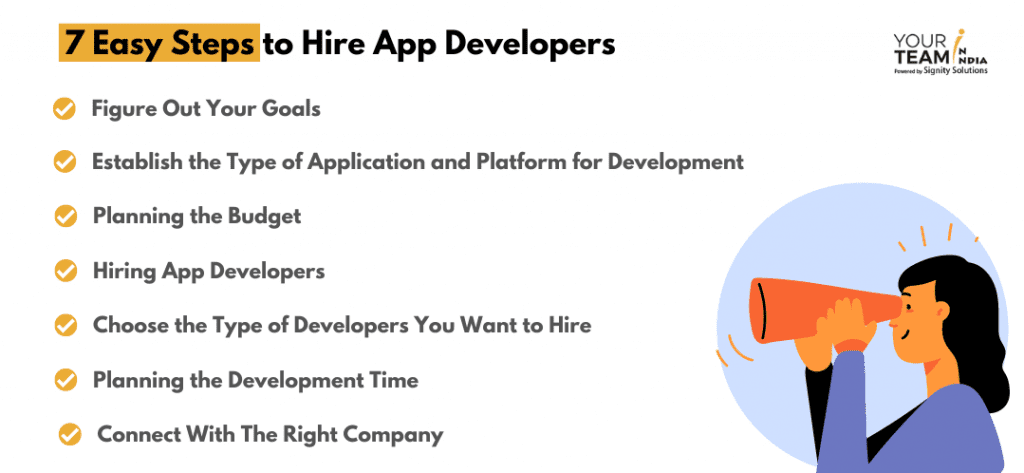 Before hiring app developers for your app development project, you must decide what kind of developers are required – whether a freelance developer is required or a dedicated team.
Another thing that you need to figure out is the features and functionalities your mobile application must have. This step will also help you in monetizing the app in the future. Here are some of the steps you must take when planning to hire an iOS app developer:
1. Figure Out Your Goals
Before deciding how to get in touch with app developers, start by conducting thorough research relating to your app concept.
This covers the app's category and monetization plan (paid or free). A free application is free, and a paid application has unique features available to premium users.
If you're starting and want to establish a relationship with your audience, you can choose a free app. However, once you get positive user feedback, you should get ready to monetize by adding in-app purchases.
2. Establish the Type of Application and Platform for Development
Whether you plan to build the app yourself or hire app developers, you must be explicit about the kind of app you want to create.
Choosing the correct type of application with thorough market research is as important as building the app.
With this clarification, the software development life cycle might become more complex as it moves along.
3. Planning the Budget
Navigating the cost of hiring an app developer from various hiring platforms is at the heart of mobile app development companies. Depending on whether you're looking for an iOS developer or want to find Android app developer, you'll need to choose your budget.
Set up the app development budget depending on experience and competence after you understand how to hire an app developer.
Budget estimation is essential because it lets you decide how much you should invest in developing your app and what else you'll need to do to support its growth.
To choose a budget, you must be certain of the type of your app, its specifications, app design, features, and developers, among all important factors while hiring a mobile app developer.
Recommended Read: Trend of Mobile App Development Cost
4. Hiring App Developers
Whether you work with freelance tech professionals or a full-service company, you must ensure they are knowledgeable and reliable.
Here are some tips for hiring an app developer for your app development:
Do heavy research

Keep a check on the experience and capabilities of the app developers

Analyze the developers' portfolio

Examine communication expertise

Set clear standards

Know what their specializations and strong programming languages are

Conduct an interview

5. Choose the Type of Developers You Want to Hire
Knowing how to hire an app developer might be challenging because every developer has a unique set of advantages and disadvantages. Therefore, when looking to hire top mobile app developers, you must possess a thorough understanding of business requirements.
Decisions can be made based on various variables, including skill level, commitment, cost, and data security.
The primary factor to consider for "How To find the right app developer" is acknowledging the level of competence. They can be either full-time employees or independent contractors. The former will give you a more capable strategy for development that will benefit you in every situation.
If you hire freelance app programmers, you'll get a package of talents because they've worked with numerous clients and have experience in various job functions.
It should be emphasized, moreover, that there are few independent developers. They are less accessible for quick minor changes or last-minute adjustments. Therefore, they ought to be employed for brief and time-sensitive tasks. If not, consider working with a dedicated app development team.
6. Planning the Development Time
The time to develop your app is important in determining the success of the mobile app. Companies want to take advantage of the first-mover advantage.
There is no denying that there are 3.5 billion app users globally, but once you know how to hire an app developer, attempt to swiftly design an app that debuts in accordance with the requirements of the app market.
Therefore, many businesses search for strong and agile staff when hiring mobile app developers. They are all required to adhere to the brief, three-step app development approach:
Design and mockup – take 2-3 weeks

Developing and testing the app – takes approximately 5-7 weeks

Deployment – takes 1-2 weeks
7. Connect With The Right Mobile App Development Company
For the greatest outcomes, attempt to look beyond the Google search term "hire mobile developers for near me" when hiring a mobile app developer. You must ensure you understand how to select an app developer based on interviews and summaries, engage them, and manage a sprint for development.
You can be sure the developer you hire has the specific abilities you need. Before hiring a developer to construct your app, you should review their prior experience, projects, and client recommendations.
Recommended Read: Is it a Bad Idea to Hire App Developers from India?
Where to Find App Developers For Your Project
In 2023, there will be many places where you can find app developers. Here's the list of resources where you can easily find mobile app developer for hire near me for your project:
Online job boards: There are many online job boards, such as LinkedIn, Indeed, Glassdoor, and Monster, where you can post job ads and search for app developers.

Freelancing websites: Freelancing websites like Upwork, Freelancer, and Fiverr have a large pool of app developers. You can hire them for your project on an hourly or project basis.

Offshore Software Development Company: These agencies specialize in providing software development services to businesses and organizations globally. You can contact them to hire offshore developers for your app development.

Social media: You can use social media platforms like Twitter, Facebook, and Instagram to find app developers online. You can use relevant hashtags, join developer groups, and connect with developers directly.

Hackathons: Hackathons are events where developers come together to build and collaborate on projects. You can attend hackathons or organize one yourself to meet app developers and find talent.

Referrals: Referrals from colleagues, friends, and family can also be a good way to find a mobile app developer. Ask around if anyone knows a good app developer or if they can refer someone.

Local tech events: Attend local tech events and conferences to meet app developers and network with them. You can also sponsor or speak at these events to attract app developers to your project.
It's essential to ensure that you vet potential app developers carefully and ensure they have the skills and experience you need for your project. Additionally, consider the rates, timelines, and cultural fit when selecting a developer or team to work with.
When to Find App Developers?
Building an app is an idea that needs timely execution and execution before it jumps into the market with the copyright of another company or business. You can maximize your chances of app development success with our expert insights! Here is the list of key points to consider to work on how to hire an app developer process:
1. Start Early
Begin your search when your app concept is new and the market demand is high. You can start in advance to find the best team to hire a developer to make an app for your business.
2. Increased Workload
When your current development team is already working on other projects and struggling to meet project deadlines, it clearly indicates that you need additional developers to execute your app idea development.
3. Skill Gaps
If you do not have developers with the required skills or the programming language needed for the project, you can start looking for the best candidates to fit this position.
4. Project Expansion
Your project scope often gets expanded due to scaling requirements, new features and platform expansion; you will need a larger team to handle the increased workload and meet the deadlines.
5. Long-term Growth
If you have a projected future plan for the app launch and its upcoming versions, having a dedicated development team becomes an integral requirement.
Different Models to Hire Mobile App Developers
Once you've researched and made a list of the features, it's time to consider where to look for the top app developers who will create your app.
It's impossible to say whether you should hire a freelance developer or enter into a legal agreement with an expert developer who has work experience on different app development projects. Each choice depends on the demands of your project details and is appropriate in various circumstances.
Let's examine the specifics of each employment choice:
Recommended Read: Outsourcing Mobile App Development
1. Hiring An In-House Team of App Developers
This option is for you if you want to find an app developer to work remotely as an employee of your business or if you want to put together an in-house team. This is a wise choice if you must manage the complete process of building your app concept for multiple projects simultaneously.
Businesses that wish to have a high level of control and improve employee communication frequently deal with an in-house team. There are no language barriers or time zone differences when working with an in-house team under the same roof.
It's a cost-effective but easy choice. Hiring experts from India for an internal team is way more convenient and cost-effective than hiring developers from the US or Western Europe.
For instance, an Indian iOS can be hired at $18-$40, whereas US developers work on $100-$150. Similarly, an Indian Android developer can be hired at $20-$35, whereas US Android developers work on $120-$170.
Tip from our side: Hiring an in-house team is beneficial when you have a stable source of financing or a huge budget.
Pros and Cons of an in-house team of app developers
Pros
The total commitment of the app development specialists

Complete control of the app development process

No communication gaps
Cons
Overpriced service

Difficult hiring process

Extra expenses
2. Hiring Freelance App Developers
Working with freelance mobile app developers is less expensive than an in-house team because you don't have to pay for office space and equipment. However, it only performs effectively for quick jobs and software projects, such as repairing a shopping cart or creating a freelance website.
One freelance app developer can only handle part of the lifecycle of mobile app development if you are creating the app from the beginning. In this situation, you'll need to employ a few independent software developers, UI/UX designers, and QA engineers.
Due to team fragmentation, using freelance app developers for a big app project can be dangerous and expensive. If you need project management, you'll need to oversee the entire process or hire one.
Additionally, it could be challenging to locate a trustworthy freelance app developer. Some provide a project with bugs, while others might give up on it after a few weeks in exchange for a better offer. Also, you can find an app developer through a freelance platform.
You have the choice to group freelancers in one area of your office. As a result, you'll coordinate the development process and enhance developer interaction.
Tip from our side: The best option for business owners with side projects and a budget under $10,000 should be to hire freelance app developers.
Pros and Cons of Hiring Freelance App Developers
Pros:
Cost-effective

Best for one-time tasks

No need to give working equipment

Worldwide talent access
Cons:
Less commitment

Complicated process to hire app developer experts

Communication gaps

Difficult to control
3. Hiring App Developers as an Outsource
You can think about outsourcing software development or adding an app developer to your team from an outsourcing company (whether you have just an idea or ready-made specification). In both situations, you'll accelerate time to market, lower project costs, and improve product quality.
This solution does not necessitate renting an office or incurring any other costs. You can already get the best app developers you need at outsourcing businesses. They are also in charge of leading the development team and delivering the product.
Additionally, you can find an app developer abroad if money is short. Finally, you can perform market research and pick any business from well-known outsourcing locations that best suit your needs and resources.
You could experience profound time differences and communication problems when selecting outsourcing companies. For the client's comfort, however, seasoned vendors have professionals with a strong command of English and flexible communication schedules.
In contrast to the in-house workforce, you'll receive excellent service in the short term for a fair fee.
Recommended Read: How to Choose the right model to hire developers in India
Benefits of Hiring App Developers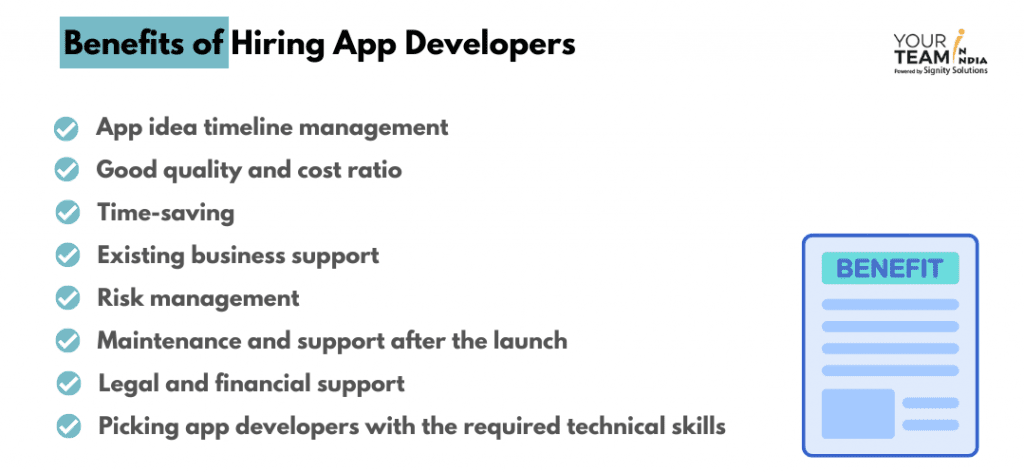 This section gives a more comprehensive overview of the advantages associated with hiring app developers as dedicated services from IT companies. With this, you will get to know all about how to find developers in an easy way.
Here are some benefits of hiring an app developer from an established company:
Picking app developers with the required technical skills

Good quality and cost ratio

Time-saving

Existing business support

Risk management

Maintenance and support after the launch

Legal and financial support

App idea timeline management

Fair mobile development cost
Before expanding, the business verifies, estimates, and plans the application development process for each task. This makes it easier to put together a team of precisely the correct app development experts with the required expertise and levels of seniority. This results in a premium product at a reasonable cost.
These dedicated organizations ultimately oversee app development by applying project management tools and frameworks for app development projects.
In addition, there is additional involvement from services like business analysis and UI/UX design. As a result, it is possible to create valuable and lucrative mobile apps using market research insights and an engaging and intuitive design.
Cost to Hire Developers in Various Countries
Before going ahead with "How to hire app developer", you should know about the cost structure. Mobile app developers in different parts of the world work at variable hourly rates. You should know the well-known areas ideal for it if you want to outsource mobile development or hire mobile app developers near me or abroad.
Connect With The Right Mobile App Development Company
For the greatest outcomes, attempt to look beyond the Google search term "hire mobile developers for near me" when hiring a mobile app developer. You must ensure you understand how to select an app developer based on interviews and summaries, engage them, and manage a sprint for development.
You can be sure the developer you hire has the specific abilities you need. Before hiring a developer to construct your app, you should review their prior experience, projects, and client recommendations.
We looked at the number of mobile app developers in various nations and highlighted the most well-known tech hubs above. The bottom line is every region has its cost range. Go through the hourly rates of working on app development in various countries:
| | | |
| --- | --- | --- |
| Countries | Android Developer Hourly Rate | iOS Developer Hourly Rate |
| India | $18-$40 | $20-$35 |
| US | $100-$150 | $120-$170 |
| Ukraine | $60 | $30 |
| Australia | $200 | $150 |
| Russia | $60 | $50 |
Recommended Read: Discover the best cost to hire an app developer in India
How to Calculate an App Development Cost?
Cost evaluation is one of the most important aspects of the execution of an app development process. It comprises two vital components:
App development cost = Hourly rate of app developer * total time consumed in the app development process
Variable price structure
Depending on the development stage and the complexity, developers may ask to work at different hourly rates. For example - a developer may charge a high hourly rate to take less time for the app development, and ultimately his cost will be less and comes within budget.
Go through the best guide for the cost-effective pricing strategy of mobile app development.
The app development stages that count for variable price structure are:
Basic App (Templates, device storage, and dropdown menu list)
Hours (iOS app): 80-160

Hours (Android app): 80-180

Hourly average rate: $50-$100
Data Based App (integrated, server storage and backend)
Hours (iOS app): 150-200

Hours (Android app): 170-220

Hourly average rate: $50-$100
Chat/Message App (Various data formats, cloud storage, chats and calls)
Hours (iOS app): 600+

Hours (Android app): 700+

Hourly average rate: $70-$120
E-commerce Enterprise App (Business features and server storage)
Hours (iOS app): 250+

Hours (Android app): 300+

Hourly average rate: $100-$150
Social Networking App (Themes, server storage, photo editing and backend)
Hours (iOS app): 300+

Hours (Android app): 350+

Hourly average rate: $80-$110
Games App (Single-player/ Multiplayer, Unity 3D, rendering and server storage)
Hours (iOS app): 450+

Hours (Android app): 550+

Hourly average rate: $80-$120
Recommended Read: How Much Does it Cost to Hire an App Developer in India?
Few Questions to Ask While Hiring an App Developer
Q: How much budget should I keep for my mobile app development project?
Choosing your budget is essential when hiring a mobile app developer. Of course, you could desire every feature under the sun for your app, but that's not a practical approach.
You can't use too many resources on the app and shouldn't, either.
It would help if you had a rough notion of the price of the complete app-building process. A rough budget will help you avoid misunderstandings when the app is being developed.
Q: Should I hire app developers or an app development company?
You have several options here; your app developer could either learn it or you could recruit independent contractors; otherwise, you could get in touch with one of the best companies for the best mobile app developers, like us, who have experience with Android, IOS, and all cross-platform apps.
You can't afford to squander weeks or months waiting for your skilled developers to acquire a firm grasp on it, and the first alternative will take up a lot of time. It might also need to be faster. At the same time, the second choice can be advantageous if you need the results right now.
Challenges While Hiring App Developers with Their Solutions
Hiring app developers for your business can bring out a fair share of challenges, but with the right approach and guide, you can easily overcome them. Here are six key challenges and their solutions to find out for the best developers.
Shortage of Talent
The demand for skilled app developers often exceeds due to the rise in competition in the IT world.
Solution: You can expand your search on different hiring platforms. Explore diverse talent pools, including coding communities, global job markets, and online platforms. You can also check competitive app development packages based on an hourly, monthly and yearly basis.
Technical Skill Assessment
Evaluation is the key to hire the best app developers. It can be a challenging part of your hiring process if you have a non-technical background.
Solution: Conduct interviews of candidates with technical experts in the hiring process. Request coding tests, assignments or portfolios to assess developers' capabilities. You can also use technical assessments or opt for working on a trial project to evaluate their practical skills.
Cultural Fit
Nowadays, finding an app developer who aligns with your company or business's work culture can be challenging.
Solution: Search for app developers in the interview process who can easily collaborate with the team members of your company. You can ask behavioural questions from the developers and consider their collaboration skills to gauge how well they can integrate with your mobile application development team.
Competitive Market
In a growing business world, finding and retaining the best app developers is difficult, especially for entrepreneurs or small-scale companies.
Solution: Promote your unique selling points to attract the best talent, such as creative business models, career growth opportunities, advanced technology projects, flexible schedules, or vibrant company culture. Provide competitive compensation, benefits, and opportunities for professional development.
Cost Considerations
Hiring experienced app developers for development can come up with a high price tag. Entrepreneurs or startups find it difficult to hire the best development on a fixed budget.
Solution: Look for freelancing websites to hire the best app developers as freelancers. Remote developers or partnering with app development agencies can be the best option for a cost-effective development solution.
Time-consuming Hiring Process
Hiring the best app developers is not everyone's cup of tea. It is a time taking process which can lead to delays in app launch as per the project timelines.
Solution: Look for the best hiring tools and software, like an applicant tracking system (ATS), to find the top talent. You can streamline your app developer hiring process by defining job requirements like project type, programming language, technical skills, experience, and cost. Utilizing ATS, you can save time to filter the applications, conduct interviews and give prompt feedback to the candidates.
Determining the Problem While Hiring App Developers
90% of the latest products fail, according to Forbes, since they don't satisfy the needs of the market. So let's look at the steps you should take to avoid becoming one of these depressing statistics.
1. Define the Target Audience
You can't create a mobile app for one user and everyone else simultaneously. To determine who you should make the app for and what features would solve their problems, you should identify Android or IOS developers with comparable interests and issues. When defining a target audience, it's essential to consider the function of your mobile app and the issues it addresses.
2. Validate the Problem
You are only speculating before you put an idea to the test in your market. It would help if you undertook in-depth research to determine whether there is a problem that you wish to solve with your existing app to design a successful app.
Make sure the people who have that problem genuinely desire a solution by asking your potential consumers rather than making assumptions.
3. Validate the Solution
Find the answer. To determine your app's uniqueness, compare your app concept to existing works. If there is already a successful project, creating another one might not make sense.
Build a Minimum Valuable Product after that to see if your concept satisfies client needs. It only has essential features that enable users to evaluate your app's idea.
Common Mistakes You Must Avoid While Hiring App Developers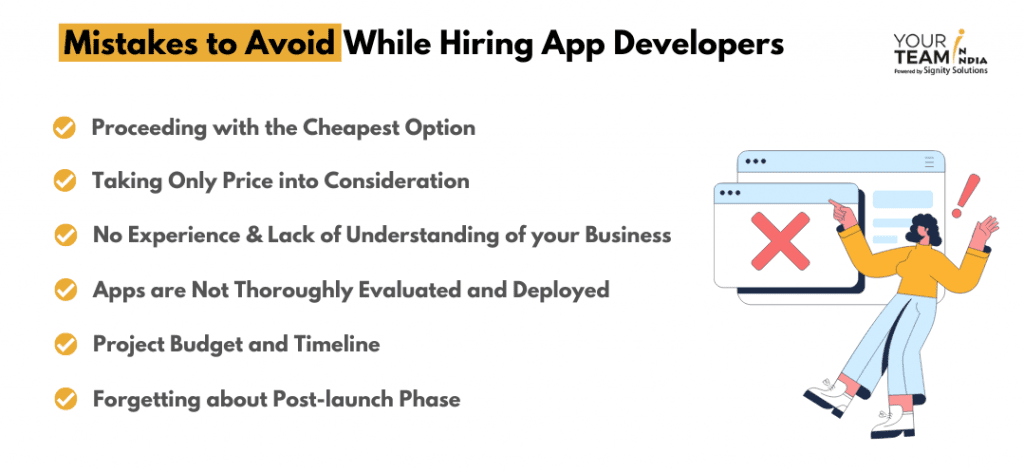 A variety of factors could severely impact the success of the finished app. In other words, it all starts with a bad or misapplied app idea that needs to be implemented better or has no marketing budget. Fortunately, there is one standard error you can avoid: selecting an app developer who will not provide value to your project.
1. Proceeding with the Cheapest Option
Low prices may only sometimes equate to high quality. The right app developer with experience and skill should be compensated fairly for their job. Furthermore, ghost developers or body shops could use cheap software development services as a cover.
2. Taking Only Price into Consideration
This implies that you should pursue something other than the priciest choice, such as a boutique development company. A good app developer does not ensure the development of a premium app.
3. No Experience and Lack of Understanding of your Business
It is preferable to find local developers who have experience with similar app concepts and are familiar with your industry. This ensures a clear grasp of a product's technical needs and helps align business factors.
4. Apps are Not Thoroughly Evaluated and Deployed
Verify again if the application developers you intend to hire contributed to the apps that are listed in app stores. To try these apps, you can always download them.
5. Project Budget and Timeline
Before hiring an app developer, request an estimate after discussing the project's concept, defining its functionality, and reviewing all the pertinent project specifics. Professional teams produce a project proposal that includes an assessment and the subsequent development processes. Please be aware that accurate estimates require time to produce.
6. Forgetting about Post-launch Phase
The importance of long-term planning cannot be overstated. Consider the future and learn how the app developer can assist you with project expansion, upcoming product iterations, maintenance, bug patches, and troubleshooting.
Why Find App Developers at YTII is the Best Option?
YTII is yet another potent PHP framework that can be used to build custom enterprise applications and web-based solutions for companies of all sizes and specializations. In addition, this framework can be used to create extraordinarily fast-loading websites and highly scalable web development solutions.
You can hire a developer from YTII company in India to produce high-performing web applications in a given amount of time. Our team of IOS and Android developers collaborates closely with our clients to fully comprehend and carry out their ideas. As a result, any undeveloped app concept can be turned into a dynamic, contemporary, and feature-rich YTII web application.
Top reasons to choose YTII developers for your app development include:
Expert Team
We have an expert team of Android and iOS developers with vast experience in developing basic to business model apps.
Easy Onboarding
Collaboration with YTII developers is fast and easy as we offer hassle-free transactions for the app development process. From taking requirements to aligning developers, we ensure to leave no room for turbulence and prepare you well for the launch of your mobile app.
Get Started Rapidly
Our app developers work swiftly to propel your projects forward with their abilities to code as required. We ensure to reach your goals on time and kickstart your project launch in the market.
Nominal Operational Cost
Join us to get cost-effective solutions for your app development project. Our developers work at the best affordable prices or hourly rates to fit your budget.
100% Project Success
We ensure guaranteed success with flawless execution with our exceptional app development services. With their expertise in developing code and integrating the requirement, we assist businesses to scale new heights in the competitive digital world.
Increased ROI
Experience the highest rate of profitability with our app development services and streamline your business's revenue stream today.
IP Protection and Security
We ensure the security of your sensitive business data throughout the entire app development process.
Wrapping Up
A key component of supporting your company's backbone is app development. The good news is that you can find an app developer, explain your requirements, and wait for them to produce the end product without reinventing the wheel.
The tips above should help you find app developers who will help your business grow because you'll be working within a budget, so it's important to do it right first.

Frequently Asked Questions
How do I find the developer of an app?
You can search for the best developers through different channels and portals like freelancer websites, LinkedIn, and job portals. You can also contact mobile application development companies or agencies to find the best developers.
What is an app developer?
An app developer is a professional who develops Android or iOS applications for various platforms like desktops, web or mobile devices. They have programming skills and expertise to code languages and develop frameworks according to the client or user requirements.
How much will it cost to hire an app developer?
The cost of hiring the best developer depends on several factors, including location, experience, project complexity and skill requirements. Rates can vary from hourly to fixed-budget plans. Before proceeding with the hiring process, discussing the project details with developers and getting cost estimation to suit budget plans is advised.
Where to find good app developers?
Contact YTII team to hire the best app developers to develop Android and iOS applications today. We offer easy hiring, prompt services and continuous support till the app launch.
What country should I choose when looking for an app developer, and why?
India is the best country for hiring app developers. There are various factors to consider while hiring a mobile app developer, such as budget, project requirements and skills. Mobile application developers in India work at affordable hourly rates and provide the best development services to businesses.