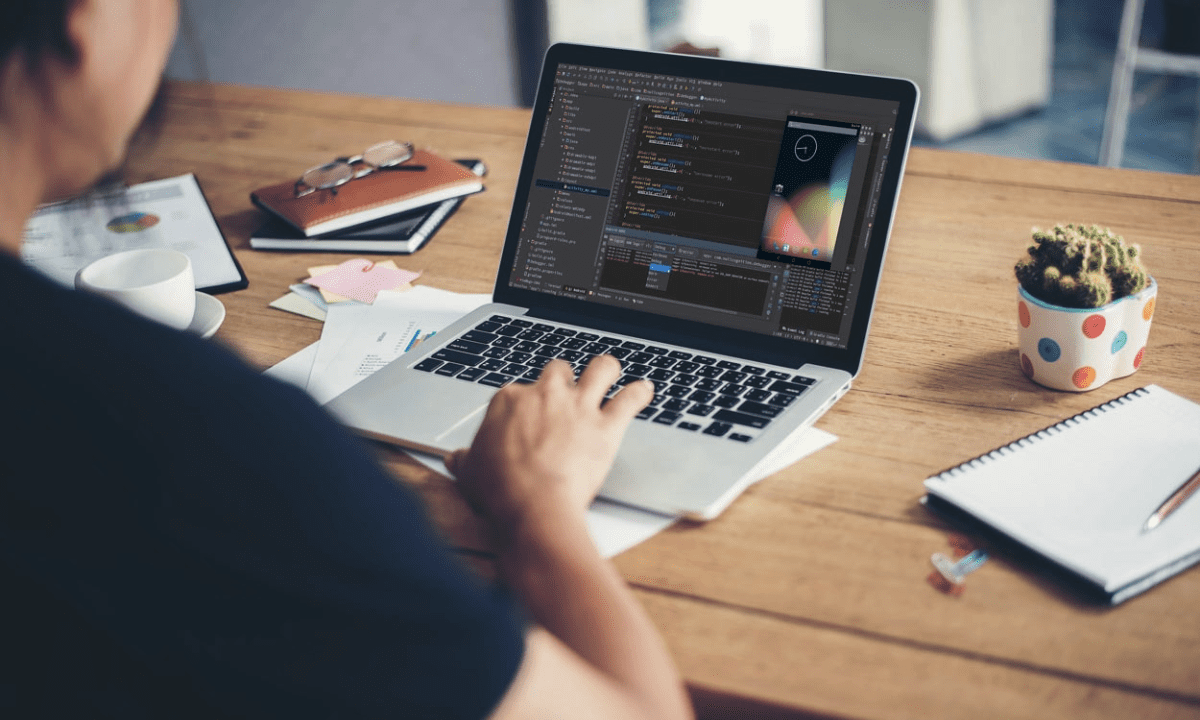 Quick Summary:
In today's mobile-first world, building your own app is lucrative. But the challenge lies in finding the best mobile app developers that fit your requirements. This blog explores the top factors you must consider while hiring a mobile app developer. Read on to explore these factors and how they affect your mobile app development project.
As per Statista, around 6.92 billion people worldwide currently use smartphones, which accounts for 86.11% of the global population. This number is projected to reach 7.8 billion by the year 2028.
This shows the potential the mobile app industry has in the coming years.
Countries like the US, China, Japan, Germany, and India have the world's most prominent mobile app development markets. However, North America dominates a large share of the market.
Moreover, APAC (Asia Pacific) regions are all set to register the highest growth rate of 46% among the other areas. India and China are the two countries that are emerging as a robust mobile app market.
The app development market is expected to grow by USD 653.91 billion from 2020 to 2025, and the market's growth momentum will accelerate at a CAGR of 20.65%.
A study by Compuware shows that 85% of consumers prefer apps over mobile sites. Besides, a report on 'The State of Mobile Commerce 2022' by Criteo shows
Users view 4.2 times more products per session on mobile apps vs on mobile sites.
Mobile apps have a 3x higher conversion rate than mobile websites.
Entertainment apps convert 233%, travel apps convert 220%, retail 94%, and on-demand apps 307% higher.
Overall, apps average 157% higher conversion rates than mobile websites.
The above stats only go on to prove that:
There is a deeper penetration of smartphones in the global market,
Users prefer mobile apps over web browsers,
It is time for YOU to build your business app to stay competitive.
Do you want to hire mobile app developers to build a robust app? This blog is for you, as it covers the top factors to consider while hiring a mobile app developer.
Key Takeaways
For hiring app developers, businesses must consider factors such as experience, expertise, portfolio, communication skills, platform knowledge, and work ethics.
Businesses must also compare different models of hiring app developers to find the best fit.
10 factors to consider while hiring a mobile app developer
When looking for a mobile app developer, businesses usually seek top mobile app developers to power their projects. But, just because someone is at the top does not necessitate that they are the right fit for your business.
Your focus should be on finding the best fit for your business, and here is how you can do it.
1. Experience and expertise
App development is a complex and ever-growing field. New features and technologies are being introduced to the market every other day. You want to ensure that your app remains relevant and competitive in the market from its inception to the final launch.
So, you must carefully consider the resources' experience and expertise before hiring mobile app programmers for your project.
Assessing their experience will give you an insight into their knowledge about your industry and their ability to handle the complexity of your project.
While evaluating their expertise will show you the efforts they have put into keeping themselves updated with new and emerging technologies.
You want to hire mobile application developers who have both experience and expertise. Hence, when searching for a developer, it's important to consider their experience in your industry, knowledge of operating systems, and possession of relevant technical certifications.
2. Technical portfolio
Evaluating the technical portfolio of a resource is a crucial step in hiring mobile app developers. A developer's technical portfolio displays the work samples demonstrating their technical abilities and skills.
While looking for a mobile app developer, review their past work and the types of clients they have served. Examine their previous projects, design abilities, work history, and completion time.
It will give you a clear picture of their development methodology, understanding of different industries, and unique style and approach to mobile app development, helping you decide whether they fit the job well.
3. Creative and innovative thinking
Delivering an exceptional user experience requires creative and innovative thinking. Hire mobile app developers who do not shy away from thinking out of the box.
Creative thinking is critical as it motivates developers to come up with fresh ideas. A creative app developer would brainstorm different concepts and explore new features to build an innovative app that stands out in the market.
Creative thinking encourages developers to experiment with visual designs and animations to deliver enjoyable experiences to users.
One must hire an app developer with critical thinking, capable of adapting to changing trends. Such a resource would look at new ways to harness emerging technologies to address issues, optimize performance, and improve functionality to build groundbreaking apps.
4. Pricing
The cost is an essential factor to consider, especially when you want to find an app developer for startup. App developer salaries can account for 50% to 80% of the total cost of an app development project.
We don't suggest you choose the cheapest option. Opting for cheaper resources may lead to poorly built apps delivering low-quality performance. It affects business goodwill, doing you more harm than good in the long run.
As a business owner, you must balance creating a top-quality app and ensuring that hiring resources costs stay within your budget. But finding and hiring app developers that meet your project requirement is getting more and more difficult owing to the increasing talent crunch.
According to a study, there are 241,509 active job openings for mobile app developers in the U.S. In comparison, around 9,132 mobile app developers are employed in the United States. The current demand exceeds the supply by more than 25X.
Finding talented developers for hire in such a competitive market is challenging and expensive. Thus many businesses opt to hire mobile app developers in India.
Ranked among the top destination for IT outsourcing, India offers a large talent pool of highly skilled app developers at economical rates. Learn how hiring app developers in India can help you save big on your project cost.
5. Project's deliverability & timelines
On-time development and launch are crucial to the success of the application. To thrive in today's highly competitive mobile app market, one must reduce product time-to-market to gain first movers' advantage. Being the first to launch a solution gives you the benefit of bigger popularity, larger market share, and faster user acceptance.
Thus, when hiring a mobile app developer, checking their record of delivering high-performing apps within timelines is necessary. Hire developers who prioritize project deliverability, meet tight deadlines, and prevent delays leading to extra costs.
6. Communication & collaboration
Clear communication skills are crucial for successful app development. When we talk about communication skills in app developers, we refer to their linguistic and analytical skills.
Before you hire app developers, you must assess their ability to listen actively, understand your needs, break it into smaller project briefs with timelines, and communicate it effectively to other members.
It is also essential to evaluate their people skills and capacity to work collaboratively with other team members, such as project managers, designers, and stakeholders.
7. Compatibility and platform expertise
Developments need compatibility and platform expertise to ensure that apps work correctly on different mobile platforms like iOS and Android. This allows them to adapt the app's codebase, user interface, and interaction patterns to suit the demand of the OS.
It equips them to build customized apps with each platform's design guidelines and utilize platform-specific features and capabilities to enhance functionality resulting in a consistent and seamless experience for users on different devices.
They can optimize their code and utilize platform-specific tools and APIs to enhance performance, minimize resource usage, and improve battery efficiency.
Besides this, each platform has guidelines and requirements for app submission and approval. Having developers with compatibility expertise can ensure your app complies with guidelines, increasing the chances of its approval.
Recommended Read: Factors Affecting Mobile App Development Cost
8. Intellectual property and confidentiality
When you build a unique solution, you want to protect its codebase from infringement. Thus, assessing FIPP( Fair Information Practice Principles) knowledge is important while hiring developers.
The FIPPs refer to principles government agencies follow to assess how information systems, processes, programs, and activities can impact people's privacy. These principles are widely recognized and accepted.
FIPPs define the dos and don'ts of handling information to ensure public privacy and data safety are never compromised. Hire app developers who understand and apply these principles to ensure no data breach or IP infringement occurs during and after development.
9. Testing and releasing expertise
A bug-free app is pertinent for delivering a seamless and high-quality user experience. So, app testing and releasing expertise become critical skills for the success of your mobile app.
You must evaluate developers' testing strategies and tools to assess these skills. Do they follow a strong QA process? Do they observe real users for usability testing? On what criteria do they assess app performance? Do their methodologies prioritize security testing? Answering these questions will give you an insight into how robust is their QA process.
Besides this, you must also consider their app release strategies and post-release performance optimization plan to improve quality, stability, and user satisfaction.
10. Post-development maintenance & support
As explained before, mobile app development is not a one-time process. It requires constant upgrades to stay relevant and competitive to the changing demands of your customers.
Hence post, development support is not an option but a necessity to be considered while hiring app developers.
Hire dedicated mobile app developers who can constantly monitor the performance of your application. You need experts who can study the market trends to suggest regular and relevant upgrades in features, functionality, and technology.
Conclusion
The increased penetration of smartphones worldwide, the preference for mobile apps over web browsers, and the positive impact of mobile apps on user engagement and conversion rates highlight the significance of hiring mobile app developers.
To ensure success, you must carefully evaluate the potential of app developers based on their experience, expertise, portfolio, communication skills, platform knowledge, and work ethics. Furthermore, it's imperative to thoroughly evaluate various models and sources for finding and hiring app developers before making a final decision.
Considering all these aspects, you can create robust and successful apps that cater to the growing global mobile market and meet users' expectations.

Frequently Asked Questions (FAQs)
What are the factors to consider while hiring a mobile app developer?
While hiring a mobile app developer, consider factors like their experience and expertise, work portfolio, creativity, OS compatibility knowledge, cost of hiring, communication skills, data & IP security protocols, work ethics, and post-development support.
What to look for when hiring an app developer?
When hiring an app developer, look for the following, their hands-on experience in your industry, references/reviews of previous clients, their technical expertise, development methodology, data safety measures, and communication skills.
How do I choose a mobile app developer?
To choose a mobile app developer, you must define your project scope and requirements regarding technology, functionality, resources, budget, and delivery timelines. This will help you create a well-defined outline of your app's needs, enabling you to build a better matrix for candidate comparison.
How much should it cost to hire mobile app developers?
Hiring a mobile app developer for your project can cost anywhere between $18- $100 per hour, depending on their experience, technology expertise, location, and project complexity. Read our blog to learn the global rate comparison of app developers and estimated pricing details on different app categories.
How do I hire a dedicated mobile app developer?
To hire a dedicated mobile app developer, you must follow this process- Define the scope and budget for your project. Explore different sources to hire developers. Conduct extensive screening of candidates' resumes and shortlist the ones that fit your requirements. Conduct interviews and task assessments to gauge their technical and communication skills. Check for reviews from previous clients to gauge their professionalism. Select the final candidates and extend your offer.
How do I find mobile app developers?
You can find app developers by creating your project goal and budget. Based on these, you can decide whether to hire in-house, freelance, or offshore app developers and explore various sources like job portals, social media, freelancing platforms, and offshore development companies.