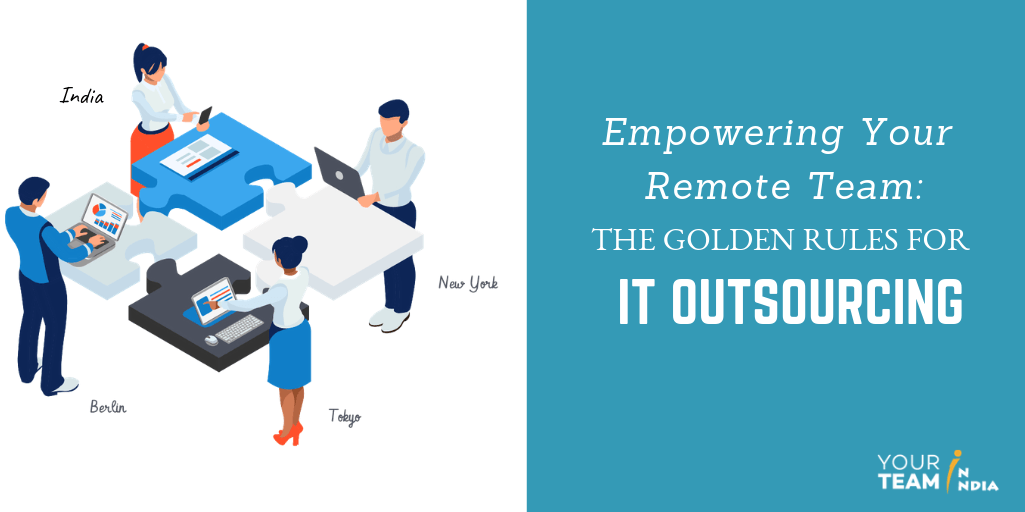 Today's entrepreneurs believe in smart work.
This urges startups to use an effective & strategic business approach. And that's why young entrepreneurs are shifting their focus towards offshore development.
By outsourcing IT services in countries like India, companies in the USA and Europe are enjoying the cost and other several benefits.
We have covered the benefits of outsourcing several times in the past, therefore, let's move ahead & discuss how to manage remote team effectively!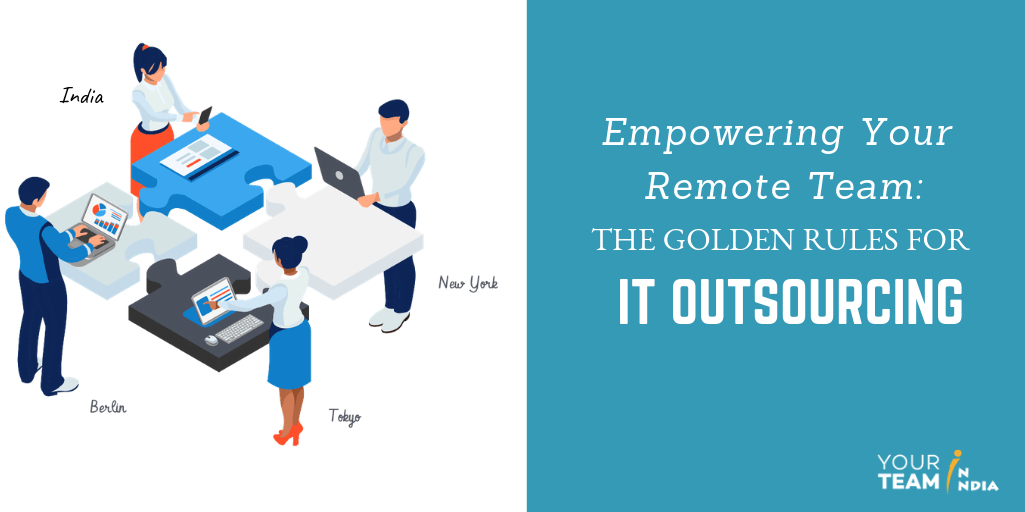 Here are the Golden Rules to Manage Remote Team while IT Outsourcing:
1. Create Communication Guidelines:
Collaboration is possible only with successful communication between the employer and the remote team.
Give a clear communication guideline to your remote development team, that should include:
Your preferred medium of communication (email, messenger, phone conferencing, Trello, etc.)
The ideal time for team communication (regular meetings, certain days, preferred timings). Don't forget the time-zone scenario.
Information regarding heads-down days, if the company does that.
2. A Productivity-Based Schedule:
Humans are unpredictable, and generalization is not possible.
The biological clock of every person functions in a different manner.
But there are certain assumptions based on surveys and Q&As.
For example;
Tasks that need peak productivity are best suitable in the mornings.
While less significant tasks are suitable for midday slot before the break.
The creative work and thought demanding tasks are best suitable for the afternoon.
In this way, you can make a proper division of work. It will help you effectively manage remote team & at the same time juice out the highest productivity.
Moreover, you can do the following:
Communicate effectively with your team
Keep an eye on project progress
Track the productivity of remote employees
Maintain time sheets
Share real-time information
There may be a possibility that your remote team is following a different schedule for the entire day.
So, you can make the work team-oriented rather than making your teamwork-centric.
Recommended Read: Employee-oriented corporate culture boosts companies' economic success
3. Implement a System:
If the business is not systematic, it may fall apart.
An in-house team can look over each other's shoulders but with a remote team, this is not the case.
If you will work with freelancers, they can work according to their own perception. And this can prove destructive for your project.
So, it is recommended to hire a remote development team rather than freelancers. Moreover, document every detail of the project & standardize the working procedure to refine the product quality.
4. Train your Remote Team:
Whenever you feel the need to train your remote team, make sure you go ahead.
If you are planning for a long-term association, it's important to ensure that your remote employees are up to date with the new technology trends.
There's a chance, that if you have partnered with an offshore development center, they are involved in the employee training session already.
In such a case, you won't have to invest your time and money on training your remote team. But if not, then training them would be a wise decision for your project growth.
5. Encourage and Embrace Diversity:
Sometimes CTOs have to face cultural obstacles.
It becomes a challenge to manage a remote team having people of different races.
In this case, the best option is to embrace cultural diversity. Be respectful about the national holidays and respect the cultural differences.
It will empower your remote team to work together with more trust and confidence in each other.
6. Personal Encouragement is a Virtue:
A company must help its employees to pursue their interests. It will help to increase more productivity.
History proves that the biggest minds are open to all kinds of co-curricular activities. Be it, Newton or Einstein, everyone was proficient in some art.
A company might assign a particular day every month for personality development.
It may sound easy for the company to focus on an in-house team.
However, working on the personality development of the remote team is a challenging task.
If your remote employee will masters an extra skill, it will only increase his strength to deliver quality work
Gone are those days when the employees were focused on the salaries only.
Nowadays, it is more about job satisfaction and internal peace that a person seeks while working either remotely or locally.
7. Use Screen Sharing Tools:
Screen sharing tools allow you to keep an eye on your remote team.
Though it might not be a good option to build a relationship with your team.
So, rather than using tools like TeamViewer and Join.me, keep in touch with your remote team using video conferencing tools like Skype or Google Hangouts.
Words for Wise:
Take time to think strategically about different challenges you may face while working with a remote development team & create a good plan to address them.
Pay close attention to the above mention strategies to build a relationship with your employees working remotely.
It's easy to manage a remote team like your in-house team, provided that you put the right process in place.
Recommended Read: A Complete Guide to Hire Offshore Developers!