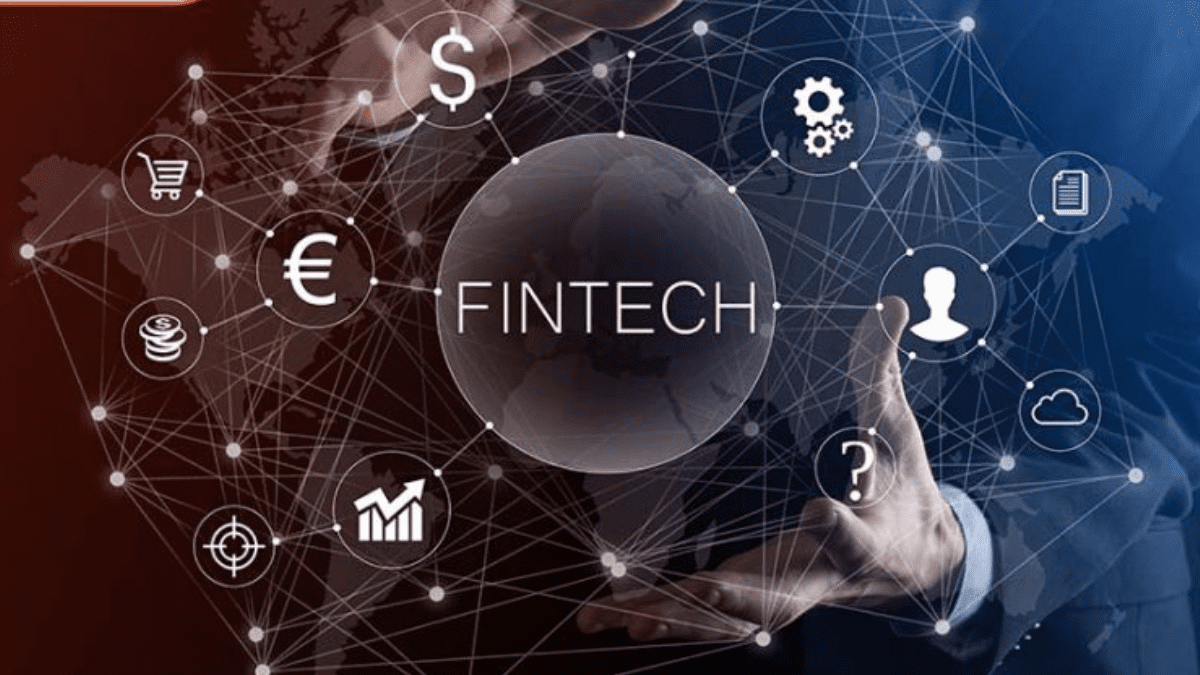 Quick Summary:
Outsourcing fintech software development can be a smart move for businesses seeking to streamline costs and access specialized skills. In this guide for outsourcing fintech development 2023, we offer benefits, best practices, case studies and practical tips for finding the right partner, ensuring quality, and achieving your project goals.
Fintech Market, or Financial Technology Market, has accelerated globally in the past few years. The global fintech market was estimated at $110.59 billion in 2020 and is expected to grow at 20.5% CAGR, reaching $699.50 billion by 2030.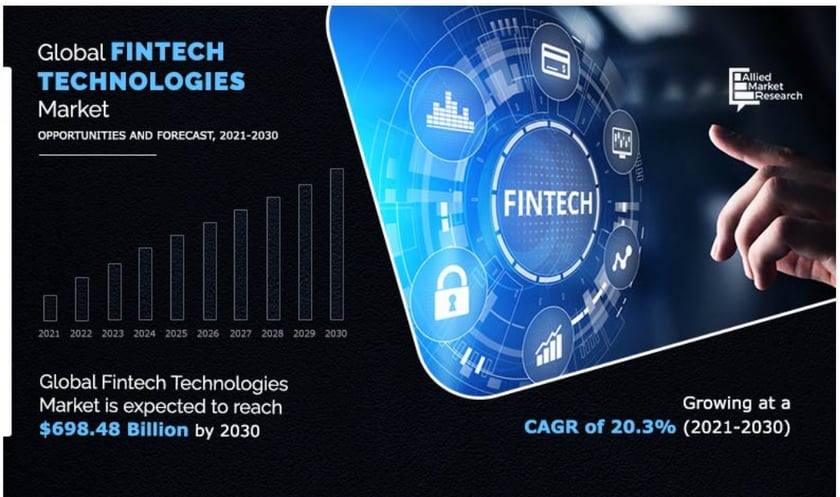 As per a study by BCG, the number of fintech startups has doubled in the past 2 years. There are over 26,000 fintech startups worldwide. The increasing business has created a high demand for fintech software development companies.
Are you a business looking to outsource fintech software development?
Look no further. We have curated this blog with all the relevant information to help you find the right fintech software development company.
But before we begin, let us start with the basics.
Recommended Read: Top 10 Fintech Software Development Companies
What is Fintech Software Development Outsourcing?
Fintech development outsourcing is when a fintech company hires an IT outsourcing partner to digitize financial services to simplify end users' access via the Internet or mobile apps—creating digital solutions to improve processing speed, accuracy, and transparency while reducing costs to enhance customer experience.
This brings us to our next question-
Why do fintech companies outsource software development?
Fintech companies outsource software development to work with financial technology experts who can speed up the fintech product development process. These fintech software development companies are well versed in tech-stack and financial market compliance for building reliable and secure fintech apps.
The increasing competition in the fintech industry has made it a necessary business strategy to build your finance software solution and bring it to market in the shortest possible time. Achieving this by hiring an in-house team is next to impossible, but if the same is done by outsourcing fintech software development, the results can be excellent.
So, to build efficient fintech solutions, working with a trusted outsourcing partner capable of providing extensive fintech software development services is a must to survive the competition.
Let us now explore the businesses that stand to gain maximum benefits from fintech software development.

Who needs fintech software development outsourcing?
Whether it's fintech startups planning to build fintech apps or established financial companies introducing new solutions, fintech product development outsourcing is a service that every business in the fintech industry can use to scale.
Due to the changing policies by the Federal bodies, financial technology companies must be on their toes to keep the products updated and compliant. Having a fintech software development partner can give a competitive advantage to financial companies trying to stay ahead of the curve.
Benefits Of Outsourcing Fintech Software Development
The fintech industry is constantly evolving, and so must its players. By outsourcing fintech software development, a business can gain the following benefits.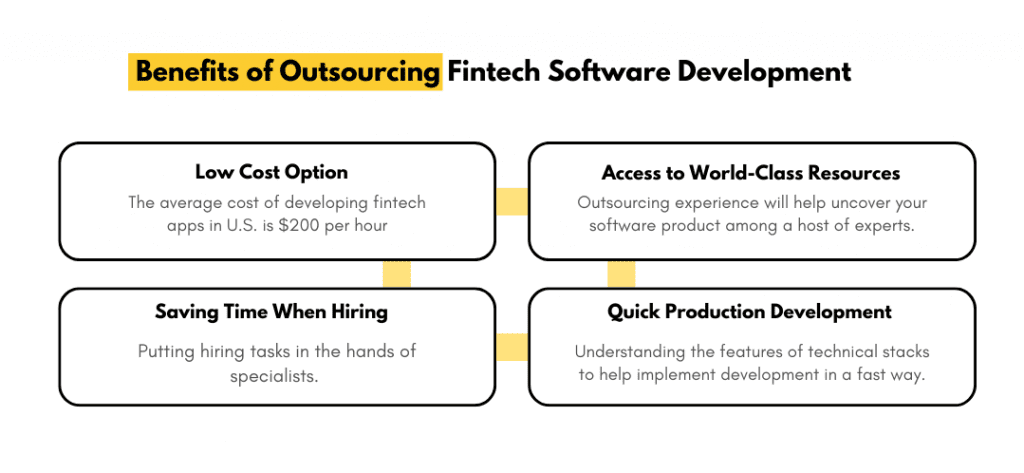 1. Speed-to-market
One of the most significant advantages of software development outsourcing in the fintech sector is its development speed. By allocating a certified team of tech experts with extensive experience in building fintech solutions, outsourcing companies help speed up the development process.
2. Cost efficiency
Outsourcing fintech projects can save you big bucks. You can outsource your projects to countries with lower-cost living costs to reduce your fintech solution's development cost. By outsourcing fintech software development, you save on hiring and training costs of resources. Besides, outsourcing also helps you save infrastructure and overhead expenses incurred while working with an in-house team.
3. Access to Experts
At a time when the world is suffering a tech talent crunch, finding the right experts in your geography to build your fintech solution can be difficult and expensive. Thankfully fintech companies have outsourcing services at their disposal to counter the challenge of resource crunch.
Outsourcing companies can help you find experienced fintech developers with expertise in different technologies like artificial intelligence(AI), machine learning(ML), blockchain, robotic process automation, etc., to enable seamless app development.
4. On-demand Scaling
Unlike in-house teams, where adding new resources to scale projects can take weeks and months, outsourcing providers can help businesses scale quickly by deploying more software developers from their pre-existing talent pool on the fintech project.
So when financial firms work with an outsourcing provider, they get a truly agile and flexible development team on their project.
Recommended Read: A Detailed Guide to Fitness App Development Solution
5. Access to Innovative Technologies
The tech world is ever-evolving, and the financial sector must stay updated with changing industry trends. Outsourcing providers are often at the forefront of technological innovation; thus, outsourcing helps fintech businesses access emerging technologies to bring better solutions to their customers.
6. Bringing the Focus Back on Business
When a finance company outsources its fintech project, whether software development or business processes, they free up internal resources. Doing this empowers them to focus more on productivity, business growth, and enhancing customer engagement.
After assessing the benefits of outsourcing, one can say that outsourcing improves the bottom line and drives innovation, assisting businesses to stay competitive.
Recommended Read: 9 Reasons Why Custom Software Is Best For FinTech Industry
Factors To Consider When Outsourcing Fintech Software Development
Undoubtedly, fintech software development outsourcing has many advantages, provided you choose the right outsourcing company to power your digital transformation.
But how does one decide if an outsourcing service provider fits your fintech project needs?
Well, this is exactly what we will be discussing in this section. Factors one must consider while hiring an outsourcing partner to build a fintech solution.
1. Expertise & Experience in Finance Technology
To build efficient fintech apps, it is imperative that your outsourcing partner has expertise in the right programming languages and revenant fintech technologies like cloud computing, artificial intelligence, blockchain, robotic process automation (RPA), and big data.
Choosing a software development company with expertise in fintech development is important. Please be sure to look for companies with experience in developing fintech solutions, especially those similar to your requirements.
2. Ensuring Compliance
The financial industry is highly regulated. Hence, the outsourcing partner must understand these regulations and ensure compliance throughout the development cycle while building fintech projects.
3. Security
Data security is a big concern in today's digitally connected world, especially in fintech, as a small lapse can create heavy repercussions. So information security is of utmost importance. You must ensure your outsourcing partner has appropriate security measures and protocols to ensure sensitive data security while creating a fintech software solution.
4. Communication
Whether you choose offshore or onshore outsourcing, effective communication is crucial to the success of your product development. So, choosing a partner with a clear communication strategy and a proper plan of scrums, feedback, and regular updates is necessary.
5. Scalability
Quick scaling is an attribute required for all fintech software. So, choosing a development partner that can provide scalable solutions to meet future needs is essential.
6. Cost
Cost is an important consideration, especially when most software development projects are outsourced to work with experts at economical rates. But the price cannot be the only consideration when choosing an outsourcing partner. One must consider a good track record of delivering quality work as a deciding factor.
7. Company Size
Company size is a crucial aspect to consider while selecting an outsourcing company for a growing fintech project, as it may require more software developers soon. Choosing a mid-size to a large organization like Your Team in India is preferable as they can help you scale quickly to ensure no lag in services.
8. Development Methodology
Your solution must match customer needs to operate in the dynamically changing financial industry. So, one should select an outsourcing provider that works on the agile development methodology to build your project.
9. Cultural fit
Cultural fit is an underrated but essential aspect when collaborating with a third-party vendor. Working with an outsourcing company with a similar work culture can ensure successful project development.
IT Operations That a Fintech Provider Can Outsource
From development to management, there are several IT operations that Fintech providers can outsource to specialized third-party vendors. Below are some examples:
1. Software Development & Maintenance
The first and foremost task a financial institution outsources is developing a fintech product. Whether mobile wallets, trading apps, insurance apps, or starting digital banking, a trusted outsourcing partner can manage the end-to-end development and maintenance of your fintech products.
2. Cloud Infrastructure Management
To provide a quick and seamless experience, most fintech service providers use cloud computing for multiple financial processes. Fintech solution providers can outsource the management of their cloud infrastructure on a private cloud or a public cloud to a third party and create secure, scalable, and reliable systems.
3. Data management and analytics
Fintech companies can outsource their data management and analytics to big-data experts who can provide helpful insights to make better product and business decisions.
4. Cybersecurity
As financial service providers, fintech companies handle large amounts of financial data, sensitive data susceptible to cyber attacks. They need 24/7 monitoring of their infrastructure. An outsourcing partner experienced in managing IT security can help secure all endpoints, like desktops, laptops, mobile devices, and the entire IT architecture, from malicious activity.
5. Infrastructure management
IT infrastructure includes hardware, software, networks, and security. A fintech company can outsource the maintenance of its IT infrastructure so that it can focus on improving its core services.
Simply put, fintech providers can outsource the development of Payment gateways, POS software, e-wallet apps, e-commerce payment methods, and payment security PCI DSS.
Fintech Software Development Outsourcing Best Practices
Like any software development project, one must follow best practices to ensure the successful development of a fintech project. Here is the list: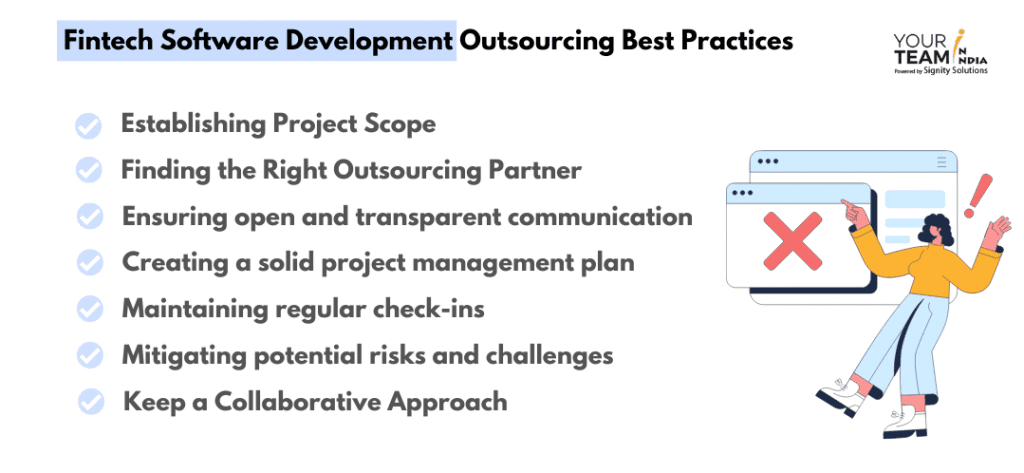 1. Establishing Project Scope
Before you even start to look for a fintech software development company, establishing clear expectations and goals is a must. The project scope includes defining features and functionality, regulatory compliance requirement, resources & technology requirements, delivery time, and project budget.
2. Finding the Right Outsourcing Partner
Your solution's success depends on your outsourcing partner's ability. So you'll need to find a company that fits your project requirement. Choose a partner with a proven track record of delivering high-quality fintech software development services. Check their portfolio, references, and customer reviews to evaluate their capabilities.
3. Ensuring open and transparent communication
Communication is key when working with a remote team. So, communication tools, establishing channels, and creating regular team scrums are crucial to ensure seamless team interaction and collaboration.
4. Creating a solid project management plan
Establish a clear plan that splits development into smaller milestones with delivery timelines. Create frameworks, escalation matrix, and SOPs to ensure on-time delivery of work. Deploy tools like Jira, Asana, or Trello to track the progress and seamlessly communicate with your outsourcing partner.
5. Maintaining regular check-ins and progress updates
Carry out regular testing to ensure the software meets your standards and requirements. Create regular testing cycles and review sessions to discover and fix bugs early and ensure
6. Mitigating potential risks and challenges
Failing to meet regulatory compliances can become a threat to your business. Hence, one must ensure that the outsourcing partner meets security and compliance standards at all stages of development.
7. Keep a Collaborative Approach
Foster a culture of collaboration, trust, and openness to feedback to build stronger ties. When you work with an outsourcing partner, you must acknowledge them as the expert in fintech development and treat them like one. Their suggestions on improving the product can help you build a robust solution.
By following the practices mentioned above, you, too, can create a high-performing and robust fintech app & deliver a unique experience to your users.
How To Find The Right Fintech Development Outsourcing Partner
We have already established the criticality of finding the right outsourcing partner to build a powerful fintech software solution. But who is the right partner, and how to find one?
That is precisely what we will discuss in this section- finding the right outsourcing partner for fintech software development.
1. Researching Potential Partners
This goes without saying that finding the right outsourcing company starts with research. Find the markets where the financial services industry is rising and traditional financial institutions are rapidly digitizing their operations. You can find software developers with the right expertise here.
Once you decide on the location, find development companies providing outsourcing services in the fintech industry. Shortlist the companies with the most relevant experience.
2. Evaluate Work
Review the previous work of the shortlisted companies to evaluate their experience in handling complex processes while creating solutions for the financial industry.
Explore their client base in finance and request case studies and testimonials of these clients to understand the scope of work and their delivery capabilities. This will help you narrow your list further.
3. Interviewing potential partners
Interviewing the top management and project manager can help you assess the work culture and communication skills. These are two major aspects to consider while checking the compatibility of an outsourcing partner with your organization.
Working with a remote outsourcing team that shares your work ethic and values creates a healthy, respectful, and collaborative environment, enabling smooth operations.
4. Consider Talent Pool
Enquire about the outsourcing company's different services, resources, and team size. This will help you gauge whether the company has enough resources to ramp up development or experienced experts to resolve complex development challenges in the project.
5. Evaluate Security Measures and Compliance Knowledge
Data security and regulatory compliance are critical to building a successful fintech app. Thus one must closely evaluate the security measures and safety protocols set by outsourcing companies to see their seriousness regarding data security.
Interviewing them about their knowledge of regulatory policies and compliance and assessing the previously built product can help evaluate if they fit your business correctly.
6. Evaluating proposals and agreements
Once you have decided on the final list of outsourcing companies, it's time to request a business proposal. Compare the shared proposals with your initial requirements. Evaluate their service level agreement and the project budget to see if it satisfies your needs.
Following these processes, you can find an outsourcing service provider that fits your project development.

Case Studies of Successful Fintech Software Development Outsourcing
Here are two use cases where outsourcing fintech software development has helped businesses build agile and high-performing solutions.
A. How a payment processing solution provider reduces its time-to-market by 20%
GETTRX is a US-based payment processing service provider that provides payment gateway and terminal POS solutions to thousands of American merchants. Being in the Fintech industry, GETTRX must ensure its solution is regularly upgraded to meet security and regulatory compliance.
They sought a strong and experienced development team of senior software developers who could constantly upgrade their systems and software to ensure an infallible fraud control system was always in place.
They reached out to YTII with the requirement for an offshore development team of experienced programmers to outsource their solution's complete enhancement and maintenance. After understanding the requirements, a team of software developers with 6+ years of experience was deployed on the project.
The team created process automation at various stages of testing to eliminate human errors. It helped in reducing 99% of man-hours in QA. A process that took days to complete now was being done within hours.
They also helped enhance product performance by reducing the fraud detection time from seconds to milliseconds, creating a seamless and delay-free payment processing experience for the users.
Read More: Case study of a payment processing solution provider
B. How plena data eliminate repetitive ERP tasks and accounts reconciliation work
Plena Data is a fintech automation company in the USA helping businesses create custom-built RPA (robotic process automation) solutions for their accounting department.
They create customized RPA workflows that eliminate repetitive ERP tasks and accounts reconciliation work of accounting teams, empowering them to focus on ROI-driven tasks.
They have created solutions for automating accounts payable, accounts receivable, and reconciliation functions on Quickbooks, NetSuite, Yardi, Microsoft Great Plains, and many other ERPs.
They contacted YTII to hire a team of experienced RPA developers for RPA software development for their customers. They sought a team of experienced RPA developers who could help them ramp up their solution development to meet the increasing market demands.
YTII assisted Plena Data in selecting two tech architects with 8+ years of experience to scale their operations. This team of highly skilled developers delivered 12+ robust RPA bots within 6 months.
Besides delivering solutions quickly, they also managed and assisted fellow developers hired by clients on the project. The team integrated best development practices and delivered high-quality, error-free codes to ensure customer data was never at risk.
Read More: Case Study of Customized RPA Solutions for Plena Data
How Much Does it Cost to Outsource Fintech Software Development?
The cost to outsource fintech software development can range between $30,000 to $300,000 depending upon the location of your outsourcing partners and the project's complexity.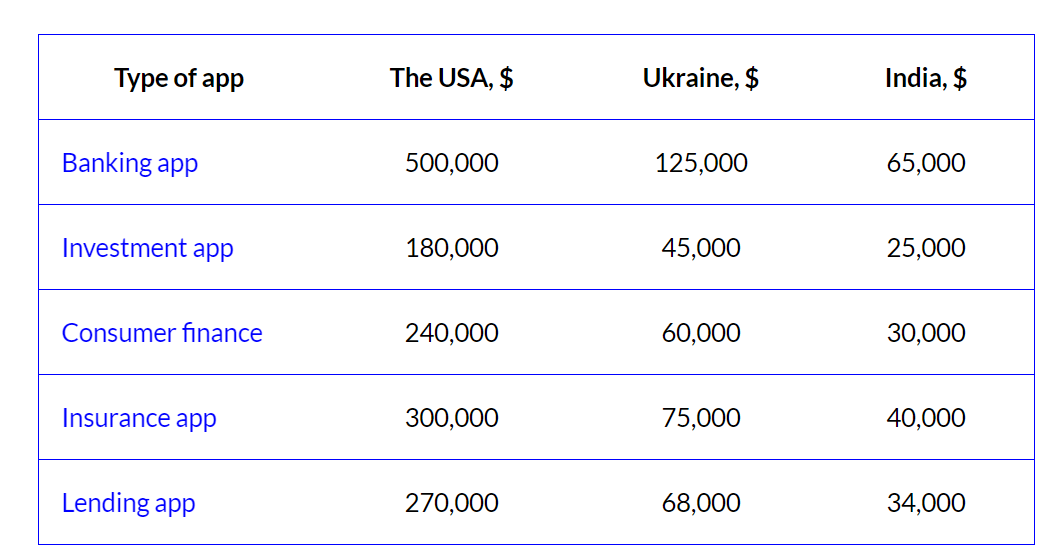 Outsourcing to a development team in India or Eastern Europe is less expensive than outsourcing to a team in North America or Western Europe due to the lower cost of living.
The hourly rates for fintech software development outsourcing can range from around $30-$150 per hour, with an average of around $75 per hour.
The right way to get an accurate estimation is to request business proposals from different outsourcing firms operating in a country and evaluate them to find the best fit for your project.
How Your team in India can help you in fintech outsourcing?
Your team in India can help you with the end-to-end development and maintenance of your fintech product. Our fintech experts are well-versed with the regulatory compliance requirements of fintech apps and have experience in delivering complex projects quickly and accurately, helping you reduce a product's time to market.
By hiring YTII as your offshore outsourcing partner for developing your fintech solution, you will get
Extensive NDAs to ensure complete data protection

Experienced developers with knowledge of regulatory policies and compliance

A large pool of talented developers to scale quickly

Flexible hiring models to meet your project needs

Project manager to ensure seamless communication

Enterprise-grade security

Zero infrastructure cost
Whether you are a financial services provider like the banking industry wanting to digitize their offerings or a startup looking to build a new fintech software solution, YTII can help create robust and scalable solutions.
In today's tech-savvy world, customers seek convenience in all aspects of their daily life. Besides offering comfort to carry out financial transactions with ease, Fintech solutions are helping create financial inclusion by removing the constraints of traditional financial services.
Outsourcing is a great way to build robust and high-performing fintech software, provided you do your homework in finding the right outsourcing partner for your business.

Frequently Asked Questions (FAQs)
What are the benefits of fintech software development outsourcing?
Benefits of fintech software development outsourcing include access to specialized skills, cost savings, faster time-to-market, and the ability to focus on core business activities.
Will fintech software development outsourcing remain popular in 2023?
The popularity of fintech software development outsourcing in 2023 will depend on a variety of factors, such as economic conditions, regulatory changes, and technological advancements. While it's difficult to predict the future with certainty, businesses that prioritize efficiency, cost-effectiveness, and access to specialized skills are likely to continue seeking outsourcing solutions.
What are the current trends in FinTech development outsourcing?
Current trends in fintech development outsourcing include a focus on security and compliance, increased adoption of cloud-based solutions, and the use of agile methodologies to accelerate development and improve collaboration between teams.
Why do fintech companies outsource software development?
Outsourcing fintech software development to experienced companies can speed up the development process, ensure market compliance, and improve competitiveness. Building an in-house team may not be viable, making outsourcing a necessary strategy for efficient fintech solutions.
Who needs fintech software development outsourcing?
Fintech software development outsourcing can benefit both startups and established financial companies seeking to stay compliant and competitive in a rapidly changing industry. Working with a fintech software development partner can offer a competitive edge in scaling and keeping up with industry changes.