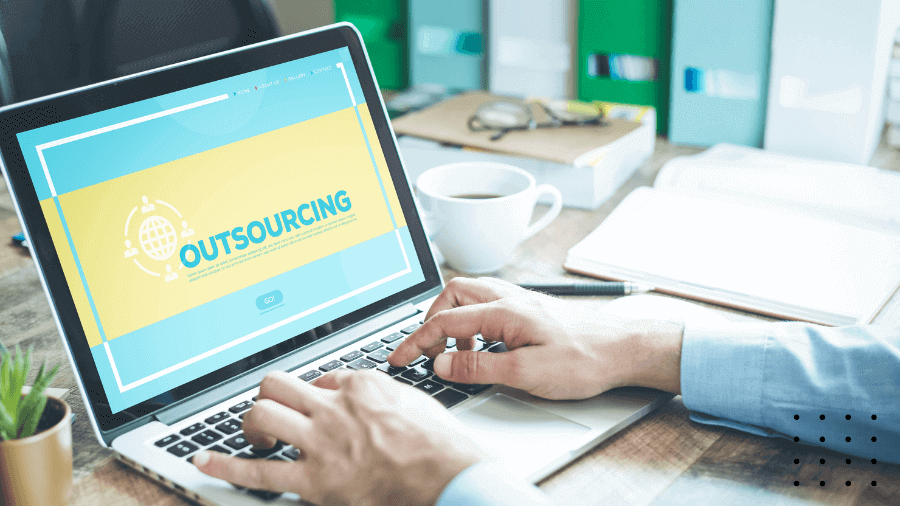 Quick Summary: As we look ahead to 2023, the world of IT outsourcing is set to undergo significant changes and transformations. In this article, we'll take a closer look at the top IT outsourcing trends that are expected to shape the industry in 2023 and beyond. Whether you're a business owner, a technology professional, or an outsourcing provider, these insights will give you the knowledge you need to stay competitive in the years ahead.
The IT outsourcing industry has seen an upward trajectory since its inception in the 1980s. More so in the recent past, when the global shutdown forced businesses to seek more viable ways to speed up digital transformation while optimizing operational costs.
Although most nations have recovered from the pandemic and businesses have started operating from offices, the IT outsourcing industry will continue to grow. Therefore, to make things clear, let's explore a variety of IT outsourcing trends, facts & statistics that you should know.
5 Latest Trends in IT Outsourcing
Increased adoption of cloud-based services
The growing importance of cybersecurity
Rise of automation and AI
Increased focus on data privacy and compliance
Greater use of collaborative technologies
IT Outsourcing Trends that Will Rule in 2023 and Beyond
1. Global Outsourcing Industry
According to a recent report by Grand View Research, The global outsourcing market was valued at USD 245.9 billion in 2021 and is projected to expand at a compound annual growth rate (CAGR) of 9.1% from 2022 to 2030.
Application development is the most frequent outsourced service & 37% of organizations plan to increase the amount of work they outsource.
When it comes to value, approximately 84.2% of outsourcing deals were from the United States. The United Kingdom holds second place with 5.2 % outsourcing deals.
Related Read: Top 10 IT Outsourcing Companies In India 2023
2. 65% of Businesses will Likely Continue with the Same Outsourcing Partners [Outsourcing Insight]
According to the Deloitte 2016 Global Outsourcing Survey, 78% of business owners across the globe are satisfied with their outsourcing partner.
According to Outsourcing Insight, 65% of businesses will likely continue with the same outsourcing partners.
North & South America constitutes 42% of the outsourcing buyer region. Europe, the Middle East, and Africa constitute 35%. The remaining 23% comes from Oceania & Asia!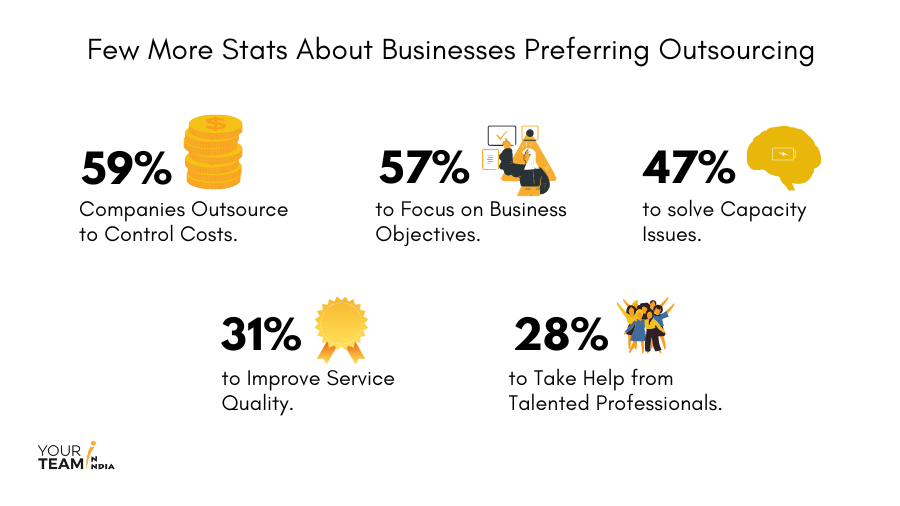 3. Why are Businesses Opting for IT Outsourcing Services?
Tech-Talent Crunch
Today the world is facing a major tech-talent shortage. A report by Gartner cited talent crunch as the most prominent challenge in adopting 64% of emerging technologies. A study shows that the job-to-resource ratio in the US IT industry is 5:1, i.e., 5 jobs for every 1 software developer.
Besides an increasing gap in demand and supply of technology experts in the western nation, the occurrence of the
"

Great Resignation

"
has compelled businesses to rethink their hiring strategies.
With the increasing challenges in finding tech experts for their projects and software developers constantly switching between jobs, businesses are turning to IT outsourcing in countries like India to fill the resource supply gap they are facing.
Quick Digital Transformation
The recent past has shown us the importance of technology in surviving critical times. This is especially true for businesses that lacked the infrastructure to support remote operations in global lockdown and faced a major loss of efficiency and productivity due to the same.
To avoid such a scenario in the future, companies today are actively seeking solutions to upgrade their technologies and fast-track their digital transformation.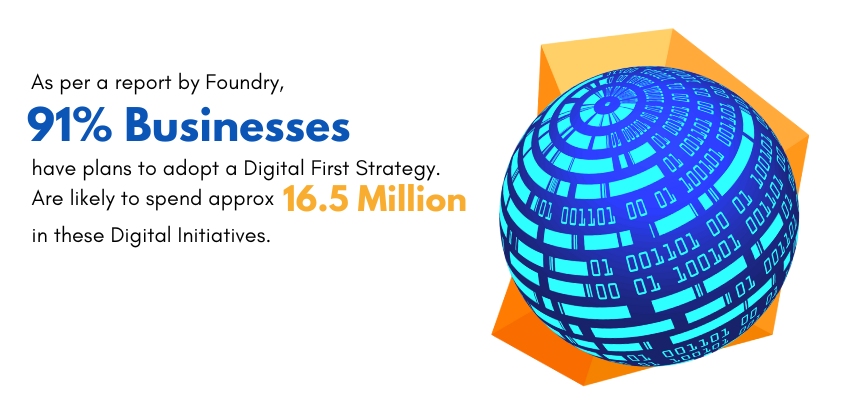 Companies aim to enhance employee efficiency, business resilience, and operational agility to meet rapidly changing customer expectations and business needs.
ITO has emerged as the most practical solution to decrease the technology adoption time. With outsourcing, businesses can hire programmers and developers to work on technology upgrades while their in-house teams can focus on managing their ongoing business and core competencies.
Money Still Matters
The Deloitte Global Outsourcing Survey shows that cost reduction remains the top priority of 70% of businesses choosing IT outsourcing. Followed by flexibility(40%), speed-to-market(20%), access to tools and processes(15%) and agility (50%).
Seeing the benefits of outsourcing, a new service delivery model called Global Business Service(GBS) has evolved by combining shared service centers (SSCs) and outsourcing.
Deloitte's Global Shared Services and Outsourcing Survey Report 2021 shows the increasing preference for outsourcing across industries and functions.
4. Technology Trends in 2023
There's something for everyone here, from AI to robotics and everything in between. So, without further ado, let's look at the ten most exciting tech advancements that will rule the business world by 2023.
Automation will Take Center Stage
The increasing talent gap, resource crunch, and employees' 'Great Expectations' has made enterprises revisit their IT strategies. Though automation was critical in the pre-covid era, too, the pandemic has hit the acceleration of adopting automation tools.
Whether it's sales, marketing, or other processes, today, businesses across industries invest in automation to achieve faster results, higher productivity, improved employee engagement, and enhanced customer experience.
AI (Artificial Intelligence), ML (Machine Learning), and Robotics Process Automation will be the key technologies in delivering transformative automation and are already creating great waves in the business world.
Here is HOW:
Studies have shown that sale automation increases productivity by 14.5% and helps bring down marketing costs by 12.2%.

Sales automation increases lead closure by 30% and a 200% increase in closure

67% of marketing leaders use automation in some form, 74% of marketers agree automation helps improve turnaround time(TAT), and 91% feel automation is vital for successful marketing.

A

survey by Forrester

predicts that spending on marketing automation will reach $25 billion by 2023.

Whether it is voice-assisted Alexa, content recommendation on Netflix and Spotify, or google map navigation suggesting the best route for travel, every individual is using AI and ML in their daily lives.
The impact of AI and ML technologies will be even more extensive for businesses as it opens up new opportunities. Businesses are hiring developers and programmers to build AI and ML-based applications that can quickly capture and analyze big data to study changing IT outsourcing trends, customize products to meet new needs, and enhance customer services.
The global AI market is to reach $267 billion by 2027 and $15 trillion by 2030.

The Global AI market for wearable devices is predicted to reach $180 billion by 2025.

Approx 8 billion voice assistants will be in use by 2023.

The global machine learning (ML)

market is to grow to $209.91 billion by 2029, at a CAGR of 38.8% in the forecast period of 2022-2029.
Robotic Process Automation (RPA) is the latest rage in automation solutions. When teamed with your in-house employees, these digital workers have been shown to streamline operations, reduce TAT, eliminate human errors, and enhance process compliance.
These bots take over mundane and repetitive tasks, freeing your employees to focus more on functions that require analytical and cognitive skills.
Seeing these benefits of the technology, companies across the globe are integrating these automation solutions into their
business processes by hiring RPA developers
. Owning to the fast adoption of RPA technology, its global market is forecast to grow to more than 13 billion U.S. dollars by 2030.
Hybrid Work is Here to STAY
Recent surveys by Microsoft show that:
70% of employees want a hybrid work model

that allows them the flexibility to operate remotely.

46% of employees are considering job switches due to a lack of remote working options.

66% of businesses plan to redesign their office space to accommodate a hybrid work environment and enable seamless interaction between in-house and remote teams.

53% are prioritizing their health and well-being over work. 47% prioritize family time and personal life over work.

58% of Gen Z employees

are considering moving to hybrid work, and 56% plan to move to remote work in the coming year.

For Gen Z employees, flexibility, mobility, and entrepreneurial freedom are non-negotiable.
The stats clearly show the shift in the mindset of employees, and companies need to change their business models and working styles to retain talent in their organizations.
Related Read: In-House vs Outsourcing: Pros, Cons and Use Cases
Businesses Seek Faster Integration of Cloud Computing
With employees opting to work remotely, companies need quick solutions to support the shift in the working environment. Cloud computing and virtual screens have become the need of the hour for businesses.
Companies are actively hiring IT outsourcing partners to speed up the cloud migration of their current operations and investing heavily in cloud applications and software development and maintenance.
Cloud spending is expected to grow by 22.1% in 2022, whereas spending on data center systems is forecasted to expand by 11.1%.

Cloud consulting, implementation, and management services are expected to reach $225 billion in 2022, a growth of 17.2% over last year.

The Pay-as-you-go business model will be popular for its ability to provide flexible, cost-efficient, asset-free, and on-demand services.

Statista report shows that Canada's spending on public cloud computing will reach 10.3 billion Canadian dollars by 2023.
Companies plan to outsource their cloud computing and migration to optimize cost and speed up deployment.
Recommended Read: IT Hiring Trends 2023: Most In-Demand Skills
Data Security is Still a Major Concern
In a digitally connected world, data security has become a major challenge and a hindrance in technology adoption amongst businesses.
The threats of data breaches, cyber-attacks, and malware are increasing daily. There is an increasing demand for cyber security solutions and services in the IT outsourcing market to counter these threats.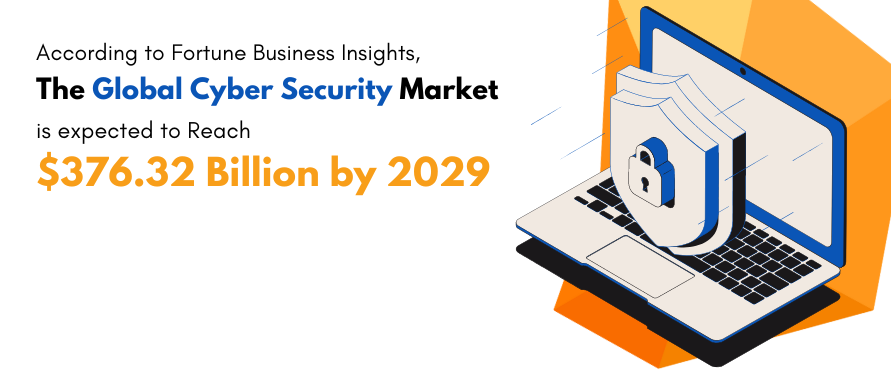 Blockchain is another technology that will see a high demand for its ability to trace all transactions. The global blockchain market is to reach USD 39.7 billion by 2025.
How to get IT Outsourcing Right in 2023?
Whether a start-up, SMB, or enterprise, every business is looking to build a digital-first company to meet the evolving market demands. IT outsourcing(ITO) has become a go-to solution for companies to speed up digitization, and India has emerged as one of the top destinations for ITO.
Being a mature global ITO destination, India offers a large and talented pool of programmers across emerging technologies. Indian developers are both efficient and economical.
But hiring programmers from India for your IT project is not enough. Choosing a reliable offshoring partner is as critical to ensuring success. An experienced partner can assist you in navigating the challenges faced while hiring offshore developers.
An established offshore development company like Your Team in India can help you fast-track your development by quickly finding and deploying offshore developers on your project.

Frequently Asked Questions (FAQs)
What is the future of technology outsourcing?
The future of technology outsourcing is likely to be shaped by emerging technologies like AI, blockchain, and cloud computing, as well as evolving business models and changing geopolitical landscapes.
Is the IT outsourcing industry growing?
Yes, the IT outsourcing industry is growing, driven by factors such as increasing demand for specialized skills, cost savings, and global economic trends.
What should I consider while choosing an IT outsourcing company?
When choosing an IT outsourcing company, some important factors to consider include their expertise and experience, their reputation, their approach to communication and collaboration, and their ability to meet your specific business needs and goals.
Is IT outsourcing right for my business?
IT outsourcing can be a good fit for many businesses, particularly those that want to access specialized skills or technologies, reduce costs, or improve operational efficiency. However, it's important to carefully consider the potential benefits and drawbacks, as well as your specific business needs and goals, before deciding whether outsourcing is the right choice for you.