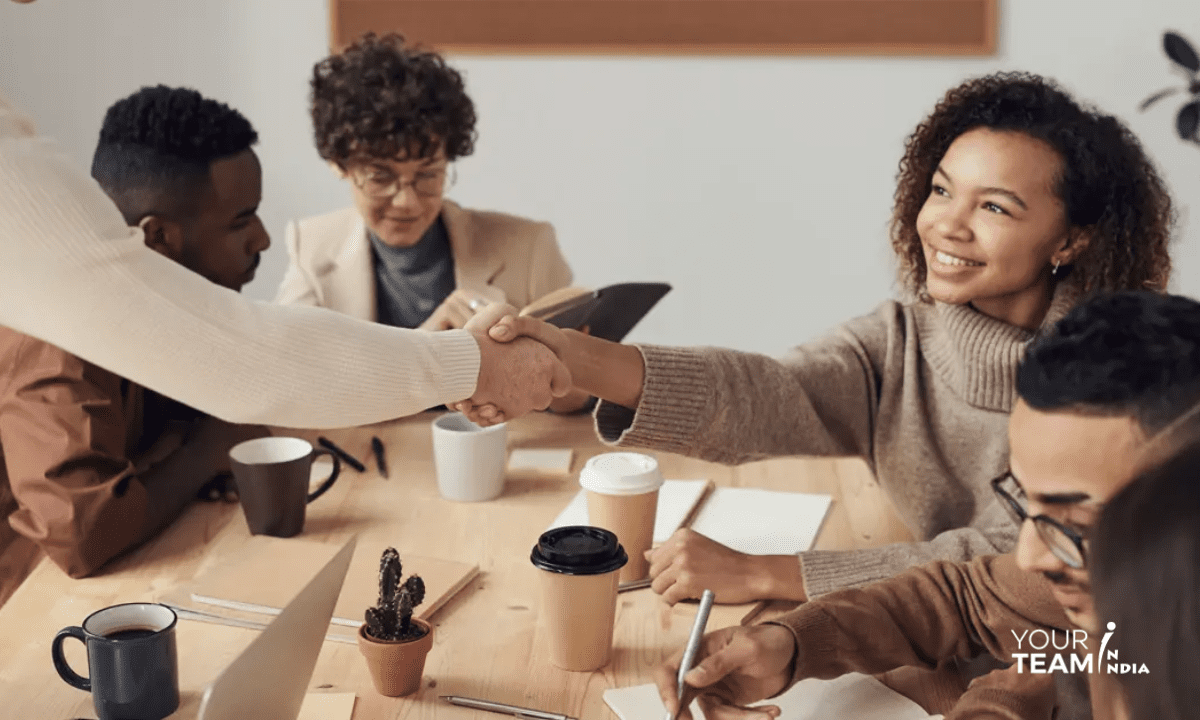 Quick Summary:Are you struggling with software developer hiring challenges in India and looking for the perfect solution? Read this article on a comprehensive guide to overcoming all obstacles that come in the way to hire skilled developers in India on a cost-effective budget today!
Introduction
India is one of the world's leading outsourcers of IT workers, contributing a 62% share in the US market.
In the realm of software development, outsourcing has become the go-to choice for many businesses seeking seamless and swift solutions in 2023. For this, India is one of the top destinations to connect with the talent pool of software developers for developing app ideas into reality.
According to Gold's study, Indian programmers outsourced developers in America on Maths and logic assessment by 11%.
Emerging as a software powerhouse of the world, India ranks among the best countries to get the best outsourcing services for various development needs. While hiring Indian developers can be a strategic move looking forward to accessing high-quality and cost-effective tech expertise, there are several challenges that businesses may face during the recruitment process.
In this article, we shall delve into the top 9 Challenges while hiring Indian developers and provide the best solutions to overcome them:
Key Takeaways
Discover the best practices to locate the best talent of software developers in India.
Implement innovative skills assessment methods and engage with offshore tech communities to find potential candidates easily.
Acknowledge the cultural difference and work on creating a bridge to fill the gap among communities for better collaboration.
Involve collaboration tools to establish the best communication channels among teams.
Consider legal compliances while offering benefits to the employees.
Cultivate an employee-based work culture, invest in employee development and provide the best opportunity to learn and grow.
Offer competitive compensation and benefits to retain skilled developers.
Top 9 Challenges for Hiring Indian Developers and Solutions
Look into the challenges to hire programmers in India and get the best solutions to locate potential software developers today!
The software market in India is projected to grow by more than 11% through 2028.

1. Technical Expertise
In today's digital age, the job market is tough. At one time, you may feel exhausted while reviewing a comprehensive list of resumes listing varying levels of experience and skills and coming up with a thought of a talent crunch or shortage. Companies with one directional approach usually face this challenge due to geographical limitations, which hinder their capability to attract the right fit for the job.
If left unchecked, this talent hunt will become one of the biggest recruitment challenges for many business industries.
The United States is estimated to have a shortage of more than 6 million tech experts, losing $162 billion in revenue.
With that, approaching the right profile of software developers in India, organizations either have to extend the period for hiring or pay the high acquisition cost.
Solution
To overcome this challenge of "How to hire top developers in India?" you should optimize the job recruitment process. Working on it can shorten the hiring cycle by 60%.

Prepare a well-written and depicted job description for the job role you are looking for. You can also use JD creation tools to list required skills, experience, roles and responsibilities.

Use keyword optimization for suitable geographical locations, experience, skills, and salary expectation ranges to help you find the right talent for the job.

You can also utilize the right talent acquisition strategies to find the best fit for the required role.

Use ATS (Applicant Tracking System) to get the best portfolios to hire Indian developers at the required budget and time.
2. Evaluating the Right Talent For the Job
How do you know if this candidate fits your software development role? It is the major challenge that businesses face during the hiring process.
According to the hiring survey, 9/10 recruiters will agree that recruiting the right talent for the listed job is challenging.
Hiring managers or recruiters, on average, spend more than 20 hours a week sifting and screening many resumes to hire Indian developers. More than 69% of companies face challenges to hire dedicated development teams while planning outsourcing work processes.
Solution:
A detailed JD outlining the required skills, like specific experience and practical knowledge of programming language, is important to define the job requirement.

Assess candidates based on solutions they provided to your coding quiz round and practical tests to evaluate their efficiency in the relevant technologies and problem-solving skills.

Look for candidates who have worked on similar projects or have experience in the required domain.

Consider open source contributions for the coding freaks who want to contribute their efforts for community involvement.

Start trial periods to acknowledge their abilities to become active software development team members.

Conduct reference checks to understand candidates' reliability, performance and work ethics.
3. Screening & Vetting Qualified Pool of Talent for Hiring
Vetting as a part of cross-checking and verifying the details can be challenging. Involving ground operators and local sourcing to ensure the details are up to the mark further exacerbates the hiring issues.
According to 33.1% of recruiters, finding the right fit in a remote environment is a struggle.
Working on the verification process, like background checks, legal considerations, and budget constraints, impact the evaluation time. Optimized workflows and responsive processes- all create a hassle to hire the best talent in the competitive global world.
Solution:
The vetting process to hire Indian programmers acts like a filter to figure out unsuitable candidates and further increases the efficiency of the recruitment process. You should have complete knowledge and smart techniques to ensure the work experience of candidates and the liability to work on the proposed roles.

Collaborate with reputable talent acquisition companies who can provide pre-vetted candidates and streamline the screening process.

Opt for practical coding exercises and skills-based tests to evaluate candidates' problem-solving and hands-on abilities.

Check out social media platforms and online professional networks like LinkedIn to connect with potential candidates with relevant work experience and skills.
4. Long Hiring Cycle
Recruiters, when looking for a mobile app developer for hire in India, may face a long hiring cycle due to messing up with the demand-supply gap of qualified candidates. Working on filling the job opening to prevent financial and operational setbacks linked to recruitment vacancies, hiring managers find it challenging to locate and secure suitable candidates for a long time. It's not like they may get the best candidates within a week; sometimes, it takes longer to shortlist and interview them than expected.
Recruiters or hiring managers, on average, spend more than 60% of their weekly hours screening and selecting the right profile for the job.
In the race to keep the potential candidates engaged, recruiters may come up with the answer that the other company has selected them.
Solution:
Avoid all the circumstances that cause a delay in the hiring process.

Bring out the best ways for a flawed recruitment process.

Consider the hiring stage and cross-check whether you have included all steps and qualified rounds for talent to complete the skill test.

Verify your JD more than once to ensure you have shared all requirements of the software development hunt in India.

Prepare a well-crafted talent-screening structure. The more refined your hiring algorithm is, the closer you get to locking the candidate as the final one.

Ask for comfortable working hours as this transparency will make you clear about the productiveness of the candidate.

Conclude the screening round by covering all critical aspects you should consider while hiring the best candidate.
Recommended Read: What is Offshore Software Development: In-Depth Guide
5. Building Employee Value Proposition
Brand perception is directly linked to job posting efficacy. Organizations with a minimum digital presence, or lack of information about their work culture, poor reviews and improper information, usually do not come in the consideration criteria of candidates who want to know about the company's values and care about employees. In technical terms, it is called creating EVP (Employee Value Proposition).
Companies face a 50% reduction in getting resumes of potential candidates due to improper information or minimum digital presence.
In digitization, the first thing employees verify about a company is its exposure to new technologies and platforms for learning and working on advanced skills. Many companies have a low digital presence. In that case, hiring candidates more interested in learning about the work culture or environment becomes difficult.
Solution:
Create an Employee branding strategy for growth, culture, compensation and benefits.

Adding basic information on portals like Ambition Box, Naukri.com, Indeed, etc., about the company's name, technical support, tentative employee count, and work environment can ease hiring software developers in India.

Engage employees and clients on different social media platforms, LinkedIn, Facebook, Twitter, Instagram and networking channels, like Clutch and HubSpot.

Working on branding and marketing strategies can reduce your hiring process to a great extent, and you will get a good response on the job posts.
6. Lack of Research
With advancements in the recruitment process, organizations have widely accepted the criteria of hiring global talent from the best country rather than fixing it in one location. For this, recruiters may come up with challenges in the recruitment process and ways to find potential software development candidates.
With the lack of research on how the hiring process works at offshore locations and sticking to the traditional recruitment process, they may end up not getting the talent pool of applicants, which also results in wasting time and money. For many global companies, it has become one of the biggest challenges in the offshore recruitment process.
Solution:
Study the recruitment process followed in India and acknowledge how the hiring modules work here to locate the best talent of software developers.

Get connected with an offshore recruiting partner who will provide great insight into software development challenges and solutions.

Opt for a flexible approach towards the hiring process.

Be specific about the skill-set requirements, candidates' career roadmap, and business decisions.
Recommended Read: What is an Offshore Development Center (ODC)?
7. Payroll or Salary
Payroll is one of the important points in the recruitment process. Many hiring decisions are listed as pending due to negotiations over the salary part.
According to the recruiting managers, "It's tough to gauge the market when it is about salary and compensation; companies may come up with losing the best candidates more than 50% of the time when they reach that funnel stage."
Hiring managers work on the listed compensation budget, leaving no room for negotiation. Software developers in India work on different pricing structures. Sometimes, you may find them working on an hourly basis. Otherwise, they also work on fixed budgets.
Solution:
Be clear about your budget and work model and prepare it well before working on the hiring process.

Research the cost structure to acknowledge the minimum and maximum salary of software developers in India based on their work experience and skills.

You can also search for the best talent on Upwork, freelancer.com and Fiverr.

You can take references from networking channels and groups.

Explore LinkedIn to search for the best talent of software developers in India.
8. Understand Regulatory Norms
While working progressively to hire a developer in India or looking for the best team for software development, you must know about regulatory tax norms and saving rules. Companies often do not keep this important point in their hiring funnel, which usually ends in a lengthy recruitment process.
Solution:
Before moving ahead to hire dedicated developer teams in India, you should come up with all vital information regarding regulatory norms.

Consider the right benefits, compensation, and benefits to ensure employment and tax regulations compliance.

Research on the business culture and local labour laws implemented by the government of India.

Follow the best practices to minimize financial and legal risks.
9. Onboarding and Employee Retaining
According to a survey, "Only 12% of the employees agree that their organizations have a good onboarding process.
47% of companies struggle with onboarding employees due to infrastructure access challenges.
The companies' smooth onboarding and employee retention rate are essential to the hiring process. Working a long way to hire dedicated developer teams in India and then struggling with employee retention is another big challenge for recruiters. Employees unsatisfied with the work culture or compromising the agreed terms and conditions usually resign from the job roles.
Solution:
Be clear about the job roles and responsibilities during the interview and onboarding process.

During the offshore hiring process, you should also work on the cultural gaps to create the best working environment for the employees.

Work on making connections within the team for the remote developers.

Involve them in different activities and engagement events to create a bridge for relating effectively with the adaptability of different cultures.
Conclusion
Nowadays, Hiring skilled developers in India is one of the best off-sourcing processes many businesses have come up with. However, getting the best talent on a fixed budget and timeline can be challenging.

Addressing these challenges while hiring Indian developers with proper recruitment planning and strategies can lead to successful outcomes when seeking to hire developers in India.
Why Choose YTII To Hire Software Developers In India?
Your Team in India is a technology innovator and one of the world's top offshore software development companies. With a core team of 100+ developers, we work to provide high-performing, scalable and unique app development solutions to global businesses.
At Your Team In India, we have checked on all the imperatives to create a global pool of developers ready to walk the extra mile to offer businesses a competitive advantage. Sooner or later, it's a trusted, fast and easy way to grow your development team.
We stand firmly on agile operations and have successfully delivered over 1000+ development projects. Partnering with YTII, you get a dedicated team of highly experienced and skilled experts who help you overcome the above-mentioned challenges in bringing your idea into operational reality and gaining a first-mover advantage over your competitors.
Get in touch with Your Team in India to overcome these common challenges when hiring software developers in India today!