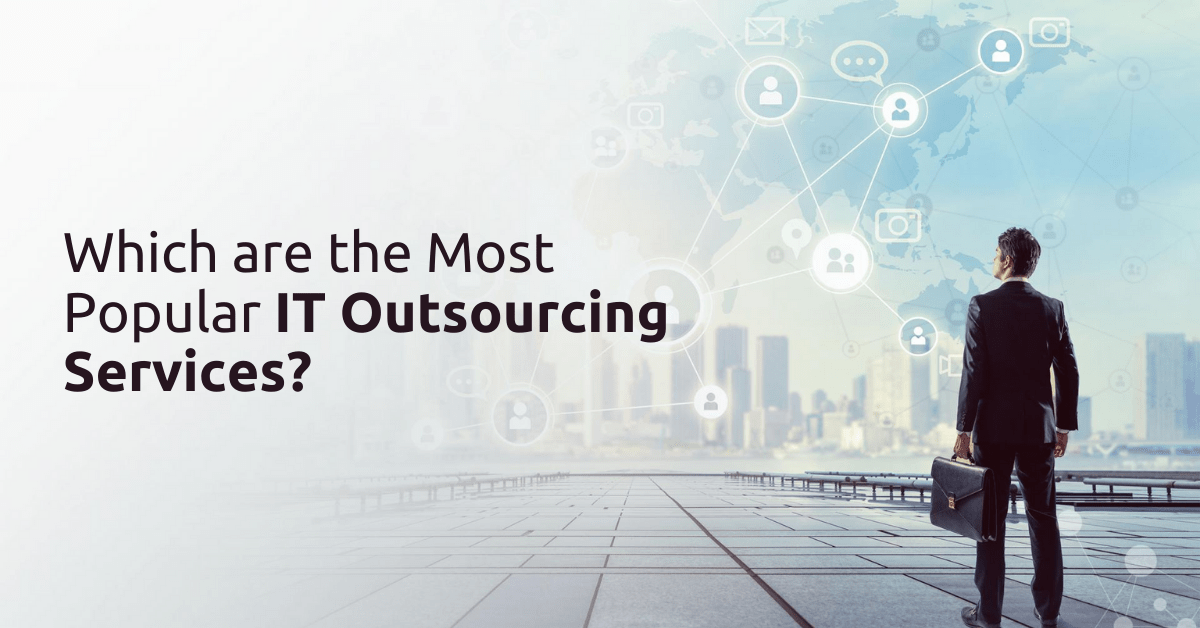 Quick Summary: IT Outsourcing is a continuously growing trend that businesses often opt for. But how has it become a growing trend, how is it benefitting the IT industry, and what IT services organizations opt for? Learn how IT Outsourcing Services has changed the IT world.
With technological advancements, Outsourcing has become crucial to the entire IT industry.
According to market research by Statista, the market revenue of IT Outsourcing services is continually increasing and expected to grow at a 9.1% annual rate. IT Outsourcing Services are estimated to reach $460.1 Billion in 2023, $245.9 Billion in 2021 & $ 261.9 in 2022.
This precedent growth is driven by organizations focusing more on business agility and work efficiency than sticking to the traditional employment structure. This all has been done with IT Outsourcing, which has ultimately helped businesses focus on other chores of the company.
Outsourcing IT services is in prominent demand due to its ever-increasing advantages like cost reduction, enhanced service quality, higher flexibility and whatnot. Looking at how IT Outsourcing and what IT Outsourcing services can be helpful? Read on to learn everything you need to know about it.
Key Takeaways
Outsourcing IT Services has changed how businesses work, providing them with access to specialized expertise, enhanced efficiency, risk mitigation, continuous support and more significant cost savings.
The most commonly outsourced services of 2023 lie within the technology and innovation, designing, marketing, and customer service sectors.
Out of all the outsourcing services, IT outsourcing holds 55% of the global outsourcing share.
The popular IT Outsourcing Services will continue to grow with the changing trends; however, the mentioned IT Outsourced services in this blog will continue to be an irreplaceable part of the entire IT sector.
What are IT Outsourcing Services?
Outsourcing is a holistic process of shaping a business's future with external service providers' help to efficiently deliver software service offerings, create robust design apps, manage IT infrastructure, strategize development and other IT-enabled services.
Most Popular IT Outsourcing Services
A few of the most commonly outsourced services include:
1. Custom Software Development
Are you spending time on Google to find the best solution to create custom software development for you?
Most software project development fails because of inadequate resources, software licenses, bounded expertise, etc. And this is all due to not getting hold of the appropriate resources.
On the contrary, how about hiring an expert, paying for that allotted task, and you will get the desired results with no full-time employment, fixed payments and round-the-clock jobs?
That is what Outsourcing Custom Software Development Solutions helps businesses with!
The custom software development trend has tremendously increased, and indeed, it has been beneficial in achieving their company goals by providing a larger scale without any interruptions.
Since off-the-shelf software cannot provide personalization, companies require custom software development outsourcing to enable businesses to find a tailored solution quickly. So whether it is like a company cannot afford to hire software developers or cannot find the best fit, Outsourcing custom development facilitates business growth.
Companies seek IT Outsourcing services to ensure customer centricity, achieve their client's goals and connect with talents well-versed in the new age of technical innovations.
Outsourcing custom software development brings several benefits that are hard to access otherwise. This includes:
Readily available expert IT teams

Extends your technical talents reach

Let you focus on other value-added tasks

Targets new economies

Increases Dexterity

Trims down the skill gap

Enhances the quality

Lower overhead
Recommended Read: Reasons Why IT Outsourcing in India is the Best Decision
2. Infrastructure Support
The outsourced infrastructure services optimize and manage IT infrastructure to deliver true business value by:
The virtualization set-up, automation and resource pooling lead to efficiency gains. Therefore, the requirement changes to smaller IT investments and lesser IT infrastructure maintenance and management burden.
Most companies have witnessed 25% lower operational costs than maintaining and managing a complete physical IT environment.
Reducing capital expenditure
With IT Outsourcing, companies get hold of an agile and flexible infrastructure that develops and shrinks on demand, diminishing the opportunity cost of significant upfront investments in tech-based installations.
Around 50% to 60% of clients saved on average capital expenditure.
Integrating quality services
Integrating service delivery's all aspects across a multi-sourced or a single-sourced IT service indicated higher service levels and enhanced quality. Therefore, higher quality is maintained as the clients get access to all the information required to make informed decisions.
Embedding environmental considerations
Having a virtual setup provides reduced carbon infrastructure services that facilitate businesses to:
Create a greener work environment

Lower power & cooling costs

Diminish e-waste
Enhancing productivity and user satisfaction
By working with the best-of-breed tech partners, delivering high-quality IT services is easily accessible. And this ultimately brings enhanced end-user satisfaction.
The supporting party providing infrastructure support services ensures a company's infrastructure is smoothly running and continuously updated around the clock.
Recommended Read: The All-In-One Guide to Software Development Outsourcing
3. Staff Augmentation
Most businesses often fret about how their organization can stave off the fluctuations due to economic unrest. Companies usually try to find a way to control the sudden or unplanned and even planned changes to their business.
Indeed, the staffing of businesses is highly complicated as the companies have to think about getting the right people with the desired skills. Thus, outsourcing IT services from a skilled and experienced professional is like expanding the in-house teams to get desired outcomes.
Staff augmentation can:
Eliminate the constant burden

Introduces new skills to the business

Enables business management to better plan and innovate across the goal attainment

Keep better management

This leads to lower IT Costs

Employees can be increased or decreased as required

Tasks completed to a higher standard
4. Mobile App Development
Working with a complete in-house app development team is perfect as you get instant access to the entire project's status, quickly deliver feedback, and even know the developers personally. But simultaneously, it is more time-consuming, costly and challenging. Does that mean you need to adjust to it like this only?
Companies often seek highly skilled software engineers. The IT sector has a greater competitive edge with enhanced demand and cost of everything. Therefore, companies prefer to outsource to remain competitive in the digital world and often seek help from third-party partners rather than getting in-house teams.
An outsourcing mobile app development service allows businesses to:
Reduce their development costs

Accelerate the time to market

Greater flexibility

Take advantage of external expertise

And a higher-end user satisfaction
5. Digital Marketing
Reaching and targeting the desired audience has drastically changed over the years. From complete door-to-door marketing to getting every aspect done from the comfort of your home, marketing has come a long way and continues to grow.
However, the traditional trend of keeping an in-house team has continued to change in recent times.
When it comes to the business's digital marketing, it includes everything from social media marketing to website SEO, PPC or any other activities. However, getting hold of a dedicated expert for all the activities is like finding a diamond in all the stones.
Outsourcing digital marketing services from reliable platforms has been an excellent game changer that brings the best suitable candidates to businesses that are hard to find otherwise. After all, it will be your brand's real voice.
And other than just getting the best fit for the business, it also brings
Cost reductions

24 X7 Operations

Allows growth

Provides access to the latest industry updates

Optimizes the platforms based on the latest trends in the market globally.
6. Quality Assurance and Testing
Every organization wants to have a hold of
Early defects detection

Defects Prevention

And higher user satisfaction
However, very limited organizations are able to do so. This is all due to insufficient resources to handle it all and provide excellent quality assurance and testing for a better outcome of the product offering. And certainly, not getting this could be troublesome for many.
Even if one finds a good fit for checking the quality assurance and testing, there remains a chance that they might be testing the software with a common mindset; however, when it is done by an experienced person who is not even part of the software designing can provide more honest feedback. Therefore, to achieve such outcomes of the continuous testing phase, the companies must hire a high-end expert employee to handle it all smoothly. But again, that is hard to find and very expensive too.
Well, it's time to say goodbye to all the troubles related to getting access to quality assurance and testing services. Outsourcing testing and quality assurance services have taken the driving hold for many companies, including large-scale, small scale and even startups.
Partnering with third-party professional firms facilitates and accelerates the overall software development process enhancing efficiency and effectiveness while maintaining objectivity.
Outsourcing quality assurance and testing services brings ample benefits; however, a few of them includes:
Greater skills and expertise

Cost-effectiveness

Easy scalability and higher flexibility

Efficient objective assessment

Lower acquisition costs

Better focus and quick results

Code confidentiality

Resources flexibility
Why do companies outsource?
There are ample reasons that simply justify the companies outsourcing to address their IT requirements regardless of the type and models. Companies often find ways to get a more profound and satisfactory outcome from their business.
However, choosing the right outsourcing services can bring the following, which is why companies are often concerned more about comparing in-house vs. Outsourcing. Here are a few reasons why companies choose to outsource:
Innovation in digital processes requires a quick response to ever-fluctuating demands. In this regard, meeting the changes to deliver the best and add value to the offerings is essential. However, getting a completely dedicated team to address everything well is complicated.
Choosing an outsourcing company can help quickly handle the ever-changing demands and the project requirements to bring the best outcomes in order to keep the companies at an edge.
This certainly shortens the time to market and provides a quick address to the products or services.
What could be better than getting access to the topmost talents from the comfort of your couch without much hassle?
Well, any digital transformation demands different expertise within the specific niche and outsourcing the right IT, people can help tackle a diverse project range without even investing much in manual time, effort and money too.
It helps companies to access the right skill sets and talent at the right time.
Experts can add value to the projects and help them run smoothly to get the desired outcomes within the time-sensitive projects. Reputable companies are more concerned about delivering high-quality outcomes to tasks within a strict time frame, and IT services outsourcing helps attain that.
Since the top IT-related projects owe the majority of risks, outsourcing the IT services can drastically reduce the chances of getting risks as it offers the flexibility to easily adapt to the ever-changing demands while delivering a high-quality outcome.
While getting hold of the topmost talents and then retaining those talents is like another level battle. Outsourcing IT Services from top talents can relieve the burden of doing everything on your own. This means with accessing the outsourced services; the higher authorities can take care of the other chores of a business and focus on other essential activities.
Cost is often the first consideration during software development. Hiring software developers with years of experience from another country (with a lower living cost) is budget-friendly.
For instance, the average hourly rate of an Indian developer is one-fifth of the developers in Australia and one-third of the developers in the USA.
That's why most companies hire developers from India to set up their offshore development center.

DO YOU KNOW?
Around 60% of companies outsourced some software development in 2023; out of that 60%, 70% of respondents cited Cost Reductions in their overall company growth.
And the statistics don't end here. The reports are a little vast, and you'd be astonished to see the numbers in the below graph.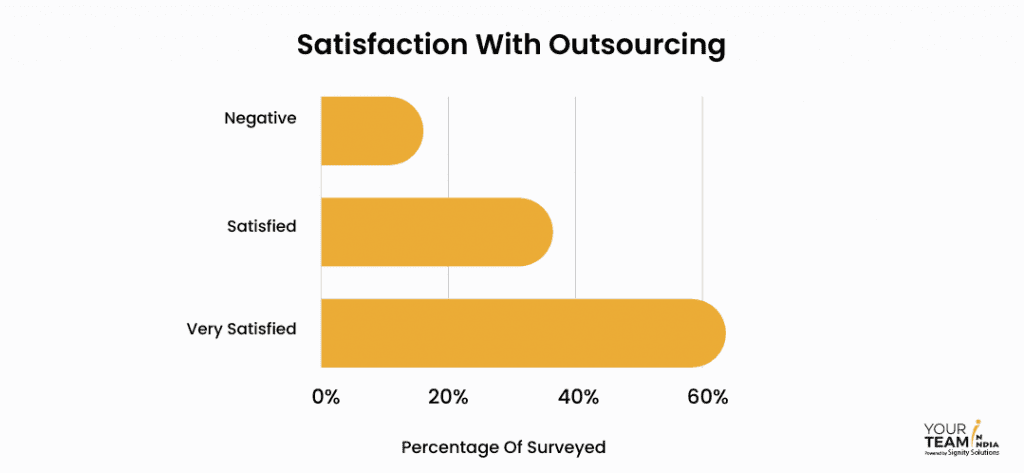 The table above illustrates the percentage of organizations that have rated their decision to outsource services, and surprisingly, it came out to be majorly positive. Around 80% of the organizations have reported positive satisfaction with Outsourcing.
And the reasons for their positive feedback were the benefits adhered from it. Below are the benefits parameters that were attained from Outsourcing.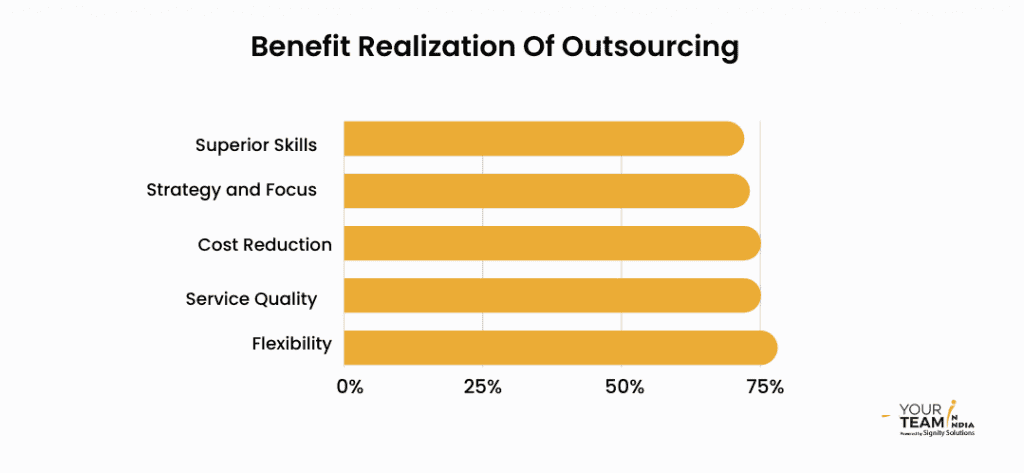 Along with this, companies are continually rating Outsourcing with freeing management time parameters, too, as they are finding more time to focus on the other chores of their businesses.
When your project gets completed, your association with the offshore developers doesn't end there. In the long run, your dedicated development team will provide you with the required support & maintenance. Whether it is releasing a new version of the app, adding a few features, or building an entirely new product.
Now, it's time to get down to the brass tacks!
Quick and Easy Administration
All the paperwork, internal hires, HR procedures, performance reviews, and even healthcare benefits are imperative for long-term employees. However, with Outsourcing, expenses for all these administrative tasks get eradicated.
Simply pick your talent, include them in your workflow, and get your work execution done smoothly. As simple as it sounds!
When to outsource IT Services?
Whenever a company feels like increasing its productivity with a reduced implementation cost is the right time. Still, various signs indicate why companies must outsource IT services for at least a few IT functionalities. A few of them may include:
Technology is constantly evolving and demands a change in skills as well.
Is your IT team lagging due to digitally paced advancements?
If yes, then certainly, the overall business performance will be affected. However, Outsourcing can be a need of the hour in this case as it can provide access to highly skilled professionals with their hands-on expertise on the latest technologies.
Having an IT department in-house and implementing complete IT infrastructure, especially with software and hardware, can be expensive. However, if this is too much spending on IT infrastructure is your case, then Outsourcing IT services can be a solution for you!
It is affecting your other business chores
If investing too much time and resources is affecting the other chores of your business and impacting your focus towards achieving the desired goal, you need to go for Outsourcing to streamline it all.
Bottom Line!
Many organizations consistently recognize IT Outsourcing Services as an excellent tool to access skilful talents at lower operating costs. However, with digital technological advancements, large and medium enterprises and even startups have moved towards outsourcing professionals to pursue their goals. However, finding the right set of skilled people or the right IT Outsourcing partner is complicated.
And that is where Your Team in India comes into the picture. But why Your Team In India?
Your Team In India is a complete one-stop platform that has delivered IT Outsourcing Services with satisfaction to thousands of clients and is still counting. With a complete client-driven approach and comprehensive client requirements examination, Your Team In India has pioneered in delivering distinguished IT Outsourcing services across the globe.
Are you planning to opt for IT Outsourcing services? Share your requirements with us.