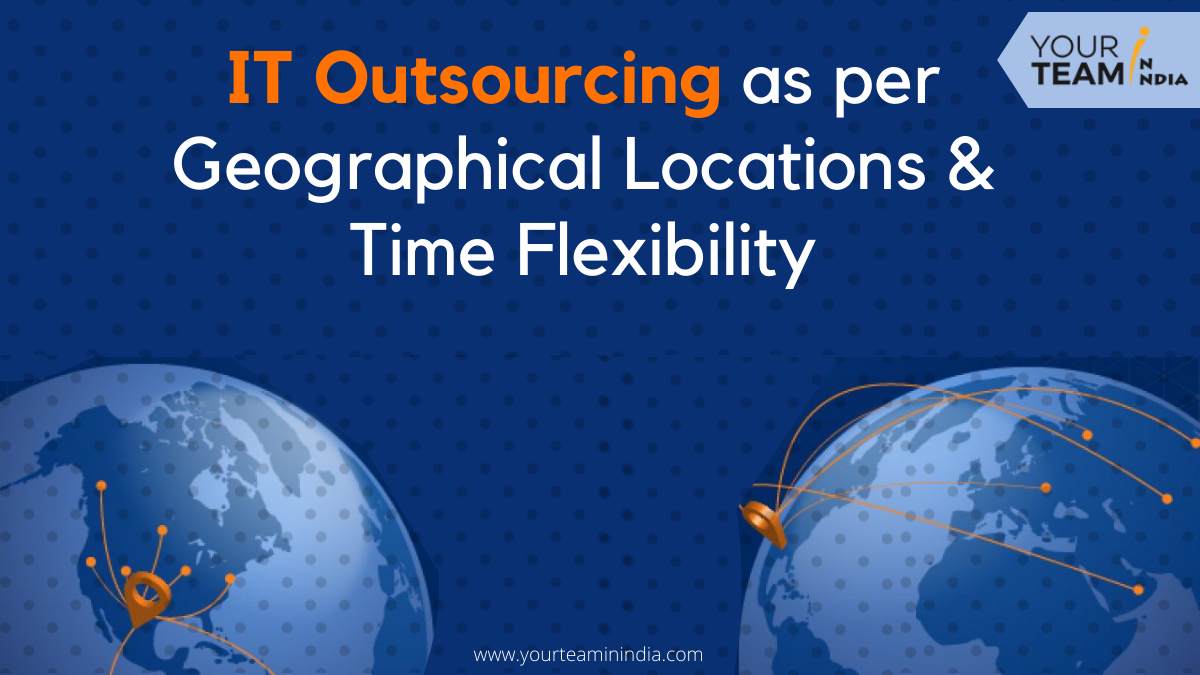 Business owners are already pondering which IT operations they want to outsource and which is better done by the in-house team. However, IT outsourcing, even being quite a reliable alternative, can be a bit confusing for those who are relatively new to it. Like it is not that easy to pick the outsourcing location, many factors contribute to selecting the right place for your business.
To start with, one can simply put all core strategic operations for their in-house or existing team. Conversely, if done by the in-house team, the ones that cost them higher can be better delegated to the outsourced team.
In this blog, we will understand how the geographical locations and the time flexibility must be worked upon to ensure the outsourcing is carried out in the best possible way.
Related read:- What is the Difference Between Tactical & Strategic Outsourcing?
Outsourcing - Geographical Locations
The location is one of the most prominent factors in making outsourcing successful should be worked upon quite attentively. Points that would make it easier for you are figuring out the cost of living of that specific location, researching the market trends, and communicating in the most suitable language for both of you.
Of course, you will have to adjust yourself a little to the known unknown cultural differences. However, outsourcing suppliers manage with that quite seamlessly, without letting the language be the barrier/hindrance in the communication or work anyhow.
Top Countries that are Best Known for IT Outsourcing are as follows:

Outsourcing has something extraordinary to serve the world - and that many have been experiencing already. And, here are some geographical locations, which you must definitely consider if you are planning to outsource your IT team.
India (The First That Comes in Mind)
Of course, that even hit your mind when you thought about outsourcing, right? And, why not? It is the second-largest country that speaks English in the entire world, which is amongst the most prominent reasons why anyone would hire their IT team from there. Besides, the pool of talented IT professionals in India is worth your next project since they know how to add value to your project without being too heavy on your pocket. Hence, definitely worth a try!
Read our other post to know Why India Has Become the premier IT Outsourcing Destination of the World?
China (Lower Labor Costs)
Why people prefer Chinese labor for their business is due to their evidently low labor and production costs. One of the significant factors, when businesses plan to outsource, is the cost. No one wants to pay over their budget, or better said, every business desires to save as much cost as they can. However, they don't want the quality to be hampered because of that. The best they can look for to get this balance of low cost and good work is in China. However, communication could be a barrier for many international companies since only a few populations in China speaks English.
Ukraine (For a Thriving Tech Industry)
The government in Ukraine majorly puts 'building and sustaining the tech industry' as their priority. That, indeed, is an amazing point for the businesses who are thinking about outsourcing from this very country. So not only will you be accessing the talented IT professionals here, but also leverage the tech industry that constantly grows with the market trends.

According to Wikipedia - "In 2021, BritishGlobal Sourcing Association announced Ukraine as the best country for outsourcing in its annual nomination."
That makes it one of the topmost outsourcing countries that have the potential to serve your business with the best. And, even after the fact that English isn't that well widely spoken amongst the general public here, almost 80% of the IT professionals do understand and speak the language, which highly cuts down the language barrier altogether.
Philippines (Low Global Peso Value)
The language won't be a barrier here since 92% of Filipinos speak English, which is quite a relief for the many international clients. Considering that, you can surely place your bet on the talented IT professionals here. Besides, what even attracts business owners to hire their IT team from the Philippines is the fact that the global value of the Philippines' peso is quite low. Hence, making this location one of the best and affordable places to hire the IT team from. However, the complexity of your project needs to be identified for professionals here to get it through. Maybe, for more complicated operations, you will have to consider either India or China since the Philippines might not satisfy your business needs there.
Whom Should You Pick Considering 'Time Flexibility?'
Apart from other significant factors like location, cost, and communication, time flexibility also plays a major role in the success of your outsourcing team.
So, how would one decide if that particular country or location is suitable for my business?
Recommended Read: Smart IT Outsourcing Tips
Well, they must fulfill your requirements for being available at your time. So, irrespective of the time difference between your country and theirs, the outsourced team must be willing and capable of delivering what's needed.
You must list down the countries (keeping all other factors in mind), Including the time flexibility and interview outsourcing suppliers after that.
Further, it starts with discussing your needs and the deadlines with the chosen outsourcing team. What does your business want? Do your deadlines strictly bound to the time, or can it be done with flexible timings as well? Whatever suits your business needs has to be put on priority before even finding an outsourcing company.
However, finding the country or the IT outsourcing company as per your timing schedule is not a concern these days. Since the pandemic has happened, the world has gone digital. Considering that trend, it is quite easy to find out outsourcing service providers who can match your timings. Moreover, some of them don't even hesitate to be available to deliver the services throughout the day.
Hence, with clear communication, discussion regarding the deadlines and availability along with the business needs, you can seamlessly figure out the best outsourcing services for your business.
Conclusion
Outsourcing is the trend that seems to have settled in almost every industry. For IT, it definitely has! Analyzing the market trends and the rapidly increasing demand for outsourcing teams, it is evident that business owners will have to consider - sooner or later. It is, indeed, suggested to adopt this culture asap to leverage the benefits of outsourcing and get a competitive edge over the competition.
Visit our website and learn more about how to build your business or feel free to contact us to discuss your project requirements.