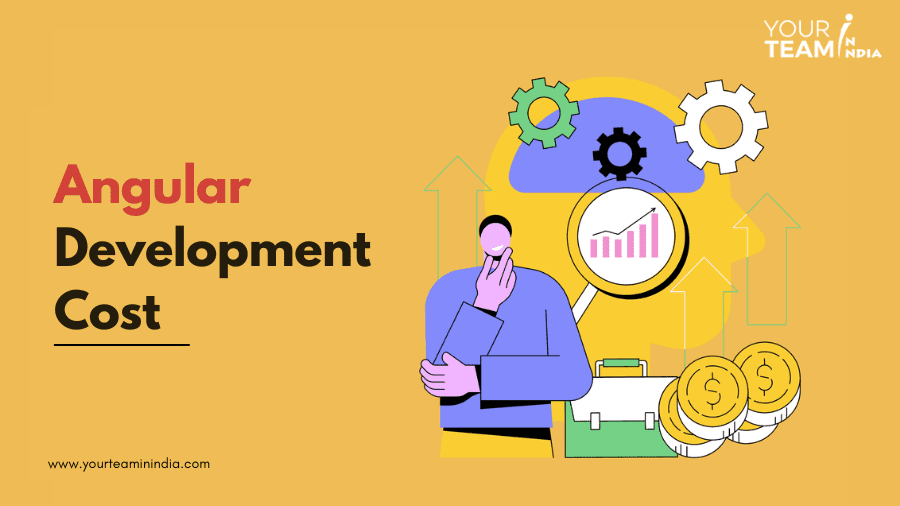 Summary -
Get an insight into how much angular development costs across different nations to get the right estimate for your angular project development.
To build a truly digital-first business, companies must provide their stakeholders (customers, partners & employees) with digital solutions that empower them to carry out day-to-day operations easily and quickly.
Thus there is an increase in demand for web & mobile applications in the market, along with an increase in demand for Angular Developers to build these applications.
If you are wondering, 'How much will it cost you if you are a business searching to build an Angular application in 2023?' This blog is for you. On average, developing a new Angular project can cost you anything between $9.5K- $400K, depending on whether you are using technologies to build a single-page application (SPA), progressive web application (PWA), enterprise application, or business website.
In this blog, we will provide you with an overview of the average cost of hiring an angular developer across the globe, which will help you create an accurate budget for your app development project.
Recommended reading: Software Developer Hourly Rate Comparison Across the Globe
Average Angular Developer Salaries Across the Globe

Though we understand that, hiring an angular developer is not the only cost you will incur while planning to build an app, it is the most significant and dynamic aspect. Other factors, such as licensing cost, IT infrastructure setup cost, etc., are more or less fixed across the globe.
The cost of hiring angular developer depends on various factors such as experience, demand, supply, cost of living, etc. Below we are comparing the cost of hiring an angular developer basis their industry experience & seniority in different countries.
| | | | | |
| --- | --- | --- | --- | --- |
| Country | Seniority | Experience in Years | Annual Salary | Hourly Rates |
| India | Mid to Senior level | 3-8 | $38,016 - $59,136 | $18- $28 |
| USA | Mid to Senior level | 3- 8 | $86000 - 153000 | $40- $72 |
| Canada | Mid to Senior level | 3- 8 | $45000 - $78000 | $21 - $36 |
| UK | Mid to Senior level | 3- 8 | $39000- 76000 | $23- $36 |
| Australia | Mid to Senior level | 3- 8 | $49000- $89900 | $23- $42 |
| Germany | Mid to Senior level | 3- 8 | $48300- $87200 | $23- $41 |
| Poland | Mid to Senior level | 3- 8 | $43700 - $49200 | $20-$41 |
| Israel | Mid to Senior level | 3- 8 | $55100 - $95000 | $26 - $45 |
Learn about: Factors Affecting The Cost of Hiring Developers in India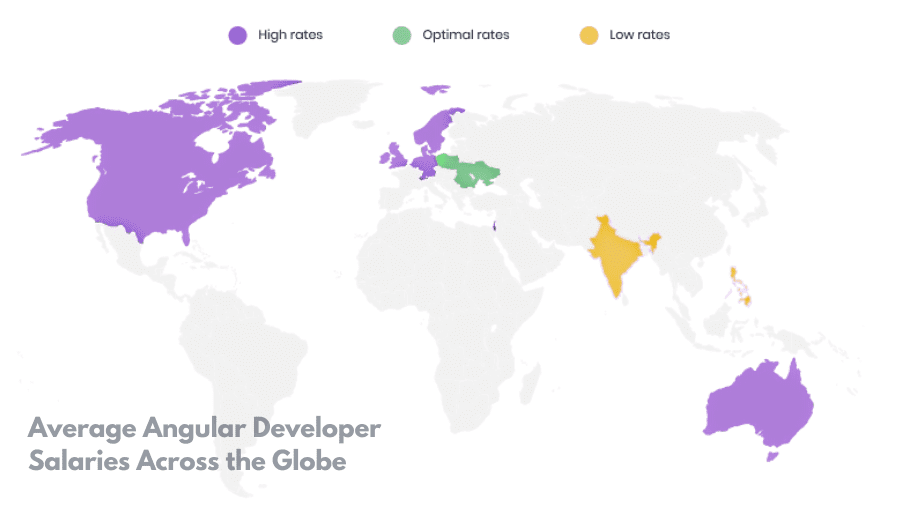 Why choose India to Hire Angular Developers?
When compared, India outranks its western counterparts in both pricing and talent pool, making it the ideal choice for hiring angular development team. Besides this, India's IT industry is mature & has extensive experience outsourcing SaaS services to countries like the US, UK, Canada, UAE, Australia & Japan.
India offers a large talent that you can hire on flexible working models to meet your project requirement. And its favorable Govt. policies ensure ease of carrying out business.
Looking for a reliable Angular company to hire a top angular development team? Talk to our experts today.

Frequently Asked Questions (FAQs)
Q: Is angular developer in demand?
As per the 'Developer Skills Report 2022' by HackerRank, there is a massive demand for Angular Developers for its MVC structure, two-way data binding, and DOM ease of use.
Q: What should I look for while hiring an Angular Developer?
Being front-end software engineers, Angular developers are responsible for building user interfaces from the ground up using the Angular framework and should possess in-depth knowledge of the same.
Read our blog-Essential Skills to Look For in An Angular Developer, to learn more.
Q: What are the most important features of Angular?
Here are some of the key features of Angular that make it ideal for web app development
Ideal MVC

Declarative UI

Unit Testing Capabilities

Minimal Coding.
Learn the 12 top features that make Angular a preferred technology amongst developers.
Q: Why are highly successful websites built with Angular?
Angular is a mature open-source framework developed by Google for building interactive and engaging user interfaces. Angular offers a complete stack of tools to build interactive yet user-friendly front-end and has a large community to assist project development which makes it a preferred choice for building highly scalable websites & applications.