Quick Summary: Discover the most influential aspects while choosing the best tech recruitment process outsourcing partner. This blog will walkthrough you with the process of traditional IT Outsourcing, the advantages of choosing tech talent outsourcing, and help you make more informed decisions.
Building a technical startup is like a journey fraught with diversified challenges like increasing costs, neck-to-neck competition, and dynamically evolving software technologies. Therefore, it is no more surprising that many startups suffer higher debts and investments, ultimately leading to lesser profits.
The tech job market is a dynamic landscape, continually shaped by emerging technologies and evolving industry demands. However, with the maturity of communication and information technologies, tech recruitment process outsourcing has become a new trend in reshaping industries across the globe.
Innovation and efficiency come from accessing a comprehensive set of IT services, leading to significant growth in the outsourced IT market. Astonishing, the growth is anticipated to reach USD 985.65 Billion by 2027.
Key Takeaways
Tech Recruitment process Outsourcing facilitates organizations to become competitive and focus more on their core business activities at reduced costs.
No one size fits all, so organizations can choose different Tech Recruitment process Outsourcing models based on their project needs.
When selecting a tech talent Outsourcing service provider, check their portfolio, customer reviews, and Outsourcing models.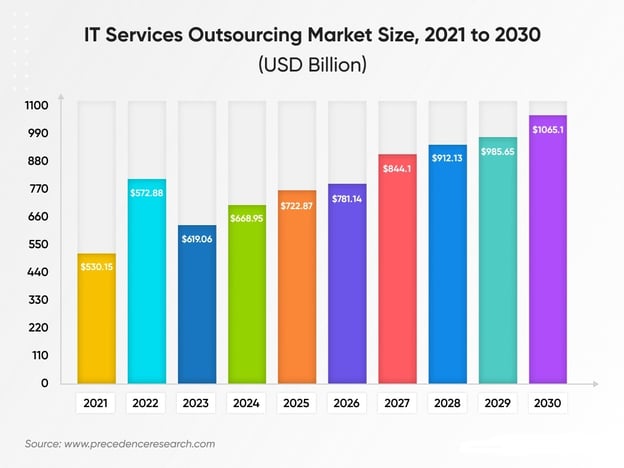 Read on to understand what tech recruitment process outsourcing is, how to find a reliable resource for your startup, and how it can benefit your business.
What is Tech Recruitment Process Outsourcing?
Tech recruitment outsourcing, also known as Recruitment Process Outsourcing (RPO), is a strategic business practice where organizations partner with external agencies or service providers to handle various aspects of their tech talent acquisition process.
This outsourcing arrangement is designed to streamline and optimize the recruitment and hiring of technology professionals.
How is Tech Recruitment Process Outsourcing beneficial for startups?
Tech Recruitment process Outsourcing can be a strategic decision for startups looking to build strong, capable teams efficiently. It offers several key benefits for startups. A few of them include:
1. Access to a Greater Talent Pool
One of the topmost advantages of choosing IT project outsourcing is that organizations get an opportunity to tap into an extensive pool of talent globally and at lower prices.
Usually, hiring internal team candidates comes with the constraint of hiring local talent, and one coming from a global market can be expensive.
However, outsourcing can open the door to an extensive pool of skilled professionals
with diversified experience and expertise.
2. Scalability and Flexibility
Outsourcing IT services allows startups to scale their IT teams quickly and efficiently.
Startups cannot afford to be burdened with an extensive IT team on a monthly payroll.
However, with tech talent outsourcing, they get the flexibility to access the expertise for the collaboration tenure.
They can easily ramp up or down their IT resources as required, allowing for more flexibility and agility in managing tech projects.
3. Cost Reduction
When a startup or an organization outsources the tech people with lower costs. They immediately benefit from lower development costs without compromising work quality.
Therefore, one of the most significant benefits of offshoring tech recruitment process is reduced costs.
To understand this better, let us take an example of a US-based startup that pays an average monthly salary to a software developer of approximately $97763 per annum.
However, the same job profile costs only $36000 annually for Eastern Europe. This could be due to the different outsourcing development country rates, but outsourcing is greatly helpful in achieving these development services at much-reduced costs.
Now limited to this number, outsourcing can bring better statistical numbers that can help startups attain success with lower costs.

4. Targeted Staff Skills
Outsourcing tech resources provides a unique competitive edge to companies. One can focus on the present rather than being troubled about the employee's long-term career amalgamation with the organization.
This certainly comes with an advantageous aspect of accessing a specialized team with all the required skills for any specific project.
5. Focus on core business
Tech talent outsourcing can help startups focus on their core functionalities to get more outcomes on their return on investment.
However, finding the right candidate and hiring them could be complicated and time-consuming. However, outsourcing the right candidate can let the startups focus on other strategic aspects like product innovation, business growth, customer relationships, etc.
6. Time-Saving
No one likes to miss out on project deadlines in this competitive world. The longer the project takes, the more your company's dinero will be affected in the market. And even the higher costs you get to bear.
Hiring the team, getting them trained according to the project requirements, and upskilling their existing skills everything is complicated and time-consuming.
IT project outsourcing allows businesses to get hold of the talents that maintain high-quality standards while not compromising on the project submission deadlines.
7. Experience
Reliable tech outsourcing companies have experience working with several clients and partners. This indicates that they have the experience of working on multiple projects for diversified industries, and they are the ones who understand the technical know-how.
Therefore, outsourcing can bring out the upskilled and experienced professionals to
your plate.
8. 24 X 7 Productivity
Thinking of different time zones as a hurdle?
Nahh! Different time zones can also be a boon while working with an outsourced team, enabling startups to function around the clock.
9. Quick and Easy Administration
All the paperwork, internal hires, HR procedures, performance reviews, and even healthcare benefits are imperative for long-term employees. However, with outsourcing, expenses for all these administrative tasks get eradicated.
Simply pick your talent, include them in your workflow, and get your work execution done smoothly. As simple as it sounds.
10. Measurable Metrics
Reliable tech outsourcing providers share detailed reports and KPIs that enable organizations to track and measure their success in tech recruitment efforts.
11. Adaptability
Tech recruitment process outsourcing service providers can easily adapt to the ever-changing market conditions. So they can quickly adjust their recruitment strategies and processes to align with evolving tech industry requirements, ensuring you will get the best one for your project.
How does tech recruitment process outsourcing work?
Since there are many benefits to choosing a tech recruitment process outsourcing, getting hold of the right professional is challenging. Businesses need to be very cautious while choosing the best fit for their projects and implementing the best practices of tech recruitment process outsourcing.
This certainly brings another hurdle in accessing the advantageous aspects of accessing the high-end expertise team.
But how does a tech recruitment process outsourcing work?
Want to know how?
Here's how tech recruitment process outsourcing typically works:
Requirements Assessment and Planning
The client organization initiates the process by assessing its hiring needs. This includes identifying the specific tech roles, skills, and qualifications required.
Selection of tech recruitment service provider
The client selects a tech recruitment service provider based on factors such as
Expertise in tech recruitment

Reputation

Track record

The provider's ability to align with the client's goals and culture.
Onboarding and Collaboration
Once the IT Outsourcing services provider is chosen, both parties collaborate closely to define roles and responsibilities.
Requirements Analysis
The IT outsourcing service provider thoroughly analyzes the client's tech recruitment needs. This includes
Understanding the organization's culture

Tech stack requirements

Project requirements

Long-term hiring goals.
Customized Recruitment Strategy
The service provider develops a tailored recruitment strategy that aligns with the client's goals and needs. This strategy outlines
The steps

Timelines

Resources
Required for successful tech talent acquisition.
Talent Sourcing
The service provider uses its expertise and resources to source potential candidates for required tech roles.
Candidate Screening and Evaluation
The service provider conducts initial candidate screenings, assessing technical skills, qualifications, and cultural fit. This may involve technical interviews, skills assessments, and reference checks.
Interview Coordination
The RPO provider coordinates interviews between the client's hiring managers and shortlisted candidates. This ensures that the process is efficient and that all parties are well-prepared.
Feedback and Decision-Making
After interviews, the RPO provider collects input from the client and candidates. This feedback is used to refine the selection process and make informed decisions.
Offer Management
The RPO provider manages negotiating and communicating job offers to selected candidates.
Onboarding Support
Several IT Outsourcing service providers assist with onboarding support. This helps candidates transition smoothly into their new tech roles within the organization.
Tech recruitment process outsourcing allows organizations to leverage the expertise and resources of external partners efficiently and effectively.
But does it seem like a lengthy Outsourcing process?
Indeed. So does that mean you need to go through the same tiring process?
Not anymore!
YTII is the solution to simplify your requirements for IT Outsourcing in India.
How does YTII help?
YTII is a leading Tech Recruitment Process Outsourcing Company in India, helping startups easily access a talented pool of experienced professionals with
97% client retention rates

Cost-effective solution

Quick hirings

A highly secure process with global quality standards

100% Confidentiality
That, too, with the quick and easy onboarding process.
So, forget that traditional lengthy process and hire the experienced professionals with YTII in just four steps: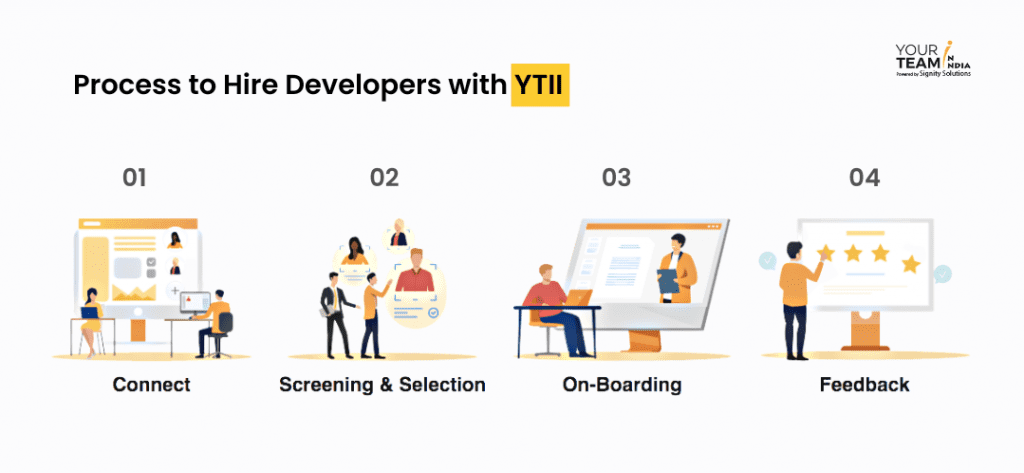 Pro Tip!
Organizations should look for a remote tech recruitment partner who wants to do more than just develop the product. An ideal tech recruitment partner will want to work alongside the organization to glorify their brand in the marketplace in the long term.
However, the success of the outsourced project is a two-way street. Therefore, startups must proceed with the below-mentioned tips to ensure a higher success rate.
Define your objectives clearly.

Perform an in-depth tech job market analysis.

Check regular progress updates.

Select a provider focused on iterative development.

Select an IT outsourcing provider who can meet the compliance needs without any delays.
Are you still in confusion? Check out The All-In-One Guide to Software Development Outsourcing
Tips to choose the right tech recruitment process outsourcing partner
Finding and selecting the right IT outsourcing partner who is detail-oriented and sensitive enough to address each unique client's requirements rather than just finishing the project and moving on is crucial.
Here are a few tips to find the right tech outsourcing recruitment partner:
A well-established, reliable service track record
Search for an IT Outsourcing service provider with an established reputation.

Seek long-term and strategic partnerships.

Contact some references who have outsourced similar projects from the same remote tech recruitment service provider.
Comprehensive technical skills
Since No one-size-fits-all solution. Look for an IT project Outsourcing provider with technical expertise in diversified areas.
Agile process
Look for a tech talent outsourcing partner who leverages Scrum-based methodology to make sure that the process consistently incorporates feedback in order to avoid costly mistakes.
A people-first approach
Delivering the right services and expertise begins with one-to-one attention to understanding the business goals and requirements. Therefore, documenting the project scope and understanding the client's specific needs assures people's first approach.
Wrapping Up
Your Team in India is a complete modular platform that helps you get your hands on getting the best fit for your IT project outsourcing requirements. It doesn't impede your sales process but enables you to automate your hiring process and let your chosen talent do the rest for you. And for you, spend more time on the core business activities. Your Team in India- Your Trusted Tech Recruitment process Outsourcing Partner!
Stay tuned to our succeeding blogs to get deeper insights on everything you need to know about IT outsourcing in India.
Frequently Asked Questions (FAQs)
How much does a tech recruitment process outsourcing cost?
The cost of tech recruitment process outsourcing depends upon the project's scale and which model is opted for.

However, Tech recruitment process outsourcing costs a little if acquired from reliable resources. Keeping your hard-earned money safe, the outsourcing service providers let you choose the best tech talents hourly, project-based, and even for staff augmentation.
What are the tech recruitment challenges?
Businesses often encounter varied challenges when searching for the best-fit talents, and it is an essential requirement to be fulfilled to keep the companies going. However, outsourcing tech recruitment services from reliable service providers can help address the following challenges:

- Ineffective recruitment processes
- Hiring talent for specialized roles
- Do not have time and resources to spend on finding talents
How do I determine if my business requires tech outsourcing?
Determining whether the business requires tech outsourcing could be complicated for many. However,
- Assessing the business goals
- Analyzing the project complexity
- Checking the skill set requirement
- And the resources available
It could help analyze whether the business requires tech outsourcing. IT Outsourcing may seem a viable option if considered by varied factors, including scalability, expertise, risk analysis, cost efficiency, and many more.

When outsourcing tech services, how can I ensure data confidentiality, security, and privacy?
Counting on an external service provider can be skeptical, especially when the core business functionalities must be kept secure and confidential. Therefore, assessing the service provider's security measures like access controls, data encryption, and compliance with HIPAA regulations can help identify the reliable service provider.

Also, remember to look for security protocols and certifications indicating their commitment to data privacy and Confidentiality.

PS: Ensuring confidentiality clauses and clear agreements can facilitate decision-making.