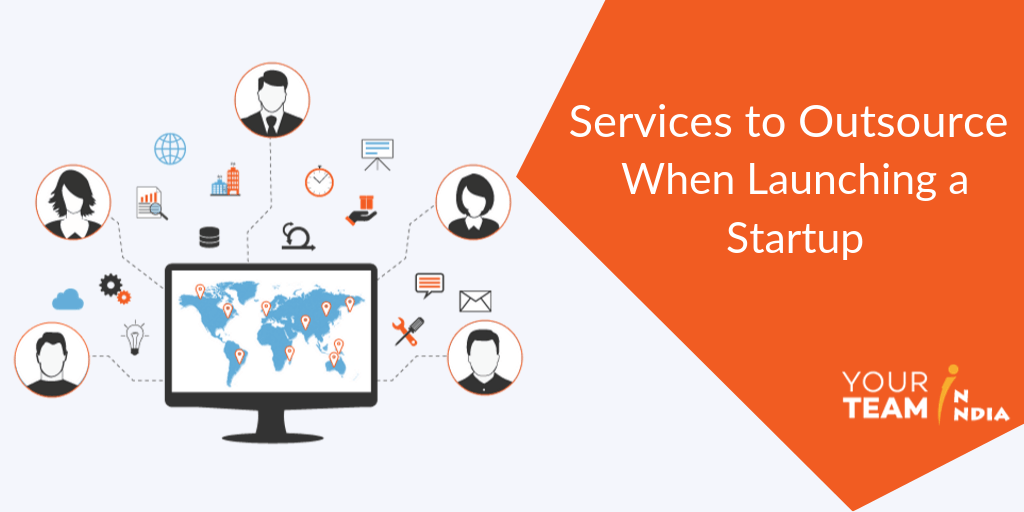 Startups are sprouting every now and then, but most of them are unable to survive. Some come up with a product or service, people didn't like or may have jumped the bandwagon too soon. Whereas other reasons are poor management, lack of resources, and expertise in different areas.
If you are a startup, everyone on the team is required to work on achieving one single goal. But there are other important aspects of the business operation that needs your attention too.
But when you lack the required resource or expertise, your business is less likely to succeed. That's when outsourcing comes into the picture. This business strategy lets you take the help of another company to take care of a few important tasks or operations.
Though it may seem expensive at first, it is certainly a cost-effective strategy.
Considering that you are a startup, you need access to top-notch professionals at affordable rates for making it successful. Going offshore is the right approach to do it. To learn more about the benefits of outsourcing, continue reading here.
So, without further ado, let's get started and list down all the services you need to outsource.
Recommended Read: How to Hire Developers for Startup - Ultimate Hiring Guide
Services to Outsource for Making your Startup Successful

1. Human Resources/ IT Staff Augmentation
No startup will become successful if it is not willing to grow and fail to take decisive steps. Poor management and lack of access to resources are the main reasons for startup failure. That's why IT staff augmentation is one of the most important services to outsource.
Why Outsource HR functions or use the Staff Augmentation Model?
By outsourcing human resource functions, you get access to a steady stream of talent. In addition to this, you will be tailoring the company's compensation and reap the benefits to encourage employee retention.
Easy to Scale Up: A thriving startup clearly means more headcounts to deliver the growing needs of clients and companies. Using the staff augmentation model gives you the flexibility to hire dedicated developers offshore, which will act as the extension of your team.
No Hassle: Recruiting a team of developers is full of hassles. But when you collaborate with an IT staffing company, hiring becomes easy. You just have to interview pre-qualified candidates to pick the ones that are the best fit for your company.
When to Outsource Human Resource Functions?
If your startup's HR workload is less, you can take the help of the offshore team for a few hours a week rather than full-time work. Outsourcing enables you to boost the operations at a faster pace as there is no need to increase your HR team and train your HR staff. The HR outsourcing services can be customized as per the client requirements.
Recruiting the best talent and hiring the best candidates is not an easy task. It takes months to fill a vacant position. When startups try to delegate HR to the key employees, there are plenty of processes for business operations that are usually ignored.
2. Development Operations
As mentioned earlier, outsourcing helps in solving fundamental issues like access to talent, saving time, and lowering the cost. Many startups build MVPs or minimum viable product of their software and iterate until the final product enters the marketplace. Till that time, they rapidly grow their user base.
Now, as growth accelerators, they have to follow the built roadmap, add new features, and resolve issues. In this competitive market, missing an opportunity means giving a chance to someone else to create a place in the heart of the customers.
Outsourcing can speed up the complete development process as you can hire developers quickly. Also, because they have prior experience, you can expect your offshore team to start working quickly & deliver it on time.
IT Services to Outsource:
Software, Web or Mobile app development

Product architecture

Product/Service management

UI/UX design

Software testing
Outsourcing development service is effective for startups. The option is very prominent if you are actually trying to achieve quality work, at cost-effective rates. With outsourcing, you can:
Build a Versatile Team:

In this ever-evolving ecosystem, it becomes difficult to stay updated. Therefore, having a versatile team of

offshore developers

who master the skills is certainly a boon.

On-Time Delivery:

Instead of hiring new in-house team employees, outsourcing development can be helpful for a short or long span of time. The experts take charge of the components in their forte while ensuring every development phase is delivered within the timeline.

Avoid Overhead Expenses:

Office space, hardware, software, reimbursements, and operational costs decreases the ROI. All you have to pay for is the skill set of the developers.
Whether you require a web or mobile app developer, or anyone else, hiring offshore developers is the best option. In the end, it is all about executing your project efficiently. So, be realistic, and hire a team of developers that clearly understand your requirements, communicate, and manage.
3. Customer Service
In an era where customers are great marketers and social media savvy, having access to the leading talent and delivering excellent services can make or break a startup. Having a team of experts that can serve your customers is a viable option.
On the other hand, taking the help of an outsourcing team that is residing in a different geographical location gives you extra manpower that handles the customer calls hassle-free. However, it is important for business owners to weigh their options as the cost and service vary widely.
Outsourcing Customer Service Can Help You Establish the Brand Voice
Whether it is text or phone, your customers look for different means to interact with you. By creating guidelines, you can teach the outsourcing team, and they will then act as your in-house team to all your customers.
Interview Multiple Companies to Find the Best Fit for your Project:
If you have different clients across the globe, consider a team that is multilingual and able to work 24/7 in multiple shifts.

Choose the best client service reps with the best skills.

The outsourcing team that handles high volumes of queries and in-depth conversations as per requirements.

Pick the service provider with the omnichannel approach.
4. Accounting and Bookkeeping
Payroll is the commonly outsourced service, but 60% of the business handles this function in-house. Handing over the task to the experts helps in increasing compliance. It has been depicted that companies that outsource payroll save approximately 18% more than businesses that tackle it themselves.
The right accounting service helps startups to develop good habits from the start. If you become accustomed to working with bookkeeping from the beginning, it will help keep tighter reins on the expenses and know where the company stands.
A good company teaches you the "Hows" and "Why" of bookkeeping, so you are aware of what is happening every now and then.
Provides Analysis:

If you are applying for a business loan or seeking funds from the investors, accurate bookkeeping and financial statements means keeping the records.

Determines the Burn Rate:

Burn rate is the money spent for a particular amount of time. It is very important for you to know this as a startup because you have to generate revenue from your sales.

Scale the Companies Need:

The virtual team may help you become tomorrow's Fortune 1000 company. Starting with the best accounting and bookkeeping services means it will certainly cater to your needs.

First Few Years of Business are Important:

The right bookkeeping service is way better than a data entry provider. The outsourcing company gives advice, counsel, and insight by offering you with financial information that is needed to run your business.
5. Digital Marketing Services
Building a brand takes a lot of sweat. Marketing at the right channel and the right way on social media accounts and other media can help you save a lot of dollars. Therefore, it becomes imperative that being a startup you should outsource digital marketing services. Here is the list of services that digital marketing companies offer:
a. Website Branding
Your website is the first impression most people will have of your company. It will not only look impressive but will make it easy for the visitors to find what they are actually looking for. If they are unable to find what they have been looking for, they will leave within seconds.
Effective web design is not a sufficient facelift but a major renovation. Once the market research is done, you should outsource the website branding to bring everything to life. The best pool of talented people will creatively design and brand your business. They will also ensure your website is user-friendly, responsive, and easy to navigate.
b. Search Engine Optimization
There is no use in investing in a website if people are unable to find it. Today, voice search is changing the whole scenario. So, Google is revamping the algorithm it uses to display the search results. It is very important to keep up with the changes, and this is not an easy task.
When you have the offshore marketers having the time and skill to do everything that is required, customers will certainly find your website when they are looking for a particular service.
For example, you are a performance management software company, and you have to improve organic traffic. For this, the ranking has to be improved for relevant terms. A simple Google search will show 400 million results. To stand out, you have to take the help of other ranking opportunities beginning with long-tail keywords.
Well, the offshore search engine optimization agency can clearly identify which keywords have the highest volume and less competition so that the ranking changes can improve. Sometimes, they also conduct a survey to find out what your competitors are ranking for and what approach are they following to outshine.
c. Content Creation and Marketing
A well-designed website for user experience is the foundation of an effective marketing strategy. If you don't have quality content, no one will be interested in your product or services.
Effective content marketing is one of the most powerful ways to drive high-quality traffic to your website. Creating informational content starts with understanding the perspective of the customer.
Content Marketing Strategy Includes:
Resources like eBooks

Videos

Infographics

Blogs

Case Studies

White papers

Emails

Website pages

Quizzes
The combination of these assets depends on different objectives, and the development of these takes a considerable amount of time and effort. Even if you have an in-house team of technical writers, developers, and technologists, it is best to hire an outsourcing agency that has an "all hands on deck" approach.
d. Social Media Platform
The company blog is one of the most effective ways to give your message out to the audience. You can't simply sit back and count on people to automatically show up. If you create content that is informative, generic, and addresses what they are actually searching for, you may get their attention.
But if you want them to know your brand and utilize your products and services, you should also attempt to engage them in conversations that get their attention. This is where social media platforms play a very crucial role.
Only professionals know how to use social media platforms strategically. So, it is advisable to work with a social media marketing specialist who successfully reaches the audience. People who know about your brand via social media are more likely to think of you when they are ready to purchase.
It is not about writing a few pieces of content, posting them on random sites or your company site, and then walking away. People always expect a response when they have a query. Your company should take ownership of all your social media channels while you should give responsibility to the outsourcing agency to handle and post content.
Here is what needs to be done:
Identify the right social media platforms for the promotion

Creating strategic social media channels

Identify the posting time

Creating graphics and posts that are out of the box

Monitoring ROI of the efforts
In addition to the aforementioned, the other two things that should be taken into consideration are influencer marketing and PPC. Well, a dedicated team of experts will help your company identify fruitful opportunities for advertising so that every effort counts.
Things to Remember
Before you look for outsourcing companies, make sure you are very clear about what tasks or projects you have to outsource. Be very careful about choosing an agency that knows how to collaborate with startups and help them grow step by step.
Every startup works hard for development and expansion, but there are only a few that actually work smart. It is recommended that all startups should outsource business processes and focus on core competencies.
Your Team in India is an inventive and ingenious offshore development company that offers a competitive edge to startups as well as established enterprises in terms of time, money, and effort. We understand the struggling face of startups, helps them to scale up & accelerate their business growth at zero-setup investment.
Do you want to scale up your company within a short time span? Connect with us now & our team will get in touch with you shortly!