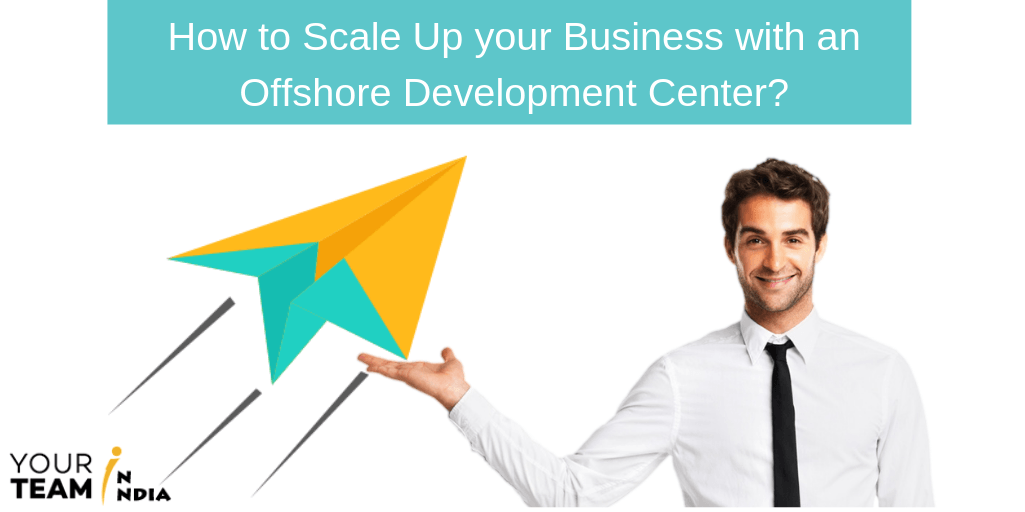 Growth and expansion are the priorities of an emerging business. Entrepreneurs usually struggle to devote their in-house resources to each and every area of their business. It leads employees to become overwhelmed by the quantity of work.
This challenge to keep up with the work pushes the companies to add more resources.
"Adaptability is about the powerful difference between adapting to cope and adapting to win." – Max McKeown
Well, as the quotes say, adaptability is one of the vital elements for success. And adopting the remote hiring trend is the same. It can lead to the success of your project and company.
Ready to Scale your Company with Offshore Staff?

Setting up an offshore development center is the key to scale your business. Effective utilization of resources is the prime benefit of offshore software development. By resources, we mean both manpower (dedicated developers) and software/hardware requirements.
Basically, you get a competitive edge by working with top-notch professionals having access to trending tools & technologies. To fully understand the concept of ODC and how it can help your business, we've put together a few subtopics that hold the most valuable information.
Why Outsource?
Wondering how to improve your software quality, efficiency & bring down the development cost at the same time? Collaborating with an ODC (offshore development center) is the solution.
The offshore development model has been proved as a highly effective tool that gives you greater visibility and predictability throughout your development process. So, outsourcing software development needs will be the right choice for your company.
All businesses have risks, we get it. But with a reliable offshore team, the risk can be greatly outweighed by its benefits. Aside from being cost-efficient, ODCs can be more convenient than you think. Unlike in-house teams, offshore development center has its own established entities, so you will be free from the burden of constantly managing them.
You'd better ask yourself these two questions before you choose to invest in offshore development:
Do I really need to set up an o

ffshore development center

?

What benefits would I get from an offshore development company in India?
Before we discuss both of these questions in detail, let's first understand it's concept.
What is Offshore Software Development?
In simple words, offshore software development is a process of developing your software by a team located in a foreign country. Offshore software development has emerged as one of the most successful business strategies in today's world. It has become a necessary strategic tool for companies to gain a competitive advantage.
What is an ODC (Offshore Development Center)?
The term offshore development center stands for an integrated, extended, and a team of dedicated offshore developers. Simply put it is as a subsidiary or a branch of a company whose main operations are running in another country. For software development solutions, ODCs are becoming more popular due to their affordable developer rates and easy availability of talented developers.
Note: It is important that the locations you choose to set up your ODC must have enough talent so that it matches with the integrity of your company.
Do I Really Need to Set Up an Offshore Development Center?

Nowadays, if you want to hire qualified IT professionals then it will leave a huge dent in your budget. However, in India, the salaries of IT professionals is comparatively lesser than their counterparts in the US and other developed countries.
Outsourcing will give you an opportunity to work with the best offshore technology partners and skilled manpower. The offshore outsourcing companies focus mainly on innovation, quality, and are continuously on the lookout for improvement. Thus, if you hire them, you stand a chance to get strong expertise with a highly experienced team of professionals.
With the release of the bill termed "IT act 2000" India has been rated as the most excellent investment potential destinations within the world. With government support, India has been able to build several IT parks. In fact, the government has even permitted 100% foreign equity.
The offshore development center comes equipped with all the basic infrastructure. Hence you will simply act and begin your project without having the need to develop any other infrastructure. The time ideally taken for development reduces considerably.
Is your Business too Small for Outsourcing?
No, it isn't. No business is too small for outsourcing. This thinking is a huge mistake, in fact, some of them think that working with a remote team is too expensive and therefore everything is reserved for big companies.
But in reality, hiring a remote development team is affordable and comes along with a lot of benefits.
Moreover, technology advances have now made outsourcing a lot more accessible to businesses of different sizes. Plus, it has always been responsible for boosting businesses regardless of their types. As you get access to the large talent pool of professionals across the globe, hiring becomes even easier.
Having an idea about when to outsource is as important as knowing what you have to outsource. Every company is different and so are the situations. When you want to grow or expand your business without allocating more resources in-house, that is the right time to opt for outsourcing.
Outsourcing has the Power to Boost any Business
After understanding when to outsource, it is time to identify key activities that you can outsource that is sure to make a huge impact on the productivity level.
You should always have the right reasons for outsourcing. Outsourcing a project or a task just because your team of developers is not willing to do is a big no-no. Outsource only when the in-house team is too occupied with other projects or lack the expertise that is required to complete that particular task.
Advantages of Offshore Software Development

1. Low Labor Cost
One of the best advantages of offshore development is the ease of hiring programmers overseas. Professionals from other countries demand lower pay for their work in comparison to your in-house employees. These professionals are typically highly-educated and speak English perfectly.
2. Time Zone Difference
Another benefit of offshore software development is the time zone advantage. While you are sleeping, your offshore developers will be working hard to complete the assigned tasks before you wake up.
For example, a US-based company when works with an offshore software company in India, there will be a time zone difference of 12 hours. And theoretically, this will ensure that the project was developed utilizing 24 hours of the day. In short, that's a perfect way of time utilization.
24/7 availability enhances the agility of the business and gives it an edge over its competitors. Isn't that cool?
3. On-Time Delivery
Offshore development center professionals will always strive & adhere to the deadlines. So, do not worry about late deliveries. They have enough flexibility in resource utilization to focus on where and when it is needed the most.
4. Knowledge Retention
Offshore software development will guarantee that all knowledge shared during the course of the project remains within the center. Your offshore dedicated developers invariably have complete responsibility to finish the assignments. On top of that, it's their responsibility to keep the information secure and deliver solutions that will meet and exceed your expectations.
Types of Tasks that You Can Outsource
Repetitive Tasks: The tasks that don't require specific knowledge but take a lot of the working hours of your employees like data entry, inventory, dealing with accounts, etc.
Tasks that Demand Specialized Knowledge: Projects or tasks that demand knowledge can be successfully outsourced to the external providers having the right type of skill set.
Highly Technical Tasks: Sometimes, you get projects that are very technical and your in-house team will not be able to give optimum results to the clients. In that case, outsourcing is a must.
Checklist to Use while Choosing a Reliable Outsourcing Technology Partner
Skills and Knowledge:

While selecting an offshore development company, you must know which country offers the most effective service without draining your company's pockets. Among other countries, India is one of the top outsourcing destinations for business processes. The country's booming BPO industry-inspired Universities to offer training programs that cater to workforce demand.

Work History:

To get a lot of customers most outsourcing companies create a boast of their success. To measure one's success and experience look for honest feedback from the clients on credible websites like

Good firms

, App Futura, etc. Portfolio and ranking can come in handy once you got to imagine the level of the company's qualification. This knowledge enables you to make better-informed decisions.

Good Communication: The key

factor is effective communication for all organization Find an offshore company with good communication to avoid the hassle of language barriers. Both teams should discuss issues and should come to an understanding of how to work together. With this advantage, miscommunication is less likely to occur between the client and the vendor.

Cheap Offers:

Double-check to be sure that if you need so many services which they are offering. Always keep in mind that outsourcing companies will offer you as many services as they are able to provide in order to earn extra money.
After you have finally identified what to outsource and decided which technology partner to collaborate with, here are a few steps you must follow to ensure things turn out the way you are expecting them to.
6 Steps to Effectively Outsource Software Development

Step 1 - Document Everything
Specify everything in writing. Drafting a contract that specifies the exact responsibilities is the key to safeguard your company's interest. Be very specific with your intentions. Make sure the vendor understands exactly what you actually need so that there is no misunderstanding. Never leave anything for assumptions and clarify everything that comes to your mind.
Step 2 - Strategizing
Offshore software development will certainly transform your business culture. This is really exciting but it requires strategic planning. Start preparing your staff, and adjust your methodologies in advance. You may have to outline processes around the tasks that will be in-house and determine how the team flow will change.
Before you consider outsourcing as a strategy, ensure you know the answers to some of the questions. Who will spearhead the plan? Will it have any effect on the in-house team currently present? How will the cost be saved? How will the cost start and how will it end?
Step 3 - Benchmarking
Reliable offshore development partners commit to a certain level of quality and performance standards but it is your choice to define what they should be. Prioritize the benchmarks and metrics that matter to you. Depending on which task you are outsourcing, your KPIs i.e. key performance indicators will vary.
Before deciding yourself, ask the outsourcing agency to list down the KPIs. Finally, come to a mutual agreement about how often the company will keep you updated with the ongoing process.
Step 4 - Test the Waters
Instead of outsourcing the complete project, start with a couple of tasks, that requires less investment. This approach will surely help you observe the efficiency of your offshore development team. Good companies will complete the tasks within the deadline and will always want to prove their worth.
Step 5 - Be Patient
If the project requires product knowledge, it may take some time for the provider to speed up so don't push them in the first one-two weeks. Respect the learning curve and wait for a while.
Step 6 - Team Management
Manage the offshore development team efficiently and ensure they are doing the job you've hired them for. If you are tempted to micromanage tasks, then learn to delegate. Also, hold your remote company accountable every week, month, or quarter, as per your needs. Trust your team and they will surely deliver more than your expectations.
Words for Wise
Before you set up an offshore development center, it would be beneficial for you to have a relevant business case to justify the ODC. Follow your employees on LinkedIn or Twitter to know more about their working experience and core technical skills. Moreover, it will help you to strike up a friendly relationship with your workers.
Add Value to your Growing Company with Offshore Software Development
Outsourcing is a tried and tested model for those who are willing to grow their business. Outsourcing has already proved its worth by becoming a hit among the business owners as many giants have utilized outsourcing and reaped the benefits.
Although, outsourcing auxiliary services and choosing the best offshore software development partner does require an initial outlay, but this investment is repaid via increased productivity, less stress, and boosted profits that outsourcing brings with it.
All of which adds up to build rapid and sustained business growth.
Bottom Line
Use the aforementioned tips and tricks that are very useful in order to succeed in outsourcing your technical assignments to different countries around the globe. In case you are having any doubts about your project or need to get recommendations from experienced developers we are here to help you any time.
With us, you will never experience any hardships in setting up or running your offshore development center. Want to learn more about the process? Check out "How it Works"?