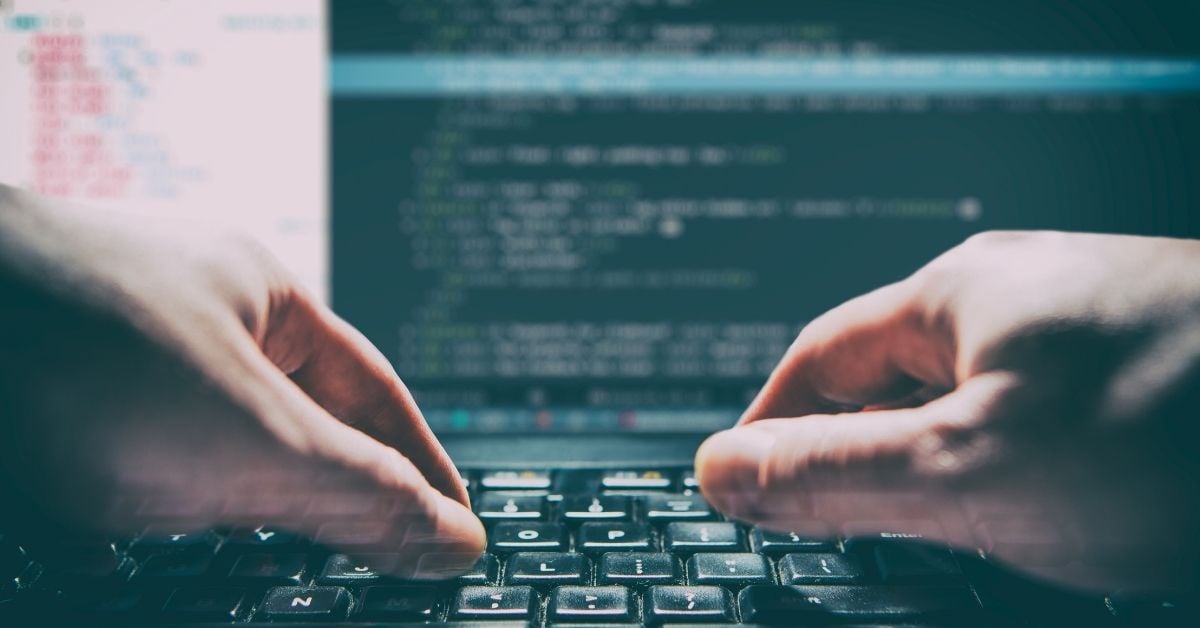 Quick Summary: Outsourcing app development to India is on the rise, thanks to its skilled workforce, cost-effectiveness, and track record of success. Still, companies are worried about the safety concern of acquiring services from Indian Software Developers. This blog will provide you with valuable insights on why choosing Indian Software Developers will not only be safe but also advantageous in various aspects.
Ever thought about why most of the leading firms in the world are led by Indians like Sundar Pichai and Satya Nadela? And why is India said to be the oldest and most well-established software development destination around the world?
Don't worry… Don't worry; We are here to unravel the mystery !!
Undoubtedly, standardized work ethics, desirable government policies, and proficient skills make India the most preferred destination for software outsourcing. Moreover, there's more to consider when considering India as your outsourcing destination. One of the crucial reasons why India is becoming famous for outsourcing is the availability, reliability of resources, and cost-effectiveness.
Do you know, As per a recent survey, 82% of businesses in the US and UK favor India as their outsourcing choice for software development services?
Furthermore, the National Association of Software and Services Companies (NASSCOM) disclosed that India is the top choice for outsourcing among more than 50% of Fortune 500 companies.
Exploring offshore development services from various countries has been a consideration, yet India stands out as a prominent choice among them. Below are the factors that explain why and how India has consistently excelled in delivering top-notch software development services compared to other countries.
Key Takeaways
India holds the position of being the largest IT outsourcing service provider, delivering dependable and cost-effective software development services.
India offers software development services with a combination of cost efficiency, reliability, and a pool of tech talent that sets it apart from other countries.
With its robust software developer community, India presents a wealth of opportunities.
Why India is the most preferred software development destination in the world?
India - "The largest Software Development and IT Outsourcing Provider."
India leads the global arena by offering round-the-clock outsourcing services, cutting-edge technology, and specialized IT and software solutions.
Besides its prominence in Asia, India's IT outsourcing solutions are also trusted by major countries and regions such as the UK, USA, and Europe.
According to a report by Statistica, India holds the top position among the top 10 countries for outsourcing software development.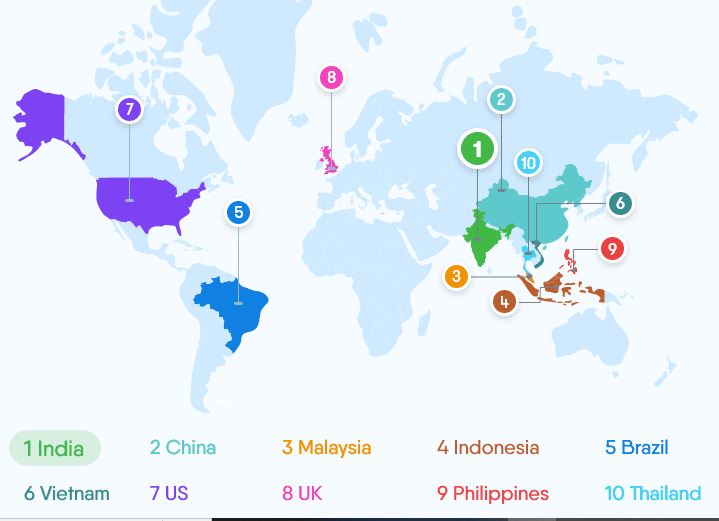 As per a recent survey conducted by Deloitte, 59% of the surveyed businesses confirmed their current outsourcing operations in India, with an additional 22% expressing their consideration towards future outsourcing endeavors in the country.
These statistics offer good reasons why India is considered the most preferable country for software development solutions. However, this doesn't end here, as there is a lot more to it.
One of the most significant reasons to acquire software or IT solutions from India is its Outsourcing-friendly policies that make it a more reliable choice than others. Below are the policies that India follows:
The Indian Contract Act. 1872
The Indian Contract Act provides legal validation for contracts with Indian Outsourcing Companies, offering remedies and provisions for all parties involved. This validation ensures obtaining outsourcing services from a reputable and trustworthy source.
Specific Relief Act, 1963
The Specific Relief Act of 1963 grants specific remedies for contract breaches, whether they involve monetary compensation or other forms of relief.
The FTDR Act, or "Foreign Trade Development Regulations Act," oversees and manages all licensing prerequisites for importing and exporting services, providing facilitation and regulation in this regard.
The IT Act provides legal recognition for digital signatures, transactions, and other electronic commerce methods, ensuring data protection.
The Companies Act of 2013 oversees the operations, responsibilities, and duties of Indian companies.
Intellectual Property Laws
Intellectual Property laws, such as the Trademarks Act of 1999, the Copyright Act of 1957, and the India Patent Act of 1970, enable intellectual property protection.
Foreign Exchange Regulations
The foreign exchange regulations encompass transactions involving Indian residents and Non-Resident Indians (NRIs).
These policies and statistics seamlessly clarified the reasons why the country is considered a topmost choice for acquiring software solutions. However, when talking about software development, how can the characteristics of an Indian developer lag behind?
Well, there are several parameters that interest you in choosing Indian developers for your next project. Get the complete insight below.

Why choose Indian developers for your next software development project?
There are plenty of reasons to hire developers from India; however, a few of them include:
1. Extensive Pool of Talent
When searching for the ideal outsourcing software development company, the size of the talent pool is a critical factor. In this regard, India stands out for its abundant resources.
Over the last five years, the software industry in India has experienced a robust 10% growth, and it is projected to further expand by 7.5% in the upcoming five years. Digital services play a pivotal role, accounting for 30% of the industry's revenue share.
In a noteworthy achievement, 17 Indian companies, including prominent names like Infosys, TCS, and HDFC, have earned a place on Forbes' esteemed list of Best Regarded Companies.
2. Diverse Skill Levels in Abundance
India's popularity as a hub for software development services is attributed to the accessibility of skilled workers across various levels.
India adds more than 200,000 IT graduates to its workforce annually, giving it the distinction of having the youngest employable population in the world.
Whether you require entry-level expertise or seasoned professionals, India offers a broad spectrum of skill sets. This ensures that you can assemble the ideal team for your project, irrespective of your budget or timeline constraints.
With a varied skill set, a culture of perpetual learning, and a strong inclination towards innovation, Indian developers are well-positioned to provide outstanding custom software solutions spanning numerous industries and technologies. Their expertise and flexibility make them a favored option for businesses globally.
3. India holds 2nd position as a source of Global Innovation
While the USA maintains its leading position, India closely follows in second place, primarily attributed to the thriving tech hub of Bengaluru.
Bengaluru has secured its position among the top 10 cities worldwide renowned for technology innovation, along with Singapore, London, Tel Aviv, Tokyo, New York, Shanghai, Beijing, and Seoul.
This positions India as a formidable contender in providing exceptional services, combining technological advancements with the desired level of innovation within the project.
4. Language is no barrier
Following the USA, India holds the distinction of being the second-largest English-speaking country globally.
India boasts a population exceeding 125 million English speakers. Annually, Indian engineering institutes produce a staggering 1.5 million engineering graduates.
Indian entrepreneurs and IT companies have embraced a global outlook, eliminating language barriers for outsourcing developers. With greater responsiveness to client requirements, any geographical or cultural challenges have become a thing of the past.
5. India's Software Development Services are cost-effective.
Companies can reduce their IT expenditure by approximately 60% by outsourcing their custom software development requirements to India. India strongly emphasizes transparency for its clients, ensuring no hidden charges exist.
Additionally, the offshore software developers' rates in India are significantly lower and more cost-effective compared to other countries.

6. Best Quality Software Development Services at your fingertips
Indian developers are not only budget-friendly but also excel in delivering high-quality work. The higher proficiency levels, tech skills, and wide cultural and work ethics make Indian Developers a good hire for programming.
India stands as a leading service provider in the realm of custom software development. With the highest number of ISO-certified companies, India consistently provides top-notch services with punctual delivery.
7. No time zone adjustment
Indian software developers are renowned for offering services around the clock. This practice enhances productivity and guarantees the delivery of high-quality work within stipulated timelines.
8. Custom Software Solutions
Clients often seek Custom Software Solutions to impart a personalized touch to their software applications. Opting for software development services from India consistently offers the advantage of obtaining a fully tailored application, granting businesses a competitive edge and delivering the desired engaging user experience.
With the technical competencies Indian Developers have, the businesses can ensure to have completely customized software solutions they always had in their minds. So, from imagination to creation, everything seems possible.
9. Core Technology Competencies
India, with its diverse expertise and deep professional knowledge, stands as a strong contender to lead the IT outsourcing services industry. Its core technological competencies and adaptability position it as a frontrunner.
India boasts a vast pool of professionals, including skilled software developers proficient in a wide array of relevant technologies. The graph below provides a clear illustration of the core technology adoption and usage trends among Indian developers.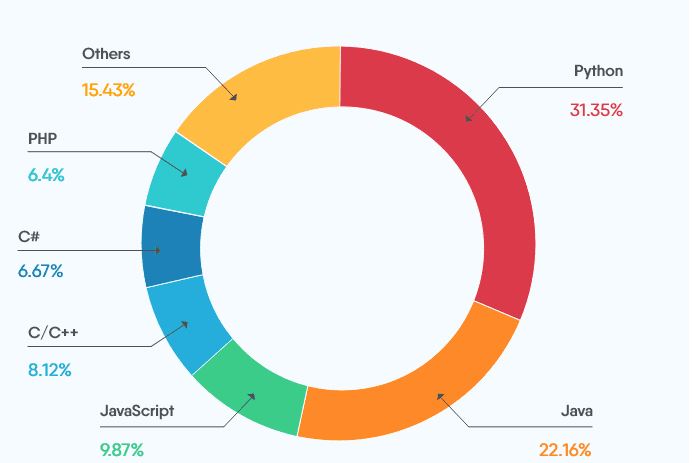 As per the Popularity of Programming Languages Index, these are the most widely used languages among Indian Developers.
How to find reliable software developers in India?
Finding reliable developers in India, which was challenging earlier, has become way easier than ever. Follow a comprehensive approach and acquire quality software development in India at your fingertips. Begin your search with the steps mentioned below:
Conduct thorough research
Prioritize conducting thorough research before finalizing an outsourcing company. Seek out firms with a commendable reputation and a well-documented history of producing high-quality outcomes.
When choosing an outsourcing partner, it's crucial to consider your budget and ensure that you're receiving excellent value for your investment. With numerous options available in India, you should be able to locate a company that aligns with your financial resources.
Examining an outsourcing company's portfolio is valuable for evaluating its capabilities. It provides insight into their past work and whether it aligns with your requirements.
After narrowing down your choices to a few companies, comparing their quotes before making a final decision is crucial. This step will help you grasp the pricing structure and ensure you receive a fair value for your investment.
Engage in discussions on terms
Before confirming the contract, it's crucial to negotiate with the outsourcing company. This encompasses turnaround time, payment terms, and the scope of work.
However, the bottom line is to find and acquire software development services from top Indian Software companies to ensure quality work is guaranteed.
Why Choose YTII for Hiring Indian Developers?
When it comes to hiring developers and obtaining software solutions, Indian Developers have proven themselves ahead of the curve for the reasons mentioned above. At YTII, we have a team of dedicated, skilled, and high-quality professionals who meet all these criteria.
Your Team in India is a dedicated Offshore Software Development Company in India. With over a decade of experience and a team of highly skilled software developers, YTII is the trusted choice for businesses seeking:
A foremost end-to-end offshore software development service provider worldwide.

Assured value for money at 101%.

Profound domain expertise.

Cutting-edge out-of-the-box innovation.