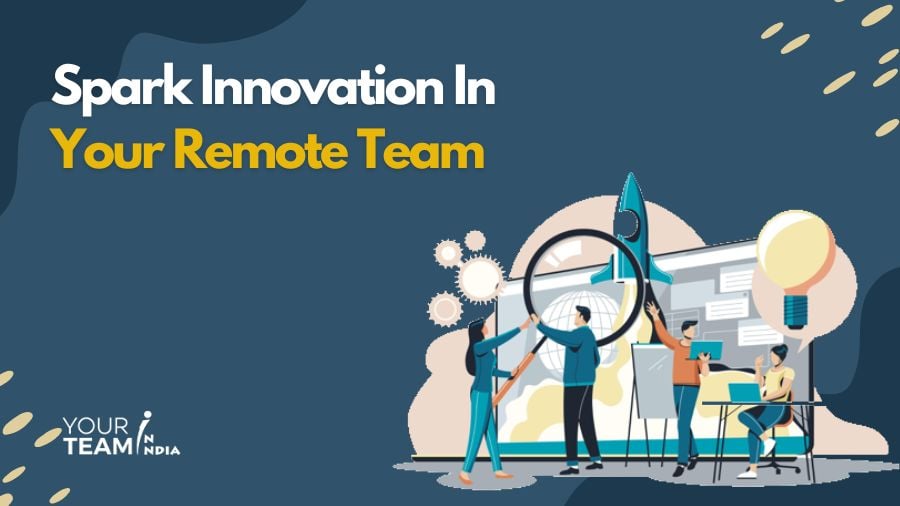 Today's customer-centric world demands quick digital solutions, lower time to market, and a reliable team of dedicated experts. To achieve this, you can prefer to hire offshore remote developers. It enables businesses to expand their capacity without putting any additional cost.
But how can one ensure their remote team will be able to help them deliver value for customers? One weakest spot or rush to deliver new advanced features can lead to buggy releases and poor user experience. And thus, unhappy customers, furious CTOs, and skeptical investors.
Recommended Read: Guide to Hire Offshore Developers
Today, hiring remote teams is higher up on the priorities list of product companies, enabling them to:
Deliver a higher quality product

that satisfies customers, reduces time spent on bug fixes, and puts companies ahead of competitors.

Reduce the risk of security concerns

and data leaks, thereby protecting their customers and the company's reputation as a whole.

Keep team members where they belong

and enable them to focus on projects where they will add more value in terms of delivering good results and maximizing ROI.

Save costs by hiring offshore software development partners instead of gradually building

an in-house team.
Let's dive into the blog post and find out how one can get the most out of a remote team.
Recommended Read: Step-by-step Guide to Hire Remote Developers
Get the Most of an Offshore Remote Development Team
Let's dive into the best practices to leverage the advantages of hiring a remote development team.
Define the Product Vision Statement
When you decide to work with a remote development team for your project, it is critical to definite the volume and requirement of all the processes related to tasks by a given period. By doing this, you can easily build a comprehensive work strategy and be able to share a complete project picture with the team. The work strategy or scope of work must include the reports, milestones, and timeline for all deliverables decided to be provided by the team.
Based on the scope of work, the project is split into several parts and specific sets of tasks that you will use later for planning product iterations. That makes product development more flexible and makes it easier to change the priority of tasks depending on user feedback and other external factors.
Create a Clear Product Roadmap
After defining a clear and concise product requirement and general tasks, now is the time to divide the scope of work by time intervals. This product development roadmap will showcase high levels of the requirement vital to meeting the product vision. It is critical to note that a product roadmap is a flexible source, which means one can expect fluctuation in functionality and deadline depending on the development process speed, user requirements, and other external factors. Overall, the main goal is to provide a clear picture of the product development process available for all offshore development team members.
To constantly monitor the progress and instantly make changes in the direction of the product roadmap, the development process is split into short iterations called sprints. The team drafts a list of tasks with descriptions and projected time for development work for sprint planning.
Invest in Collaboration Technology
Collaboration technology enables remote teams to be more effective. Tools like JIRA, Slack, Asana, and Trello help the remote development team make the collaboration workflow transparent and seamless. Despite the differences in time zones and locations, these tools help keep the whole remote team and clients on the same page, making them essential for offshore team management.
Use Agile Team Meetings to Sync up With Team Members
Daily standup, a quick 15-minute get-together, is a good instance for agile development teams working in different time zones. Daily standups aim to share the plans for the day, set agendas and discuss any problems. Such regular short meetings could be a simple yet effective way of ensuring the entire distributed agile team is in sync.
Top 8 Factors That Adds Value to Offshore Team Management
Overlap Schedules
As we have discussed above, offshoring is impossible without continuous communication between the client and the remote team, so ensure you invest at least a few hours daily for live communication. While communicating, choose video calls where you can also see the person's emotions.
Assign a Manager
It is critical to ensure you assign a manager to your remote team and do not leave them 'hanging' without supervision. Provide a local manager to monitor and share reports with you regarding the team's performance. Choose someone with strong leadership qualities and authority within the team.
Communicate As Much As Possible
Lack of communication often leads to a lack of understanding and motivation from your offshore team. Make them feel like they are as much as important to the company as any other in-house employee. For this matter, after you hire offshore developers, do not limit the communication time with them.
Do Not Micromanage
If you choose to manage your offshore team from a distance, it will make them feel you have no trust in them with their job. Set a person accountable and ensure every team member has a clear understanding of their tasks. By trusting people, you are motivating them to deliver better performance.
Invite Them to Meetings
Meetings are an essential part of the organization's culture and business process. By having an offshore team in your meetings, you will help them gain complete knowledge of the processes within your organization and, eventually, enable them to meet your business goals. Offshore companies hiring processes should be considered just like any other within the enterprise to achieve the best possible result.
Give Feedback
Feedback is critical to any management process, especially for an offshore development center. Giving feedback to your team promises the quality of the result. Suppose there are some mistakes you and your offshore software development team can fix everything quickly.
Encourage Small Talk
It will be easier for you to communicate and get along with the remote team if you make them feel connected to you and your company. Create a group chat for all the team members and actively participate in conversations. Make them see the person behind the 'boss' figure.
Recognize Achievements
Remote teams often do not receive appreciation for their dedication and hard work. When you collaborate with such a team, it would be great if you recognize their achievements within your project. Providing them appreciation will greatly boost their motivation and performance.
Also read: 21 Best Practices to Manage Remote Teams
How Remote Developers Can Complement Your Team
Here are some of the top benefits you can expect from the Offshore Remote Team
Team extension
Going offshore means putting distance between your onsite and remote development teams, but it doesn't have to feel that way. Dedicated offshore partners can become a true extension of your onsite team rather than just a temporary contractor. They invest time and effort to understand your market, customer, and business goals to fully align with your in-house team from the beginning.
Domain Expertise
Want to hire a remote team with your domain expertise? Good luck finding it close to home. For one, highly specialized software engineers are hard to reach in today's market. The best ones are usually already on roll (and satisfied where they are). And those that aren't may only view software engineering as a stepping stone to a career as a full-time developer.
Offshore software development providers hire engineers with deep skills in respective areas and those with broader focus areas. And because they're constantly trained, you know that you're getting the best and the most promising team with your niche skillsets.
Streamlined, Secure Communication
The leading software development providers have been in the business long enough to learn the communication's ins and outs. To bridge the gap between in-house and offshore remote teams, the best software development partners invest in encrypted chat clients, email security measures, and leading video conferencing solutions. These measures ensure that every team member is always in the loop and that your organization's security is never in danger.
With this type of communication infrastructure in place, teams can easily assemble for daily standups, retrospective meetings, backlog groomings, and sprint planning, just like any onsite development team.
Evaluating the Rewards of an Offshore Development Team
No need to mention that engaging a remote offshore team can save you money and time. Generally, you can hire software development services with three times the number of skilled offshore engineers as you can with on-site services for the same resource cost. Moreover, you can save up to 50% on your total software development spending only by outsourcing to a destination such as India.
That advantage is possible as the quality of work delivered by best-in-class remote developers is competitive with that of more popular areas such as Africa.
Offshore markets and nearshore sites have matured in the last decade to deliver dedicated, niche services from state-of-the-art facilities.
That investment and training allow you to leverage a talent pool that will decrease the cost of product delivery. And these experts can not only build your product; they can also upgrade and improve it.
What's Next?
Working with a remote team has always proven successful if one knows how to utilize them in a specific project. However, you must first define your project requirements and business goals and create a plan of action to overcome the challenges that can make a roadblock.
After that, you have to take care of the aspects mentioned above and begin your search for a reliable remote development team!
If you are still unsure how to hire dedicated developers in India, Your Team in India could be your reliable offshore partner. Talk to our experts and your project requirements immediately, and let us help you start your hassle-free offshore development journey.
Frequently Asked Questions [FAQs]
Q: What are the five techniques for effective collaboration in the remote team working environment?
Five best practices for collaborating in a remote team
Align your team around a shared vision.

Keep communication clear and concise in the context of your projects.

Pre-define the project's expected results and benchmarks.

Make the most of everyday meetings with the remote team.

Prioritize in-depth work.
Q: How do you unify a remote team?
Below are the tips for managing remote teams.
Hold regular fifteen minutes standups.

Execute weekly brainstorming sessions.

Keep simpler and secure tools for regular communication.

Keep one-on-one meetings between managers and team members on priority.

Invest time in getting familiar with each other to build teamwork

Trust your team for their work.
Q: How do you lead a virtual work environment?
Here are eight new guidelines for leading in a virtual environment:
Proactively communicate.

Be consistent.

Practice empathy.

Strive to build trust.

Invest in connecting.

Create clear goals and expectations.

Be humble.

Be appreciative and celebrate the wins.
Q: What are the three important strategies of remote teams?
Three strategies to build an effective remote team
Recognize your point person.

Let them know you through your outstanding performance and regular inputs in discussions.

Make time for personal connections.
Q: What is the best team collaboration tool?
Below are the best team collaboration tools
Slack.

Zoom.

G Suite.

Asana.

Miro.

Teamwork.