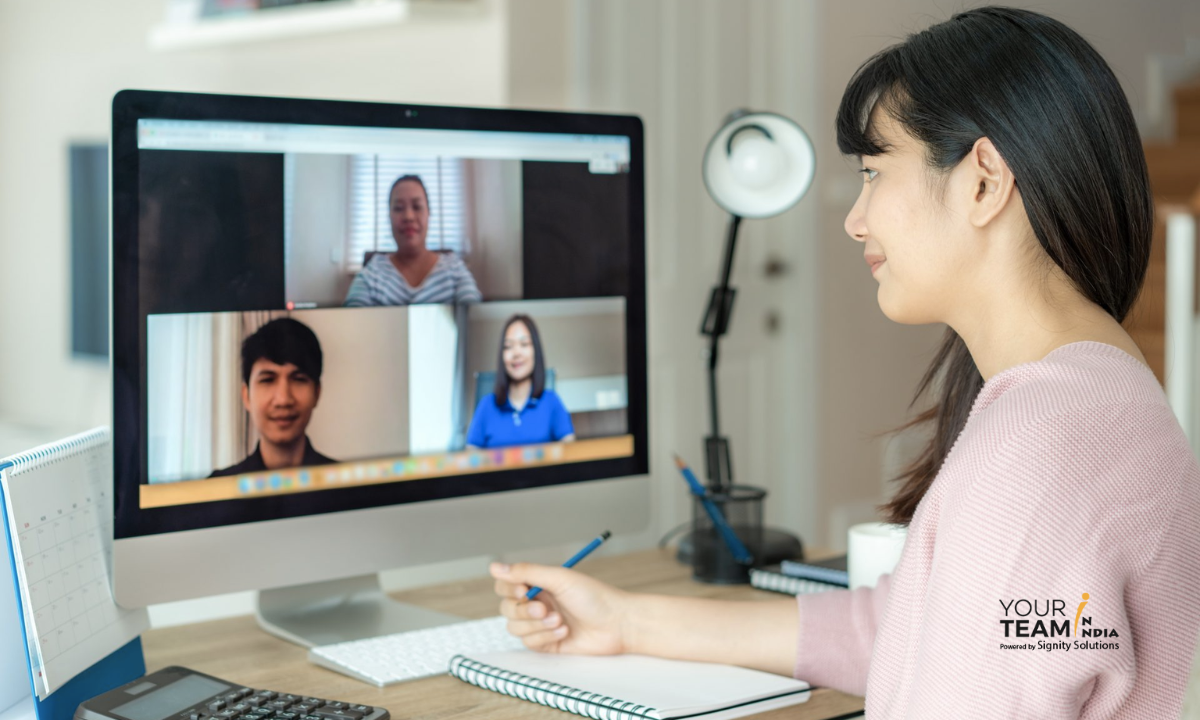 Quick Summary:
If you manage your remote team, having high-quality remote management tools is necessary. Here are 10 tried and tested management tools we used to manage our remote team. Learn how these super tools help you create a streamlined workflow without any fuss.
Whether small, medium, or large; all businesses are embracing remote workplace environments nowadays. Even start-ups have started using this new business culture.
Working with a remote team gives you a competitive edge. It's because of getting connected with experienced professionals around the globe. Finding the right remote developer is part of the equation. But to manage a remote team that you have hired is a daunting task.
To achieve better productivity from your team of offshore developers, it's essential to collaborate & communicate effectively. So, in this post, we will discuss the:
Key Takeaways
Communication is key. When managing a remote team, it is important to make sure that communication is clear and concise. There are many different tools that can help with this, such as Slack, Zoom, and Google Hangouts.
Set clear expectations. It is important to set clear expectations for your team, both in terms of communication and productivity.
Provide regular feedback. It is important to provide regular feedback to your team, both positive and negative. This will help them to improve their performance and to stay motivated.
Trust your team. It is important to trust your team to do their jobs. This will help to create a more positive and productive work environment.
Celebrate successes. It is important to celebrate successes, both big and small. This will help to keep your team motivated and engaged.
10 Best Remote Team Management Tools
1. Basecamp
This is the forefather of all the management tools. It allows for seamless collaboration between the teams working from different locations. In fact, using this tool, you can effectively manage a remote team & easily keep track of everyone's tasks.
Besides communicating/messaging, you can use it to assign tasks, share documents & automate weekly reports.
Why Basecamp?
20 years in the business and still counting.
More than 100,000 companies using it.
6900 new companies have signed up.
Using this tool, project managers can get a clear idea of the progress of every project.
Project managers can delegate work, set strict deadlines, review status, and evaluate what is still pending.
Basecamp Features Includes:
Collaboration Tools - Basecamp offers collaboration tools like message boards, chat rooms, and group email discussions.
Time Tracking - With this tool, you can keep track of your employee's time spent on individual tasks and projects.
Project Management - Basecamp provides an all-in-one platform for managing projects, where the team creates to-do lists, defines deadlines, and delegates tasks to respective team members.
Report and Analytics - Its reporting and analytics feature allow teams to track progress, gauge productivity, and identify areas for improvement.
Document Management -Basecamp lets your team store, share and work on documents, images, and other files in one place.
Notably, the check-in feature, "big button" notifies the network about the to-do list. This remote team management tool strives at replacing time-consuming meetings with a user-interface. You can easily create and schedule the activity with the help of different forums for team collaboration.
Recommended Read: Step-by-step Guide to Hire Remote Developers
2. Slack
Slack is one of the most popular communication tools today. It is very effective when employees are scattered across the globe. Users can create channels and have group discussions.
For instance, if you hire developers overseas, dividing the roles among different teams becomes easy. Besides sharing information in large groups, users can chat in a private window through direct messaging. Isn't that a useful tool to manage a remote team?
Slack features include:
Project friendly structure
Integrate tools
Easy, automated reminder
Easy note-taking
Tasklist management
Slack makes it effortless to search for information and receive filtered results. The software allows users to share files with the whole team. As Slack allows your remote employees to become aware of the circumstances surrounding the aspects of business, the software help retains transparency.
Transform your ideas into reality with our expert remote developers. Elevate your business with tailored solutions.
3. Trello
Since the drop and drag interface is simple to use and learn, Trello works efficiently as a remote management tool. The customizable graphics display can be broken down into different phases or lists with the help of this tool. On the way-cards are recorded.
This helps the remote employees visualize the progress of the project. In short, using such tools is one of the best practices to manage remote teams.
Trello Features Include:
Data filtering
Tags, labels, and categories organization
Inline editing
Easy file uploading
Checklist
Progress meter
Members using the tool can edit, add, and move the items on the board. To avoid the trap of attempting multiple things one at a time, Trello creates a detailed description of each card. Effective plans are developed in a hassle-free manner. This clearly defines the objectives.
4. Google Drive
Easy and Secure Way to Your Content
Google Drive is an excerpt of cloud-native storage solutions, especially for managing remote teams. Besides, it gives encrypted and safe access to your files, making it easy to collaborate on your project in real time.
The best part is Google Drive eliminates the need for local files and minimizes the risk to your devices.
Google Drive Features Include:
Accessibility
Collaboration on documents in real-time
Robust security feature
File sharing with specific individuals or groups
Cost-effective solution for storing and sharing files
Undoubtedly, Google Drive offers an exquisite array of real-time benefits to store, share, and collaborate on files. Its easy accessibility and collaboration features, accompanied by heightened security that goes easy on your pocket, make Google Drive a buzzword in managing files on the cloud.
5. Dropbox
One of the simplest document sharing software. It is very easy to teach your team members the way it works. When something is dropped in the Dropbox folder, it is available to all users with access.
Dropbox features include:
File sharing
File storage
Automatic back-up
File-recovery
File transfer
Link sharing via email
Dropbox allows your remote workers to organize data in folders and share their documents with the whole team. Dropbox is an ideal platform for backing up data. If the computer crashes or the smartphone is lost, you can use Dropbox to access the files that are in them.
Recommended Read: Advantages of hiring remote developers
6. GoTo Meeting
This tool teams up virtually on reports, share presentations, share product demos, and private data from any place anytime. It helps in managing virtual teams with the help of a quick download option for reports/presentations, speedy meeting setup, and instinctive user interface for coordination within seconds.
GoTo Meeting Features Include:
Meeting scheduler
One-click recording
Built-in audio
Personal meeting rooms
One-click recording
Hd faces video conferencing
Virtual whiteboard
GoToMeeting tool has the ability to consolidate industry-standard security measures and end to end SSL encryption to guarantee the safety of the login data & virtual meeting.
To easily manage a remote development team, you can use GoToMeeting as it has added audio conferencing at no extra cost. You can choose any option between audio conferencing or video conferencing while coordinating with the team.
7. Evernote
Remember Everything!
As the name suggests, Evernote is a note-taking app that is unskippable for remote teams. It enables teams to create and organize all important notes handy, turn to-do into done, and scan documents on the go.
Furthermore, Evernote has a web clipper, which lets you save web pages and articles for later reference. Evernote is a dynamic tool; whether you want to get organized, keep your personal life on track, or accelerate workplace productivity, Evernote got you covered.
Evernote Features Include:
Document scanner
Connect schedules and notes with the calendar
Synchronize and organize
Inbuilt templates to fit your every need.
Simply put, Evernote is a productivity app that acts as an extension of your brain. And to capture ideas when inspiration strikes without any delay, Evernote is a considerable choice.
Recommended read: Why Outsourcing in India is the Best Decision?
8. Hubstaff Tasks
Hubstaff Tasks is a visual project management tool designed to improve collaboration in remote teams. It offers several features that streamline organizing and prioritizing tasks so teams can keep moving projects forward efficiently.
Hubstaff Tasks Features Include:
Kanban cards and boards
Task card elements — labels, checklists, deadlines, and file attachments
Communication and notifications via task comments
Custom workflows
Daily stand-ups
Hubstaff Tasks lets you assign tasks to different sprints based on when they need to be done, allowing you to stay ahead of deadlines. You can create custom workflows that automatically move tasks forward and assign them to the right people with one click.
The app also has an automated stand-ups feature that team members can use to report what they accomplished, what they will be working on next, and if they're struggling with anything. This makes it easier for everyone to stay on the same page and meet goals on time.
9. Time Doctor
As the name suggests, time-doctor is a time-tracking tool ideal for remote teams. It helps team members track their time on tasks, making it easy to see where time is spent.
Besides, its insights help you recognize strong performers building morale across teams. Time Doctor has a free plan for up to 3 users, with a paid plan for an upgraded version.
Time Doctor Tasks Features Include:
Integrations - Time Doctor can easily integrate with several project management tools like Jira, Asana, Trello, Slack, etc.
Productivity Analysis - It allows detailed reports and analysis that help you analyze a team's productivity and identify room for improvement.
Automated Screenshots - This tool captures screenshots of team members' workstations, giving you insights into how they spend their time.
Payroll and Billing - An in-built feature allows you to create reports and bill clients precisely based on tracked time.
Project Management - Time Doctor allows you to manage projects by assigning tasks, defining deadlines and tracking progress.
These are just a handful of the main features Time Doctor offers to help teams and organizations uphold their productivity, accountability and efficiency.
It's a valuable tool for remote teams and small businesses.
10. Adobe Document Sign
Adobe Document Sign is one place for all your PDF and e-sign work. This tool allows users to sign electronic documents and speed up their workflows safely. It's a part of the Adobe document Cloud suite of products and is built to optimize and streamline the e-signing process.
With Adobe Sign, it's easy to sign documents from anywhere, anytime, using a secure and legally binding e-signature.
Adobe Document Sign Tasks Features Include:
E-Signature - This tool lets users sign digital documents with secure and legal electronic signatures.
Workflow Automation - Adobe Document Sign provides features for automated workflows that can be personalized to address your unique needs.
Custom Branding - Adobe Document Sign lets you add custom branding to signed documents, consisting of the company's logo and colors.
Collaboration - This tool allows real-time collaboration, allowing multiple users to sign a document simultaneously.
Security - Adobe Document Sign uses the latest security measures to secure your documents and e-signatures from breaches and tampering.
Multiple Signature Option - This tool offers multiple signature options, including signatures that can be drawn, uploaded or even selected from an already existing library.
Integrations - Adobe Document Sign let you integrate with other Adobe tools, including Adobe Sign, Adobe Creative Cloud, Adobe Acrobat.
Cloud Storage - This tool let you store and access your signed documents in the cloud, making them easy to access across the globe.
We have one more bonus tool or word to the wise for all our readers to manage remote teams hassle-free.
Here it is!!
Quick Tips to Successfully Manage and Motivate Remote Team
Managing a remote team is easier said than done. And, one of the biggest challenges is you and your team cannot have face-to-face communication most of the time.
Don't worry!
Here are a few quick tips that come handy when managing a remote, and keeps them engaged and motivated.
First and foremost, you must let your remote team have the freedom to work as they want. It's best to delegate tasks and track the progress. And, as long as your team is meeting targets and delivering work on time, skip the queue of micromanagement.
It's important to define the rules regarding work and communication beforehand. Plus, it's a good practice for your remote team to know the preferable time and communication tool to reach out to seniors and other team members.
You must schedule daily gabfest to have updates on projects, give feedback, or ask for requirements if any. Plus, it not just keeps everyone on the same page but also makes your remote team feel connected and motivated while they work offshore.
Take Out Time for Meaningful Conversation
There are chances where you need to have one-to-one sessions with team members.
To be precise, you should do it bi-weekly to ensure your team can handle some tasks and meet project deadlines. This will be more than a casual talk, but certainly, a meaningful conversation encircling things outside the day-to-day grind.
It's an opportunity to discover their career ambitions, challenges, and doubts and create a relationship with them. This is crucial for remote employees who struggle with feelings of seclusion.
To address this concern, many remote companies have opted for remote mentoring programs ensuring all employees have equal access to development opportunities.
Motivate Social Interactions
There's no skipping this.
It would be best if you hosted virtual events and remote team-building activities to motivate social interaction between your team. These activities help team members know each other, nurture a healthy environment, form a bond, and work as a team.
Conclusion:
To achieve your business goals, it's important to use project management tools while working with remote development teams. Especially, if your team is present in a different country or distributed around the globe.
It is the best way to get a group of loyal, hardworking, and productive employees together that will make you reach the company vision sooner.
By using these tools, remote teams can outperform the competition and achieve great success.

Frequently Asked Questions on Remote Development Team:
Q. What are the benefits of using tools to manage your remote team?
There are numerous benefits management tools can provide. A few of them are:
Improved communication and collaboration
Minimized costs
Maximized productivity
Enhanced employee satisfaction
Q. What are some of the most popular tools for managing remote teams?
There is an endless list of management tools to efficiently manage remote teams. But, the most talked about tools are:
Slack - A communication tool
Asana - A project management tool
Zoom - A video conferencing tool
Google Drive - A cloud storage service
Q. What are some tips for choosing the right tools for your remote team?
While choosing the management tool for your remote team, it's crucial to pay attention to your budget, the requirements of your team, and your team size.
Q. How can I get started using tools to manage my remote team?
Using management tools to successfully manage your remote team is no rocket science. Here are some handful of tips to help you get started:
Define clear expectations from your team
Provide training to use the tools effectively
Keep track of the progress
Give feedback