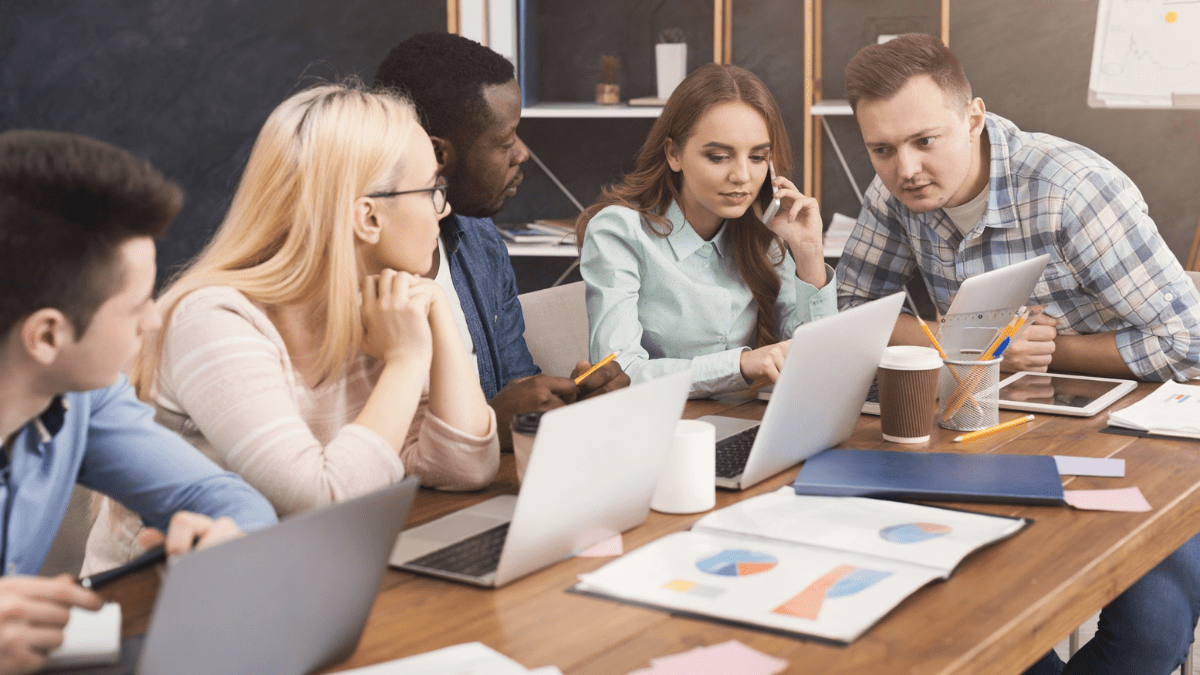 Quick Summary:
Offshore software development can be a challenging task, but understanding the key success drivers can help businesses navigate the process. This article explores seven essential factors that contribute to the success of offshore software development projects.
The success of your project development scales down to how well it performs against the iron triangle of software development - time (on-time completion), quality (having all the expected features and functionalities), and budget (handed-out funds).
It'll probably be easy to understand that when a project is outsourced to an offshore development team, customer satisfaction is directly proportional to the team's achievements with respect to these criteria. But that's not all!
Long-term satisfaction roots in factors that are not directly project-related.
And, if you are also the one testing the waters for successful offshore software development, you may have thought about the key success factors that "make it work"!
Here, we will discuss what Your Team In India believes are the key drivers in propelling a successful offshore software development journey. Plus, the guiding principles that made us a trusted offshore software development company in India.
Don't compromise on quality or cost when hiring developers. Work with our offshore team of developers and enjoy the best of both worlds. Contact us today!
7 Success Drivers in Offshore Software Development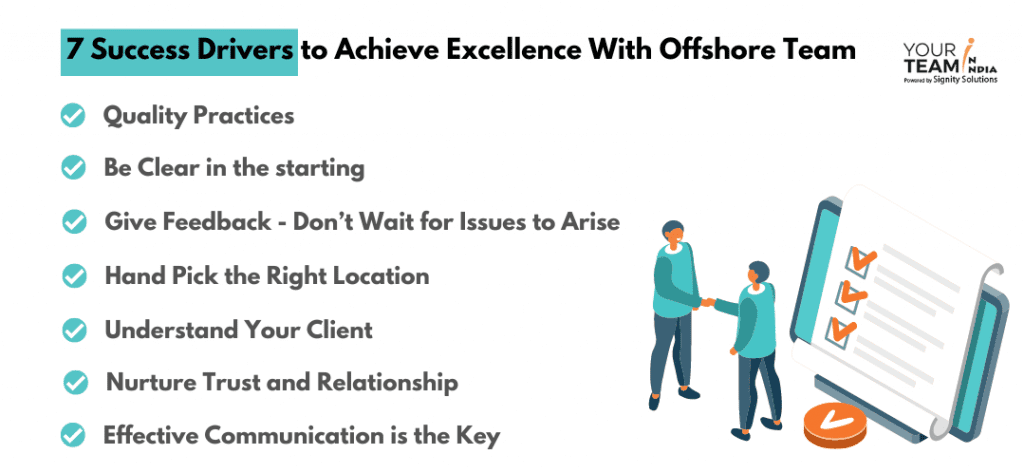 Let's see how to make your offshore development work!
Driver 1: Quality Practices
Mapping out code quality as the first thing lays a strong foundation for code security and impacts the complete software quality practices.
Therefore, a core strength of a software development company or team is its potential to create high-quality code - and YTII focuses on just doing that. Simply put your team's technical expertise crafts the subtle difference.
To have a successful offshore development journey, access and analyze the developer's tech-savviness, problem-solving skills, and interpersonal skills that ensure they are the best resources for your project.
Next, ensure every client project the team is involved in. Ensure the lines of code are always top quality and cross-checked before delivering the project.
After all, going through these processes helps ensure the code has an essence of reliability and reusability - all elements of well-written code.
Besides, recognize the importance of teams armed with the best tools for the job and developers having expertise with several programming languages. Understanding software frameworks and other coding tools is a must for teams to be well-equipped.
Driver 2: Be Clear
Mainly, companies oscillate somewhere on the maturity of vision and mission, meaning they don't have a well-defined and accurate action plan.
The answer is to plan everything from the start.
Most of the discussions regarding offshoring funnel down to cost. However, it should not be the only factor impacting your final decision to go overseas with all or some portion of your project development. Instead, evaluate if your prospective service provider is rigid or flexible in their approach.
Usually, contracts come with a defined time period and SLAs (Service Level Agreements) to keep things clear to understand. Though, over time a need may arise that necessitates renegotiation of the contract.
Furthermore, your potential service provider should be flexible enough to understand and capacitate the client's concern hassle-free.
Here, a Service Level Agreement comes in the big picture as it's the most indispensable document for any changes or upgradation in the project. So, ensure to include everything to avoid confusion and ambiguity in the later stages, leaving no chances of slip-ups.
Recommended Read: A Complete Guide on Offshore Development Center
Driver 3: Give Feedback - Don't Wait for Issues to Arise
Never keep your concerns to yourself.
Not being vocal about feedback only lets disappointment fester and appear unpleasantly in the later stages, in one way or another. For instance, significant project delays could occur due to non-resolved issues or unexpressed frustrations.
So, to avoid any potential red flags or issues, it's advisable to be open to communication and be transparent with your offshore team. Meanwhile, your partnered team would expect to give them clear feedback about performance and project achievements - like whether it'll be completed within the timeline, inconsistencies in the workload, daily operations, poor project management, etc.
Make sure your partnered offshore team practices radical transparency that advocates for a culture of openness within an organization.
Driver 4: Understand Your Client
Understanding clients doesn't mean knowing their values and visions as a company.
Instead, to cater a successful offshore software development, vendors need to know the entirety of their client - their business lifecycle, strengths, target audience, challenges, and day-to-day operational style. Only then it is easy to advise the suitable software engineering model and services that would perfectly fit their industry-oriented requirements.
Also, ensure that the management team has a solid and high-level business understanding of your project to be able to translate their needs into actionable insights. This is crucial to leave no stone unturned to recommend the best-fit technologies and appropriate outsourcing team structure.
Driver 5: Nurture Trust and Relationship
An offshore software development team is a behemoth investment for any business and company. But, the quality of the relationship built together determines the foundation of the partnership.
Nurturing trust and relationships within your offshore team is as important as for your team to understand the client. Besides understanding their workplace culture on a day-to-day basis and what they are as a company, all these connections strengthen your bond and open doors for collaboration with like-minded organizations in the future.
Driver 6: Effective Communication is the Key
"Communication" is an unskippable aspect of software development. However, communication is one of the big challenges in offshore development.
Communication skills, to be precise, include how well your offshore development team understands and speaks your language.
Notably, it shows their potential to follow directions, ask questions, have follow-up emails, and more. So here, we've pocketed some considerations to help you in your offshore software development.
Do they know what the project needs and why?
How well does your team communicate in your language?
Do they ask questions if they aren't sure what needs to be done?
How often communication happens between you and the team?
For example, if your developer could be a better communicator, there are minimal chances of mistakes in making functionalities work. In addition, developers might face challenges by asking questions to understand the project scope better.
Thankfully, this challenge is the least when you opt for an offshore development team in India. After all, India leads as a country with the highest number of people speaking English at 265 million. At YTII, our engineers undergo an intensive recruitment process to ensure they are the best in coding, innovation, and communication skills.
Driver 7: Hand Pick the Right Location
As already known, many people have tried offshore development in the wrong locations. The chances of finding success are slim when the location is not appropriate. Therefore, knowing where to look for a reliable offshore software development company pays off.
Here, one tried, and trusted approach is word of mouth. Go for the recommendations; look at how they made their clients' ideas a reality, especially if they succeeded. Some reasons make India the best place to do offshore development. Besides, we can help you handpick and handhold the best developers at a pocket-friendly price.
Finally… Spot Success
All signs mentioned point to offshore development as the appropriate and preferred approach to building digital solutions. Startups, particularly, stand to reap great benefits from this model. These key success factors will help you drive your business forward from the ideation stage to reality, eventually leading to a return on investment.
Talk to us to learn how you can leverage the most talented and skilled developers for your next big thing.

Frequently Asked Questions (FAQs)
What are the key success drivers in offshore software development?
The key success drivers in offshore software development include effective communication, cultural alignment, strong project management, clearly defined goals and requirements, a focus on quality, a collaborative approach, and the use of appropriate tools and technology.
How can effective communication contribute to the success of offshore software development?
Effective communication is critical in offshore software development as it helps to ensure that all stakeholders are on the same page and that the project is moving in the right direction. Clear and frequent communication can help to prevent misunderstandings and keep the project on track.
How can the use of appropriate tools and technology contribute to the success of offshore software development?
The use of appropriate tools and technology can help to streamline the development process, improve collaboration between teams, and ensure that the final product meets the required quality standards. The use of tools such as project management software, communication platforms, and quality assurance tools can help to improve the efficiency and effectiveness of offshore software development.