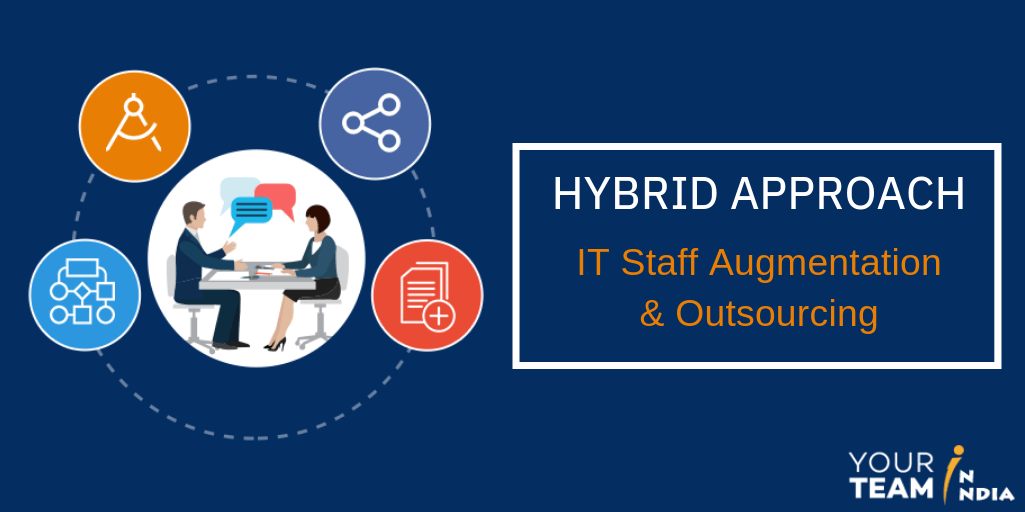 The success of any IT project depends on the company's ability to deliver on time and within the budget. In-house project work can be a good solution, but many times, it can also be risky and expensive.
With technological innovations, the IT need of organization changes. These days, it is difficult for the business to survive if it continues to rely on outdated legacy systems.
As a result, companies seek out for external or third-party agencies to complete IT projects. Here are the three delivery models companies consider:
Staff Augmentation

Project Outsourcing

Hybrid Approach
What is IT Staff Augmentation?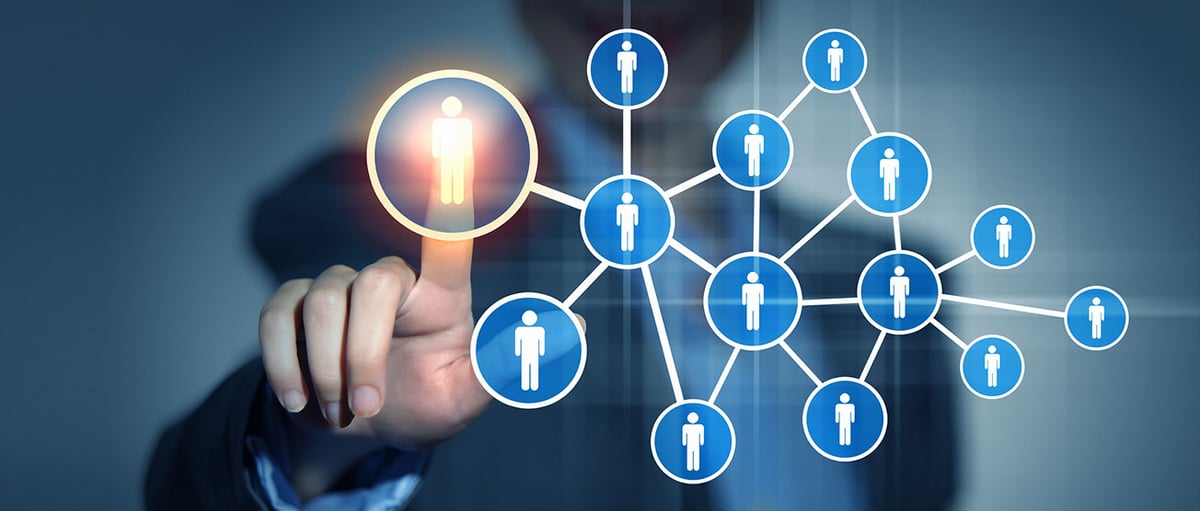 Staff Augmentation fills the "skill gap" in the organization. It is a process of engaging with top-level professionals for the individual project without having to incur the costs of hiring new full-time employees.
How Does Staff Augmentation Works?
Staff augmentation is hiring trained and qualified workers with required skill sets. It is like using temporary workers or contractors to work on short term positions within the company.
The hiring of skilled workforce is done through Staff Augmentation Companies that keeps a database of such employees.
In the IT staff augmentation process, these agencies maintain data of workforce with different credentials and skill-sets. They help businesses to evaluate existing skill-set and determine which additional skills are required. Thus, making the process turnkey for the client organization.
Depending on the evaluation, it is determined whether an organization should increase or decrease its staff. Also, depending on its agency provide resources, an organization needs to meet particular project requirements.
Recommended Read: How IT Staff Augmentation Model can Enhance your Business Growth?
When to use Staff Augmentation?
IT Staff Augmentation is in frequent use these days. Here are some common scenarios that indicate the need for Staff Augmentation in your organization:
Permanent staff is working overtime, but a new project has landed.

A new project requires specialized skills that current business employees do not possess.

An employee with the required knowledge/ skill-set is on an extended period of absence, and a new project has landed. So, you need temporary employees to cover the skills gap.

The company lacks financial resources to recruit the right talent.

The company needs to meet a strict deadline.

The organization demands the flexibility to scale.
Benefits of Staff Augmentation Services?
1. Tight Budget: The main benefit of IT staff augmentation is that there are hardly any hiring formalities. Hence, the company is not wasting its valuable time and money on recruitment, background checks, and on-boarding process.
2. Reducing Work Load: It reduces the burden of the in-house team and may result in an increase in their work efficiency.
3. Scalability: Staff augmentation lets business scale up and down without taking on payroll liabilities. Also; it allows adjusting team size based on revenue upturns or client needs.
4. Cost Reduction: Staff augmentation is a pay-as-you-need model where you pay the rate multiplied by the number of hours worked with no ongoing commitment. It may help your business to reduce the overhead cost associated with hiring full-time, such as benefits and taxes.
For some companies, staff augmentation has become the secret weapon to access required skills or headcount.
What is Outsourcing?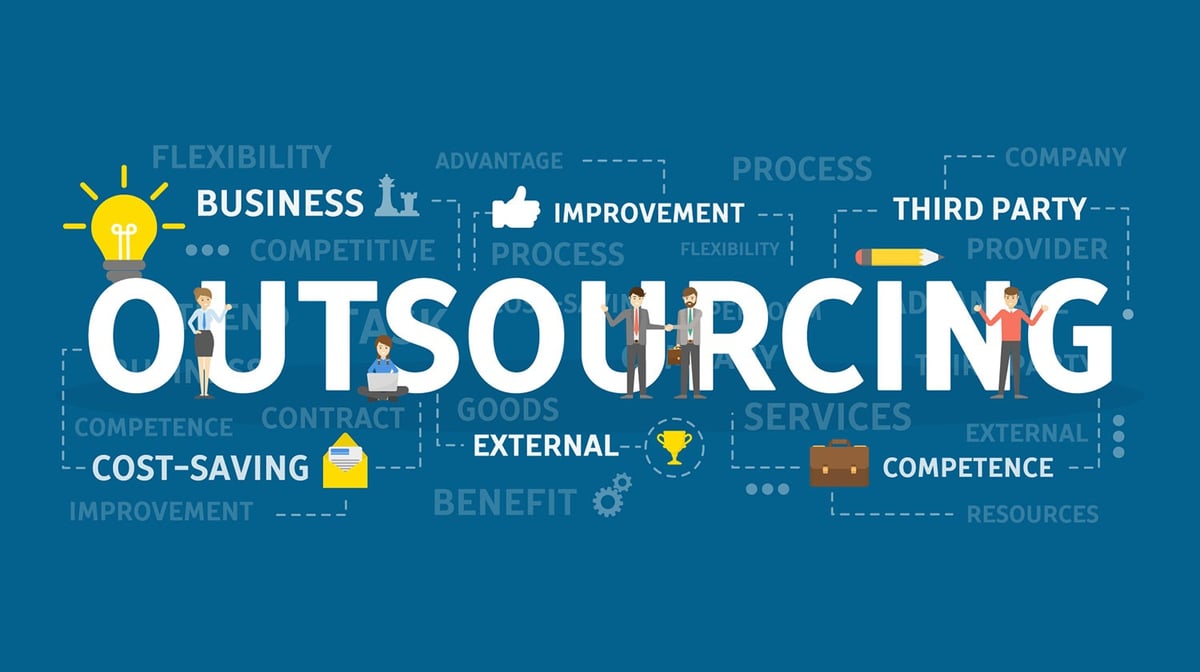 Outsourcing is a more autonomous process as it involves offloading a task to the third-party experts. In simple terms, hiring a team through an outside business for a particular time or project (or, delegating a company's business process to the third party).
While, Offshore Outsourcing is hiring a third party to do the work offshore, usually to reduce the cost of the project. Also, taking advantage of their expertise, economies of scale, and scalable labor pool.
How Outsourcing Works?
As the name says Outsourcing that is going "out" to find the "source." An outsourcing firm provides business with a team of the required skill set. This team will abide by the terms outlined in the contract.
Basically, the outsourcing company works as your technology partner and becomes responsible for training the team, explaining individual responsibilities, and conducting performance reviews. Thus, Outsourcing is leveraging benefits ranging from low-cost labor, high quality of product to service innovation.
When to use Outsourcing?
Outsourcing let businesses hire remote developers or remote development teams with the required skill set. Reasons that demands need for Outsourcing:
1. To Lower Operational and Labor Costs: If your business is located outside the country, then you can hire an offshore development team. Thus, passing on tasks to an experienced firm will save money and time both.
2. Focus on Core Business Functions: Freeing up internal workforce so that they can efficiently work on internal business processes.
3. Mitigating Risk Factors: Outsourcing, especially hiring offshore developers, helps companies reduce risk and is also among the primary reasons.
4. Gaining Access to World-Class Capabilities: Companies outsource to gain access to new market areas and also to increase knowledge transfer.
Benefits of Outsourcing?
Risk Management: Outsourcing lets your business share any associated risks with your outsourcing partners, thereby reducing the company's burden.
In-House Efficiency Increase: Delegating tasks to outsource partner will reduce the workload of company employees. Thus, creating a less stressful working environment. Hence, developing an internal task force and using them efficiently.
24/7 Business Operations: Hiring dedicated offshore developers

from the country like India, which is on a different time zone, gives the added advantage of making use of 24 hour day. An outsourcing partner will continue to work even after your employees go home.

Competitive Edge to Business: Outsourcing gives a company a competitive edge in the market. It helps the business to increase productivity while managing in-house resources intelligently.
Recommended Read: Why Should You Elect India for Mobile App Technology?
Hybrid Approach - IT Staff Augmentation & Outsourcing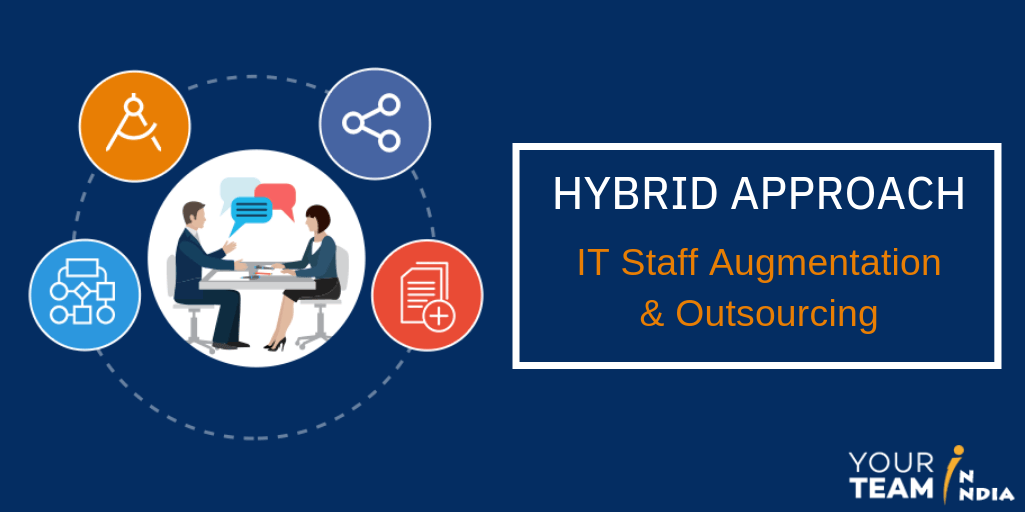 There is no one size fits all approach, for most of the companies. Many times it is not possible for an enterprise to follow a staff augmentation model or a project outsourcing model individually.
There can be an overlap of needs to complete the work on time. So during that time, a hybrid approach might be your best option.
Hybrid Approach is a blend of project outsourcing and the IT staff augmentation model to fulfill the requirements of a project. This approach can be implemented at different stages during the development cycle, but with careful planning.
In the Hybrid Approach, companies collaborate with an outsourcing provider to set up a dedicated offshore development center.
How Hybrid Approach Work?
This approach let business set development team remotely by using an outsourcing provider's resources. And outsourcing partner takes care of candidate selection and screening, IT hiring, project management, and deliverables.
However, this approach requires a business to dedicate certain resources and to get involved in all project development stages.
When to use Hybrid Approach?
This model seems to be the most effective one when
Shortage of onshore IT skills

Challenge to save costs without compromising on product quality
Benefits of the Hybrid Approach?
Hybrid Approach is a benefit to the business as
No HR, IT and admin hassle because all tasks are delegated to the 3rd party provider

Access to a large pool of talent

Less Cost incur as no office space is lent in case of offshore team outsourcing
Conclusion
All three approaches are a great way to cut down your business cost and increase revenue. But, figuring out which model suits your business project needs is a bit complicated task. Therefore, a detailed cost-benefit analysis is the best way to make a decision. It will help you to understand which model will go best for your project.
IT Staff Augmentation and Outsourcing - Choose your model and take your business to the new success heights.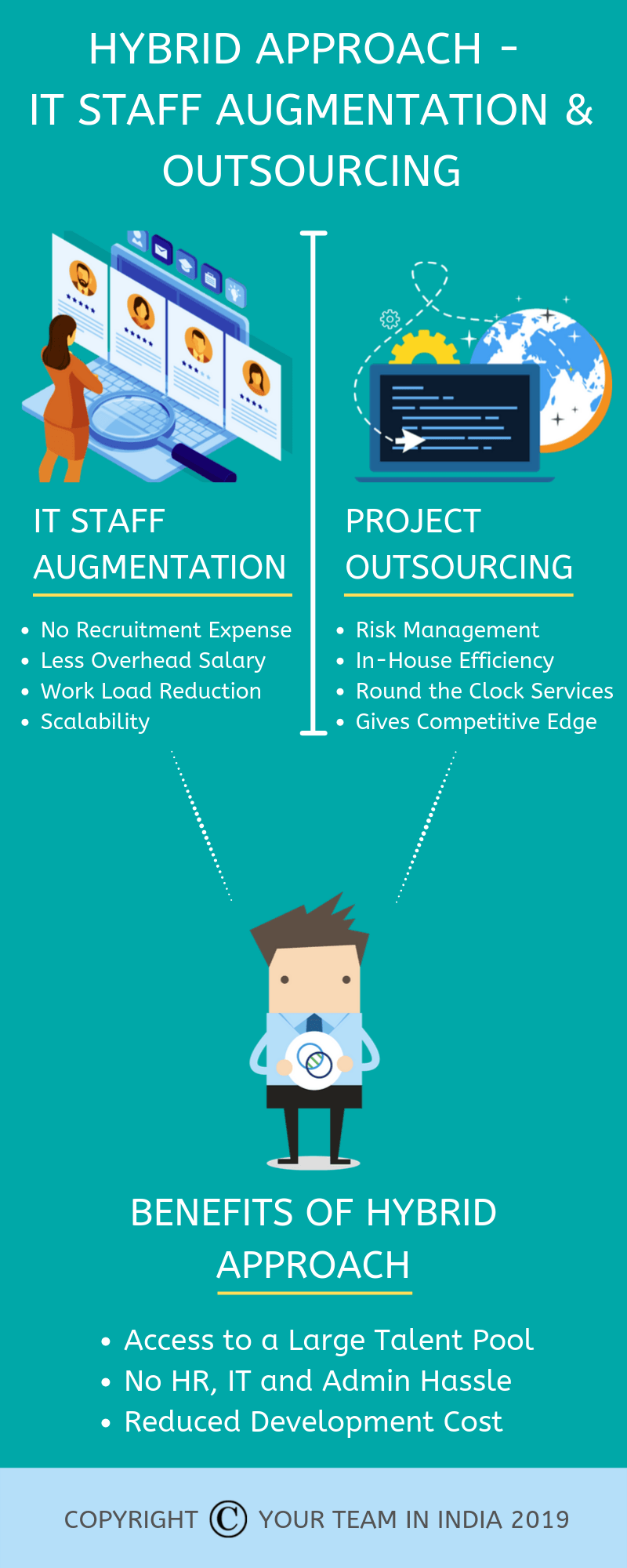 Why choose Your Team in India (YTII)?
Your Team in India is delivering world-class IT outsourcing services for more than twelve years, bringing together the right mix of knowledge and innovation.
With more than a decade of experience and a large pool of expert talent; we have been working with clients from all over the world, providing offshore IT development services.
Here's a Quick View of Why we'll be Great Together:
Domain and Skill-Specific Recruiting

Ethical and Transparent Process

Turnkey Solutions

100% White Labeled

Continuous Training and Innovation

Agile Methodology

Extensive Offshore IT Services
Would you like our help to hire a team of dedicated developers and manage your project? Get in touch with us and our team will assist you shortly!