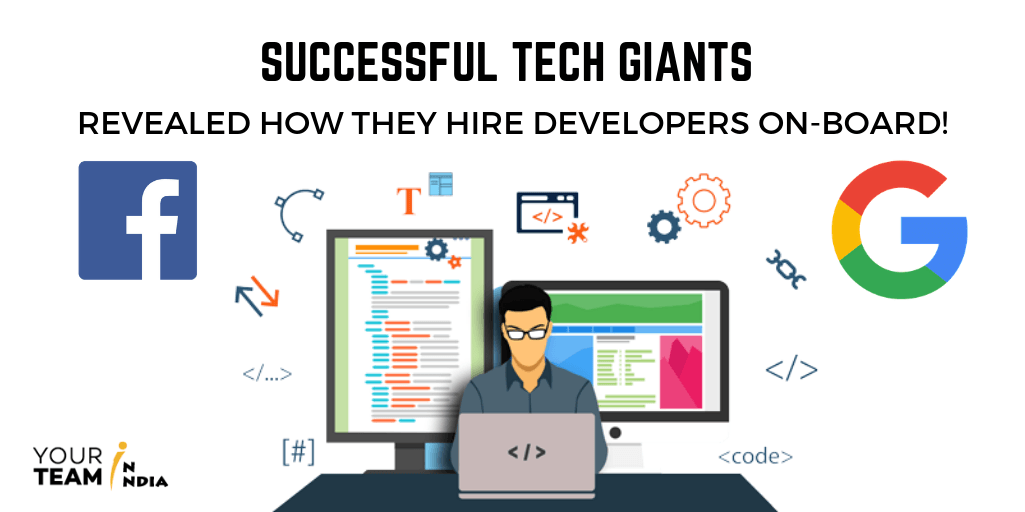 Do you realize that employees have a major role in today's ultra-competitive industry? Well, the failure and success of a company depend on the products/services and employees.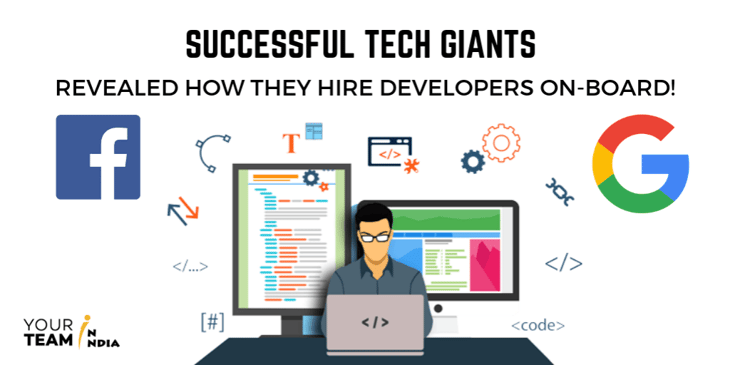 Google, Facebook, Amazon, Apple, and Netflix have drawn billions of customers and users. Many individuals have been attracted to the entrepreneurial culture, good perks, packages and amazing work-life balance.
The above mentioned are not only ubiquitous companies in the universe but are also appreciated for their inimitable hiring process.
Recruiting the best talent takes creativity as well as diligence. Even the smallest change has a huge impact on the company. According to the Glassdoor Economic Research Report, when the interview process was 10% difficult, there was 2.6% higher employee satisfaction in the long run.
We will be discussing:
How Google goes ahead with new candidates?
How Facebook hires talented developers and not just regular coders?
Let's dive into Google's hiring process!
According to Internet Live Stats, Google translated more than 40,000 search queries per second and 3.5 billion searches every day. With so much to do, it needs a huge pool of efficient employees. People from different backgrounds, religions, communities come on a common platform working towards a pre-defined goal.
Google is the most iconic company in the world and is unsurprisingly the best place to work. It receives approximately 1 million CVs every year and the candidate has to go through multiple interviews before receiving an offer letter.
Google has a unique process that narrows down the applicant pool and chooses the best people for the job role. You must be interested in knowing how this giant search engine investigates the skills of the candidates and filters the right ones.
Taking a closer look at the hiring, on-boarding process and then finding the answer.
Posting a few openings on job boards, skim through applicants and facilitate the interview. Are you thinking it follows this simple approach that other tech companies follow? It is a giant, it has to be different.
At a glance, the process seems standardized:
Submit an application
Give interviews
Post-interview selection
More emphasis on hiring for 'fit' rather than 'skill'
Although the applicant might have performed well in the interview, they want to know if they are passionate about doing the work creatively. Can they deliver task and work at the pace the other employees work at?
Develop a test to filter candidates
Since Google needs the best to remain the best. So, the biggest challenge is to identify who is the finest candidate and spending minimum time in funneling through candidates who don't fit the criteria. Resumes are a way of representation but the company focuses on test-based hiring.
An open conversation about how the candidate feels
Google is known to have transparent conversations with the employees. They inquire about the expectations of the company and how the applicant feels if hired.
Every individual added into an organization can move things forward dramatically, slow it down or take it back. This is the reason why Google entices the best talent in the world by offering huge packages. Based on the anticipated growth, they are able to calculate the ROI of a person. They know when someone switches a job it is due to lack of career advancement.
Google evaluates 3 main areas of competency:
General cognitive ability
Leadership quality
Role-related knowledge
The in-sights:
Here are a few common questions they usually ask:
Tell me something about the time when you had to deal with a criticizing manager?
How do you plan to expand internationally?
Which is your favorite Google product and what would you like to change in it?
What makes you a 'Googley'?
According to Business Insider's article Laszlo Bock, head HR in Google says: "A bad hire is toxic, not only destroying their own performance, but also dragging down the performance, morale, and energy of those around them," Bock writes. "If being down a person means everyone else has to work harder in the short term, just remind them of the last jerk they had to work with."
All in all, Google has changed its recruiting process into a well-oiled machine. There is no reinventing the wheel as the stages involved application, interview, review and background check. Balancing universal aspects with personalized aspects, they allow a candidate the space of their own.
What should you learn from Google recruitment process?
It is important to build your own hiring strategy as per your needs.
Hire smarter people than you and make the company work better.
If you adhere to specific standards, you shouldn't compromise as your company has to meet the quality standards.
How Facebook hires talented developers and not just regular coders?
Having 2.32 billion monthly active users and more than 40000 employees, Facebook is the largest social network platform worldwide. With huge stats, they got to manage a lot and only good employees can be efficient workers. Glassdoor declares Facebook as the most desirable place to work in.
You will agree to the fact that most companies follow the standard hiring formula:
Interact with the HR representative, interview with a potential boss, meet with senior level employees and then they all collaboratively make the final decision.
Hey, this is not the case with Facebook.
Let's be real. If a manager is shouting profanities at an employee on the very first day of work. It is not the fault of the employee, it is a fundamental failure of the on-boarding process.
Mark Zuckerberg's universal hiring strategy
Mark Zuckerberg follows a straightforward approach: Don't hire someone, you wouldn't work for yourself. Ask yourself, if the tables turn around, would you be working for this person? If the answer is no, the candidate shouldn't be hired.
Facebook never underestimates interest. A developer who is genuinely passionate about the business model and technology will sustain their motivation.
Talent, diversity & strategic screening
For the social media giant, the employee is a corporate asset. Someone who has done everything and achieved a lot is probably less hungry than the one who is still growing in their career.
Facebook looks for builders
Whether they are developers or financial analyst, they have to look for people who have a creative drive, building mindset and willing to make an impact.
Facebook picks from diverse backgrounds
The company doesn't hire individuals from the top 10 universities but pulls young talent from different colleges and schools as well. The most important quality of a developer should be thoughtfulness.
Cultural fit is important
All candidates are subjected to top hypothetical questions to understand their spontaneous response and thinking ability.
According to Facebook's Head of People, Lori Goler, here is what Facebook looks for in a candidate:
Strength: Evaluating performance
Creativity: Innovative drive and unique problem-solving skills.
Ambition: Accessing future potential
Here are a few common questions they usually ask:
Which is the one project you are proud of?
What do you do on your best day at work?
How do you build relationships?
Miranda Kalinowski, Facebook's global head of recruiting, told Business Insider that Facebook considers itself a "strengths-based organization," which aims to identify and foster employees' talents rather than try to round out their weaknesses. Thus, the interview is used to determine a candidate's strengths and whether they're the right fit for the job.
Experience is a heralded as one of the most important attributes when it comes to having a powerful team. For most of the roles, having years of experience is a necessity. Technically advances roles require comprehensive understanding that experience builds skill-sets.
The four areas of competency on which the candidates are assessed are:
Cognitive ability
Leadership qualities
Role-related knowledge
Key takeaways from Facebook?
Make the interview as unpredictable as possible.
Look for developers who don't need instructions.
Think quality over quantity.
Never negotiate packages unfairly.
Words for the wise:
A CEO of any company alone cannot expand a winning enterprise single-handedly. A successful company is flourished with great employees. Today, hiring a talent pool of people is more critical than ever.
CEOs can't afford to lose time or money from bad hiring choices. If you are a startup or an established organization, you can choose in-house team or hire offshore/remote development team as per your requirement.
Related Post: How to hire remote developers for your coding needs?
To make things more simple for you, here are 7 C's to be considered while hiring a remote employee.
Competency
This one is the initial factor to consider. Check if the potential individual has required skills, experience, and educational qualification to handle the tasks.
Capability
Is this individual capable of successfully completing the task and will he find ways to deliver the creative project? Being capable means having the potential for growth and the willingness to take more responsibilities.
Compatibility
Is the candidate an extrovert who will get along well with other employees and most importantly will he be able to make a good impression on the existing or potential clients? Can you see a scope of willingness to be harmonious with the boss? If he doesn't have these basic qualities, there will be problems.
Commitment
Is the applicant willing to work long term? Or is he just passing through, looking for more opportunities? Past history helps provide clear insights regarding this.
Culture
Every working environment has an office culture on how people behave and interact with one another. There exist certain values, expectations, policies, and strategies influencing the behavior. Those who do not have a culture are difficult to handle.
Character
Make sure the person you are about to hire has values aligning with yours. Does he make a promise and keeps it? Is he above reproach? Is he selfless and a team player?
Compensation
Make sure the developer you hire agrees to the market-based compensation package and is very satisfied with the offering. If this is not the case, the employer feels unappreciated and results in under-performance or less productivity.
The aforementioned will give an accurate view, whether good or bad and will leave better equipped to select the best employee who will take your company into the next level.
Bottom Line:
Amassing the right pool of talent helps to see the vision to fruition. Too often, entrepreneurs hire candidates to fulfill short term goals and don't focus on long term plans.
As the company grows and evolves, they have to repeat the hiring process time and again if not done right and this drains more time, money and effort.
Now you've understood how successful giants approach the recruitment process, it's high time to focus on improving yours.