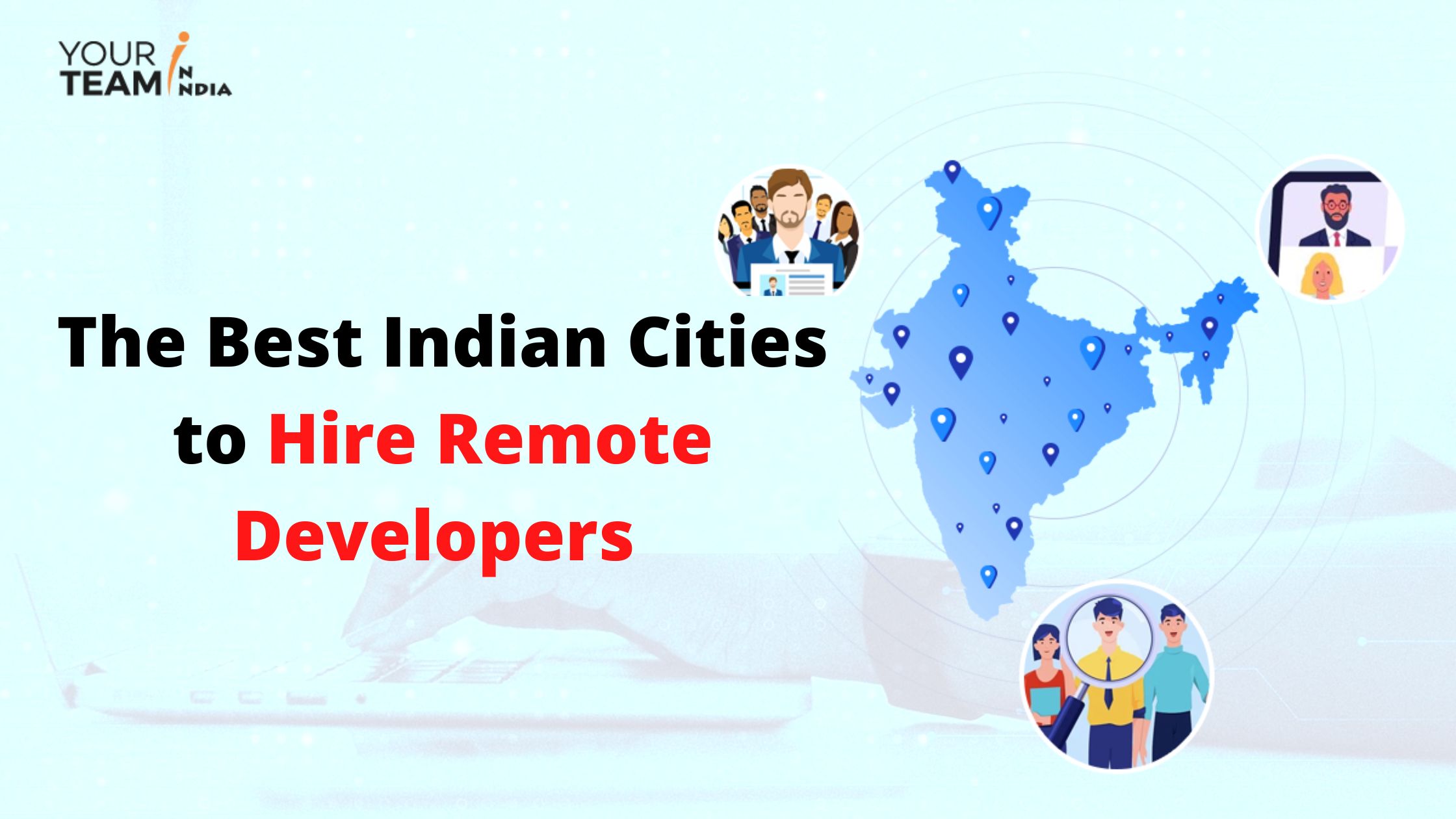 Over the past decade, India has emerged as the top outsourcing destination globally. Large skilled resources, cost-effective solutions, flexible labor laws, excellent quality of business processes, and enhanced productivity make Indian tier -1 cities like Delhi, Mumbai, Bangalore, Hyderabad, Kolkata, and Chennai preferred destinations for outsourcing IT services.
However, Tier 2 Indian cities like Chandigarh, Pune, Mysore, Coimbatore, and many more on the list are giving bottleneck competition for web and mobile app development outsourcing. So, if you are someone looking to create a mobile app for your business or make a mark in the existing market, Tier-2 cities can be the ideal locations since they provide access to a resource pool that is experienced and technically adept in web and mobile development.
But, Let's Understand What Tier-1 and Tier-2 Indian Cities Are?
Cities in India are divided into Tier-1, and Tier-2 cities, with Tier-1 being the most developed ones and Tier-2 being the developing ones. Besides, according to the government, cities with a population of 1,00,000 or more come under the umbrella of Tier-1 cities. And, the cost of living is higher in these cities comparatively than the Tier-2 cities.
Whereas cities with a population of 50,000-1,00,000 are classified as Tier-2 cities. Generally, Tier-2 cities are situated in business-friendly states, have several industrial clusters, and are well-connected with other major economic hubs. The most significant edge of Tier-2 cities over tier-1 cities is their economical real estate, service, and labor costs.
Furthermore, because of the high attrition rate and overload on existing infrastructure, NASSCOM (The National Association of Software and Service Companies) and the Indian government have been promoting Tier-2 cities.
When To Consider Tier 1 City to Hire Indian Developers?
Tier-1 Indian cities, by far, have been the preferred destinations to hire developers on account of many reasons.
Reason 1:
Hiring Remote developers from Tier-1 Indian cities facilitates access to skilled resources with plenty of experience in emerging technologies with the highest number of skilled resources. Also, it boasts maximum experience in managing critical projects with utmost ease.
Reason 2:
Tier-2 cities have good infrastructure with varied telecom facilities. Besides, the experienced workforce in Tier-2 cities provides software development outsourcing services with state-of-the-art infrastructure integrated with the latest technologies to provide high-quality solutions.
Reason 3:
Hiring developers from established firms in Tier-1 cities makes it easy to massively scale the team up and down as per the project requirements. Also, if a company requires a big workforce for a complex project, it's easy for a Tier-1 city to meet the needs.

When To Consider Tier-2 City to Build an Offshore Software Development team?
There are different reasons as to when to hire resources from city-2 is an ideal option.
Reason 1
Suppose a company has sufficient time, money, and resources to grow its business independently. In that case, it's worth a while to hire resources from Tier-2 Indian cities to obtain affordable real estate and labor.
Furthermore, this means companies need to invest in training local resources in fundamental tasks and also to learn to function outside a well-built business ecosystem.
Reason 2
If a company already has a presence in a Tier-1 city, it is viable to move some of its operations to a nearby Tier-2 city to cut operational costs. Also, a business could explore moving staff engaged in back-end and related functions to a nearby emerging city.
Reason 3
If there is already an existing industry cluster relevant to the company's portfolio, a company may find tier-1 capacity at tier-2 city costs. Besides, foreign investors must ensure that their business activity aligns with the local industrial ecosystem.
Learn more about the advantages of Tier-1 and Tier-2 Indian cities to meet your project requirements.
Here's a list of India's best destinations to Set Up an Offshore Development Center :
Best Destination to Hire Remote Developers in India
Tier-1 Cities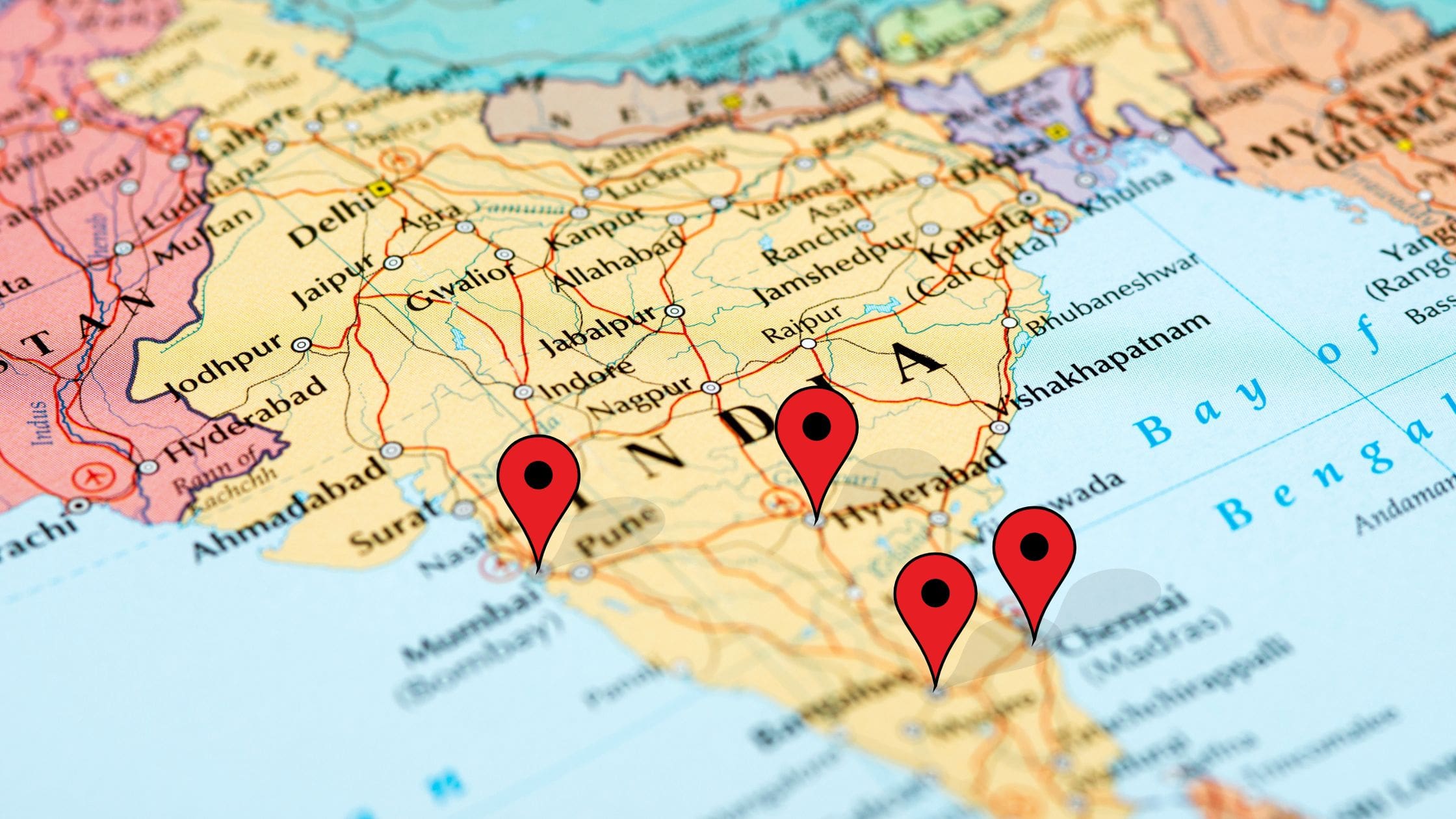 Bangalore
Famously known as the "Silicon Valley of India," it has India's best app development companies. Bangalore continues to rule as India's top software hub because of the availability of skilled resources (1.5 million IT graduates passing every year). The pleasant weather of Bangalore has also been one of the factors in Bnaglore's popularity. To be precise, this was where the Indian Outsourcing revolution started and continues to be rated as the top Indian city for investing, living, and earning.
Almost any outsourcing service, be it software, IT consulting, customer support, chip design, or Bioinformatics, can be handled by the Silicon Valley of India. Companies such as Accenture and Wipro all hail from this tech-savvy city. Also, it's popularly known for exploring modern IT techs such as Blockchain development and IoT solutions.
Mumbai
Mumbai has favorable government policies, skilled IT resources, and excellent infrastructure facilities, making it an ideal destination to hire the best resources. This metropolitan city is skilled at providing app development services, software solutions, BPO services, healthcare and finance, and accounting services. TCS, IBM, Mphasis, i–flex, Morgan Stanley, Citigroup Infosys, Wipro, HCL, and Mahindra Satyam are some of the established companies in Mumbai.
Chennai
Availability of young, good-quality, and English-speaking talent, Chennai produces more than 75,000 engineers, of which approx 35,000 are IT, specialists. Chennai has been a top pick for hiring experienced developers witnessing an IT growth of 60%. Some of Chennai's competitive benefits include connectivity, land availability, and a lower attrition rate of 7-13% compared to Hyderabad, Mumbai, and Bangalore.
Seeing the city's potential, Wipro is expanding its Chennai and Coimbatore centers by 85 and 25 acres. This success can be attributed to the Electronic Corp of Tamil Nadu (Elcot), the state government's main agency for promoting IT investments in Chennai. Being considered one of the best-connected states, with an optic fiber network of more than 14,000 km, it certainly holds enormous potential for investors.
Hyderabad
Did you know that Hyderabad is also known as "Cybrabad" as it is the second biggest IT city after Bengaluru? As of 2019, more than 100 companies are present in Hyderabad itself. This clearly portrays that Hyderabad has thrived on being a hotbed for outsourcing because of its developing urban infrastructure and supportive government policies.
The city of Hyderabad is skilled at managing offshore work related to BPO, software, ITES, and product design. The famous IT companies in Hyderabad are HSBC, Satyam, Google, Cognizant, and Microsoft, amongst others.
Tier-2 Cities
The TriCity - Chandigarh, Mohali, and Panchkula
Chandigarh, Mohali, and Panchkula - popularly known as "Tricity" are considered as best-planned modern cities in India. Attracted by its infrastructure, political stability, cleanliness, and proximity to the Himalayas, numerous IT companies like TCS and Infosys have been flocking to Tricity for the last few years. Due to its ample engineering talent, and access to neutralized English-speaking professionals, myriad IT services like AI, Blockchain, Enterprise solutions, and mobile app development has attracted major companies like Stylum, erstwhile Idea cellular, and many more to start their operations. Besides, Panchkula IT park is an emerging destination for IT companies to start their IT operations.
Mohali, with its numerous educational institutions, investors, and proactive governmental frameworks, has crafted a place among the handful of tier-2 Indian cities for the IT sector. STPI(Software Technology Parks of India) has made the largest incubator facility, constructed on 1,40,000 sqft of land in Mohali. This incubator is created to support startups working in the field of Information Technology and is a Centre of Excellence for Artificial Intelligence.
Seeing the benefits provided by the government, business mammoths like Flipkart are already showing a keen interest in coming to Mohali.
Mysore
Mysore is a strong competitor in Tier-2 Indian cities. Because of its proximity to Bangalore and easy availability of engineering talent with its world-class engineering college SJCE, research organizations like CFTRI, L&T, and Infosys eloped its showpiece training center in Mysore. Moreover, known as a wi-fi city, Mysore boasts good road conditions along with a newly built expressway offering great connectivity.
Pune
The city of Pune is a leading outsourcing destination due to its proximity to Mumbai, urban infrastructure facilities, and large availability of skilled resources (650,00) across various fields. Pune had its first IT park in 2000 and has come a long way by then, having several IT parks all over the city.
Furthermore, Pune has nine universities and over 100 educational institutions, making it the "Oxford of the East." Besides, it has better local travel and housing facilities with a low cost of living that has attracted IT resources from other parts of the country to set up offshore software development centers. The government has also created favorable and business-friendly operational policies that made IT giants like Cognizant, Accenture, Wipro, Oracle, and Microsoft conduct their operations from Pune.
Coimbatore
Like most Southern cities, Coimbatore has a strong engineering base located in close proximity to Bangalore and Chennai, having favorable weather conditions. Coimbatore city has a great number of young engineering graduates along with skilled IT resources. Besides, the Tamil Nadu government has been taking initiatives to develop Coimbatore and promote it as an outsourcing location.
Notably, numerous other Tier-2 cities like Ahmedabad, Lucknow, Indore, and Jaipur are becoming bustling centers with a large stream of IT resources. Owing to their benefits like high-quality IT resources, government policies, and low attrition rate, Tier-2 cities have become a favorite destination not only for foreign businesses but also the local IT companies.
Are You Looking to Hire an Offshore Software Development Team?
Connect with us to know how you can build a competitive edge in offshore software development with Your Team In India. YTII gives you access to the best professionals and competitive services that can manifold your profits and help you save on time, effort, workforce, and infrastructure.
Experience world-class service with experts now!