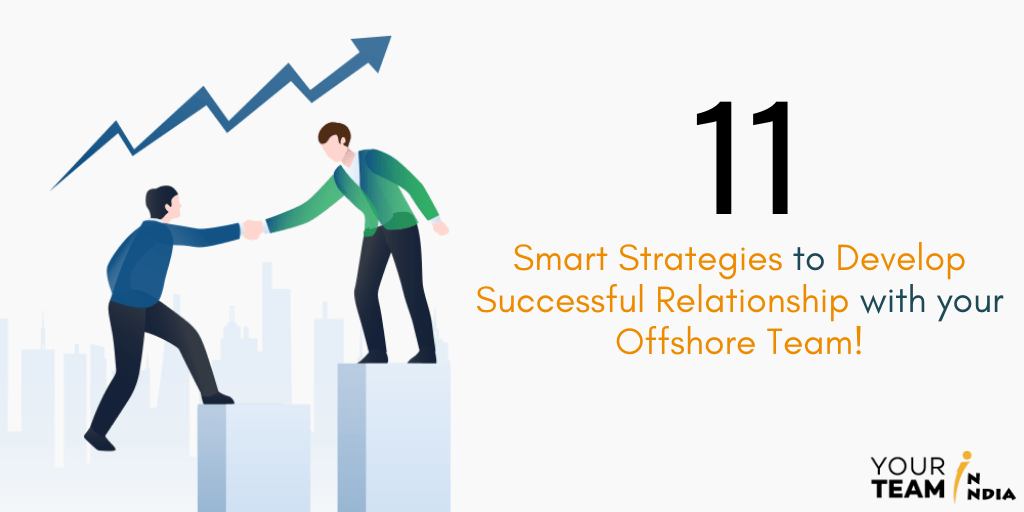 The added complexity of distance and lack of face to face communication are the major hindrances that may come across the way of successful relationship building with the offshore development company.
Strong business relationships can be very rewarding especially with outsourcing companies, where the team is located in an offshore country. Choosing the right offshore partner for IT services is just one-half of building a good relationship. There are a lot more steps involved in the process. Therefore, you should develop complementing strategies ahead of time and anticipate hitches along the way.
Strategies to Develop Successful Relationships with your Offshore Development Company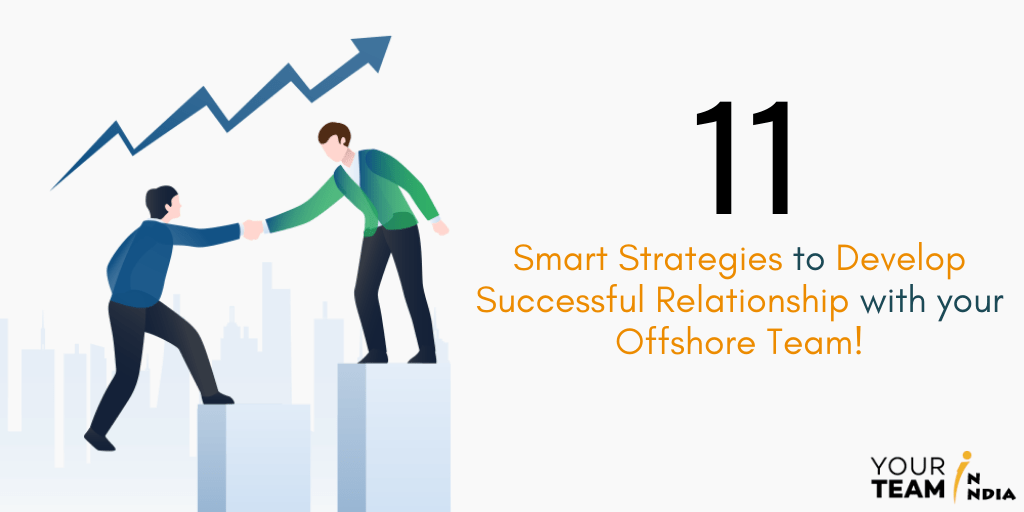 1. Invest Some Time Inducting Offshore Developers
When you hire developers, the engagement with the team involves a prolonged interaction period with an in-house representative.
Once the requirements & expectations are clear, the responsibility to allocate resources is entrusted to the outsourcing service provider with little or no involvement with the client IT team.
2. Keep Communication Lines Open
Update your in-house and offshore dedicated team to keep abreast of the changing goals of your company. Be clear about your business needs and customer's expectations.
Precisely elaborate your team about how these technical solutions will help you achieve your business objectives. Moreover, the contract governing your relationship will clearly state the expected deliverables from your outsourcing partner.
On the other hand, if things are not planned in a good manner, no one will have an idea about how to put forward the issues & resolve them. Therefore, creating a roadmap of how a good relationship can help you get the best value for the business is very important.
3. Listen, and You Will Surely be Heard
When you opt for offshore development services, keep in mind that communication is not a one-way street. However, if you are willing to understand your offshore developers and build trust, it is important that you start listening more.
Nothing is more important than the fact that your offshore team feels comfortable talking to you. If you show that you welcome suggestions with open arms, your dedicated team will highly appreciate that. And it is the key to keep the relationship going.
This is one of the best ways to fully comprehend the thoughts running in the mind of your remote developers. This will result in a better productivity level.
4. Share the Plan of Action
Write down everything in the initial document, so that collaboration between your in-house and offshore development team should be crystal-clear.
Once things are agreed upon, make sure everyone has a copy of the same. The first step while outsourcing a project is a thorough review of the requirements.
Moreover, it is very important to ask the right questions to concerned professionals. So, make sure you don't hesitate to do that.
The document is a well-written record of everything. Especially the expectations and responsibilities. Never fall victim to lost contract or any other important document, or else you may run into the problems. So, keep the signed copy of the contract and the NDA to ensure it runs smoothly.
Related Post - Legal Precautions in IT outsourcing for Startups!
5. Trust on your Offshore Partner's Capabilities
An important part of an outsourcing partnership is being able to benefit from the abilities of the skilled professionals having years of experience. As they are experts in what they do, they are special assets that need to be valued.
Always remember that in-house and remote workers are talented IT professionals equipped with the best skills and knowledge to manage the offshore projects effectively.
6. Eradicate Ambiguity
Lack of clarity whether it is verbal, written or contractual communication may turn off the relationship you earlier shared with the dedicated offshore developers. In the worst case, it may lose the door ajar for abusive worse if your outsourcing partner is dealing with manipulative behavioral tendencies.
This will certainly help you to hunt the aforementioned ambiguous 'grey area' and clarity of what is being expressed.
Contractual documents are always lengthy by nature and excessive attention to details gives a positive impact. Discuss KPIs & SLAs, so that everything goes hand in hand.
7. Respect the Service Level Agreement
Most of the dedicated offshore teams build the outsourcing arrangement on the prescribed service-level agreement, the complexity of the project, the environment and the degree of changes required.
High-level service may require the partner to upgrade or provide the redundant infrastructure, boost testing or hire more staff. If you have a unique operating environment, there may be a possibility that you might have to pay for a premium fee.
You as a business owner should understand your and your partner's motivation behind the service level and the impact that it has on the cost.
8. The Value of Healthy Relationships
Most of you have a myopic focus on cost reduction solutions that you want for the best deal right?
But do you know that most of the outsourcing companies know how to smartly take out money from you in the form of hidden charges? You have to be very careful when service providers negotiate with you.
A transparent and balanced approach is required to create a successful outsourcing relationship where you get a few financial surprises (cost-effective ones of course). Communicating more often and openly with the company should boost the trust, mitigate risk and ultimately reduce the cost of the deal.
9. Ensure Smooth Billing Cycles and Pay on-time
Your offshore developers will appreciate your efforts if you are clearing invoices on time. Trivial as it may sound, it actually goes a long way in establishing trust and making the bond stronger.
Remember if you consider the outsourced unit as the extension of the in-house team, then it is important to apply the same rule to both.
10. Ensure that Both of You are on the Same Page
For the good functioning of the overall partnership, it is important that both parties share a few core values, work methodologies, objectives, and corporate cultures.
One thing that you should be aware of is the work environment of your outsourcing company. Have an overview of the things that your partner does to boost the productivity of the employees thereby creating a healthy work environment. All this information will help in giving you hints about the ethical standards in the workplace.
Sharing the business vision and having similar work methodologies will help in making the relationship with your offshore developers last longer.
11. Follow Progress Closely
If something is not working, it is important to quickly highlight the issues and solve them before it gets too late.
When you hire developers, it is important that you keep an eye on the development process while measuring performance via indicators. This helps in determining if the company is able to re-establish goals. And you can then give real-time feedback and stay one step ahead of the future complications.
If you are able to avoid potential issues through the development process, you are likely to avoid future disagreements.
Summing Up
Your company's relationship with the outsourcing partner will not only make the offshore operations a breeze to manage but can also shape your business success. It is important to establish and nurture a healthy partnership built on trust and respect.
Do not miss: 21 Best Practices to Manage Your Remote Teams
Nothing can beat experience. The longer a partnership lasts, the more hassle-free and reliable it becomes. Hence, the outsourcing team helps in delivering more valuable solutions.
A fruitful relationship requires maintenance. By taking care of the aforementioned, there is a strong possibility that your business relationship with the offshore development team will last for years to come.