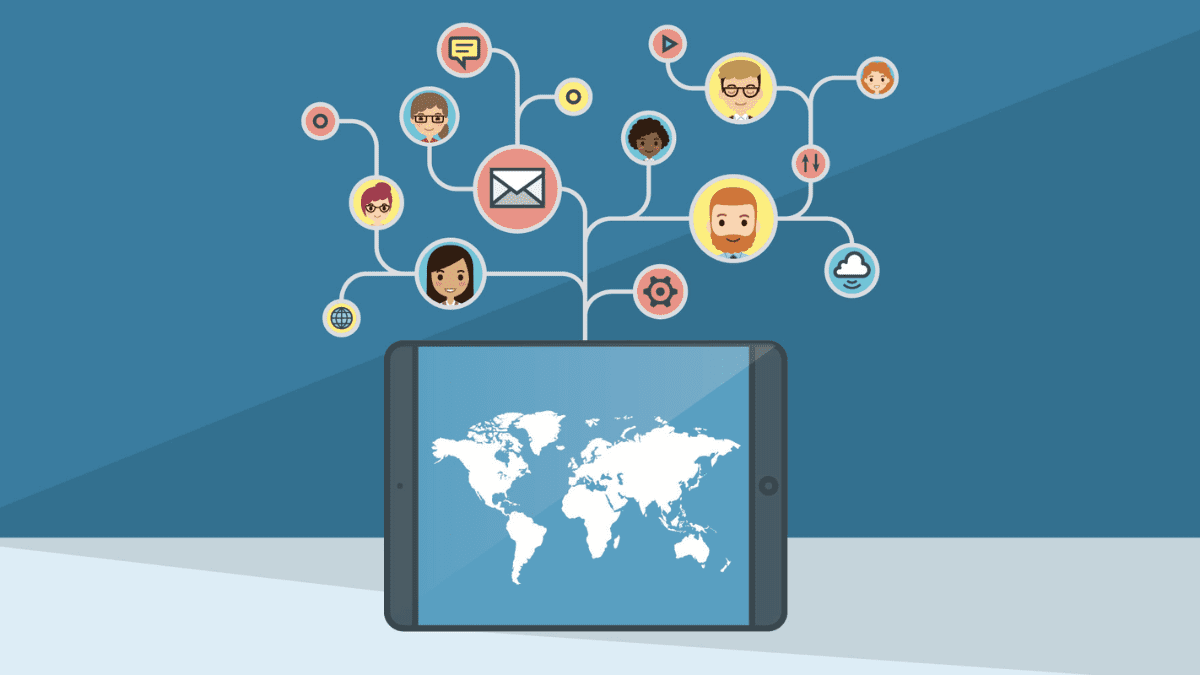 Quick Summary:
Offshore Software development is a cost-effective solution for your digital and web development needs. Offshore Software development poses several challenges in accelerating development and maintaining the time zone differences with your offshore team. Meeting deadlines, and communicating about project changes can be difficult in different time zones. In this blog, we bring to you 7 tips that can help handle time zone differences while outsourcing software development.
Are you also struggling to manage offshore teams while managing different time zones? Well, you're not alone! A report by Buffer says that 62% of workers today collaborate in different time zones with their team members.
Time differences are a serious challenge and can make it difficult to meet team deadlines. But with the right strategies in place, you can easily manage your team remotely and ensure that projects are completed on time and within budget.
By hiring the right company's team you will be able to collaborate through advanced technology features, maintain track of tasks and manage time zones by using conversational bots on project management software that help you schedule timely meetings that suit everyone's time zones.
Most companies fail to understand that project management can be done very easily with the right offshore outsourcing. If your team is agile and can collaborate across cultures and time zone differences, you need not worry.
According to GetVoip, Team collaboration tools and apps like Zoom, Slack, Trello, and cloud-based software can help improve productivity by 30% for your offshore teams. However, we bring to you 7 easy tips to handle time zone differences after you've started working with your offshore development team.
Recommended Read: Guide To Hire Offshore Developers
7 Tips to Handle Time Zone Differences for Offshore Team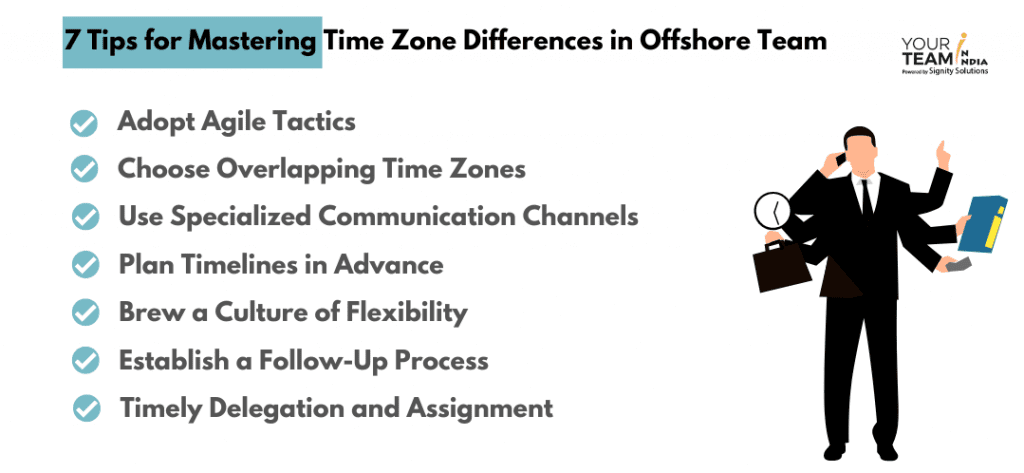 1. Adopt Agile Tactics
Adopting agile tactics to deal with time zone differences when managing offshore teams for your next development project, is an essential choice. What this means is that you can manage communication frequency based on project requirements. During the initial development or deployment stage you could approach the team with frequent meetings and set up follow-up meetings when you require changes with the design and backend build.
2. Choose Overlapping Time Zones
Choosing time zones where your team has an overlap with your working hours, can help you maintain good coordination. This way, there is a window of time between both teams working simultaneously. If you are based in New York, you could choose an offshore company that has a 7-8 hour time zone difference.
3. Use Specialized Communication Channels
For facilitating real-time communication between time zones, the use of good project collaboration tools is essential. If you are using Slack channels to communicate between teams, you can check every individual's current time zones on their profile. People can also mark themselves away or active so that all stakeholders are aware of the team's availability at all times. Zoom and Microsoft Teams are other tools that serve similar purposes.
4. Plan Timelines in Advance
If your offshore team works out of India, you might have to plan for holidays and the unavailability of your team on certain festival dates. Similarly, for a team working out of New York, the offshore team will have to manage the time zone difference to meet the timelines. In order to tackle this problem, managing every date and planning launch dates for all phases of the product launch up till go-live is essential.

5. Brew a Culture of Flexibility
While it is important to have deadlines for every task, you will also have to maintain an air of flexibility in the work for all team members by building a strong culture of collaboration. By doing this, you will not only encourage your remote team to work productively but also infuse a strong motivation among the members working for your development needs.
6. Establish a Follow-Up Process
If you are clear about your team's time zones, you can set clearly defined follow-up processes with the backend, front-end, design, and content teams working on your development project. You can ask your offshore team to submit weekly reports while they continue to update the daily progress tracker. By using tools like Trello or Asana to map the completion of deadlines, you can have an overall view of the team's productivity on a daily basis.
7. Timely Delegation and Assignment
If you have a team leader for your project, you can assign tasks in advance and ensure you keep him or her as the primary contact from the offshore development team for providing timely updates. Project updates with respect to approvals, and finishing of iterated tasks from time to time depending on delegation done to the team leader. The team lead may then be responsible for providing updates on time.
Many teams are turning to offshore outsourcing these days. You can manage your project requirements by delegating the tasks and following up timely, but in order to increase your team's productivity, you will have to implement these simple strategies that we discussed here.
By doing so, the scope of the project will not have invariant changes and the developers are more likely to have a positive outlook toward the project. Moreover, using technology for the objective of enhancing work performance is never a bad idea. Collaboration and communication tools like Trello, Slack, Teams, Zoom, or Linear can help keep a record of progress on the go.

Frequently Asked Questions (FAQs)
What is the recommended time zone difference to look for when selecting an offshore software development team?
The recommendation is to select an offshore software development team that operates in an overlapping time zone of yours. This makes real-time communication easy. Typically, a time zone difference of 2-4 hours is ideal, but it can vary depending on your specific requirements for the project.
How can I ensure that my offshore team will be available for urgent calls during our working hours?
To ensure that the offshore team is available for urgent calls regarding project scope changes or updates regarding any processes, it is essential to establish clear expectations regarding work hours, availability, and communication channels. Your offshore team should be informed of your working hours and must be expected during this time for urgent requests or changes.
What communication tools do you recommend for managing my offshore software development team across different time zones?
There are several communication tools available that can facilitate real-time communication and collaboration across different time zones. Some popular tools include Slack, Zoom, Microsoft Teams, Skype, and Google Meet. Conferencing, document sharing, and sharing on the cloud become an added advantage for teams working remotely.