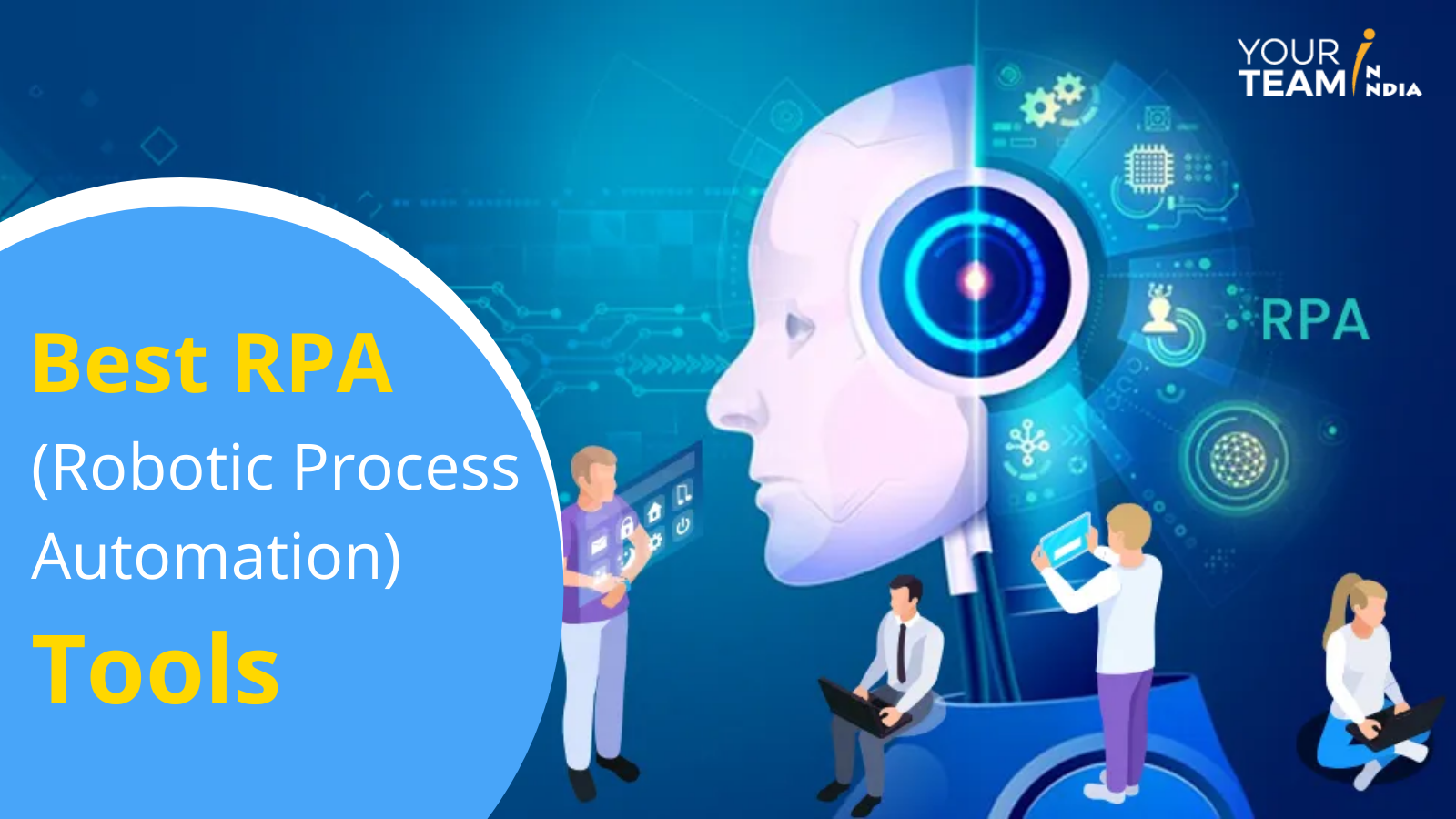 Post pandemic businesses that were not catching up with automation had to do so, As a result, most of them turned to RPA software, which came out as a quick, easy, and efficient way to stand more resiliently against the competitors. There are a lot of Software companies these days that are offering world-class RPA services to their clients.
"Even Gartner expects that the RPA software market will reach nearly $2 billion this year and is expected to expand massively by 2024."
Almost 50% of the organizations aim to implement Robotic Process Automation in the coming year to overcome the challenges posed by COVID-19. Having said that, implementing RPA in any organization becomes utterly essential. Besides, what's equally important is choosing the right RPA tool for your firm to deliver the results expected.
What is Robotic Process Automation (RPA)?
Robotic Process Automation or RPA is an application technology administered by business logic and structured inputs aiming to achieve automation in business processes. Using RPA, businesses can configure a robot for capturing and interpreting apps for manipulating data, communicating with numerous digital systems, and processing a transaction.
Benefits of Opting for RPA
RPA is a considerable time saver and cost-effective option for any business willing to automate mundane business processes. The scenarios could even be as simple as generating an automatic email response.
With RPA, it is easy to automate business processes, including scalability, intelligence, and platform independence in the organization.
Minimize the overall cost of the company

Boost productivity since repetitive tasks are automated

Scale up the business quickly

Highly increases the quality of data analysis

Enhance the customer experience

Prepare the business for future
With minimum human intervention, RPA tools can deliver the following three significant capabilities:
1. Quicker Communication for Better Business
RPA eases the communication process in the organization by minimizing the time spent performing repetitive tasks, passing information from one system to another, and seeking out critical information required to perform specific tasks via communication tools.
2. Quick and Perfect Decision Making
RPA gives you access to analytics tools, allowing better insights into real-time data that are ideal for making quicker and smarter decisions. It combines every critical information needed, customizes it, and allows it to be accessed at your fingertips. You can even integrate it with your existing data visualization tools.
Top RPA Tools to Rely on in 2022 and After
Below are some of the most reliable and popular tools of RPA that you must try to automate your business.
1. UiPath
It offers an RPA platform that utilizes artificial intelligence to scan the business processes and figure out the best one to automate. It even includes a submission hub using which employees can easily submit the requests for processes that they want to automate. UiPath even has options like full code, low code, and no code. That is basically the level of expertise required to apply automation in their respective departments.
With UiPath, you can even avail of the 'Task Capture' feature, using which businesses can document the processes and ensure that each individual performs as per the organization's expectations.
UiPath includes both unattended and attended automation, allowing businesses complete control when required and a hands-off approach when it is not needed.
Advantages
Extensive range of tools for employees with different types of skills

Scalable and highly personalized policies

Robust support and apt training tools for the employees
Disadvantages
Huge files may (in rare cases) crash the system

Updates may be confusing, especially if you are a newbie
Boost your digital transformation journey through automation and optimize business processes with our UiPath certified RPA developers.
2. Blue Prism

A low-code automation platform lets businesses and employees of almost any skill level enjoy the automation in their workflows. With the easy drag and drop feature, you can easily customize your tasks and replace mundane tasks with complete automation.
Blue Prism's digital workplace automation includes artificial intelligence abilities, which can learn and replicate human processes just like the employees. With this automation tool, you can offer complete automation for cloud, hybrid, on-premises, and multi-cloud deployments.
Advantages
Robust work queue management and scaling

Excellent security and compliance capabilities

Users can seamlessly design automation for their processes.
Disadvantages
Minor errors when integrating with Google Chrome

Slightly outdated interface design
3. Automation Anywhere
This RPA tool offers the automation 360 platform, where a cloud-native RPA system automates the processes in both legacy and SaaS applications. First, it analyzes the company's processes, and then it highlights the processes which would get the maximum ROI from automation.
Automation 360 provides end-to-end automation. By that we mean, it includes complete back-end and front-end processes, and they are not required to be treated separately. Hence, using this tool, businesses can quickly improve the satisfaction amongst both the employees and the customers, as it will leave you with minimum errors, quicker response time, and streamlined business processes.
Advantages
Highly customizable and allows automation in almost every business process

Provides complete ability to schedule the update process

The user interface is highly effective and intuitive
Disadvantages
A few modules are not very flexible.

Numerous features lead to a steep learning curve.
4. WorkFusion
A cloud-based RPA platform that identifies business processes that are most suitable for automation. As per WorkFusion, you can start using it to see value within 12 weeks. It includes pre-built packages for intelligent and quick automation, which are otherwise the most time-consuming process for any organization.
WorkFusion's bots are pre-trained to minimize the number of errors and the workload of your employees. It even includes advanced analytics for giving you complete insights into how automation is bringing value to your business.
Advantages
Users can create new processes within no time.

Bots are well-configured and deliver quality results

Supportive staff
Disadvantages
Error messages are not always clear to understand

Room for more stability
5. Kofax
It is a no-code RPA platform that is specifically designed to automate the labor-intensive and multi-step process. In addition, Kofax includes end-to-end capabilities, which means you can allow the bots to interpret the data and act upon it. With such capabilities, you can quickly minimize errors while performing tasks like data entry and document processing.
Kofax is a highly scalable and flexible RPA tool for delivering businesses the much-needed automation in the entire workflow. Or, it can be applied in certain areas where you need automation the most. As a result, almost any business can enhance their existing technology investments and experience higher ROI with the implementation of this RPA tool.
Advantages
Extremely flexible and easy to use in any type of business

An extensive range of capabilities support work/project of any size

No advanced knowledge is required for implementation
Disadvantages
Pricing packages are somewhat complicated to understand

The user interface requires improvement
6. OpenRPA
An open-source robot processing automation technology that allows you to automate any business process or task. OpenRPA is free to use and easy to scale, which means almost anyone can use it to automate and scale up the business. It is amongst one of the most relied upon RPA tools that even you can use to scale up your business.
Open RPA features a strong orchestrator and it is the only RPA platform that is built from the ground up to be extremely secure and flexible. Besides, OpenRPA even supports a seamless transition from pure RPA to API based solution using an Integrated Automation Platform.
Advantages
Flexible RPA solutions with a robust orchestrator

No licensing cost hence easier customer adoption

Robust IDE, which supports drag and drop feature to build your automation workflows

Good combination with Node-Red to build your workflows in the cloud.
Disadvantages
It might require certain understanding and training for implementation

The installation process is not that straightforward when you are setting it up on-prem.

Specific bugs encountered during development.

Not as sophisticated and reliable as UiPath as the platform is still evolving.
7. Power Automate
It lets businesses work on the mantra, take care of what's essential and automate the rest. Power Automate allows you to streamline mundane tasks and paperless processes so that your focus is always on where it is needed the most. With this powerful RPA automation tool, you can seamlessly automate anytime and anywhere. Using the Power Automation Apps, you can expect your automation capabilities across the web, mobile, and desktop.
You can easily automate rule-based and repetitive chores with point-and-click simplicity using RPA. It even gives you the power to create and manage flows on the go with the Power Automate mobile app. What else? Complete access to a centralized portal helps you create and manage flows, connectors, entities, data, and even real-time analytics.
Advantages
Record and visualize your end-to-end processes using a process advisor.

AI Builder makes automation even smarter using process approvals, document automation, detect text & images, and creating prebuilt models.

Use low-code, drag-to-drop tools and numerous prebuilt connectors for complete and highly secure automation.
Disadvantages
May push license/software purchase, which can be irritating sometimes.

Used only within the MS office environment.
Conclusion
Every RPA tool mentioned in this RPA guide delivers outstanding results when implemented after analyzing the business needs. UiPath is quite for everyone to implement and use, even for non-developers. Its features are pretty impressive and are suitable for even the small scale industries.
However, you will need to check the automation needs of your organization and select the most suited one based on your requirements and business needs.
At your Team in India, we have a team of RPA experts. If you want to hire Developers or have any questions on what all services we offer at Your team in India – Click here to contact us.