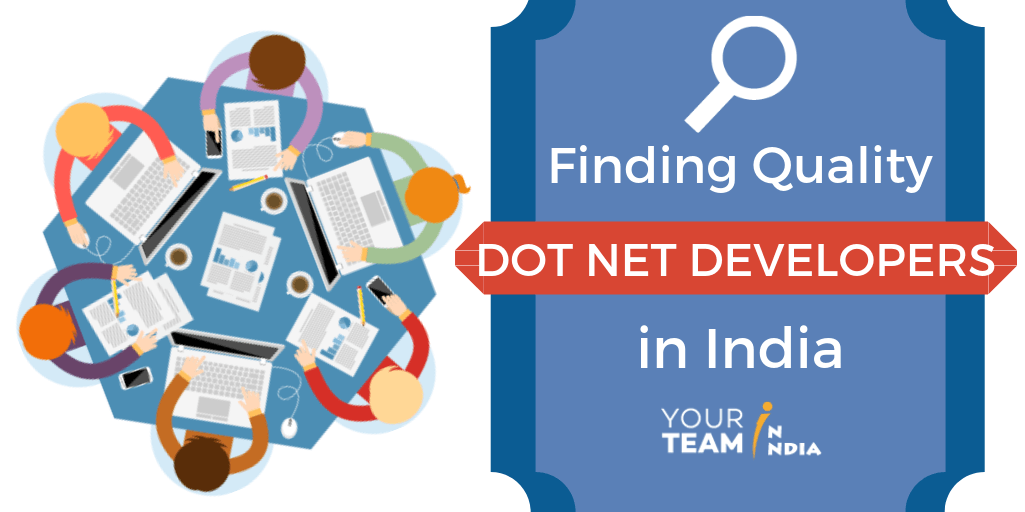 Recent few years have seen a rise in the demand to hire dot net developers. To fulfill this requirement, more and more companies in the USA are turning their attention to offshore development. If your company is facing the same situation, outsourcing to India becomes a wise decision.
It's easy to find out experienced dot net developers in India. However, to ensure success, you should follow a few steps to find out the best team. But before we discuss the steps to consider a reliable offshore team, it's important to find out the reason behind outsourcing in India.
Why Outsource to India?
India has been and continues to be the most sought after outsourcing destination. Most of the Western & European countries like USA, UK, Canada, and Europe prefer to set up an offshore development center in India.
India houses a large talent pool of developers.
Indian developers are well equipped with the required knowledge skills and abilities (KSA's).
Hiring developers in India is economical, as they usually charge between the range of $20 - $40.
Being the second-largest English speaking country in the world, communicating with developers in India becomes comfortable.
Government of India supports the IT industry, therefore, policies to set up an offshore development center in India is friendly. Moreover, the cybersecurity laws imposed by the government are stringent.
Time-zone difference is another advantage of working with an offshore team. India is 9 hours 30 minutes ahead of the USA, which makes it accessible to provide 24/7 services.
The above reasons are enough to attract your attention to the gem for collaborating with offshore developers in India. However, it's not a cakewalk to hire developers that will fit right with your business objectives.
So, we have listed down a few important aspects, that will help you determine the skills of your dot net developers.
1. The Pre-Requisite:
What type of solution are you looking for?
What exact skill set is required to develop your solution?
Do you want to develop from scratch or want to migrate from another technology?
Are you looking for freelancers or development companies?
Have you decided on your budget?
In order to make your project successful, you must be clear on the pre-requisites. Therefore, to save your time, it's better to get on the board beforehand and create a plan of action. Detailed research is inevitable and investing your time towards it is a prerogative.
Recommended Read: Top Reasons to Work with an Offshore Development Center (ODC) rather than Freelancers!
2. Experience Matters:
The long and successful journey of a company in the IT industry can help you determine their expertise. You should ensure that the company you have shortlisted have a track record of consistently delivering great outcomes.
It's essential to hire .net developers with a minimum working experience of 2 years. Having more experience will increase the chance of your project's success. Apart from experience, check out the problem-solving or analytical ability of your developer. You can look out for free online assessments and ask your developers to take a test. It will give you a better understanding of the skills of your shortlisted developer or team.
3. Proficiency in Microsoft Technology:
Not just experience, it is necessary to evaluate the proficiency of your offshore developers with technologies like C#, J#, VB.Net, etc. Your offshore team should have a solid knowledge of ASP.NET development. This includes cross-platform integrations, security features, development services, interoperability, code reuse, etc.
Recommended Read: The Most Common Skills & Characteristics of Great .NET Developers
4. Mobility Solutions:
It is fine if you aren't in search of mobile-based solutions at this very point in time. But you can not rule out the possibility of a need that may arise in the future. So, you should ideally collaborate with an offshore development company that is capable enough to cater to this need as well.
5. Responsibility:
You should always choose a company or team of developers, that are willing to take the responsibility of your project. In fact, your dedicated offshore development team should be confident enough to deliver the work on time, follow the process, document everything, provide additional support for the modifications required during and post-development.
Development project doesn't really end with the codes being transferred; as a matter of fact, it marks the beginning of a long term relationship. Thus, your offshore team should be capable enough to provide unconditional 24/7 support. Though not necessary in most cases, it is better to opt for around the clock support system.
Cautionary Note!
Always inquire for any hidden expenses that may arise later. To save yourself from this hassle, you can ask for a detailed proposal and quote. Once you are satisfied with everything, sign a detailed NDA with your offshore partner.
Recommended Read: Legal Precautions in IT outsourcing for Startups!
Whether you are planning to set up your offshore development center or looking for technology partner developers, we are here to help.
Just drop your requirements at info@yourteaminindia.com and our team will get in touch with you shortly!