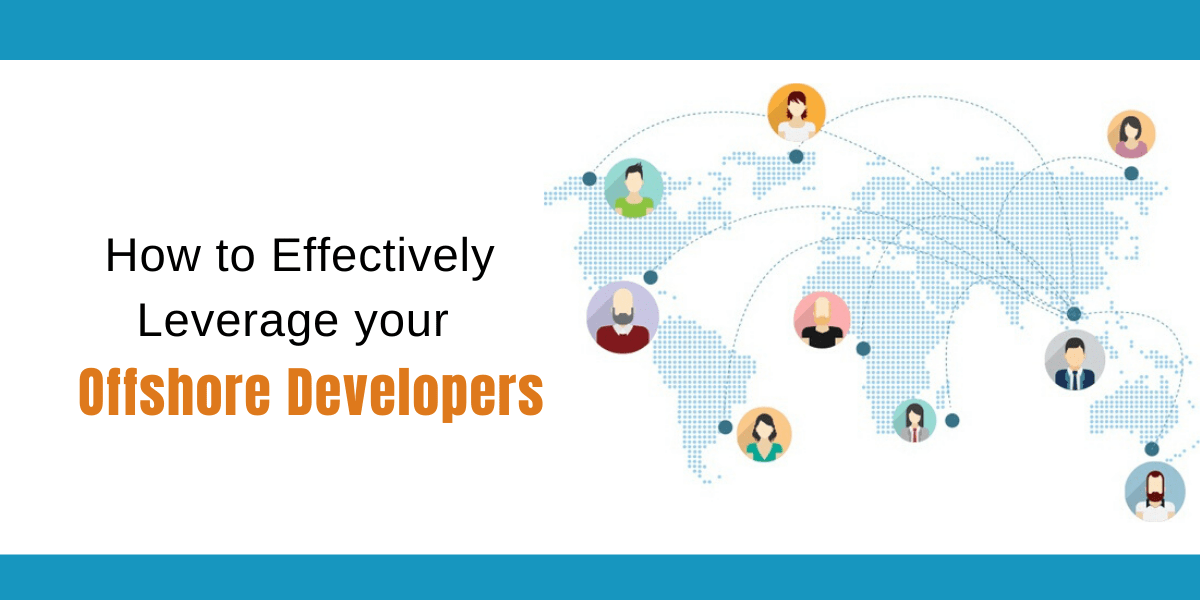 Quick Summary: Offshore developers can be a valuable asset to businesses looking to scale their operations, improve efficiency, and reduce costs. However, to effectively leverage your offshore developers requires a strategic approach and a clear understanding of the benefits and challenges involved. In this article, we will explore how businesses can make the most of their offshore development teams, from setting clear communication channels to establishing a strong company culture.
Do you know that the outsourcing market size has reached from $45.6 billion in 2000 to $ 92.5 billion in 2019? Yes, this fact is true as per Statista.
Now, this clearly depicts how businesses of different levels are embracing the idea of outsourcing for development. With interconnected economies, having access to world-class talent within budget is no longer a distant dream.
Companies have started gaining a competitive advantage if they are reaping benefits from outsourcing.
Make your software vision a reality with our team of experienced developers.
Boosting Your Business in the Right Direction
Outsourcing has the caliber to boost any business. It is not just limited to any task. You can outsource anything and everything, it helps you to save a good amount of cost, time as well as resources.
When you try to manage everything in the house, this may further result in mismanagement or dissatisfaction. Outsourcing repetitive and lengthy tasks can help you focus on your core competencies while improving your productivity level.
So before moving any further, it is important for you to know when you should outsource:
How to Effectively Leverage Your Offshore Developers?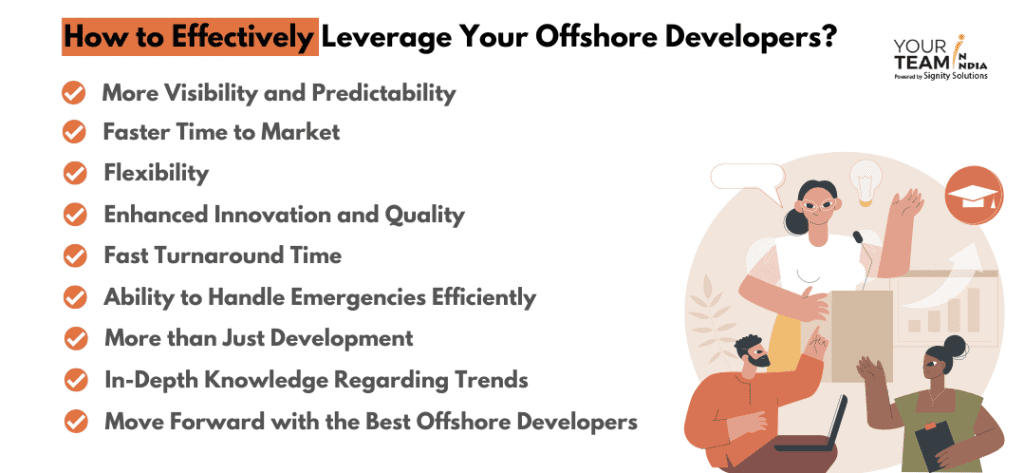 Outsourcing is a fantastic way to improve efficiencies and bolster your company's bottom line. Here is how to leverage your offshore developers:
1. More Visibility and Predictability
The development process is a sophisticated task that requires precise project management. When you trust your offshore development programmers with the end result, you are assured of predictable outcomes, and you get clear visibility of the project.
When you make your offshore developers comfortable, making them feel that they are an extension of your team, they know they have to deliver their best. To achieve control outside the corporate walls, it is important to hire developers that enable you to connect the dots and bridge the gaps.
If the visibility is improved, you get the relevant information regarding the product at the right time. It all helps you to make the right decisions based on the analysis.
2. Faster Time to Market

Delegating your project to a company helps in dictating your schedule also. While outsourcing, there are many hands working in sync to deliver the software that you envisioned.
If you plan to get your solution to the market faster, offshore developers help you with that.
3. Flexibility

Think that you are running a taxi business. And in order to grow your company you need a mobile app to cater to the customers online. As soon as you make the decision to digitize your business, a number of challenges come your way.
Number one is an efficient mobile app development team. The other challenges will start following while initiating the hiring process. Considering that software development is a complex process, you may need some specific skill set for a certain amount of time.
In short, having access to a talent pool of software developers can be beneficial at this time. And that's why extending your IT team through outsourcing becomes a wise decision. Not only it will provide you the flexibility in terms of cost, but you will be able to easily hire mobile app developers and scale up or scale down your team quickly (as per your requirements).
Recommended Read: Complete Guide on How to Hire Offshore Developers
4. Enhanced Innovation and Quality

You have an amazing idea for your business, and you want to take it to the digital world. How will you do that? You need a team of highly experienced developers by your side.
Most offshore development companies have a large talent pool of dedicated developers, with expertise in working with different industry verticals. This gives them a wider perspective, and it is the reason they have outside-the-box thinking.
You are also sure of the quality as the team is aware of the fact that what will cultivate the maximum output to produce results.
5. Fast Turnaround Time

The offshore development companies train their developers efficiently to complete the allotted project in the decided deadline.
The dedicated team will always work closely with you to understand your requirement. Then they will deliver results as per the business demands. It is always good to hire top offshore developers from India as you get guaranteed results in the given time.
6. Ability to Handle Emergencies Efficiently

Whenever you face an issue during the development process, it has to be handled immediately.
The dedicated developers are always there to offer you a solution and resolve the problem. This is one of the best benefits of hiring offshore developers.
7. More than Just Development

When you hire a team of developers from the best offshore development company, you get the most effective services. The choice is completely up to you whether you want to hire a Java developer or a Flutter developer.
The team knows how to provide you with the best development, designing services, testing services, and social media marketing services. This further improves your online presence in the marketplace.
8. In-Depth Industry Knowledge Regarding Tools & Trends

Technology keeps changing rapidly. Business owners have to take certain important steps to prevent serious issues like cyber threats. With the offshoring team, this is easy.
They offer the best-updated solution for cyber protection. Make sure you have access to the latest tools and industry trends.
9. Move Forward with the Best Offshore Developers

No matter whether you have a startup or a medium-sized business, hiring offshore developers helps you to have the same level of expertise as that of established firms. You can then provide an excellent customer experience as per your client's expectations.
Outsourcing helps to grow your business while saving you a reasonable amount of cost while keeping you updated with the latest trends. The only consideration is to choose a reliable service provider who knows to give you the right direction.
Want to build an efficient and dedicated software engineering team? We can help you build your offshore development center with top-notch Indian software developers. Get in touch now!

Frequently Asked Questions (FAQs)
How can I ensure security and data privacy when working with offshore developers?
To ensure security and data privacy when working with offshore developers, it's important to establish clear security protocols, conduct thorough background checks, and use secure file transfer methods.
What are the legal considerations when working with offshore developers?
Legal considerations can vary depending on the location of the offshore developers. It's important to research and understand the legal requirements and regulations in both your country and the offshore developers' country, such as tax laws and intellectual property rights.
How do I choose the right offshore development team for my project?
Choosing the right offshore development team involves conducting thorough research, reviewing portfolios and resumes, and conducting interviews to ensure the team has the necessary skills and experience.